How to set up a hot cocoa bar with free winter themed printables.
Nothing says winter like some delicious hot chocolate. Celebrate the snow or any occasion you love with a fun hot chocolate bar! Setting up a hot cocoa bar is as simple as can be with the right tools…like fun free winter printables. Let's get partying!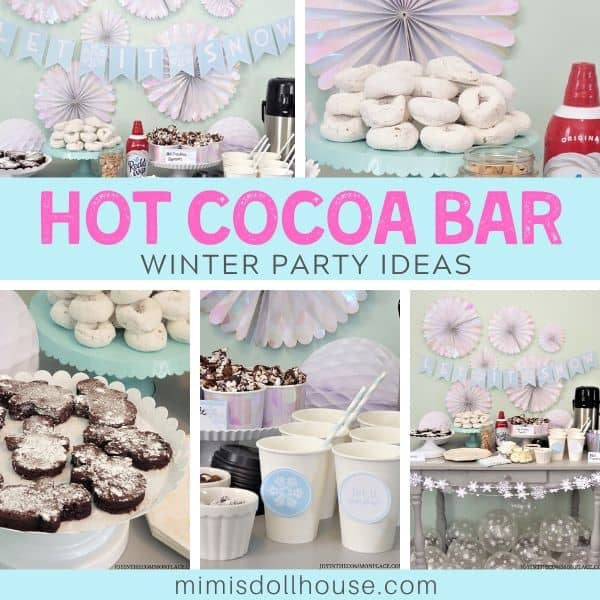 Snowflakes and iridescent shimmers make the best backdrop for a wintery wonderland, don't you think? There is something so magical about snow. It just makes sense to make it into a glorious party!
Ready to explore some fantastic winter party themes, learn how to set up a hot cocoa bar AND download some free winter printables?
See magic..I told ya!
Winter Themed Party Ideas
When it comes to partying in the winter time, you can go one of two routes: ignore the weather-throw any theme you want or embrace the weather-pick a theme that highlights the snow and cold. These ideas are perfect for embracing the cold!!
This adorable hot chocolate bar was styled by my sweet friend Sarina over at Joy in the Commonplace. You should definitely swing by her party blog and check out all her fun and festive party ideas! She used party ware from The Party Darling for this fun party.
Check it out…
Related: Winter Birthday Party Ideas

Best part: The free winter printables used in this party are available for download at the bottom of this post! What's better than FREE?
Hot Chocolate Bar
The first adorable winter theme is a hot cocoa bar. This is a definite crowd pleaser. First of all…hello, delicious. Secondly, its actually a super simple idea that can work really well within ANY theme.
You can center your whole party around the hot chocolate or it can be a fun bonus you have available to guests.
Baby shower, birthday, holiday party…it doesn't really matter the event or the crowd. Serving some delicious hot cocoa with some fun add-ins is definitely an awesome addition to any get together!
Hot Chocolate
To set up a Hot Chocolate bar, you don't need a lot of fancy things. The base is…well hot chocolate. You can buy ready made hot cocoa mix at any store. I also have a killer homemade Hot Chocolate Recipe that you will definitely love!
Serve the hot chocolate in a thermal carafe or coffee dispenser to keep it nice and warm. If you have coffee drinking folks coming to your party, you can also set up some coffee on your hot cocoa bar!
Related: Hot Cocoa Recipe

Hot Chocolate Add-ins and Toppings
Add some mix-ins and toppings. Get creative with these…have some standard things like marshmallows
Great ideas for add-ins to your hot cocoa include:

Set up your toppings in cute bowls or dishes so it's easy for guests to self serve the options they would like to enjoy! Using little serving spoons is a great idea for keeping fingers out of the toppings as well.

Ice Skating Party
If you live near a frozen river or have a dedicated skating rink in your town, an ice skating party is a great fun option for throwing a winter themed party.
Let your little aspiring figure skaters or hockey lovers burn some energy and work up an appetite skating to their hearts content! Then back inside for some delicious hot cocoa!

Snow themed Ideas
Planning your party around snow is also such a fun way to celebrate the season. Using pretty white or iridescent paper fans or tissue poms can turn an ordinary party into a winter wonderland. Use white honeycombs to replicate snow balls.
Snowflake Balloons are also an awesome way to decorate and give little ones something snowy to toss about the room!

Hot Chocolate Bar Food Ideas
A hot cocoa bar doesn't have to just be hot chocolate! You can also include some yummy treats! This is especially a great idea if the hot chocolate bar is the primary refreshment for your party.
Here are some winter themed food ideas to compliment your hot cocoa:
Snowman Brownies
These fun brownies are shaped like cute little snowmen! What a fun and easy peasy dessert. Bake some delicious brownies and cut them with a fun snowman cookie cutter!

For extra snowy effect…top with powdered sugar. Yes, please!

Hot Chocolate Popcorn
Drizzle some chocolate sauce and sprinkle with hot cocoa m&m's for a unique hot cocoa themed treat!

This hot chocolate popcorn is the perfect mix of sweet and salty! Yummy! If you aren't feeling up to making this treat yourself, you can also score some delicious ready made hot cocoa inspired popcorn!

Powdered Donuts
You can't go wrong with simple powdered donuts. Kids love them and they are crazy easy to find and inexpensive to buy. S0unds like a winter winner!

Winter Party Supplies
Ok…now that you have the food and drinks all squared away, it's time to talk decorations! Decorating for a winter party is actually super simple!
The colors are clean and bright and you can spin it almost anyway you want (snowman, penguin, frozen, etc.) and it still feels like a wintery paradise!
Coordinating Snowflake Tableware
For this fun party, the tableware was an adorable iridescent snowflake pattern. This design is fun and simple and perfect for wintery fun.

You can purchase the items used in this party here with these helpful links:
Iridescent Snowflake Plates
Iridescent Snowflake Napkins
Iridescent Hanging Paper Fans
Mint Cake Stand
White Snowflake Garland and Snowflake Paper Fans
Pink Iridescent Treat Cups
Pink Iridescent Cups
White Honeycombs
Snowflake Balloons
Free Winter Party Printables
We also have some simple and fun FREE party printables you can download for a winter party extravaganza! This simple set will accent any snowy party theme.

Printables are simple to use and can be printed at home or a local print shop. Print and party with no fuss! The items are also super versatile. Let your imagination run wild.

Like above, you see the "cupcake toppers" repurposed as labels for the drinks. They can also be printed as stickers for treat bags or cups. Easy peasy.
Download our free winter printables below:
Be sure to check out all our winter party ideas and printables! Be sure to check out Joy in the Commonplace for more awesome party ideas!

If you love these party ideas, please pin this image to your Winter Pinterest Board:
Conclusion for Winter Hot Cocoa Bar:
Setting up a winter themed hot chocolate bar is a simple and fun way to celebrate any occasion. Dress up any party with free winter printables and delicious hot cocoa themed treats.
Here are some helpful links for setting up a hot chocolate bar:
Related posts for Snow themed Party:
Thank you for reading our Hot Chocolate Bar ideas and inspiration!