Penguin Birthday Party Ideas + Penguin Desserts
Penguin Party: My Pretty Little Penguin's Second Birthday. There is nothing cuter than a little waddling penguin. Throwing a penguin party for your little one. I'm sharing my daughter's penguin birthday party today.
Looking for more Penguin party ideas? Check out this hot cocoa bar, this winter wonderland party and these delicious winter treats.
I am super excited to share my sweet baby girl's 2nd birthday Penguin party today!!! From a very young age, my little Emma has been obsessed with penguins. She LOVES penguins or "pem-gins" as she calls them.
Throwing a PENGUIN THEMED PARTY?
☑️ This
Penguin Party Kit
is the perfect set to get your party planning headed in the right direction!
She carries stuffed versions of her favorite animal all around the house. Whenever she sees a penguin on television or at the zoo, she gets so excited. When she started walking, she even waddled like a little penguin as she totted along.
Penguin Party Ideas
Even before I planned her First Sugar Plum Fairy birthday party, I knew that her second birthday party HAD to be penguin themed. Then the brainstorming began…Initially, I had a tons of ideas about what direction to take the party.
Ultimately, I decided that I really wanted to capture the playful feel of the penguins, but with little girly touches. And what says girly better than huge bows?
Penguin Party Decorations
Using fun black and white patterns, big bows and aqua, hot pink and yellow accents to match my little penguin's personality.
When I set out to style this party, I started with my Penguin Party Printables and sought to keep everything fun and bright. For the dessert table, I used black and white patterned fabric and cupcake wrappers to accent each of the "penguin" treats.
For Emma's name on the table, I got unfinished wooden letters from Wooden Letters and painted them black. I then used the patterned paper from the printables set to cover the front of the letters in the party patterns. Here is an easy tutorial for making these wooden letters.
The table backdrop was made using black foam board. I cut out the penguin in silhouette as well as the penguin details from white, aqua, pink and yellow card stock and created penguins to hold the birthday banner in their beaks and hands.
For the Hot Cocoa and Coffee Bar, I made a backdrop using fabric and tulle in the party colors. This helped break the kitchen area up and also really accented the bar and all the coffee extras. To drink, we made hot cocoa and coffee for the coffee bar.
The hot cocoa mix is one of my favorite (and super easy) recipes. I'll be sharing the recipe later this week! For the add-ins, we had marshmallows, cinnamon, sugar, creamer, peppermint syrup, pumpkin syrup and chocolate stir spoons.
The kiddos enjoyed regular and chocolate milk (keeping with the party colors) in glass jars with cute striped straws and ribbon and party circles wrapped around them. The chocolate milk was a big hit!
Penguin Desserts
We had chocolate cupcakes with pink buttercream frosting, vanilla cupcakes with bright aqua and pink coconut frosting and chocolate cupcakes with cookies and cream frosting all made by The Cupcakery.
These delicious cupcakes were made even sweeter with the addition of penguin and snowflake 3-D and flat fondant cupcake toppers made by Brittany at Edible Details. I could not be more impressed with how fantastic her toppers looked and how well they matched the party.
We had penguin cake pops made by Candy's Cake Pops. They were cookies and cream flavored and were as moist and yummy as they were adorable. Beth at Sunshine Bakes made us some amazing penguin, snowflake, and monogram sugar cookies.
We had yummy pink raspberry and blue almond coconut macarons from Le Bonbon and some fantastic coke float and peppermint flavored fudge from Julie's Homemade Fudge. I used black and aqua striped straws and ribbon to accent the macarons and fudge and also make them easy to pick up and eat!
Everyone snacked on plenty of penguin foods like fish shaped tuna and peanut butter and jelly sandwiches and goldfish crackers, veggies, fruit and cheese.
Penguin Party Outfit
For Emma's birthday outfit, I had the cutest custom shirt made for her by the super talented Rachel from *golden*. She completely blew me away with the details on the shirt…it was perfect!!
I also had matching black and white chevron pants made for her by The Trendy Baby. She wore one of the little penguin clippies in her hair that were apart of the favors.
I used chalkboards and chalk markers to create signs for the party and used several of Emma's stuffed penguins. I even found adorable pink and aqua bag clips in the dollar aisle at Target to accent the penguins and the table decorations.
Each little one who came to help celebrate Emma's party got an adorable Penguin hair clippie made by So Cuties Boutique attached to some S'mores Flavored gourmet popcorn for mom and dad from Popped. The favor tags said "Thanks for POPPING by my Penguin Party"!
Here are some helpful links for throwing a penguin party:
This party was super fun to throw and I was sooo happy with how everything turned out!! Be sure to check out all our penguin party ideas.
If you love these penguin birthday ideas, please pin this image to your Birthday Party Pinterest Board: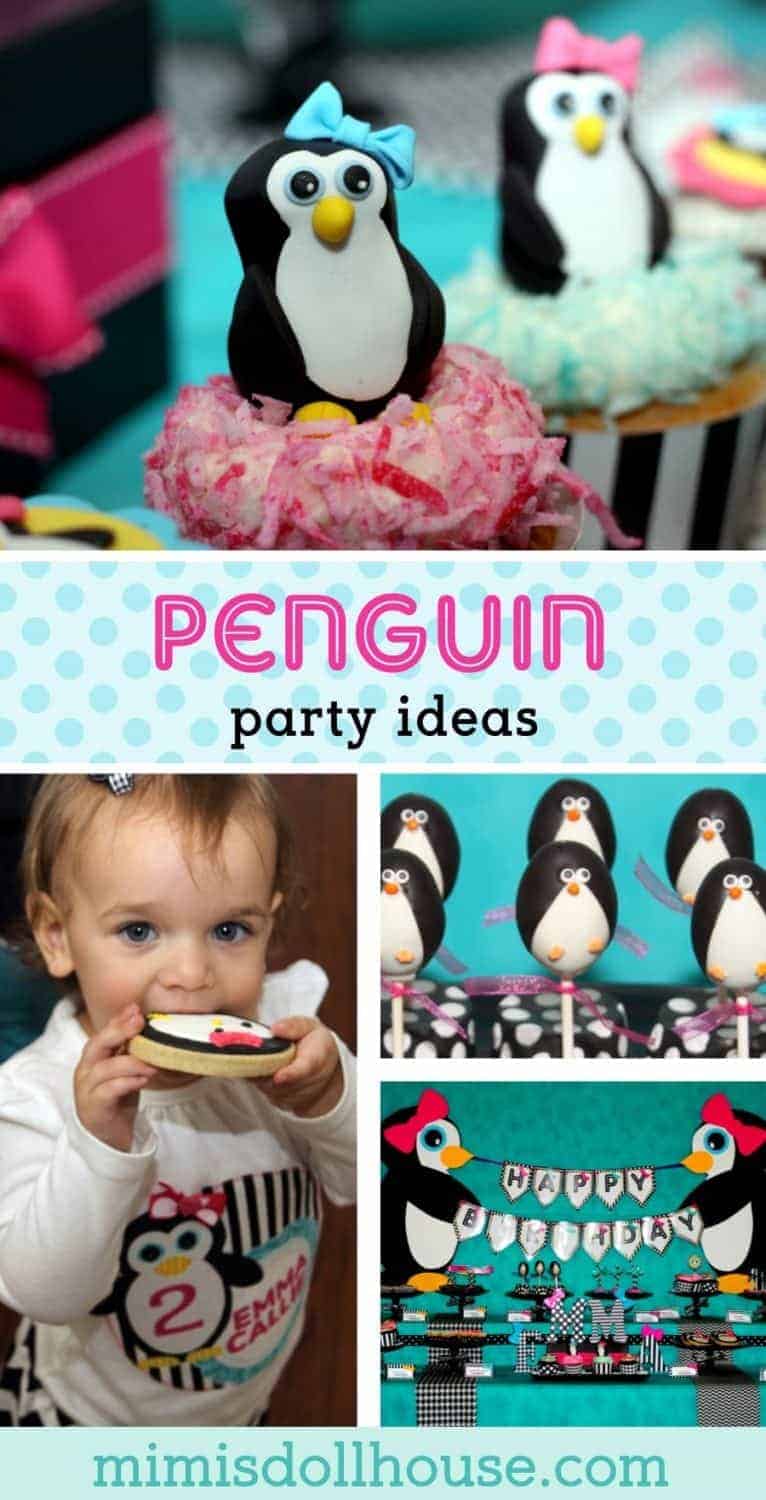 The Printable Penguin Party Decorations are available for purchase in my shop:
RELATED POSTS FOR Penguin Party IDEAS:
Thank you for reading our Penguin Birthday Ideas!