Simple Sloth Cookies with Royal Icing and Fondant Sloth Cupcakes
Oh the sloth…everyone's favorite slow moving furry animal. If you are loving sloths and want to style a fun sloth themed party, these sloth cupcakes and sloth cookies are made for you! Today I'm sharing how to make these cute sloth desserts, ideas for a sloth party and so much more…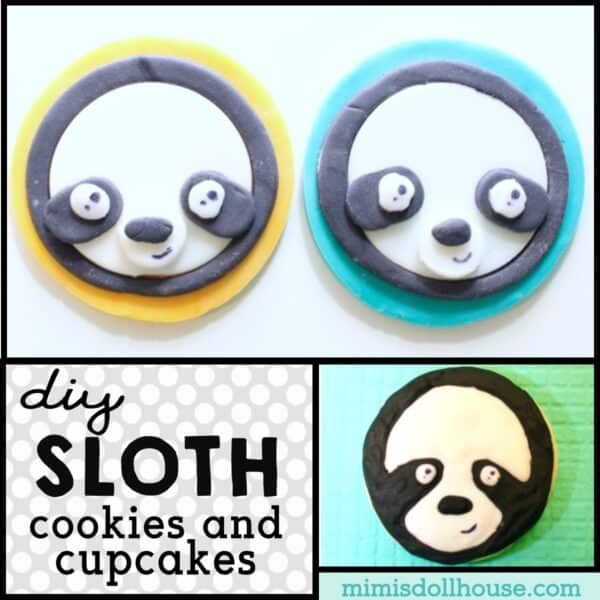 Sloths can be such a fun focal point for a party. There are so many different options for incorporating sloths into your dessert table and birthday party plan. Recently, I styled a Zoo themed birthday party for my daughter. These sloth desserts were made as a part of that party.
In a hurry to BAKE?
We focused on so fun little animals in that party, including SLOTHS! Today, I'm going to show you how to make the easy Fondant Sloth Cupcakes and Royal Iced Sloth Cookies.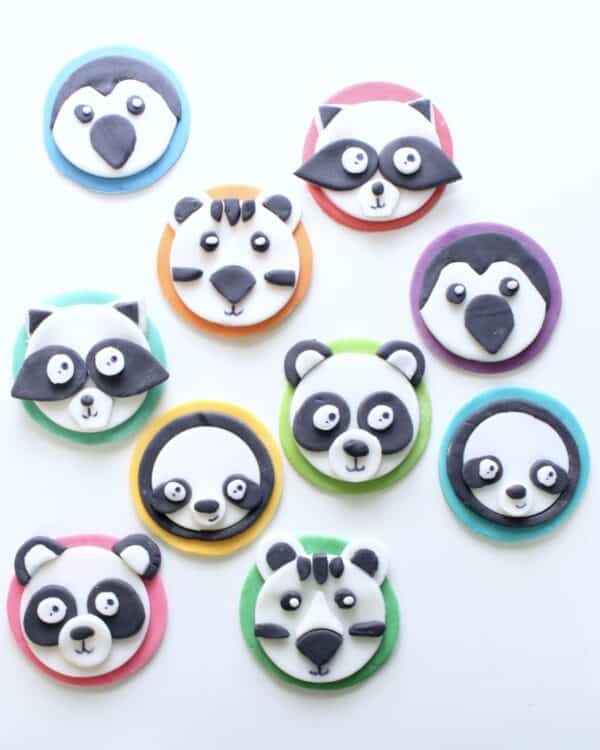 How to use Sloth Sugar Cookies in your party set-up
Whether your party is going to be a general zoo animal theme or focusing just on hanging out with sloths, you can't go wrong with some simple diy desserts.
One of my favorite party tricks is to pick a simple theme I love and build that theme into every aspect of the party. You can make sloth cakes and cookies, add hanging sloths to your decorations and grab some adorable sloth party tableware.
This is a great way to ditch the typical character birthdays and just celebrate something your child loves. My daughter loves the zoo…so we grabbed inspiration from some of her favorite animals and built that animal party!
If you love this party theme…you can purchase the coordinating printables at the bottom of this page!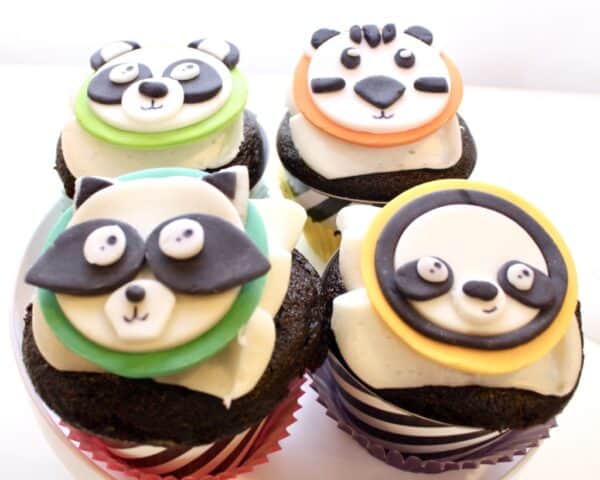 Ideas for a Sloth Party
Sloths are especially fun for a birthday party because they are furry and cute, but can also have a playful feel. Also…they naturally hang, which helps with decorating. You can hang sloths from banners or ceilings or on the front of a party table. Instant cuteness!!
Before you start baking, take a few minutes and make yourself a party plan. Decide what colors you want to use to accompany your sloths.
If sloths are your primary focus (or even if they aren't)…picking the right decorations and tableware is super important.
How to Make Decorated Sloth Cookies: STEP by STEP
Ok…for the party animal birthday party, we focused on 5 different animals. Since the theme was built around black and white…I chose 5 traditionally black/white animals. Through this tutorial, I am going to show you step by step how you can make decorated sloth sugar cookies.
I also have similar step by step guides for raccoon sugar cookies, white tiger sugar cookies, and panda sugar cookies. Some of the directions between different animals are the same, however to keep it simple for you, I've split the tutorials based on the animal shape!
Sloth Cookies
Materials and Ingredients:
Sugar Cookie Recipe and Royal Icing.

I used my basic sugar cookie recipe and some

royal icing

. You can buy that mix or here is a great

royal icing recipe

to use!! If you are new to cookie decorating, you also need a piping bag, icing tip 1/2, coupler, and clip. I recommend this

piping tip set

. It's reasonably priced and includes everything you need.
Step 1:
Pick your favorite sugar cookie recipe and prep your dough accordingly. I like to add a little extra flour to my dough right before I start cutting the cookies to help them not stick to the cutting surface.
Usually, I just rub a little on my hands and then rub it into the dough.
Once your dough is ready to start cutting, roll it out to about ¼ inch thick. Don't be afraid of making thick cookies. I feel like my thicker cookies always bake better and I'm much happier with the decorated results.
Step 2:
Preheat oven according to the recipe. Line cookie sheets with parchment paper. Cut the dough using a circle shaped cookie cutter. Bake the cookies according to the desired recipe.
Typically I pull the cookies out of the oven a little earlier than what the recipe calls for. You do not want the edges browning. Browning means you have already baked them too long! Allow them to cool.
Once the cookies are completely cool (I recommend waiting a full day to top with icing),
Step 3:
Prepare both white and black royal icing. Once you have prepared your royal icing based on your recipe or from a royal icing mix, Separate it into two halves. One half will stay white the other half will be colored black.
As a warning…you will need a good amount of black food coloring to get a true black from white icing. Once the two containers of icing are colored correctly, you will want to pull out a third of each to set aside for piping icing and mix ⅔ of the icing for fill icing.
You do not need white piping icing for these cookies, just white fill icing.
Add small amounts of water to each container and mix until you get the frosting to the desired consistency. Piping icing should be toothpaste-like and fill icing should be honey-like.
Put the three icings into 3 separate piping bags. I like to use number 1 or 2 tips for piping icing and number 3 tips for fill.
Step 4:
Using the edible marker, draw the black circle around the face and two oval indentions for the eyes onto your cookies as shown in the photo below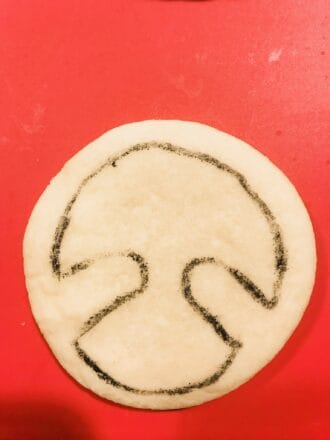 Start with black piping icing and trace over the lines. Trace the outer edge of the cookie with black piping. Using the black fill icing, fill in the black eyes/outer face.
Before the black icing drys, put a small circle of white fill into the black eyes to make the white part of the eyes. You want to let this settle into the black icing so they are the same level.
Let the icing dry.
Fill in the face with white fill icing. Let dry.
Make a small oval for the nose with black piping icing. Allow the icing to dry.
Once the icing is fully dry, add eye pupils and mouth with black edible marker.
Cookies are done and ready to party!!!
How to Make Fondant Sloth Cupcakes: STEP by STEP
Like the cookies above..we also focused on 5 different animals for the cupcakes.. Through this tutorial, I am going to show you step by step how you can make decorated sloth cupcakes.
I also have similar step by step guides for raccoon cupcakes, white tiger cupcakes, and panda cupcakes. Some of the directions between different animals are the same, however to keep it simple for you, I've split the tutorials based on the animal!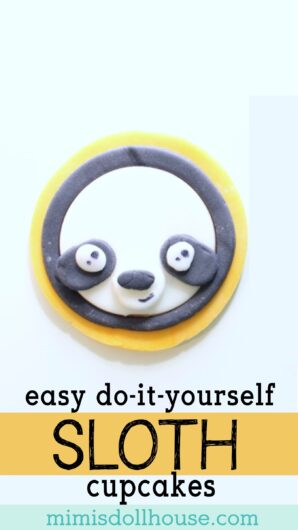 Sloth Cupcakes
Materials
Cupcakes and frosting in desired flavor. You can bake these yourself or save time and get them from a local grocery store or bakery. You can even order a lot of bakery items for in-store pickup from

Target

(#momwin) I'm all for time savers!!! I used my simple chocolate cupcake recipe.

Powdered sugar
Step 1:
Bake cupcakes (or buy them…your call!) Prep frosting according to recipe. Prepare fondant. You will want at least one color and black and white fondant ready to use. For the party animal party, I used several different colors, but you can always simplify to just one or two colors.
Step 2:
Roll out colored fondant to about ¼ inch thick. Use powdered sugar to powder the surface and rolling pin to prevent sticking. Cut 2 inch circles from colored fondant (1 per cupcake). Set aside to dry completely.
You want these to dry until they are hard. I typically flip them over after about an hour to make sure that both sides dry and will move them slightly while drying so make sure they aren't sticking to the drying surface.
Step 3:
Roll out white and black fondant to about ¼ inch thick. Cut black fondant with smaller circle (1 ½-1 ¾ inch). Then cut the white fondant with an even smaller circle (1 1/4 inch to 1 1/2 inch). Cut two very small white circles (about the size of a pencil eraser) for the eyeballs. Set aside to dry.
Cut two small black ovals using small cookie cutters that fit onto the white circle easily for the black markings around the sloths eyes.
Finally, make a small white circle and cut a very small oval from black for the nose. Allow all to dry.
Step 4:
Once the fondant is firm enough to move without changing shape, use water as glue (I use a small paintbrush for this) and attach pieces together to form the face.
First, the large black circle gets put onto the color circle. Then the white circle gets put onto the black circle.
Next, the black eye markings, with the white eyes on top. Lastly, the muzzle and nose.
Allow all fondant to dry. Once dry, use the edible marker to add the mouth and the eye pupils.
Looking for more ideas for Sloth Desserts?
If you are looking for more options for baking (or buying) animal cookies…prepare to be amazed at the cuteness coming your way!!
More Sloth Cookies, Cakes and desserts to Bake or Buy:
Sloth Macarons from Crumbs and Crumbles
Sloth Pretzels from Wilton
Sloth Cake from Sugar and Bloom Cake Company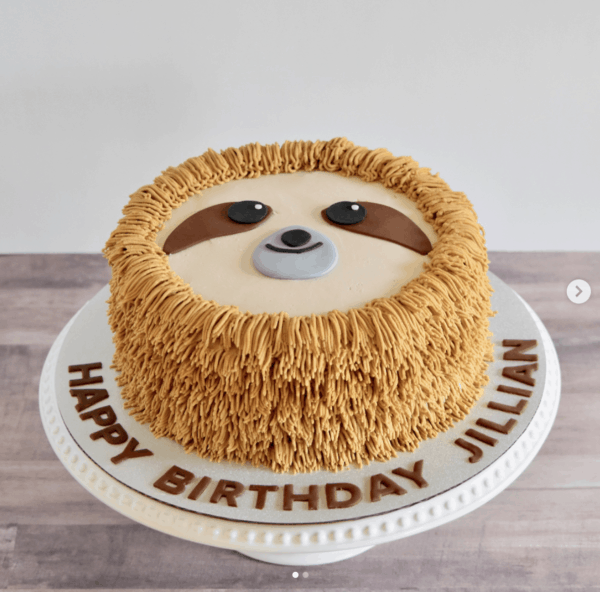 Sloth Macarons from Sumopocky
Coordinating Animal Party Supplies
We also have step by step printables directions available to help you every step of the way!!
Conclusion for Simple Panda Cookies & Panda Cupcakes Recipes:
Sloth parties can be so much fun. You can use simple decoration ideas and these fun little sloth food tutorials to make an unforgettable birthday or baby shower event! These easy DIY tutorials make partying sloth style a piece of cake!!!
Here are some helpful links for throwing a Sloth Party:
Related posts for DIY Sloth Party Desserts:
DIY Penguin Cookies and Cupcakes

DIY Tiger Cookies and Cupcakes

DIY Raccoon Cookies and Cupcakes
If you like these sloth cupcakes and desserts, please pin this image to your birthday Pinterest board:
Thank you for reading about my decorated sloth desserts!