Woodlands Party Ideas for an adorable Baby Shower or Birthday Party.
Woodlands Dessert Ideas: Fox Cookies, Bear Cakes and More! Woodlands desserts and goodies are the icing on the cake of a good Woodlands party. I'm sharing fun ideas for Woodland desserts today.
Looking for Fall Party Trends?
Check out this Thanksgiving party, these pumpkin party ideas, and these apple party ideas! Be sure to all grab some Woodlands party printables.
Woodlands Creatures are some of the cutest little things. I love all the party possibilities with forest animals and all the adorable things you can do with naked wood or wood stumps.
There is just so much adorableness!!! The best part about a woodlands theme…it doesn't have to stop with the decorations. You can make and find some absolutely ADORABLE woodlands desserts.
Check out the fantastic possibilities.
Throwing a WOODLANDS BABY SHOWER?
☑️ This Woodland Baby Shower Kit is the perfect set to get your party planning headed in the right direction!
Woodlands Dessert: Cupcakes and Cake Pops
Ooh..yummy. Let's make some forest themed desserts. Delicious woodlands cupcakes are the perfect way to celebrate a fantastic baby shower or birthday party.
Moss Cupcakes on Catch My Party
Looking for a simple cupcake idea? Let's make some moss cupcakes. I love walking through the forest and looking at all the moss growing on trees.
Make some super yummy moss cupcakes like these with green food coloring and crushed up graham crackers. (If you don't feel like being that DIY, you can also use this gorgeous sprinkle mix!) It's really that easy!
Woodlands Fondant Cupcake Toppers from Les Pops Sweets
Sometimes all you need to take your party to the next level are some gorgeous fondant cupcake toppers. These toppers are so cute I almost don't want to eat them…I just want to look at them all day long!
Woodlands Fondant Cupcake Toppers from Gloria's Cake Delights
Bears, foxes, and raccoons…oh my!!! Here is another woodlands creatures themed cupcake topper option. Aren't they the cutest! I love how fun and simple they are. These would definitely be a hit with the kids!
Fox Cupcakes on Catch My Party
Forget cupcake toppers…turn the entire cupcake into a fox. How adorable are these fox cupcakes?? All it takes is a little fondant fun!
Woodlands Cupcake Toppers from Honey the Cake
I might be a little obsessed with adorable woodlands creatures cupcake toppers. All the options are just so fun. I love how each set has its own unique feel. These are super cute. I think the raccoon is my favorite!
Deer Fondant Circles from Les Pops Sweets
These sweet little deer fondant cupcake toppers are so soft and cute. They would be perfect on iced sugar cookies or white frosted cupcakes. In love!!
Hedgehog Donuts from Your Bella Festa
Want an easy and super yummy treat? Cover some glazed donuts with chocolate candy melts and sprinkles for instantly adorable hedgehogs!!! These are delicious and super easy to make!!
Here are some helpful links for making Woodlands Cupcakes and Cake Pops:
Woodlands Dessert: Cookies and Treats
Want some adorable forest animal cookies to take your party to the next level? These cookies are sure to excite party guests and delight your tastebuds.
Woodlands Cookies from Cottontail Cake Studio
These are some of the absolute cutest forest animal themed cookies I have ever seen. I love the simplicity and the colors. Perfection!
Fox Cookies from The Bearfoot Baker
These super fun fox cookies come with an easy tutorial and are made on a star-shaped cookie cutter. Isn't that awesome?! I love using cookie cutters that have nothing to do with the finished creation. It's so much fun!!
Gorgeous Woodlands Critters Cookies from The Sweetest Tiers
These cookies are beautiful. They might be my favorite things ever right now. I love the colors and the shape and how modern they are. These would be perfect for a baby shower or a little one's first birthday party.
Owl Strawberries from Meaningful Mama
This is a super simple, yet adorably delicious DIY woodland creatures dessert idea. Why not mix in some food that isn't sugary sweet? These little owl strawberries would definitely be adorable for a woodland party spread.
Woodlands Cookies from Seahorse Sweets
These little critter cookies are so stinking cute. I love custom decorated cookies…they make my heart happy! These little foxes and raccoons and owls are just so adorable.
They would definitely be a great addition to any woodlands party table.
DIY Bear Cookies from Fantabulosity
Looking for a super easy DIY for your woodlands party? These little bears are made from simple ingredients like black jelly beans, candy eyes, Nilla Wafers and Little Debbie Star Crunch Cookies.
Easy peasy, yummy and soooo adorable!! These are definitely a favorite!!
Fondant Deer from Les Pops Sweets
Umm…hello cuteness! These 3-D fondant deer are SOOOO cute. I love the giant eyes! These would be adorable as a cake topper or on little cupcakes or mini cakes for a woodlands baby shower or a woodlands birthday party.
Woodlands Creatures Cookies from Sugared Hearts
The hedgehog…I mean, c'mon son. These are soooo adorable. I love the grays for a woodlands party. Gray is such a wonderful neutral. It's perfect for both girl and boy parties and would be great for fall or winter.
Here are some helpful links for making Woodlands Cookies and Treats:
Woodlands Dessert: Cakes
Gorgeous cakes are one of the best ways to really set your party apart from the rest. These forest themed cakes are not only pretty, but oh, so delicious.
Girly Woodlands Cake on Kara's Party Ideas
Isn't this cake gorgeous? I LOVE the idea of a woodlands theme for a girl party.
While woodlands might traditionally be thought of as masculine…this sweet girly cake shows you how well the forest critters mix with soft pinks as well. Our woodlands printables are also available in pink!
Fox Fondant Cake Topper from MJ Tabush
This sleeping fox is the perfect cake topper. It's so sweet and well made. I love the idea of a sneaky little fox for a party centerpiece, don't you?
If you are looking to throw a fox themed party, I have adorable fox printables available in the shop.
Birch Log Cake from The Cake Blog
This chocolate birch bark cake is EVERYTHING. I love the idea of this cake. It would be so adorable for a woodlands party or for a fall party get together!
Hedgehog Cake on Kara's Party Ideas
Looking for a fun and simple DIY cake? This little hedgehog cake is so adorable. It would be perfect for a little kid's party. I know your little one would love to eat this!!
Woodlands Fondant Cake Toppers from Carolina Cake Topper
Need some fun little fondant cake toppers? These sweet little forest animals will certainly not disappoint. I love the little trees that go with them too.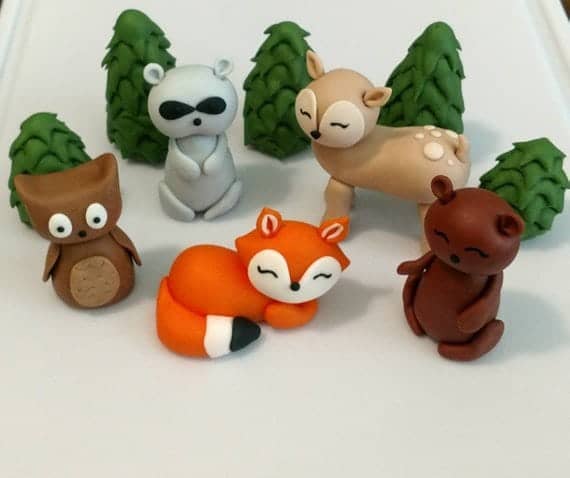 Raccoon Cake Topper from Wee Bit Cuckoo
Let's have fun with some little fondant raccoons. These little laughing guys are mischievous and fun…just like my old year old. This is great for a little guy's party!
Here are some helpful links for making a woodlands cake:
Hope you love all these ideas and get inspired to throw a Woodlands party with these Woodlands Dessert Ideas. Be sure to all grab some Woodlands party printables to help you get your Woodlands party ideas going!
Coordinating Woodlands Party Supplies
Here are some fun and adorable party supplies and tableware to help bring your forest animal party to life:
Woodland Party Tableware from Oriental Trading
Woodland Party Supplies from Meri Meri
Centerpieces from Target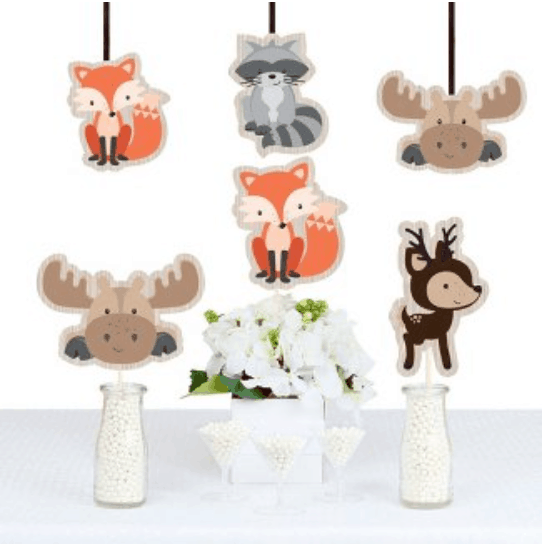 Woodlands Party Tableware from Amazon
Woodlands Partyware
from
Amazon
Looking for Fall Party Trends?
If you love these Woodland Party Ideas…please pin this image to your party Pinterest board:
Here are some helpful links for throwing a woodland party:
Wanna throw a woodlands party?
The printable woodlands baby shower printables are available in my shop:
RELATED POSTS FOR BEAR BABY SHOWER THEME:
Thanks for reading these amazing Woodlands cake ideas and woodland party treats!