Bubbles Party Ideas that are perfect for kids!
Bubbles Birthday Party: Bright and Bubbly Birthday. Nothing says happy birthday quite like a bubble party. Check out this adorable bubble birthday party and all the bright and bubbly details. Be sure to also check out this bubble party.
Download the Bright Bubbles Party Printables to throw your own bubbles party (available at the bottom of this post!!)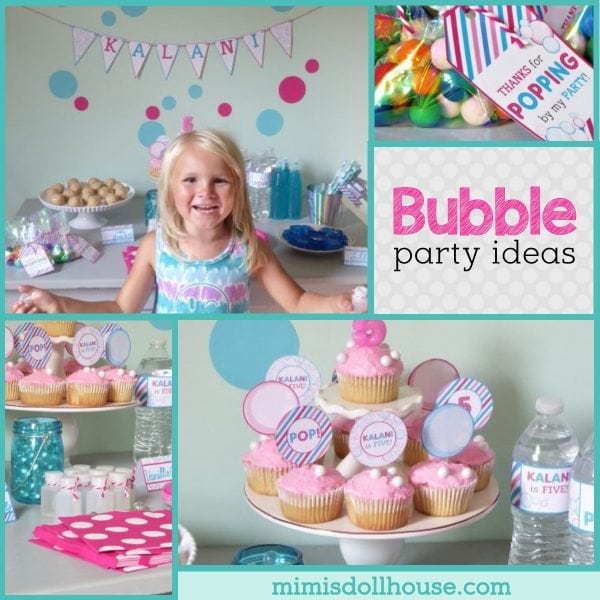 Have you ever sat and watched little ones when bubbles come out? It's like the whole world just stopped turning and nothing exists, but the joy of chasing, popping and blowing bubbles.
Throwing a BUBBLE THEMED PARTY?
☑️ This
Iridescent Party Kit
is the perfect set to get your party planning headed in the right direction!
Their sweet little faces light up and it's like those sticky bubbles are just little orbs of joy.
This. This is what makes bubbles such a fantastic theme!!! I mean put aside for a second that it's crazy easy to plan because literally anything round can be bubble themed….just focus on how much fun they will have with the bubbles.
It makes your job sooooo much easier.
This adorable bubbles birthday party was styled by the talented Sarina from Joy in the Commonplace using our Bright Bubbles Party Printables (available for purchase at the bottom of this post).
She has included so many super cute details. Check out all the fun…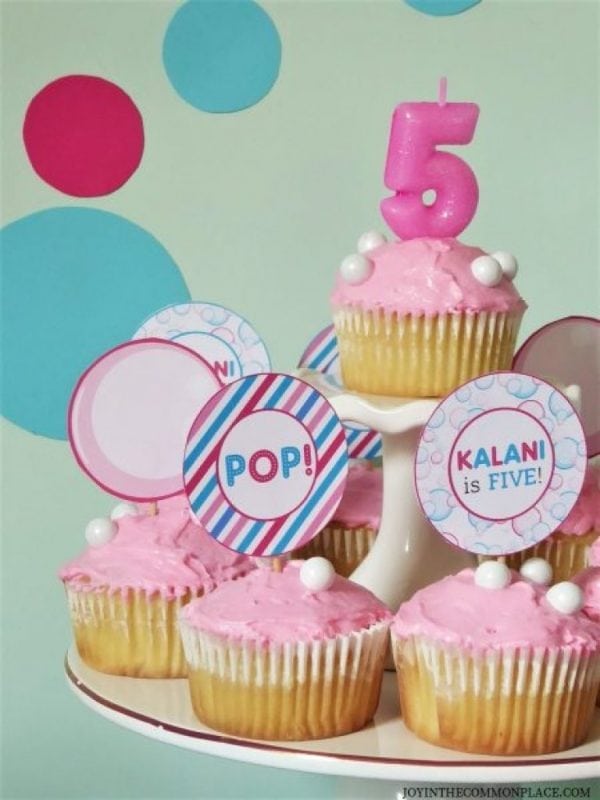 I love how she used the mini name banner from the bubbles printables as the backdrop with some cut out circles. Such a cute bubble themed wall. I love simple backdrops. They are easy to set up, clean and pretty to accent your table and helps to keep your party budget small.
Winning all around.
Bubbles Birthday Party Decorations
There are so many fun bubble birthday party ideas. You can turn virtually anything round into a bubble. Punch card stock into circles, like this party, and arrange them cascading up the wall, pick up some bubble cutouts to use, or even grab some fun balloons.
Balloons make a great "Bubble". You can also use clear beach balls scattered around the party as bubble decor/something for the kids to play with.
Bubbles Birthday Party Foods
If you are planning a bubble birthday party, round foods are definitely the way to go. These cookie dough balls are perfect because they look like bubbles AND the kids will go crazy for them.
Try using food like chocolate covered Oreos, cake pops, round sugar cookies, and gum-balls as well. So many possibilities.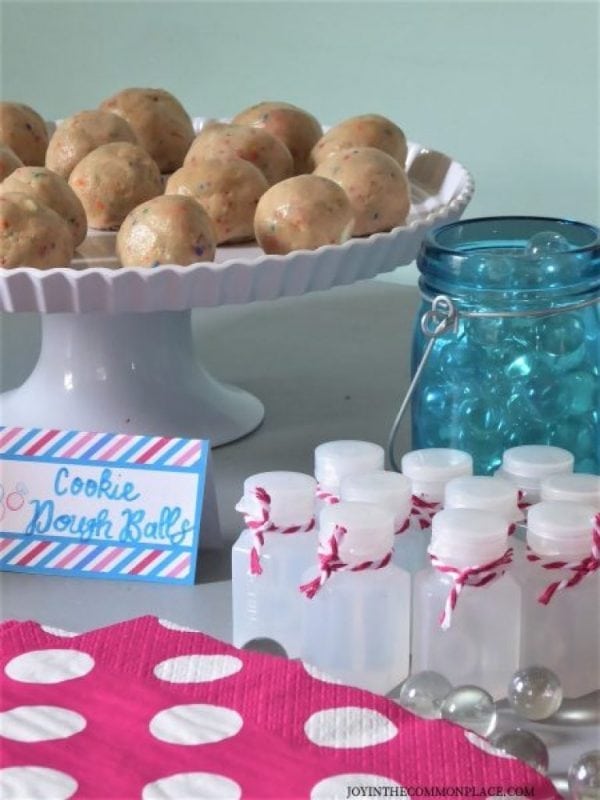 Sarina also made Jello bubbles…so cute and since they are wiggly…definitely a kid-friendly bubble party treat! Add some little edible sugar pearls to your cupcakes to give them that adorable bubble feel!!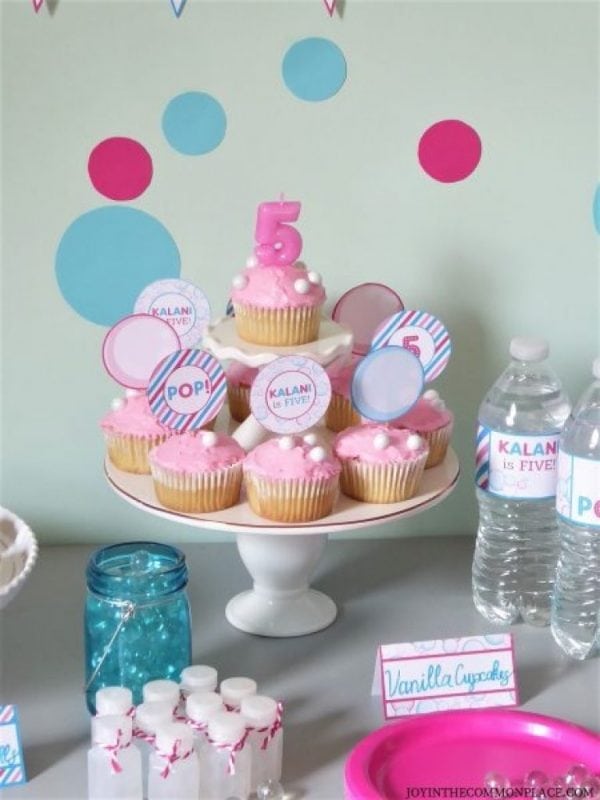 Bubbles Birthday Party Activities
When it comes to throwing a bubble birthday party, the easiest activity you can plan is just simply…bubbles. Grab a simple bubble machine, set it up in the yard and let those kids pop, chase and run in bubbles to their heart's content!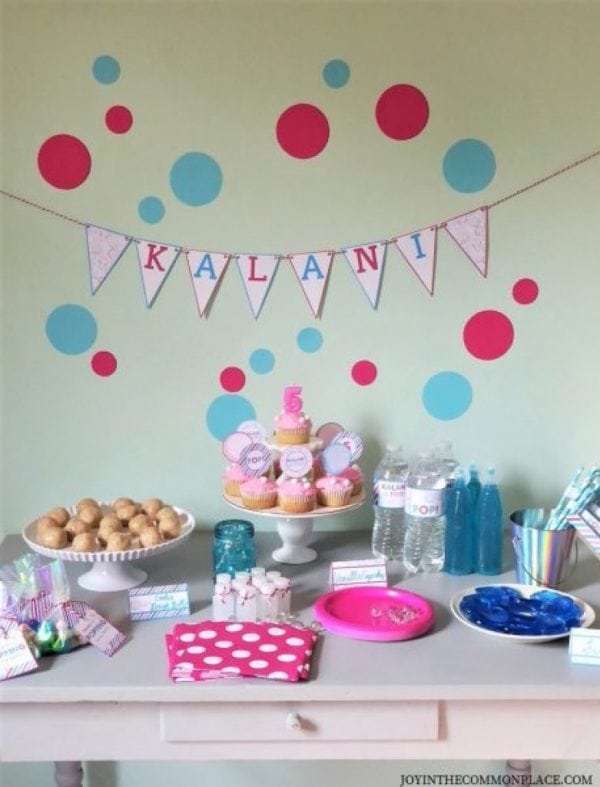 Another great activity for a bubbles party…have a bubble blowing contest. You can use simple bubble wands or even mix some bubbles using bubble concentrate and water and put it in a kid pool with a hula hoop for GIANT bubbles.
So many amazing options.
Bubbles Birthday Party Favors
Two of the best ideas for party favors at a bubble birthday party are gumballs and bubbles. It's so easy it almost plans itself, right!! Grab some cellophane bags and fill them with gumballs in your favorite color, or get some small sets of bubbles.
All you have to do is tie on the favor tags and you are all set!!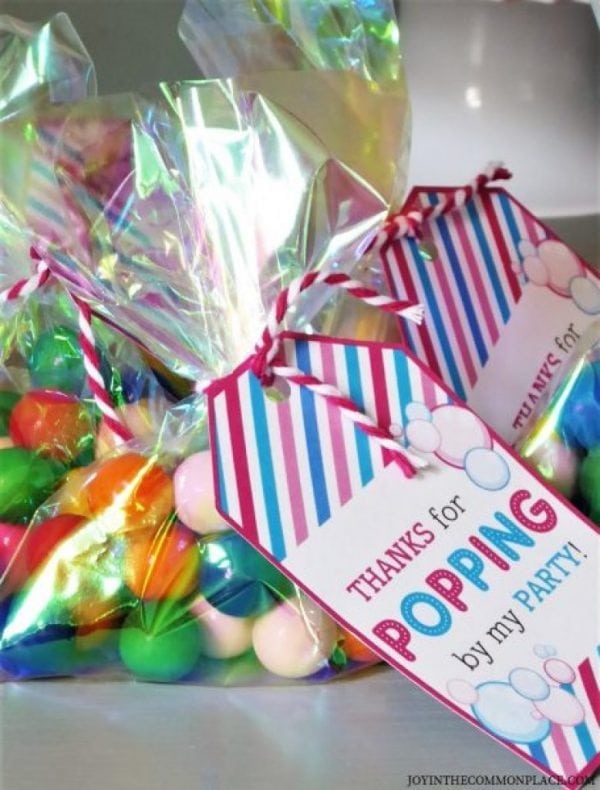 Happy Birthday Kalani! Hope it was a great one!!! Be sure to also check out this bubble party!
Bubble Party Tableware
Grabbing some matching tableware is a great time saving, budget friendly way to plan your bubble party. Here are an some adorable options to help your planning:
Iridescent Party Plates, Cups and Fans from Sweet Lulu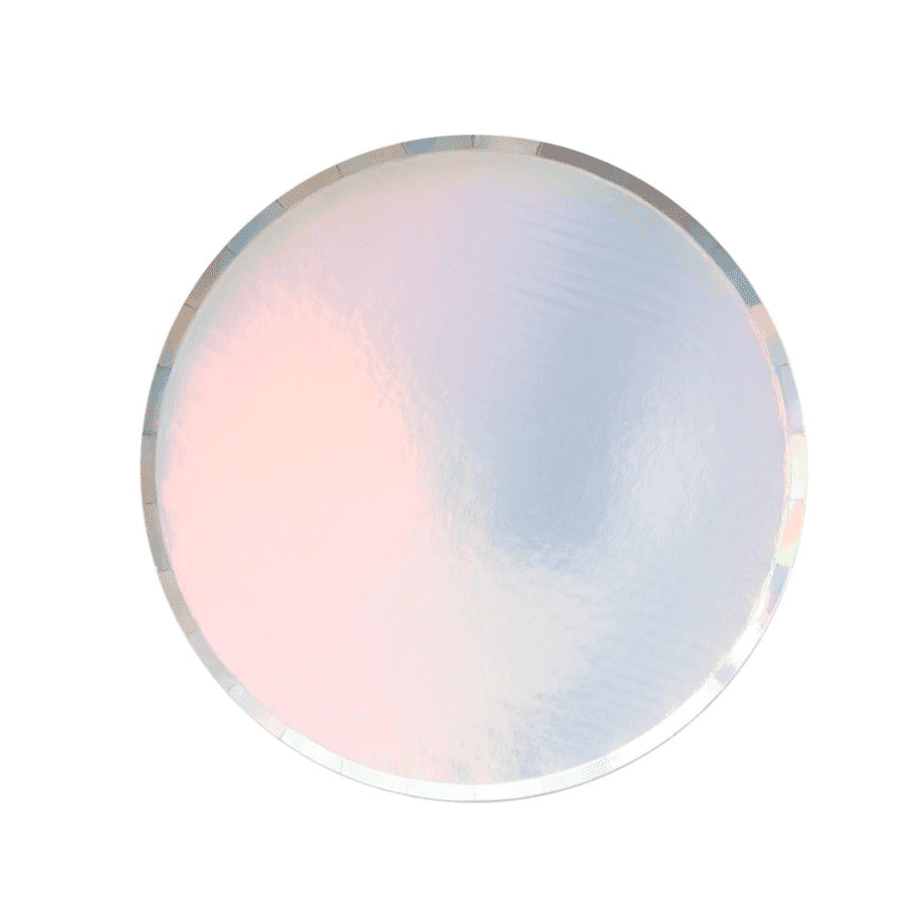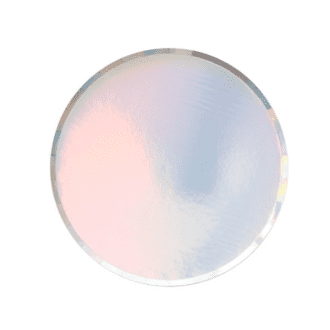 Iridescent Tableware from Oriental Trading

Here are some helpful links for throwing a Bubbles Birthday Party:
If you love this Bubble party…please pin this image to your birthday Pinterest board:
Want to throw a Bubble Party?
The Bright Bubbles Printable Decorations are available for purchase in my shop:
RELATED POSTS FOR BUBBLEs Birthday PARTY IDEAS:
Thank you for reading our Bubbles Birthday Party for kids!