Bubble Party: Brooke's Bubblicious 2nd Bubble Birthday Party. Want one sure fire way to excite any little person? Bubbles! They are like magic popping balls of fun! Today I'm sharing a cute and easy bubble party. Be sure to check out all our bubble party ideas and inspiration.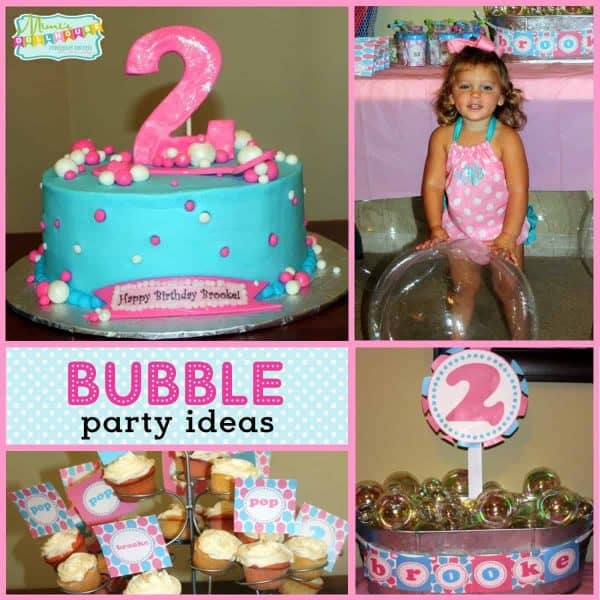 Some party themes you just know are gonna be a hit. When you hear the theme, you're like "yeah, that's awesome!" This is one of those themes…Bubbles. I mean, seriously, what kid doesn't like bubbles? They are basically awesome little floating instruments of joy…until they land on your leg and then it's sticky all day. But kids don't care about sticky…they care about chasing bubbles. It's a beautiful thing!!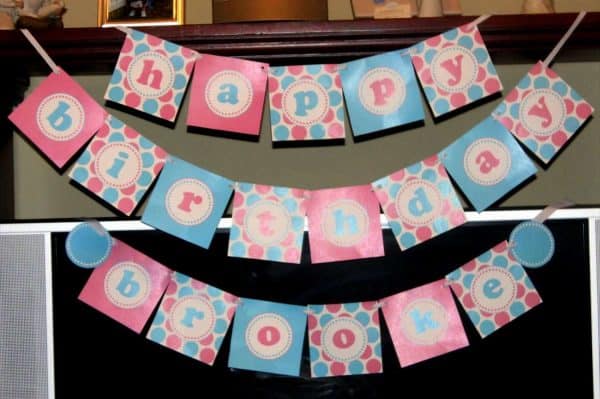 So I recently consulted with Meghan, a super sweet mom of three, to plan a special birthday party for her daughter Brooke.
Meghan wanted to do a Bubble themed birthday. I totally fell in love with this idea. Bubbles are a great summery theme for a little girl!! Meghan got plastic beach balls to litter the floor like bubbles.
She used plastic ornaments in a tub to place her centerpiece and hung my mini-banner on it for a finishing touch.
The guests got personalized party favor cups from The Paperdoll Boutique (who also made the cute invitations) and bubble sticks and treats topped with a Mimi's Bubble themed treat bag topper!!

Here's a shot of the birthday girl…Isn't she a cutie? Her outfit was made by Best Dressed Babies.
The cute bubble cake was made by Wendy Hays.
Here are the cupcakes Meghan made herself with my bubble cupcake toppers on them.
Such a cute Bubbly Birthday…good job Meghan:)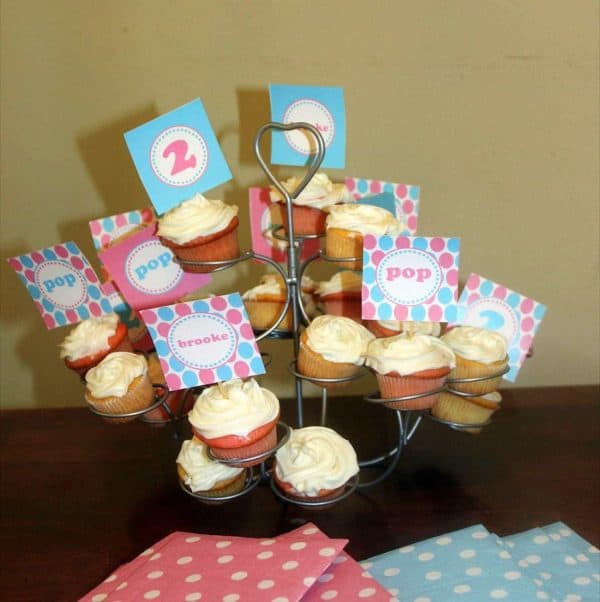 Be sure to check out all our bubble party ideas and inspiration.
CREDITS:
Party Consulting and Printables: Mimi's Dollhouse
Invitation and Favor Cups: The Paperdoll Boutique
Outfit: Best Dressed Babies
Cake: Wendy Hays
Helpful Links to throw a bubble party:
Wanna throw a Bubble Party?
The Printable Bubble Party Package is available for purchase in my shop: