Free Printable Paper Football for Kids
Here is a fun little free printable paper football, perfect for keeping your little ones busy at the table waiting for food! Looking for more football party ideas? Be sure to check out these football desserts, soccer party ideas and this fun sports themed birthday party.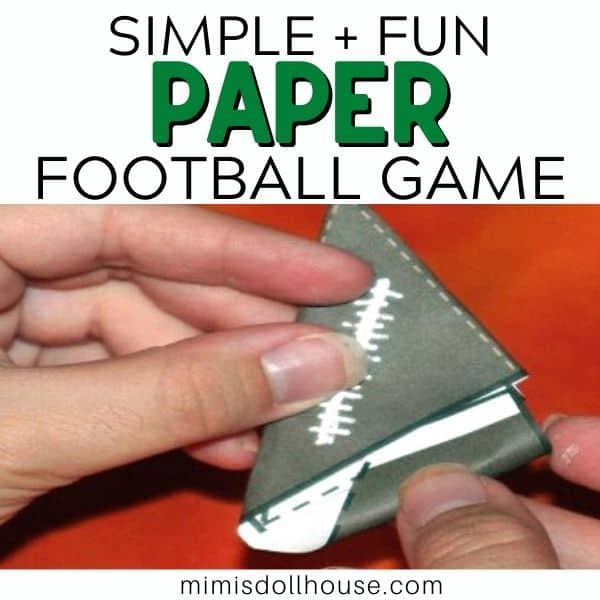 So throwing a football party implies certain activities (like watching the BIG GAME on TV or playing a little Two Hand Touch), but what do you do when there isn't a big game on, somebody's mom won't let them get dirty or its monsoon season? PAPER FOOTBALL…the next best thing to real football if you're on bed rest!!!
All joking aside, a paper football tournament can be a great deal of fun for football fans when playing an outside game isn't really an option. Paper football basically consists of a table and strip of paper. I have even provided a FREE FOOTBALL PRINTABLE for you:)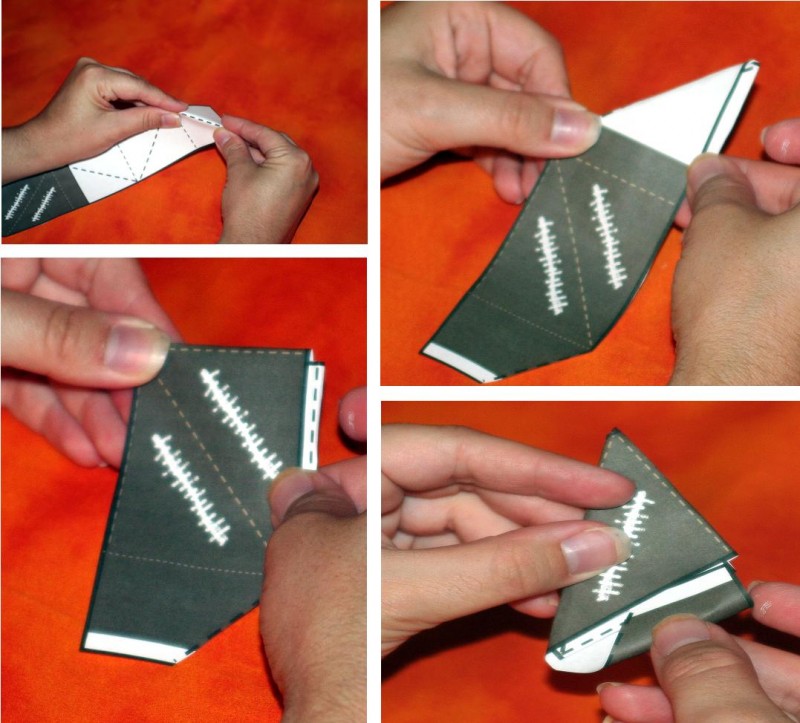 Rules of the Game:
Two players sit on opposite sides of the table. The player with the ball slides the ball toward the defensive player (that's the player without the ball in case my mom is reading).
The object is to get the ball to hang over the opposite edge of the table without falling off. If it falls off or doesn't reach over the edge, the ball changes hands and the other player gets a turn.
If the ball does hang over without falling off, its a TOUCHDOWN and you get 6 points. The defensive player then holds their hands with index fingers up and thumbs touching (making a half square) about chest height and the player with the ball gets to "kick".
To kick you place one edge of the football on the table and support the football up with your finger. You then flick the football toward the "goal post" (the half square made by your buddy's hands).
If the ball goes in between the hands its another point.
Either have a time limit per game or play to a certain number of points. I also have a simple fill-in tournament bracket sheet for you to keep track of your winner.
Go Team!!
To use the printable, just cut out the strip and fold along the dotted lines making a triangle each time. When you get to the last fold, tuck the flap into the folded triangle.
Football Party ware and Supplies
Here are some great options for setting up a Football party:
Football Tableware from Target
Football Piñata from Target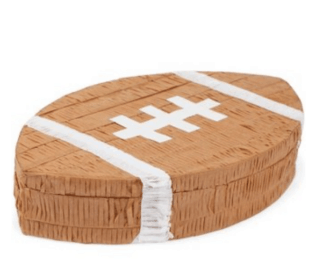 Football Favor Bags from Target
Football Partyware from Oriental Trading
Game On Party Ware from Oriental Trading
Well, regardless of who is playing in the big game, there's always a reason to decorate. Hope you enjoyed these ideas. Be sure to check out these football desserts, soccer party ideas and this fun sports themed birthday party.
If you love these ideas, please pin this image to your football Pinterest board:
Here are some helpful links for throwing a Super Bowl Party:
Wanna throw a football party?
The Printable Football Collection is available in my shop:
Conclusion of Football Party Ideas:
These awesome football party ideas are perfect for a boys birthday or a super bowl party. Whether you are going all out or have just a few football items to theme…you will love these party ideas!
RELATED POSTS FOR Football Game Ideas:
Thank you for reading our Football Party Game!