Soccer Themed Snacks and ideas for Soccer Desserts!
Game Winning Soccer Desserts. Need some inspiration for your soccer party menu? Create a unique dessert table for your little futbol fans with these soccer desserts and soccer treat ideas. There are tons of super cute and creative soccer themed treats you can make to score big at your birthday party!
Ok…so you have purchased your printable soccer party decorations (available at the bottom of this post) and you have all your soccer birthday party decorations ideas ready to go.
What you really need now are some amazing soccer themed dessert ideas to really set your party a part from all the other parties!!Cute cookies and desserts are definitely my favorite part of setting up a party. I, however, am not the greatest cookie decorator.
Throwing a SOCCER PARTY?
☑️ This Soccer Party Kit
is the perfect set to get your party planning headed in the right direction!
Sometimes I do make my own cookies, but with the convenience of ordering from so many super talented cookie decorators, that is definitely my FAVORITE thing to splurge on.
The fun soccer desserts I have gathered are a little mixture of the easy to DIY, awesome if you are a more experienced baker and forget it…order from a pro!
I'm in love with some of these soccer dessert ideas, as I am sure you will be too!
Check it out:
Soccer Desserts
Soccer Cookies from Little Prince Cookies
I love these cookies. The soccer balls are adorable, the mini fields are perfection…and don't even get me started on those funny little stick figures. LOVE. LOVE. LOVE.
These would be great as team gifts, for a World cup Viewing party or for your little soccer fan's birthday party.
Soccer Cookies from The Bearfoot Baker
I love double layer cookies. There is just something extra awesome about the 3-D look of them. These adorable little soccer ball cookies are sitting pretty on frosting grass…you know you love it.
Adorable! And of course this tutorial makes them super easy to make!!
Cookies n Cream Soccer Popcorn from Erica's Sweet Tooth
I love fancy popcorn. It's yummy, easy and always seems to surprise people with its creative awesomeness. Not only does cookies n cream taste fantastic…but doesn't this popcorn kind of look like a soccer ball? GOAL!!
Soccer Ball Cake Pops from Macabees Sweets
Want some cute soccer ball cake pops? Cake pops are a great party treat because they are easy to serve and with the frosting built into the cake, super duper moist and yummy!
The only problem is they might just be too cute to eat…nah!
Soccer Ball Cupcakes from Indulge with Me
If you need another fun idea with Oreos…these are super cute DIY soccer ball cupcakes. I love how simple they are, yet so adorable. Sometimes the best ideas and the ones that can be made with simple things like this!!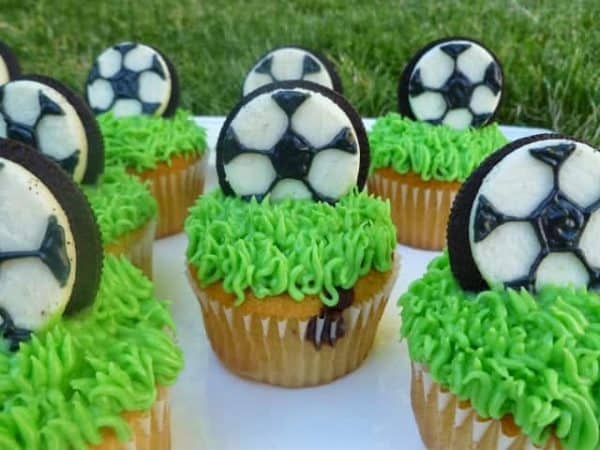 Soccer Ball Cookies from Merci Bakery
Looking for some adorable soccer ball cookies? These
Soccer Cupcake Cake from Shop Cake Girls
This clever cupcake cake is perfect for a soccer birthday. Easy to serve and so much fun. It's sure to score some goals!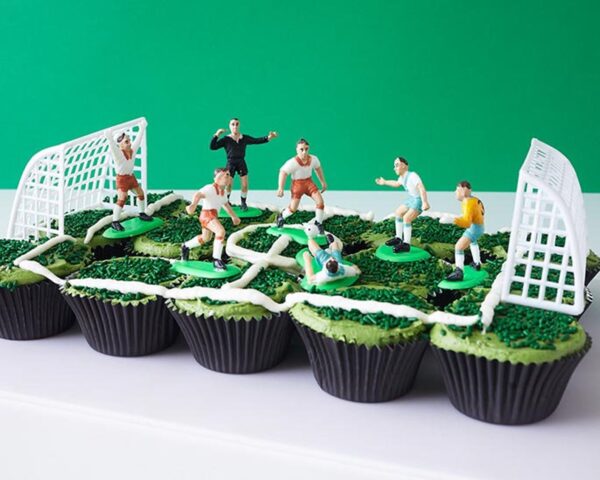 Soccer Cake from Cakest
This is awesome. Do you ever see a super cute custom cake design and think…I'm never going to be able to do that or yeah, sure…if you have a bunch of tools?
Well, Cakest hooks you up with everything you need to make this soccer ball cake on your own. SO its super cute and custom AND you made it. Perfection!!
Surprise Piñata Futbol Cake from BBC Good Food
Feeling a little advanced and want to take a stab at an awesome piñata cake? This cute cake is sure to surprise and excite your party guests.
What's better than cutting into a cake and having surprise chocolate come out…dream come true in my book. This is an adorable soccer cake idea!
DIY Soccer Ball Cookies from Lulu Blue Events
If you are looking at all the soccer ball cookies and find yourself thinking "I can make that!", this is the cookie tutorial for you.
This walks you through step by step how to make your own soccer ball cookies. I think even my basic cookie decorating skills can handle this one!!
Soccer Cupcakes from Family Maven
These are cute little grass cupcakes with soccer balls a top! This fun tutorial makes these cupcakes easy to make. I don't know about you, but I love the frosting grass!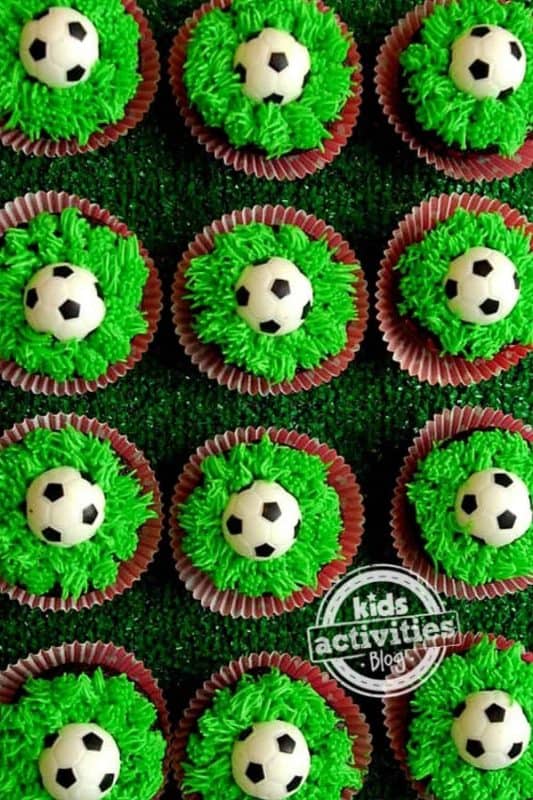 Looking for more soccer party ideas? Be sure to check out these soccer themed birthday party decorations!
Soccer Party Tableware
Looking for some themed party ware to help you serve all these delicious treats? Grab a Tableware set! This will save you time and money looking for matching items to feed your guests. Here are a couple of options to get you set:
Soccer Party Tableware from Oriental Trading
Soccer Party Tableware from Amazon
Here are some helpful links for throwing a soccer party:
Soccer Printables
Want to throw a soccer party?
The printable soccer party decorations are available for purchase in my shop:
Conclusion for Soccer Party Ideas for a Birthday:
These adorable and delicious soccer themed treats are just what you need to make or buy absolutely adorable soccer themed desserts for your soccer party. From cake ideas to delicious sugar cookies, we know you will love these ideas!
If you love these ideas, please pin this image to your birthday Pinterest board: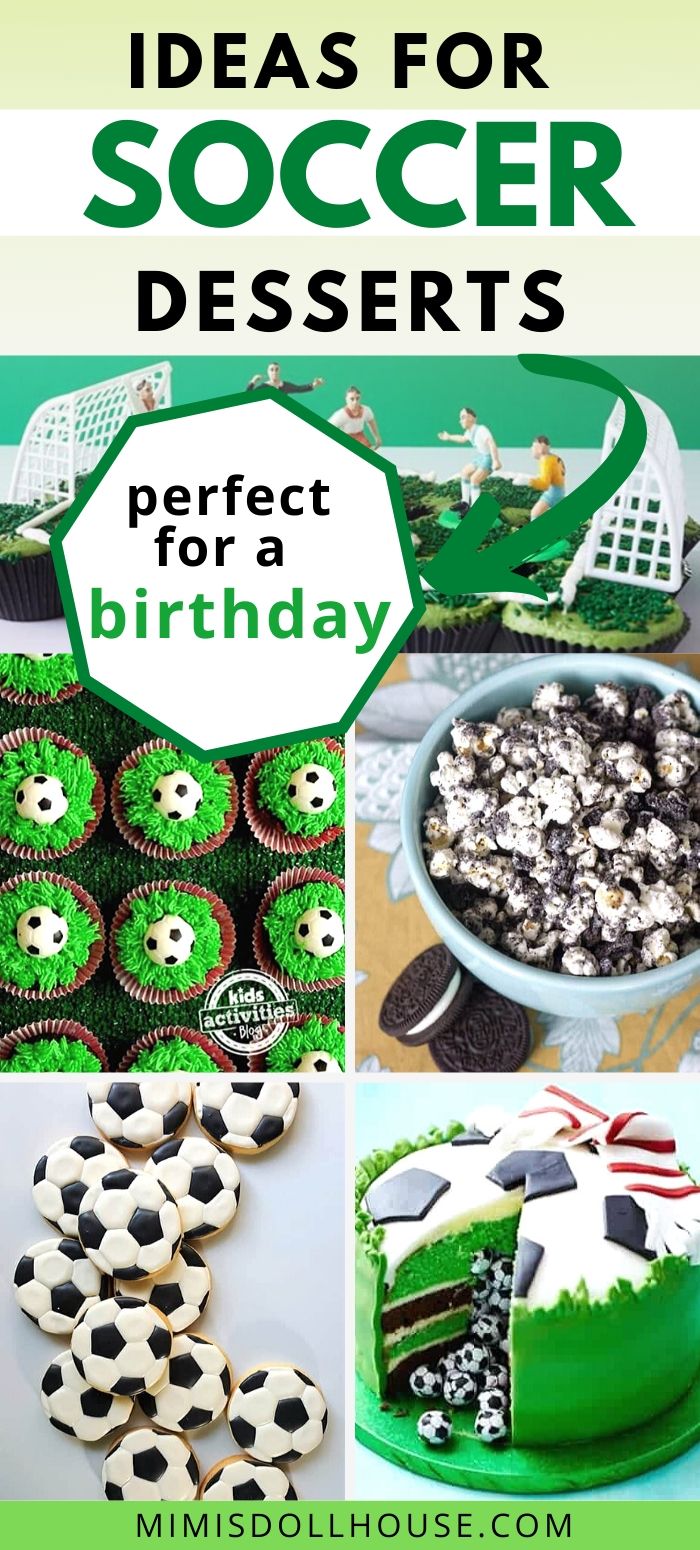 RELATED POSTS FOR Soccer Themed Treat IDEAS:
THANK YOU FOR READING OUR Soccer Dessert IDEAS!