Cowboy Birthday Party: Cowboy Themed Desserts.  Yee-haw!  Throw a rootin' tootin' cowboy birthday party with these amazing cowboy themed desserts! I'm sharing the yummiest, wildest  western-themed party foods this side of the Mississippi today!! Looking for western-themed party ideas?  Be sure to check out this Wild West Party, Cowboy Party and all our cowboy inspiration and ideas!
Aren't cowboy hats just the cutest on little kids.  I was looking through some first birthday pictures for inspiration for my little one's upcoming first birthday and I was super digging all the little cowboy hat pictures.
If you are also sold on the cuteness of a little man in a cowboy hat…you have come to the right place.  Of course, we have easy to use  cowboy printable decorations (or also these adorable wild west printable decorations) to get you started and some awesome cowboy party decorations to inspire you.  Today, however, is all about the Cowboy themed desserts!  Is your mouth a waterin'?  I know mine is.  Amazing treats and desserts are my favorite way to really showcase a party…and western-themed desserts are particularly clever and unique.
Let's check out all the grub:
If you have read any of my blog posts, you are probably aware that I have a ridiculous love for decorated cookies.  These cookies are definitely adorable and worth checking out.  The bandana print is hands down my favorite. I love the small details.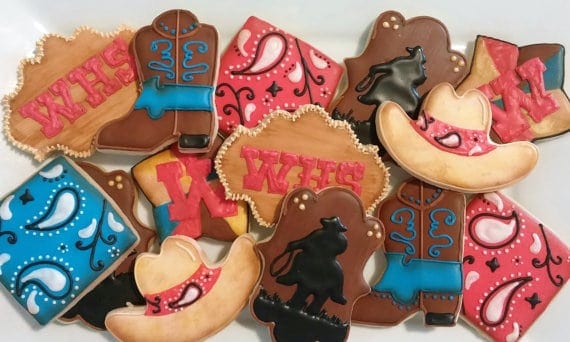 Cowboy Hat Cupcakes from Food Network
Ok…confession time.  I LOVE, LOVE, LOVE clever food hacks.  This might be my favorite cupcake hack EVER!!!  And its so unbelievably simple.  Start with a chocolate cupcake base, add your chocolate frosting (honestly you probably could use other flavors too…but but the dark brown chocolate just really makes this pop to me.)  Now for the hat:  All you need are Pringles chips, white gumdrops (I was only able to find assorted colors, but you can always pull the whites out to use and just eat…or share…the rest),  red licorice laces and a little bit of white icing.  Simply set a pringle on top of the frosted cupcake, add a small amount of white icing to act as glue.  Cut a small notch out of the top of the gumdrop to give it a hat appearance.  Place the gumdrop on the white icing.  Use a small piece of the licorice lace to wrap around the gumdrop to make the band of the hat.  You can have these overlap a bit in the back or use a little icing to "glue" the ends onto the chip as well.  Easy peasy and super adorable!!!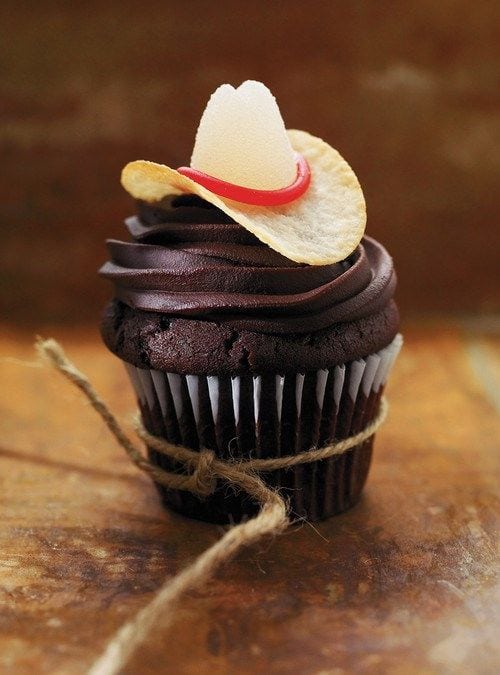 This cowboy cake is everything.  I wish I could decorate a western cake this amazing…but it's just not quite in my wheelhouse.  However, I am super skilled at admiring it and then ordering it from some one who is an accomplished cake decorator.  So if you are a crazy awesome cake decorator and can make this fantastic cowboy cake…I'm a little jealous…please do it and send me pictures!  If you are like me and order it…still send me pictures!!!
Happy Trails Mix from The McLife
This is so clever…I love it.  Whether you make your own trail mix or you buy a ready made mix, I love this cowboy food idea for a party favor.  So simple and yet so yummy!
These western themed fondant cupcake toppers are adorable and I'm so digging the simplicity.  These are great for cupcakes and also for topping cookies or accenting cake pops.  Honestly, the options for using these in cowboy themed desserts are endless.
So speaking of simple and clever cowboy dessert ideas…we were, right?  Hay bales and cow pies!  Simply make some Rice Krispies treats (because they really do look like hay bales) and some chocolate cookies or brownies (because everyone likes to eat pretend poop, don't they?)  I know you are feeling the awesome!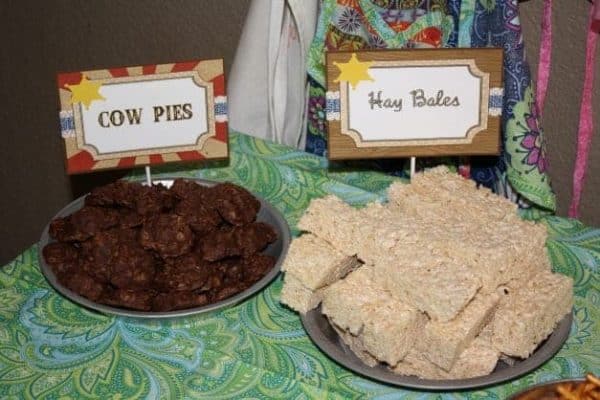 Feeling adventurous and want to take a stab at decorating your own bandana cookies or cowboy hat cookies?  Sugarbelle breaks these cookies down into the easiest to follow amazing cookie tutorials.  Not only are they some of the best, most adorable cookies around…but you can learn to DIY cowboy cookies yourself!  What is better than that?  Eating them right now, I suppose, but second to having them right here in my lap would be learning to make them!
Are you hungry?  I know I am!  Mosey on over to the kitchen and get your cowboy party baking on!!!
Here are some helpful links for serving cowboy-themed desserts:
Looking for western-themed party ideas?  Be sure to check out this Wild West Party, Cowboy Party and all our cowboy inspiration and ideas!
Planning a Cowgirl or Cowboy Party for your little buckaroo?
The Printable Cowboy Party Decorations are available for purchase in my shop.