Cowgirl Party: Sheriff Chevy's Wild West Party.  Yee-haw!  Looking for some wild west party ideas? Today I'm sharing a cute Wild West party full of cowgirl charm.  Looking for cowboy themed desserts?  Be sure to check out these cowboy party ideas, this Cowboy Party and all our cowboy inspiration and ideas!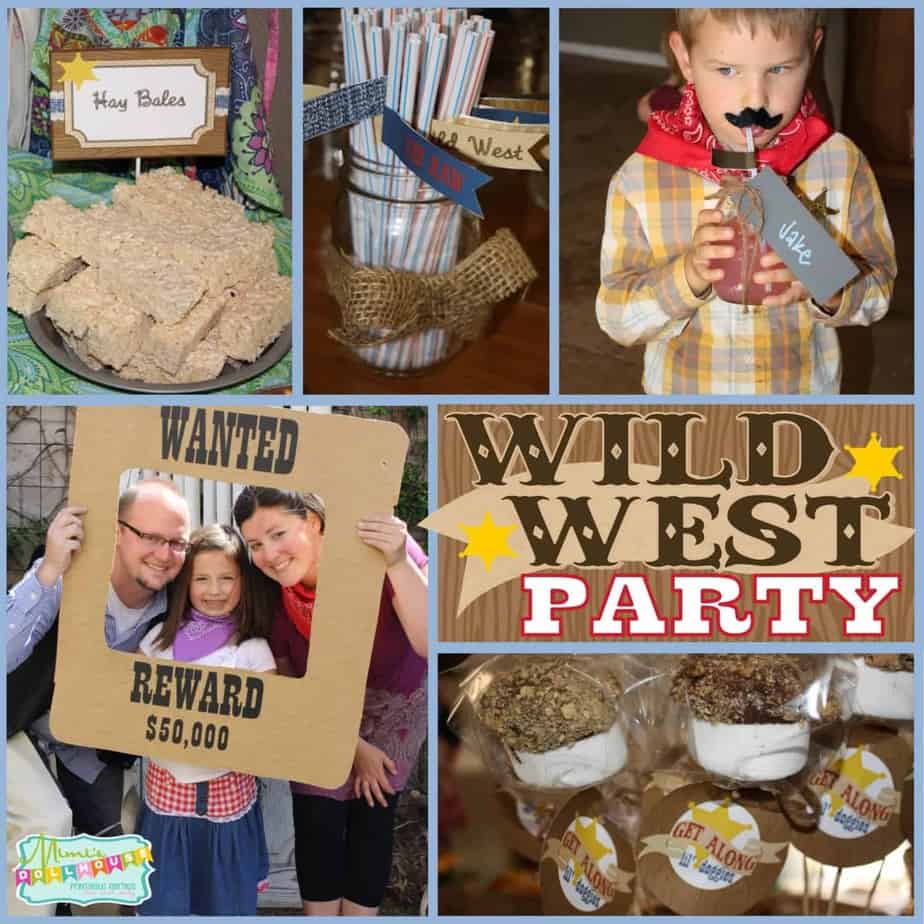 Howdy Ya'll…ready for a rootin' tootin' good time?  There is just something awesome about the Wild West.  So you may or may not be aware that we go to Disneyland a lot.  It's true…we are Disney addicts.  One of my favorite places at Disneyland is Frontier Land.  In front of the Golden Horseshoe, they do this cute little show with a sheriff and an outlaw.  I basically love it.  I think it's the nostalgia of it all.  It's like fiction because it's so different from our reality, but its still historical and real.  The geek in me loves that.
I think that's what is so fun about Wild West parties…they are like traveling back in time!!
This wild west party styled by my friend and blog contributor, Lauren, for her sweet little girl Chevy reminds me of that nostalgia. It's fun, its clever and I'm sharing it today…
The Wild West Printable Decorations Package have the "Sheriff" name added kind of like that cute new Disney show, Sheriff Callie's Wild West.  I love the feminine touches, like the lace, but still has a rough and tumble wild west feel.  Great for co-ed parties.  It can still be girly, yet totally appeal to boys at the same time!  Winning.  Hanging the banner with clothes pins is such a cute idea and plays into the old fashioned feel of the party.
I love the little burlap details throughout the party.  Burlap has become such an easy way to accentuate in parties since they make such a large variety of burlap ribbon.  Some are gorgeous…especially those with the lace accents.
Here's the sweet birthday girl blowing out her candles.  Isn't that sweet??
For the "watering hole", Lauren covered her beverage dispensers with brown kraft paper to make them look western.  Beverage dispensers are definitely one of those items that you should buy and use over and over.  They are amazingly handy.  I have two of this beverage dispenser and it is hands down my favorite.  It's easy to use and easy to clean…just saying!  The very western lemonade, water and root beer were perfect!
The little buuckaroos got hats and bandannas and little stick on cowboy mustaches so they felt like genuine cowpokes!
These cute s'mores pops are great favors as well.  Love it.  These are super easy to make.  You simply place the marshmallow on a paper straw, then dip in melted chocolate candy melts and then roll in crushed graham cracker pieces.  Easy and delicious!
The kids enjoyed getting lasso lessons and pretending to rope a horse.  This is such a great activity and produced so many laughs!!
They also played in the corral and the saloon!  I love the re-purposed playhouse.  Sometimes you use what you already have and its perfect!!
Aren't the cow pies and hay bales desserts perfection for a Wild West party?  Sometimes the most genius things come in the simplest form!!
The wanted poster photo prop is my favorite!!  It's easy to make (just cute from ply wood and add vinyl letters) and it makes for some great photo opportunities!!  Genius!
Thanks for sharing your party with us, Lauren!  Happy Birthday Chevy!!!
Here are some helpful links for throwing a Wild West party:

Looking for cowboy themed desserts?  Be sure to check out these cowboy party ideas, this Cowboy Party and all our cowboy inspiration and ideas!
Wanna throw a Wild West Party?
The Printable Wild West Collection is available for purchase in my shop.