Get groovy with this Hippie themed Valentine Party!
Hippie Valentine ideas for a fun kid-friendly party! Today I'm sharing a GROOVY Hippie Valentine's Party using our Hippie Valentine's Day Collection. These Free Valentine's Printables are super retro and fun!
Looking for more Free Valentines? Check out these Arrow Valentines, these Mustache Valentines and this fun Valentine's Day party.
It's time for some LOVE, PEACE and CUPCAKES!! I love creative party ideas and this one does not disappoint! Check out this adorable Valentine's Day party styled by Sweeten Your Day Events using our Hippie Valentine's Day Collection.
Looking for VALENTINE SUPPLIES?
☑️ Swing by
Target
for all your Valentine's Day needs!
So often with Valentine's Day we stay in the safe zone…hearts, flowers, pink, red…this party is one of my favorites because it breaks all the rules in a GROOVY way. Who says you can't have tie dye for Valentines? Not this girl!!
Let's make cupcakes not war….
There is just something so fun about tie dye! Why not make tie dye cupcakes? Check out this simple tutorial for using the rainbow swirl technique to recreate these amazing cupcakes:
Oooh…is your mouth watering as much as mine?
Don't you just love these adorable cookies?? The tie dye peace signs are my favorite!! I also love the color swirly cupcakes…so cute and psychedelic!!
Chocolate fondue is such a fun way to have an interactive food on your party table! I mean, who doesn't want to dip yummy things into delicious chocolate?
Record cupcake stands are my FAVORITE. I made one for my Beatles Rehearsal Dinner last year. The sixlets in the lava lamp are fantastic.
Wanna make tie dye hearts? Check out the tutorial from Mom to 2 Posh for the complete DIY instructions…
Such super cute ideas! This little sweetheart is adorable with her tie dye lollipop.
Here is a close up of the delicious tie dye cupcakes. Here is a little tutorial for making the cupcakes themselves in the tie dye fashion…yummy!
What party would be complete without some favors?
You can pick up an assortment of hippie themed dress up favors. Makes for great photo ops too! Absolutely perfect!
I love the use of this vintage tambourine to hold the tie dye lollipops. Far out!!
This cute little guy reminds of John Lennon. Love it!!!
The 70s themed tattoos are a fun touch. Cute, cute!!
Adorbs!! I love all the details. Such a cute party for Valentine's Day. Check out all the amazing party ans sweets ideas over on Sweeten Your Day.
Looking for more Free Valentines? Check out these Arrow Valentines, these Mustache Valentines and this fun Valentine's Day party.
Wanna throw a Hippie Valentine's Day Party?
The Printable Hippie Valentine's Day Collection is available for FREE.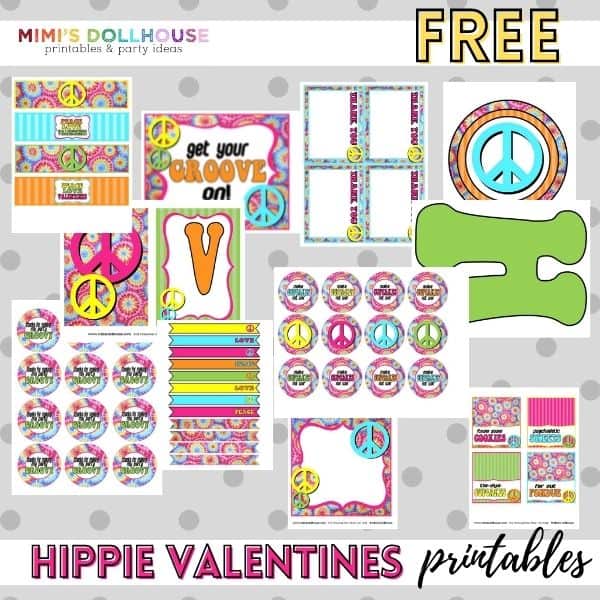 Here are some helpful links for throwing a Hippie themed party:
Valentine's Day Supplies and Partyware
Grabbing some adorably themed supplies and table ware can make styling your Valentine's Day party or serving your Valentine treats a snap. Budget friendly and fantastic…here are some AH-MAZ-ING options:
Valentine Hearts Tableware from Meri Meri
Valentine Hearts Plates and Napkins from Meri Meri
Rainbow Heart Plates from Meri Meri
Conversation Hearts Partyware from Oriental Trading
Ombre Heart Piñata from Sweet Lulu
Valentine Balloons from Amazon
Heartbeat Gang Napkins from Sweet Lulu
Heart Balloons from Target
Heart Plates from Target
RELATED POSTS FOR VALENTINE DECOR IDEAS:
Thank you for reading our Hippie Valentine Party Ideas!