How to plan a simple Valentine themed picnic
Looking for that perfect little way to say Happy Valentine's Day? What could be better than a sweet Valentine picnic in a beautiful garden setting. With sweet treats and beautiful decor..you will love this party!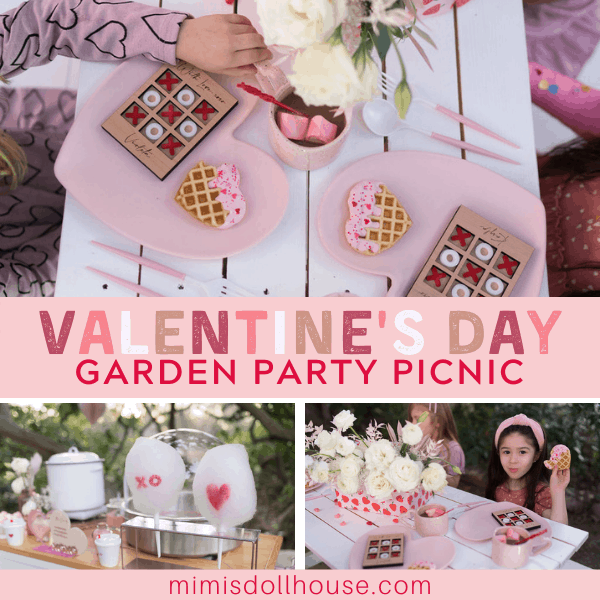 This "Secret Garden" party was styled by Karina Murillo from Diamond Events. It is complete with pink and red heart decorations, forest like greenery, sweet treats and stunning florals.
This garden is the perfect picnic setting for reuniting with friends and even included a cotton candy and a hot cocoa cart.
Valentine Party Inspiration
Karina wanted to do something special for her daughter. Ever since the pandemic started she has not seen her friends and she missed them so much. Having kids away from each other has not been easy.
Her daughter asked everyday, "Why can't I see my friends?" It broke her heart to see her sad not being able to be around them like before.
Since Valentine's was around the corner, she decided to surprise her daughter with an intimate picnic with her close friends. With help from her favorite vendors, she styled this perfect "secret garden" for the picnic.
Her daughter and her friends loved it so much that they did not want to leave.
She chose to hold the party outdoors to watch the sunset and this location was perfect. It had it plenty of greenery, flowers and butterflies flying around.
Oh. So. Dreamy.
Valentine's Themed Decorations
Setting up a Valentine's Picnic is easy with very simple and fun Valentine's Day decorations. You can find some absolutely adorable heart and valentine themed tableware at Meri Meri that your little loves will adore.
Hanging some simple heart paper fans or heart honeycombs is a great way to put simple Valentine theme decor throughout a garden.
The nice part about holding your party in a garden is that the vegetation itself provides such a beautiful base for the decorations. You really don't have to go overboard with setting the tone of the party.
The plates and desserts also double as decorations to give the party that special picnic feel without having to use a large amount of resources.
This sweet little set-up is so perfect for a simple and intimate party. This is such a fun way to celebrate without having a large group.
Pulling the classic white into the design with the picnic table and the food cart is also a great way to make a simple party stunning. You can never overestimate the power of white!
This fun garden party really did not need so much decor. With all the beautiful fresh florals on the picnic table and accent florals to the dessert table, it was perfect!
Valentine Dessert + Food Ideas
No party would be complete without some delicious and of course, THEMED sweet treats!
The cotton candy and hot cocoa cart was such a big hit, Karina's daughter loves cotton candy so she was in heaven. This is such a fun idea and the cotton candy is adorable!!
Handmade cotton candy is not only delicious, but fun to watch being made as well. What a treat for a party!
This cotton candy is stunning!
Also, she found a bakery that made these cute heart shaped bagels! When have you seen heart shaped bagels? Never lol! The girls loved it.
Also, the heart shaped waffles with chocolate and sprinkles….so YUMMY!!! You can't go wrong with heart waffles.
She also wanted to incorporate a table game that the girls could play with, so her good friend came up with the personalized XO (tic tac toe). They were gorgeous.
Valentine's Tableware + Supplies
Grabbing some themed tableware is a great way to save time and money when trying to recreate a party idea. Here are some tableware ideas that would be great for a Valentine's Day picnic: Pink and Rose Gold Tableware and Wildflower Heart plates.
Vendors:
Here are some helpful links for Valentine's Party Ideas:
Conclusion for Valentine Party Ideas for small parties:
Styling a beautiful Valentine themed picnic can be simple and intimate. This gorgeous party is full of amazing ideas that you can easily recreate for your own Valentine Picnic! From fun floral decor to cute, kid-friendly treats, you will LOVE this party!
If you love these party ideas, please pin this image to your birthday Pinterest Board:
Valentine's Day Supplies and Partyware
Grabbing some adorably themed supplies and table ware can make styling your Valentine's Day party or serving your Valentine treats a snap. Budget friendly and fantastic…here are some AH-MAZ-ING options:
Love Notes Tableware from Daydream Society
Valentine Hearts Tableware from Meri Meri
Valentine Hearts Plates and Napkins from Meri Meri
Rainbow Heart Kit from Meri Meri
Valentine's Day Partyware from Oriental Trading
Conversation Hearts Partyware from Oriental Trading
Ombre Heart Piñata from Sweet Lulu
Valentine Balloons from Amazon
Heartbeat Gang Tableware
from
Daydream Society
Related posts for Valentine Garden Parties:
Thank you for reading about these garden party ideas for Valentines!