How to throw a simple butterfly birthday party
One of the sweetest party themes for a little girl is a pretty butterfly party with fun butterfly party ideas. Whether you are planning a birthday or a baby shower or even a spring time wedding, there is an amazing amount of ideas you can do with beautiful and colorful butterflies.
Butterflies are such pretty and super easy to incorporate into a fun spring or summer party. With all the color variations, you can turn butterflies into a party with literally any color scheme to match your favorite (or the napkins and plates you already have).
Throwing a BUTTERFLY THEMED PARTY?
☑️ This
Butterfly Party Kit
is the perfect set to get your party planning headed in the right direction!
Butterflies are great additions to other spring and summer themes like fairies or gardens. You can sprinkle a few butterflies around your party or make them the entire focus. The possibilities are endless! It's truly a timeless classic party idea for girls that you will love!
I recently styled a little butterfly birthday party for one of my favorite lovely ladies (my grandmother) for her birthday. It was perfect to watch her and my own little girls enjoying the butterflies together.
Let's check out some fun and simple butterfly party ideas?
Butterfly Party Decorations
Since our birthday girl loves purples and blues, we styled this party around those colors using these Butterfly plates and matching napkins and matching cups.
We used lavender plastic tablecloths, blue napkins and some paint dipped wooden partyware to add a little color as well. It was sweet and perfect for spring.
Easy Butterfly Backdrop
For the party backdrop, we made a super easy butterfly display. This was so easy, in fact, that my 9 year old daughter made the entire thing herself.
Using a butterfly punch, she punched butterflies out of cardstock. She then glued the butterflies to foam board.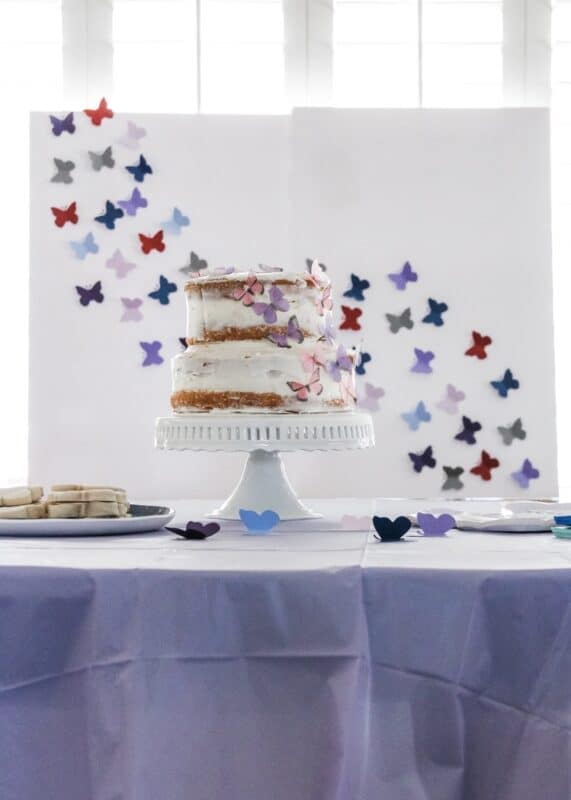 It was adorably simple and made the perfect little setting for the table and the desserts. Finding fun ideas that are easy and affordable are the best for intimate parties like this!
More Butterfly Party Ideas
There are so many fun and unique ways you can decorate a party using butterflies. Looking for more butterfly decorations ideas for your party? Check out these amazing options…
Butterfly Invite from Hey Lovely Co.
Start your party off right with with a gorgeous personalized butterfly invitation.
Butterfly Garland from The Little Things
This simple garland makes a great backdrop for a table or a photo booth. It's so simple and it gives the feel of real butterflies flying about.
Butterfly Party Food Ideas
Turning a party into an amazing butterfly party is simple with some delicious themed desserts and food ideas. For our small butterfly party, I made a naked layer cake with adorable butterflies cascading up the side.
Butterfly Layer Cake
Making this cake is super simple. For this cake, I used my easy white chocolate cake recipe.
For this cake, I made four layers total. Two large layer (11 inches) and two smaller layers (9 inches). You can easily bake layers using a springform pan set like this.
Once I had the cake layers made, I placed them in the freezer overnight.
I find it is much easier to frost frozen layers because they are stiffer and hold their shape easier.
I stacked the layers, adding frosting between each layer. Once they were set, I used white frosting to lightly cover the cakes. With a naked technique, you intentionally leave cake showing through the frosting for a "weathered" cake look.
To top the cake off, I added adorable edible butterflies to the outside of the cake. I had them cascade up the side of the cake. Easy and adorable.
Butterfly Cookies
Adding some delicious and fun butterfly themed cookies into the party mix is a great way to add a little extra to your dessert table. Here are some adorable cookie ideas…
Royal Iced Butterfly Cookies from Sweetopia
Butterfly Cookies from The Treat House
Butterfly Cookies from Sweet Dream Cookies
Aren't these fantastic!!
Butterfly Activities
There are also many ways to incorporate butterflies into your party activities. You can have butterfly coloring pages or a butterfly decorating contest. You can also make origami butterflies.
Cookie Decorating
For our party, we baked some sugar cookies and had the kids (and great-grandmother) decorate cookies together. I baked the cookies with my easy sugar cookie recipe and used this butterfly cookie cutter.
The kids had a blast picking their own frosting and decorating their butterflies with sprinkles.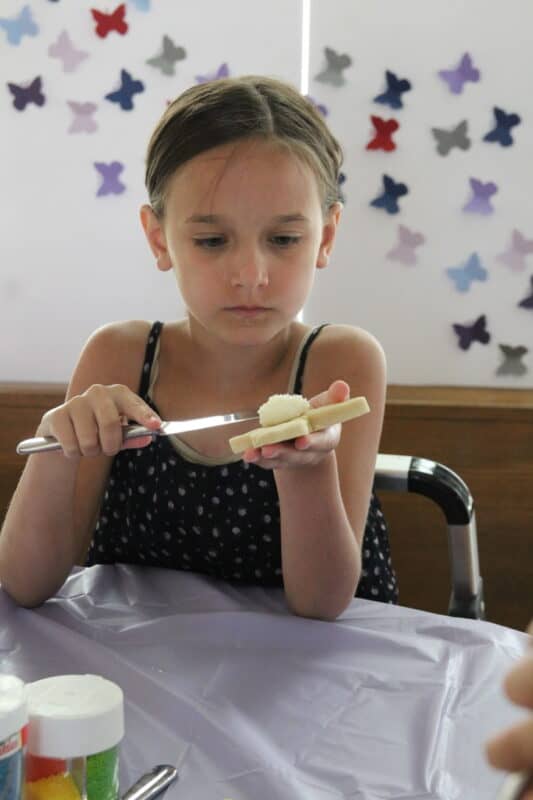 It was a super sweet bonding experience and they loved decorating them almost as much as they loved eating them!
If baking the cookies and finding all the frosting and extras isn't your jam, you can also purchase a decorate your own butterfly cookies kit from Etsy.
Conclusion for Butterfly Themed Birthday Ideas:
From simple to complex and diy to just buy it from a pro…these options are amazing! A butterfly party is a sweet and festive way to celebrate a birthday in the spring or summer. It is very girly and will be a definite hit with all your party guests.
Here are some helpful links for styling a butterfly party:
If you love these party ideas, please pin this image to your birthday Pinterest Board:
Related posts for Butterfly Party Ideas:
Thank you for reading our ideas for a butterfly party!