30+ Valentine Decorations Ideas for your big party!
Valentine's Day is a great time to throw a little love around your home, classroom, office or wherever with some fun Valentine Decor. Why not throw a little party with a LOVE-inspired theme? Are you looking for some Valentine's Day Party inspiration? Or maybe you just want to ooh and awe over some gorgeous Valentine's Day party ideas.
Well we have got you covered. Looking for more Valentine's Day Parties? Checkout these free printable Valentines, Valentine's Day treats and Valentine's Day birthday party.
Can you feel it? It's almost Valentine's Day. I know, I know…it feels like it was JUST CHRISTMAS, right? I'm with you. I feel like I just packed up my Christmas decorations and now instead of visions of sugar plums dancing in my head, I'm dreaming of heart shaped macarons and valentine's day banners.
Looking for VALENTINE SUPPLIES?
☑️ Swing by
Target
for all your Valentine's Day needs!
So with all the fun Valentine's Day ideas populating my ever-overstuffed brain, I felt like I needed to not only find some amazing Valentine's Day Parties to gawk at, but also to share with all ya'll!!!
Trust me…these are off the chain! Take a look…
Valentine's Day Decorations
Mean Girls Themed Valentine's Day Party from Fun365
So Fetch! Do you love Valentine's Day and a little teen drama? Why not celebrate with a fun Mean Girls themed party?
Conversation Hearts Valentine's Day Party from Minted
If you love conversation hearts, why not incorporate them into your Valentine decor? Mix some fun heart balloons and a fun banner…adorable!
Anti-Valentine's Day Party from Fun365
Not feeling the love this V-Day? This NOPE! Anti-Valentine's day party is PERFECT! Fries before guys, Pizza is love and ugh as. What's not to love or not love!
Cute Felt Heart Wreath from Target
This is a simple and super cute wreath that your kiddos will surely love! It would be perfect for decorating your bedroom doors or a classroom door!
Cupid's Arrow Valentine's Day Party from That Cute Little Cake
Bust out some fun cupid themed decor and gorgeous red hearts for a classy Valentine's Day party.
Red Heart Balloon Kit from Party City
How fun are these balloons? Need to say I love you in a big way? Checkout the adorableness of a giant heart balloon heart!
Valentine's Day Playdate from Project Nursery
I absolutely love the idea of having a playdate for my little ones (and not so little ones) for Valentine's Day. Bright colors, fun desserts and lots of fun!
Milk and Cookies Valentine's Day Party from Pizzazzerie
There is nothing quite like a cookie party. For more cookie party inspiration, check out our Milk & Cookies party and Milk & Cookie Cake Ideas!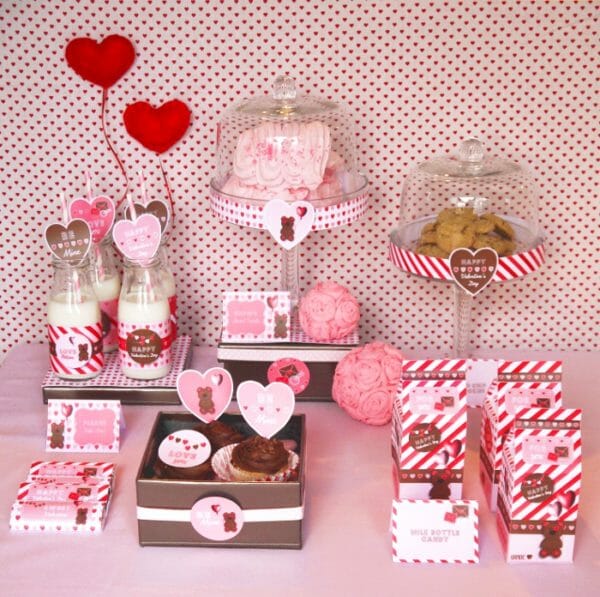 Buffalo Plaid Hearts from Burlap Bell Creations
These little buffalo plaid hearts are too cute. These would be perfect as a centerpiece, on a mantle or as a teacher gift!
Mint to Be Valentine's Day Party from Kara's Party Ideas
Confession…mint is my favorite color! I love this minty twist on Valentine Decor. Perfection!
I Love You Letter Balloons from Party City
Bust out the big guns with some super cute gold letters that will really say "I Love You" in style!
Valentine's Day Cocktail Party from 100 Layer Cake
Don't you just love this pretty paper heart garland? Who says garlands have to be complicated or expensive. Perfection.
Kid-Friendly Valentine's Day Party from Simply Chic
I love these paper flowers and the pretty touches of lavender. Lavender is definitely under used in Valentine decor. It's such a pretty color to accent your decor.
Gorgeous Tulip Valentine Wreath from Celebrate and Decorate
If you are looking for the perfect Valentine inspired wreath for your front door, this tulip wreath is simply gorgeous. I LOVE LOVE LOVE tulips. They just scream love, don't they?
Galentine's Valentine's Day Party from Inspired by This
This bright and shiny party table is a great way to celebrate your ladies this Valentine's Day. Let's do brunch with the gals in style!
Wooden Mason Jar Sign from Handmade Mercantile Co.
This simple design is perfect to accent your farmhouse fabulous decor. I love small touches like these for home holiday decorations.
Hippie Valentine's Day Party from Sweeten Your Day Events
If themes are your bread and butter, this peace. love and cupcakes party is a sure winner. Tie Dye for everyone!
Pink and Gold Valentine's Day Party from Kara's Party Ideas
Bring a little Alice in Wonderland feel to your sweets table with this sweet gold and pink cake! Wanna slice?
Aren't these just absolutely amazing? I can't pick a favorite…it's like choosing a favorite child…you just can't (at least that you'll admit, right??) I mean all the simple things you can do with some pretty cake stands
and inexpensive Valentine's Day decorations
.
Come on!!! Trust me, with a little creativity and a lot of love, you can have a beautiful Valentine's Day Spread. Be sure to take a look at all of our Valentine's Day ideas and inspiration.
We also have some fun Valentine's Day printables to get your creative juices flowing…and of course, when you style your party, submit your party pictures to Mimi's Dollhouse for your own feature. I can't wait to see what you all come up with!!! Spread the LOVE!!!
Looking for more Valentine's Day Parties? Checkout these free printable Valentines, Valentine's Day treats and Valentine's Day birthday party.
Are you feeling the love in the air and on the blog today?
Heart and roses and pink galore….Valentine's Day is on it's way and love is definitely the name of the game. Even when you are only four years old, apparently. My darling angel has decided she is "madly in love" with one of her little friends.
They hold hands and pretend to be getting married and even have a baby doll they take turns holding. I guess I should be glad that she has picked a boy who wants to share in the baby responsibilities, right? Ugh…they grow up too, too fast!
To keep my mind off my little princess' budding romance…I have been perusing all the amazing valentine's day party ideas on all the blogs I love. I love seeing all the uber creative ideas and themes everybody is coming up with. Awesome Sauce!
Here are some of my favorites…
More Valentine's Day Decorations
Call Me, Maybe Party by Giggles Galore
This fun and playful party idea would be perfect for tweens!
Recycled Book Pages Heart Garland from Folk Chain
I love using recycled items in decor. There is just something so satisfying about turning trash into beautiful decorations.
Love Day Celebration by Banner Events
Here is fun and traditional Valentine party idea! Beautiful!

Valentine Heart Pillow from Sweet Hooligans Design
I love these fun little pillows. They would be adorable for dressing your couch up for Valentine's Day.
Valentine's Table by That Cute Little Cake
Here is a little vintage inspired table that would be great for an anniversary or Valentine party!

Valentine Felt Garland from Matthew and Mae
These fun little garlands are a great way to add a little decor to your setup!
Modern Valentine's Day Table by Just Call Me Martha
Sometimes, you just need some simple hearts! The cake in this party is hands down my favorite!
Be My Valentine by Happy Wish Company
If you have some simple red and white decor, you can make an adorable little set-up that is perfect for Valentine's Day.
Valentine's Day Picnic by Dolce Designs
This pretty lace cake is to die for. I love flowers and soft colors for Valentine's Day!
Kissing Booth by Kara's Party Ideas
Looking to pull double duty on that Lemonade Stand? Why not set up a fun little kissing booth. This is perfect for child friendly photo ops also!
Love Bites by Pizzazzerie
If you aren't in love this Valentines….how about a bittersweet setup. Celebrate your single friends with a little anti-love bash!
Kiss Me, I'm Green by Not Just a Mommy
Ok, who doesn't love a little Kermit the Frog? If you want to celebrate with a little green, don't forget to make some super easy Kermit Oreo Pops!
Love is Sweet Dessert Table by Francisca
You can't go wrong with a little gold and glamour for your Valentine's day. Beautiful!
Don't you just love all the love?? Hope these parties inspire you as much as they did me!! Happy Valentine's Day:)
Valentine's Day Supplies and Partyware
Grabbing some adorably themed supplies and table ware can make styling your Valentine's Day party or serving your Valentine treats a snap. Budget friendly and fantastic…here are some AH-MAZ-ING options:
Love Notes Tableware from Daydream Society
Valentine Hearts Tableware from Meri Meri
Valentine Hearts Plates and Napkins from Meri Meri
Rainbow Heart Kit from Meri Meri
Valentine's Day Partyware from Oriental Trading
Conversation Hearts Partyware from Oriental Trading
Ombre Heart Piñata from Sweet Lulu
Valentine Balloons from Amazon
Heartbeat Gang Tableware
from
Daydream Society
Here are some helpful links for throwing a Valentine's Day party:
Looking for Free Valentines? Check out these Emoji Valentines, these Arrow Valentines, these Mustache Valentines and these adorable Cuties Valentines.
If you love these Valentine Decor ideas, please pin this image to your Valentine Pinterest Board:
RELATED POSTS FOR Valentine Decor IDEAS:
Thank you for reading our Valentine Party Ideas!