Strawberry Party: Strawberry Lemonade Stand Play Date. Looking for a fun springtime party idea fot your little girls. Why not style a fun strawberry lemonade stand? Today I'm sharing a Strawberry party I decorated for my little girls. Check out this fun lemonade party and all of our spring time party ideas!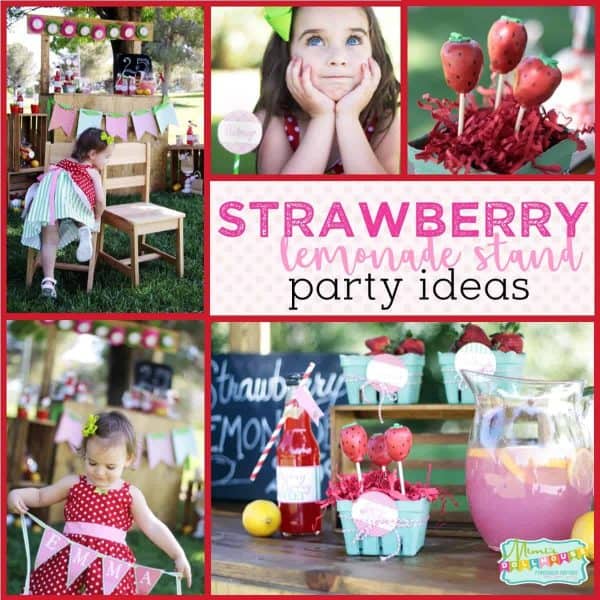 Have I ever told you that I love Spring/Summer time? Well…I do. Love. It. A couple weeks ago, I was feeling the Springtime, warm weather bug. I decided to put together a little play date in the park for my daughters. They LOVE Strawberry Shortcake. Obsession LOVE. It's super cute to me because I can remember this little pair of Strawberry Shortcake tennis shoes my dad had on display in his office for years that were mine when I was little. Now my babies love Strawberry just as I did. I guess some things from the 80s coming back in style aren't sooo bad.
Starting with Strawberry Shortcake as a jumping off point, I decided to put a little twist on an old classic….THE LEMONADE STAND. So, strawberry shortcake+lemonade stand=STRAWBERRY LEMONADE STAND (of course).
With a fun and girly mixture of Pinks, Reds, and Greens and some yummy fresh fruit, it was a match made in Heaven.
This Strawberry Lemonade Stand ended up being one of my favorite spreads to set-up. The girls had a great time (and so did my fabulous photographer Rachel and I). Here's my Aubrey "selling" her lemonade. The lemonade is my Easy Peasy Lemon Squeezy with a little pink food coloring added to the mix to give it that classic strawberry lemonade look:)
My girls:) Aubrey has that far off look in her eyes like she's dreaming of princesses and fariytales (I really think she was rolling her eyes at me though!) My Emma LOVES drinking through the striped paper straws
. I also love using the straws in place of sticks to display the cupcake toppers (those are strawberry cupcakes btw…Aubrey's FAV!)
Here is my Emma having fun with the mini banner. She kept saying "E-M-M-A, that's my name!"
The Lemonade banner was super easy to make. I took small paper flowers and glued the Lemonade banner cutouts to the front. Then I punched holes in the flowers with a whole punch and strung the banner on bakers twine. Easy Peasy.
These fantastic strawberry shaped cake pops were made by Candy's Cake Pops. Perfect for a strawberry party, they tasted just as good as they looked, maybe better!!
My Berry Berry Sweet Girls:)
These ADORABLE Strawberry Shortcake dresses were made by Lover Dovers. They were absolutely perfect and matched by Printables PERFECTLY. If you haven't checked out their retro dresses and aprons…you are seriously missing out on some much needed cuteness!!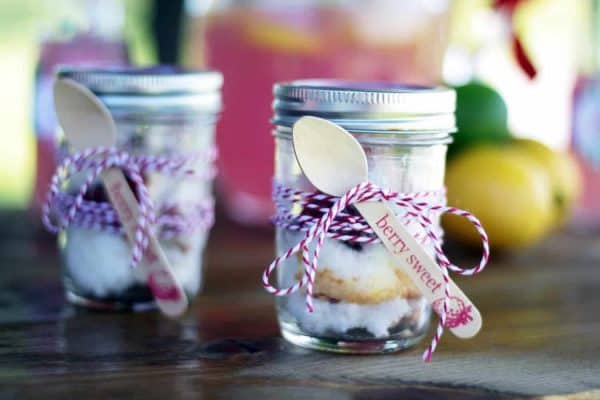 These super yummy Strawberry Shortcake Jars were super, super easy to make!! The little spoons were one of my favorite details of this spread. Aren't they "berry sweet"??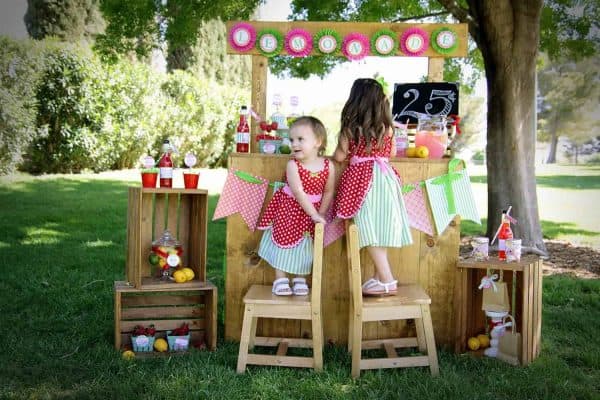 The vintage berry baskets
were wrapped with red and white baker's twine and filled with fresh strawberries. I used the cupcake toppers as little tags in the twine for each basket.

Here is a great shot of the SUPER easy to make Strawberry Buckets. And of course one of my all time favorites…the canvas chalk board.
Do you have a tooth ache just looking at it? It was a beautiful day and a great deal of simple sweet springtime fun.
Vendors:
Printables, Treats and Party Styling: Mimi's Dollhouse
Photography: Rachel K Photography
Strawberry Cake Pops: Candy's Cake Pops
Strawberry Shortcake Dresses: Lover Dovers Clothing
Wanna throw a Strawberry Party or make a Strawberry Lemonade Stand?
The Printable Strawberry Party Decorations are available for purchase in my shop: