Sunshine Party Decorations for a Sunshine Happy Birthday!
Adorable Sunshine Party Ideas. There are so many wonderful sunshine party ideas for throwing a stellar sunshine party. Looking for a fun and festive party theme for celebrating a birthday in the spring or summer?
Sunshine Happy Birthday ideas are so cute for little ones. This also makes a fun theme for a baby shower in the summertime.
I love my mom. Every once and awhile, I even catch myself being my mom. Sometimes its in that "grrr…I swore I would never (fill in the blank) like my mom".
Throwing a SUNSHINE THEMED PARTY?
☑️ This
Sunshine Party Kit
is the perfect set to get your party planning headed in the right direction!
You know, where you want to kick yourself for doing those things you said you'd never do, like answering the questions "Why?" with "Because I said so!" Ummm hi, guilty as charged.
While those times happen more often than I care to admit, the times I really like, though, are the ones when you suddenly see yourself mothering like your mother.
Cuddling your little baby in a towel after her bath and rocking her while you dry her. Braiding her hair into perfect little French braids, and singing songs.
Those are the best. The little songs you remember from childhood. Sometimes I don't even remember knowing the words to a song, but find myself singing it with my littles, or better yet, hearing them sing them to me.
Sweetest. Thing. Ever.
One of those songs for us is "You Are My Sunshine". It's one of my favorites. I love the sweet , old fashioned melody and the playful feel of the song.
I especially love hearing it sung by my two year old. Watch out world…she's gonna have a voice on her someday!
I have put together some of my favorite Sunshine Party Ideas…check it out!
Sunshine Happy Birthday Decorations
Crinkle Paper Sunshine Backdrop from Five Whimsy Lane
This fun backdrop is adorable…I love how they took something as simple as yellow crinkle paper and made it into something so beautiful!! Love. this.
Sunshine Cupcake Toppers from Glued to my Crafts Blog
These are super cute DIY sunshine cupcake toppers. I love the simplicity and the asymmetrical feel of these sunshine toppers. These would be an adorable addition to a party table!
Rain Umbrellas from Decor Advice by the Slice
Why focus on just the sunshine when you can also have the gray skies? These upside down bubble umbrellas make an absolutely perfect backdrop!
Streamer Sun Backdrop from Mimi's Dollhouse
Looking for an inexpensive way to jazz up your party table? This super cute sunshine was made my bunching yellow streamers. Easy peasy and oh so cute!!
Sunshine Banner from Ichabod's Imagination
This custom made burlap banner is super cute. It would be perfect for a party spread or first birthday smash cake photo shoot.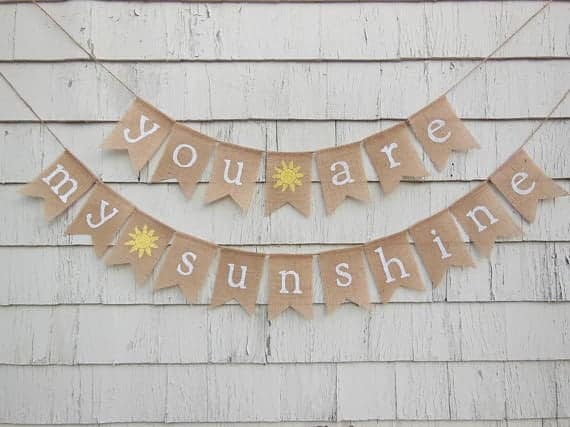 Sunshine Piñata from LaArinita
Ok, so who DOESN'T love a good piñata. This is seriously one of the cutest piñatas I've seen. My favorite part is the cute bow!!! So much fun!!!
Sunshine Balloons from Oz Party Supplies
Who doesn't love some cute balloons? These fun sunshine balloons will be a favorite of your littlest guests!
Tissue Pom Sunshine from Journey of Parenthood
This cute and easy sunshine can made using yellow poster board and tissue honeycombs. Simple, yet so fun!!
Sunshine Tissue Tassel Banner from CM Craft Studio
Simple and beautiful, a tissue tassel banner is a great way to add a little extra spark to your sunshine party tables!
Lemon Flower Vase on Catch My Party
Using flowers on your party tables? Throw some sliced lemons in the water to make them look like little sunshines. Too, too cute!! I feel like I want these in my kitchen all the time!
Sunshine High Chair Banner from Pop and Parties
Add a little cute to your high chair with this sunshine banner! Perfect for smash cake photos!!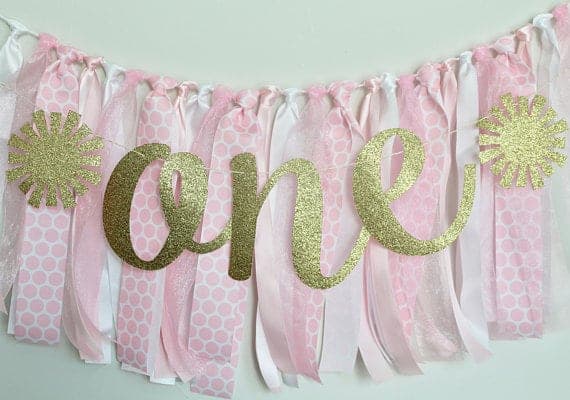 …and so many more!!!
Looking at the pictures makes me want to spent sometime in the sunshine, with my little sunshines:)
Here are some helpful links for throwing a Sunshine party:
Sunshine Party Supplies
Looking for some coordinating tableware to help bring your party all together?
Sunshine Baby Shower Tableware from Oriental Trading
Sunshine Tableware from Oriental Trading
Pastel Sunshine Tableware from Oriental Trading
Sunshine Printables
Inspired by the song, I created two printable Sunshine designs. These packages are available in several color schemes. This design has soft colors and stitching embellishments to give it that handmade sweet cuddly feel. It would be perfect for a first birthday party.
The Printable Sunshine Party Decorations Packages are available for purchase in my shop.
If you love these ideas, please pin this image to your birthday Pinterest board:
Conclusion for Sunshine Party Ideas:
Wishing for a beautiful and bright way to celebrate a little one's birthday? These Sun themed party ideas are perfect for a one or two year old's birthday. Classic and fun, we know you will love these party ideas. They are so great for celebrating a spring or summertime birthday.
RELATED POSTS FOR Sunshine BIRTHDAY Decorations:
Thank you for reading our Sunshine Happy Birthday Ideas!