Sunshine Party: Emily's You are my Sunshine First Birthday. Today I am sharing a very sweet Sunshine Party for Miss Emily's first birthday. Be sure to check out all of our Sunshine Party Ideas and Inspiration.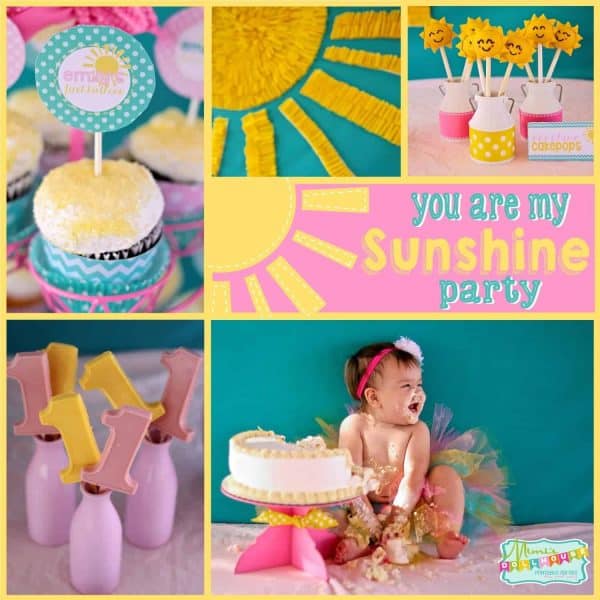 I am super excited to share this pretty party with you all today! Firstly, this is one of my FAVORITE themes for a first birthday. Seriously…love it. Secondly, this party was styled with lots of love by my fabulous assistant/customer service extraordinaire Krystal for her adorable daughter, Emily. This party was particularly fun for me because I was able to sit back and watch her getting her creativity on and fall in love with these gorgeous photos without having to do any of the heavy lifting!!
Check out the details…I know you will love it:)
The sun on this back drop was hand made by Krystal using felt and yellow streamers. Tutorial coming soon! Isn't it awesome? I love how she matched the sunshine printables so well. These large marshmallows were put on lollipop sticks and then were dipped in chocolate and then peanut pieces…delish!!!
I love the chocolate ones! So did the kiddos. Yummy, yummy! The ones were made by melting yellow and pink candy melts and placing in a "one" shaped candy mold. Easy peasy and adorable!! Krystal had so many great ideas for this party and made pretty much all the yummy goodies on her own! Not only were they yummy but they looked pretty stinking cute!! Here is my pretty princess with one of the cutie cute sunshine cakepops!!
The cupcakes were simple grocery store cupcakes dusted with yellow sanding sugar. The pretzel sticks were dipped in white chocolate and dipped into pink and teal sanding sugar. Simple, inexpensive and adorable!!!
These cake pops were my favorite detail of the party…so sweet and happy. They were also just as yummy as they were cute!!! These fantastic cake pops were made by Nikki at Nikki's Cake Pops!
I love the yellow sugar on the cupcakes. So bright and cherry. Here also is Emily's Smash Cake!!
Here's the cute little birthday princess. She sure had a blast with her smash cake!!
Here are some helpful links for throwing a sunshine party:
Happy birthday Emily!
Vendors:
Printables: Mimi's Dollhouse
Party Styling: Krystal Payne from Mimi's Dollhouse
Cake pops: Nikki's Cake Pops
Headband: Val's Headbands
Custom Birthday Shirt: Say it N Stitches
Tutu: Girly Moments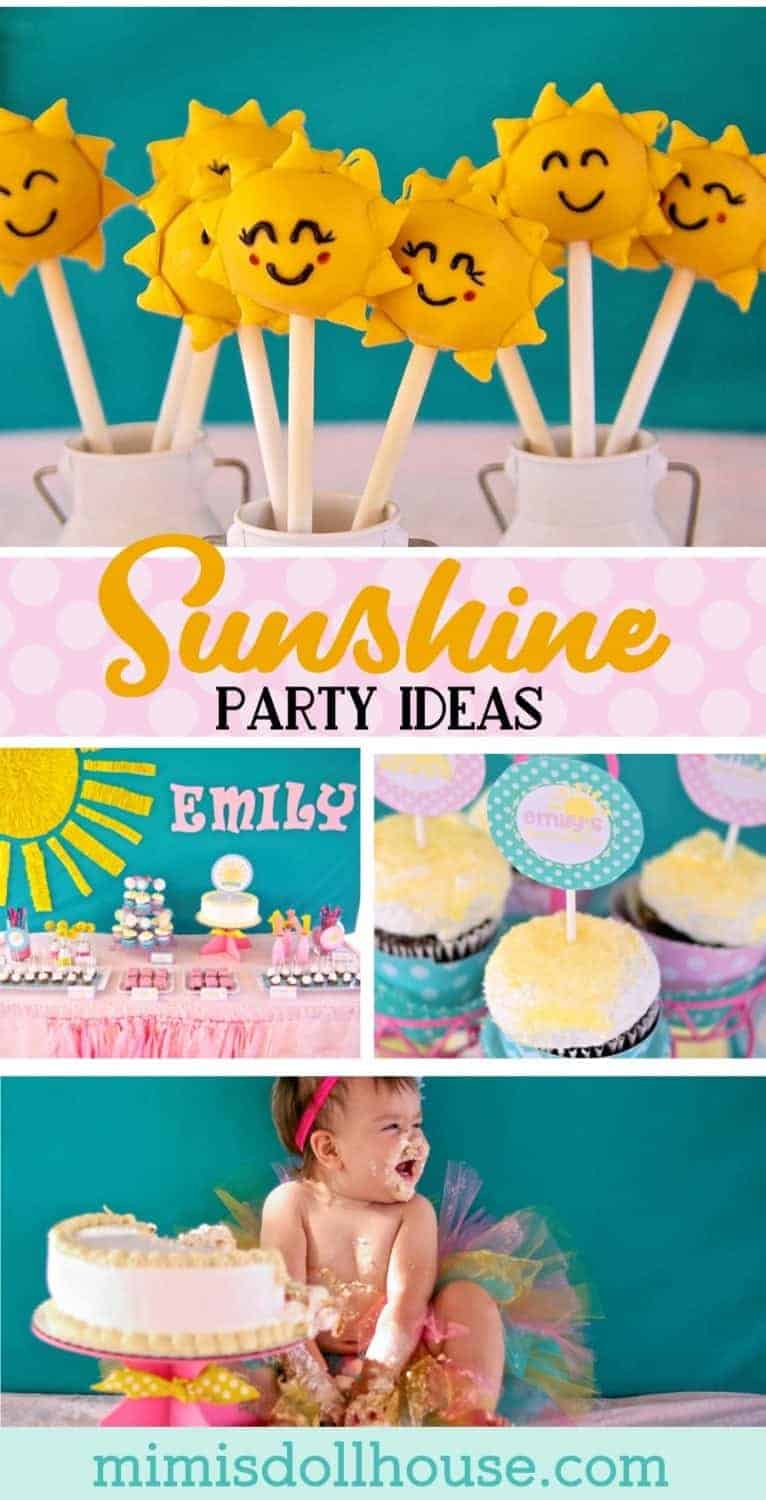 Wanna throw a Sunshine Party?
The Printable Sunshine Party Collection is available for purchase in my shop: