Sweet First Birthday Ideas with a Sunshine Theme
If you are celebrating your little one's first birthday in the spring or summer, a You are my Sunshine First Birthday party would be sublime. With fun and bright colors, it's a great theme for making memories and enjoying some fresh air and sunshine.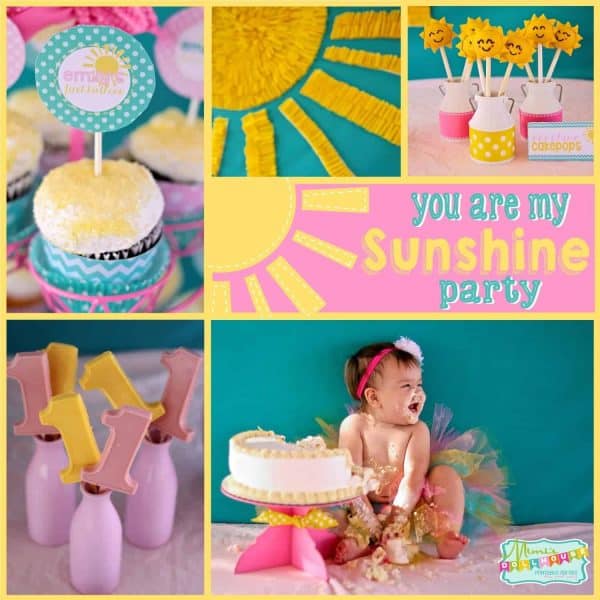 I am super excited to share this pretty party with you all today! Firstly, this is one of my FAVORITE themes for a first birthday.
Throwing a SUNSHINE THEMED PARTY?
☑️ This
Sunshine Party Kit
is the perfect set to get your party planning headed in the right direction!
Seriously…love it. Secondly, this party was styled with lots of love by my fabulous assistant/customer service extraordinaire Krystal for her adorable daughter, Emily.
This party was particularly fun for me because I was able to sit back and watch her getting her creativity on and fall in love with these gorgeous photos without having to do any of the heavy lifting!!
Check out the details…I know you will love it:)
How to make a Sunshine Backdrop
The sun on this back drop was hand made by Krystal using felt and yellow streamers. Isn't it awesome? I love how she matched the sunshine printables so well.
Making this backdrop is super simple. First, you cut out the design you want with felt. You can adhere the felt directly to a backdrop or piece of fabric, or you can hang it on the day of the party.
Using the yellow streamers, cover the felt entirely by bunching the streamers up and stapling at you go. Once you have covered the entire felt, you have an amazing textured yellow sun for your backdrop.
Simple and cute!
Sunshine First Birthday Food Ideas
So the best part of any birthday is definitely the food, right? This fun first birthday party has super simple, budget friendly treats that are great for a toddler's party.
Sunshine Cake Pops
These cake pops were my favorite detail of the party…so sweet and happy. They were also just as yummy as they were cute!!! These fantastic cake pops were made by Nikki at Nikki's Cake Pops!
Not only were they yummy but they looked pretty stinking cute!! Here is my pretty princess with one of the cutie cute sunshine cake pops!!
With fun smiling faces, who wouldn't want to eat these adorable little treats?
Sunshine Cupcakes
I love the chocolate ones! So did the kiddos. Yummy, yummy! Dressing up a simple cupcake with a fun cupcake topper is such an easy way to have a fun themed treat. These toppers are available for purchase at the bottom of the post.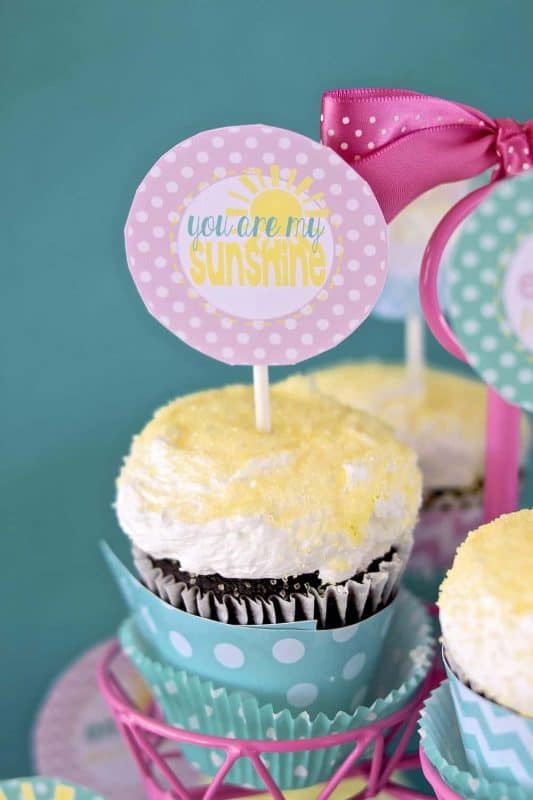 The cupcakes were simple grocery store cupcakes dusted with yellow sanding sugar. The pretzel sticks were dipped in white chocolate and dipped into pink and teal sanding sugar. Simple, inexpensive and adorable!!!
Displaying cupcakes is simple with fun colored cupcake liners. It's a great way to give your food a little pop of color.
Sunshine Smash Cake
Having a smash cake is a great way to celebrate a first birthday. This simple cake was a grocery store bakery special order…which is a great way to stay on budget and still have a delicious and matching cake.
Marshmallow S'mores
S'mores on a stick anyone? Here is a clever little treat that kids will love.
These large marshmallows were put on lollipop sticks and then were dipped in chocolate and then peanut pieces…delish!!!
Lollipops
The ones were made by melting yellow and pink candy melts and placing in a "one" shaped candy mold. Easy peasy and adorable!! Krystal had so many great ideas for this party and made pretty much all the yummy goodies on her own!
Rice Krispies
Did you know frosting Rice Krispies treats is an easy way to make a simple kid friendly treat match your party? Not to mention that Rice Krispies with frosting is super yummy.
Glitter Pretzels
Dipping pretzel sticks into frosting and then sanding sugar is a a fun way to have a colorful treat that little kids will love.
Here are some helpful links for throwing a sunshine party:
SUNSHINE PARTY SUPPLIES
Looking for some coordinating tableware to help bring your party all together?
Sunshine Baby Shower Tableware from Oriental Trading
Sunshine Tableware from Oriental Trading
Pastel Sunshine Tableware from Oriental Trading
SUNSHINE PRINTABLES
Inspired by the song, I created two printable Sunshine designs. These packages are available in several color schemes. This design has soft colors and stitching embellishments to give it that handmade sweet cuddly feel. It would be perfect for a first birthday party.
The Printable Sunshine Party Decorations Packages are available for purchase in my shop:
If you love these first birthday ideas, please pin this image to your birthday Pinterest board: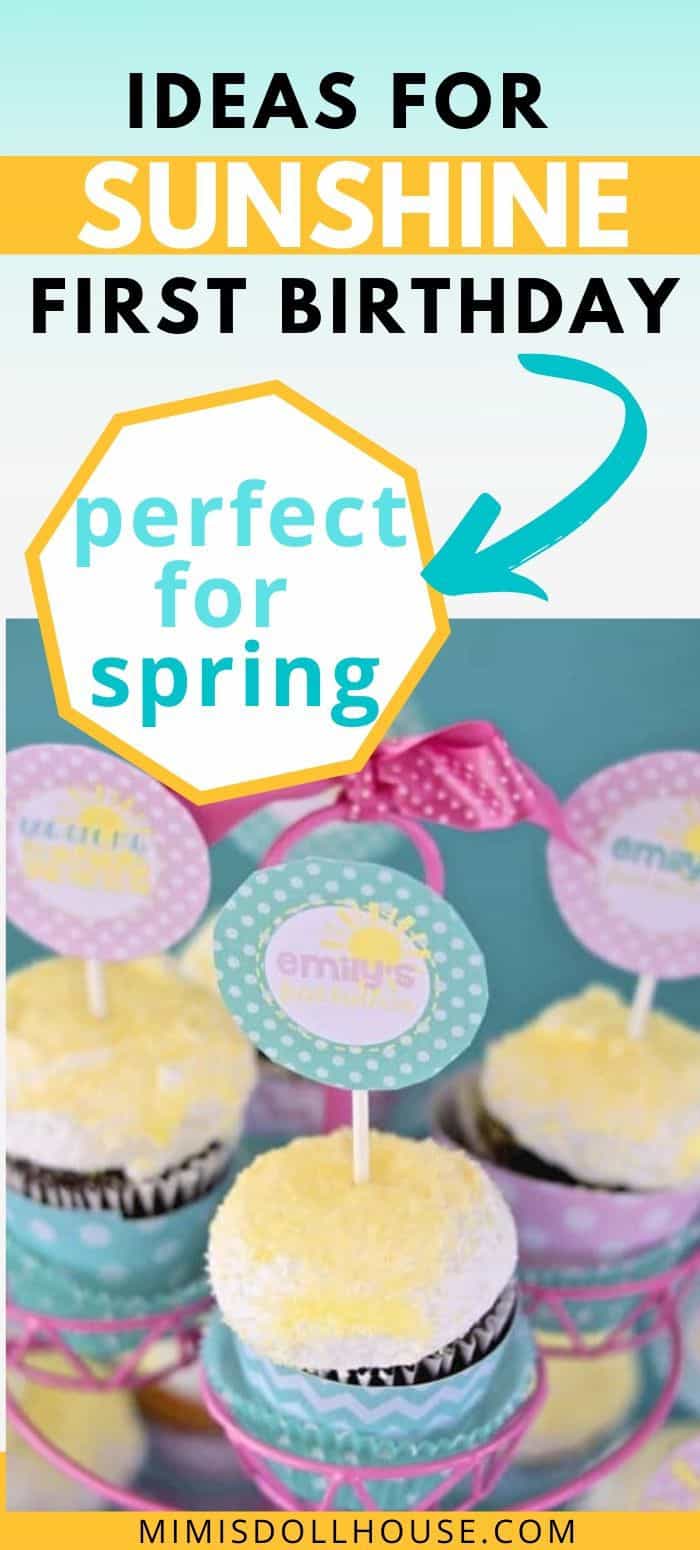 Conclusion for a You are my sunshine First Birthday party:
Planning a sweet first birthday party is simple with a fun theme like You are my Sunshine. With bright and colorful budget-friendly food options and simple decorations, you can have a fantastic party!
RELATED POSTS FOR SUNSHINE First BIRTHDAY DECORATIONS:
THANK YOU FOR READING OUR You are my sunshine first BIRTHDAY IDEAS!