Fourth of July Craft Ideas: Patriotic Mantles and Centerpieces. Let's spruce up our homes with some fun and easy DIY Fourth of July craft ideas. Painted mason jars, glitter candles, banners and more! Check out our other Fourth of July Ideas and Inspiration.
AHH…I love summer! Really everything about it…even the heat:) I love opening up the backdoor and letting the kids run outside and swim in the pool. I love the sizzle of meat on the grill. I love the smell of sunscreen. Ok, I know…I'm a weirdo. There are just so many things to be excited about in summer. Especially because school is out which means sleeping in (or as late as my 3 year old will allow me) is definitely on the agenda. All those things are part of why I LOVE the Fourth of July. Today, I have some super awesome Fourth of July Craft Ideas to share to help make your holiday sparkle!! Check them out.
These are some of my favorite painted mason jars EVER. This is basically awesome sauce. I love how perfect and bright the colors look to.

These are awesome hanging decor for a Fourth of July party or even just chillin' in your house making things look festive all month long.
These are fantastic for party favors. They would also work great made smaller with toilet paper rolls.
So…I LOVE fabric bunting. I love including them in my parties. This is a great idea for a mantle as well…so country chic!!
This flag button tray is super cute. It's a little ore challenging than the other tutorials, but soooo worth it!!

This idea is both adorable and functional. I love blankets for spring and summer picnics…why not have a pretty red, white and blue one?
This is adorable! It would be perfect for patriotic parties or for a mantle display. The colors can be muted to be more Americana or done bright to be modern. So many possibilities.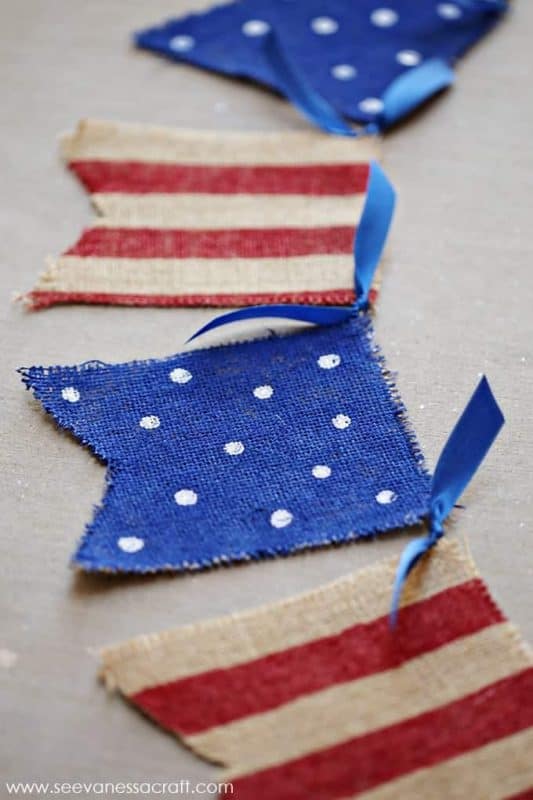 This easy tutorial makes for the perfect centerpiece or coffee table Fourth of July piece. Simple wodd and burlap…amazing!
These glittery candles are fun and festive and would make any Fourth of July celebration or at home decoration pop!
Looking for 4th of July food ideas or Fourth of July Craft Ideas? Be sure to check out all of our Fourth of July ideas and inspiration!
Wanna throw a Fourth of July Party?
Download My FREE Printable Fourth of July Package.