Delicious DIY Fourth of July Food Recipes and Dessert Ideas!
Red, white and blue is not only beautiful in decorations, it's also gorgeous in patriotic desserts! There is just something about serving a festive dish that is as beautiful as it is delicious. Am I right?
There are so many adorable 4th of July food ideas, I almost don't even know where to start!! Just kidding…we start with Fourth of July desserts of course!!
Looking for FREE 4th of July printables? Check out these 4th of July craft ideas, these patriotic wreathes, these awesome patriotic parties and this wooden flag tutorial.
Red, white and Blue food. It really doesn't get any better than that, does it? 4th of July foods are so bright and cheery.
Maybe it is the mixture of summery foods like watermelon and blueberries and the bright colors. Maybe it is the brightly colored chocolates and colored cake mixes.
Or maybe it is the sentiment behind that gorgeous Patriotic color combination.
These desserts are sure to inspire the baking goddess in all of us. Check out these 70 fantastic July 4th desserts and food ideas
4th of July Food and Dessert Ideas
Red, White and Blue Semi-Naked Cake from Delicious Little Bites
How gorgeous is this cake. I love the bright colored layers. Perfection!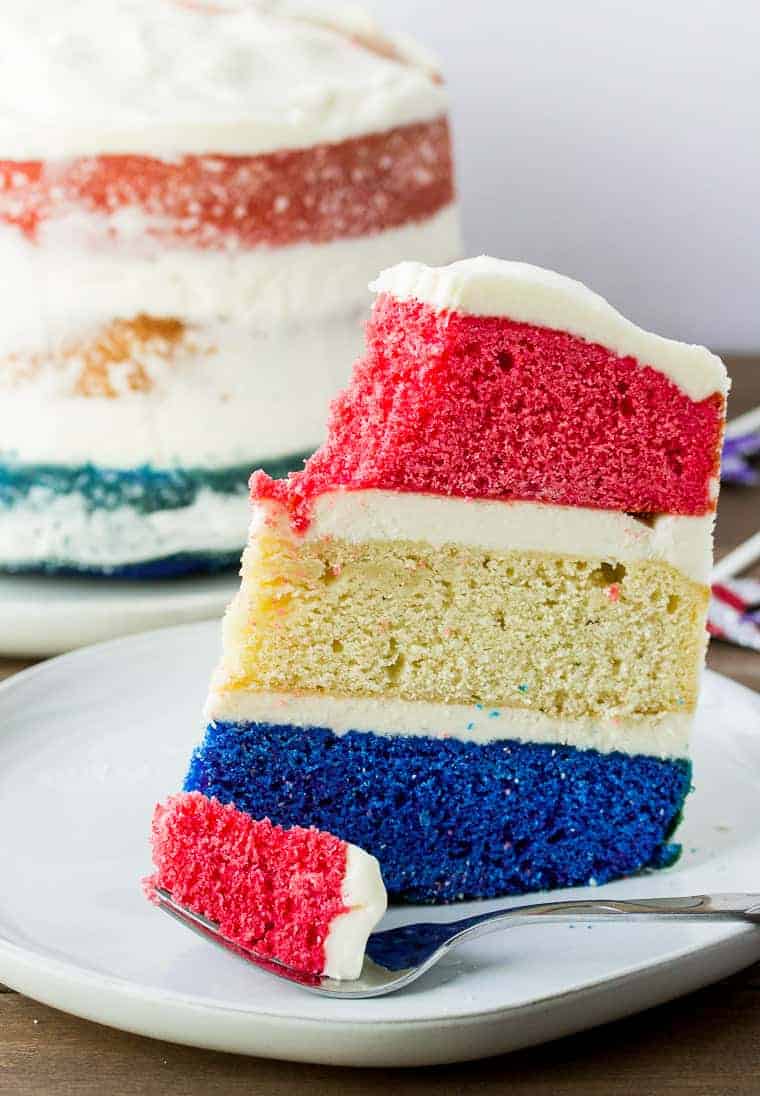 Red.White and Blue Poke Cake from Serena Bakes
Patriotic Popcorn from Thrifty Jinxy
Frozen Yogurt Bark with Berry from Little Sunny Kitchen
This is so simple and so yummy. Such a great idea for a warm weather barbecue!
Layered Watermelon Cake from Creative Green Living
Berry Pastry Puff from Recipes from a Pantry
Red, White and Blue Marshmallow Pops from The Decorated Cookie
This little treat is sure to be a hit with the kiddos. Fun and glittery marshmallows anyone?
Triple Berry Napoleon from Delicious Little Bits
Firecracker Cupcakes from Stylish Cravings
Fresh Berry S'mores from Food Joy Sunshine
You had me at s'mores with berries. Yes…please!
More Delicious Fourth of July Food Ideas
Mini Fruit Pizza Tarts from The Many Little Joys
Patriotic Rainbow Cake from My Sequined Life
Patriotic Fruit Pizza from The Sweetest Occasion
Fruit pizza is such a fun treat and it's so easy to make it beautiful. Pick you pattern and enjoy!!
Patriotic Cupcakes from Janine Huldie
Strawberry Pizza from The Parent Spot
Red, White and Blue S'mores from The Decorated Cookie
Here is another awesome s'mores option for 4th of July. Yummy!!
Red, White and Blue Jello Cups from Dancing Through the Rain
Red, White and Blue Swirl Cookies from The Decorated Cookie
Mixed Berry Swirl Cheesecake Bars from Lemon Blossoms
Cheescake bars are one of my FAVORITE things EVER. Delicious!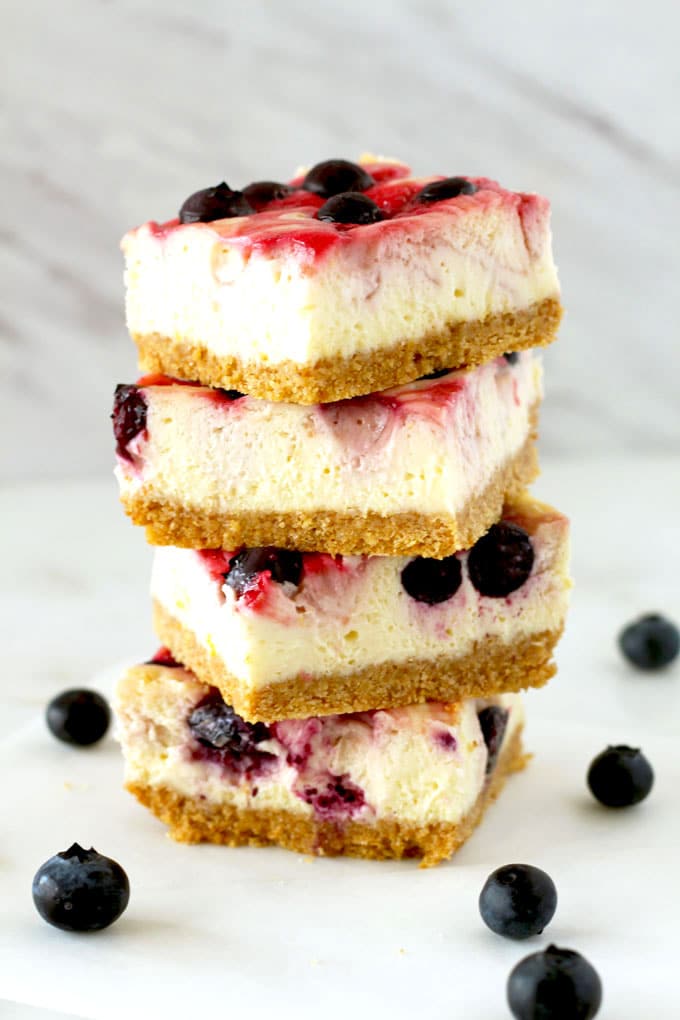 Patriotic Sno-Cones from Thrifty Jinxy
Firecracker Strawberry Pop from Crayons and Cravings
Greek Yogurt Fruit Bites from Salt and Baker
I love bite sized treats like this for large parties. It makes serving and cleaning sooooo much easier!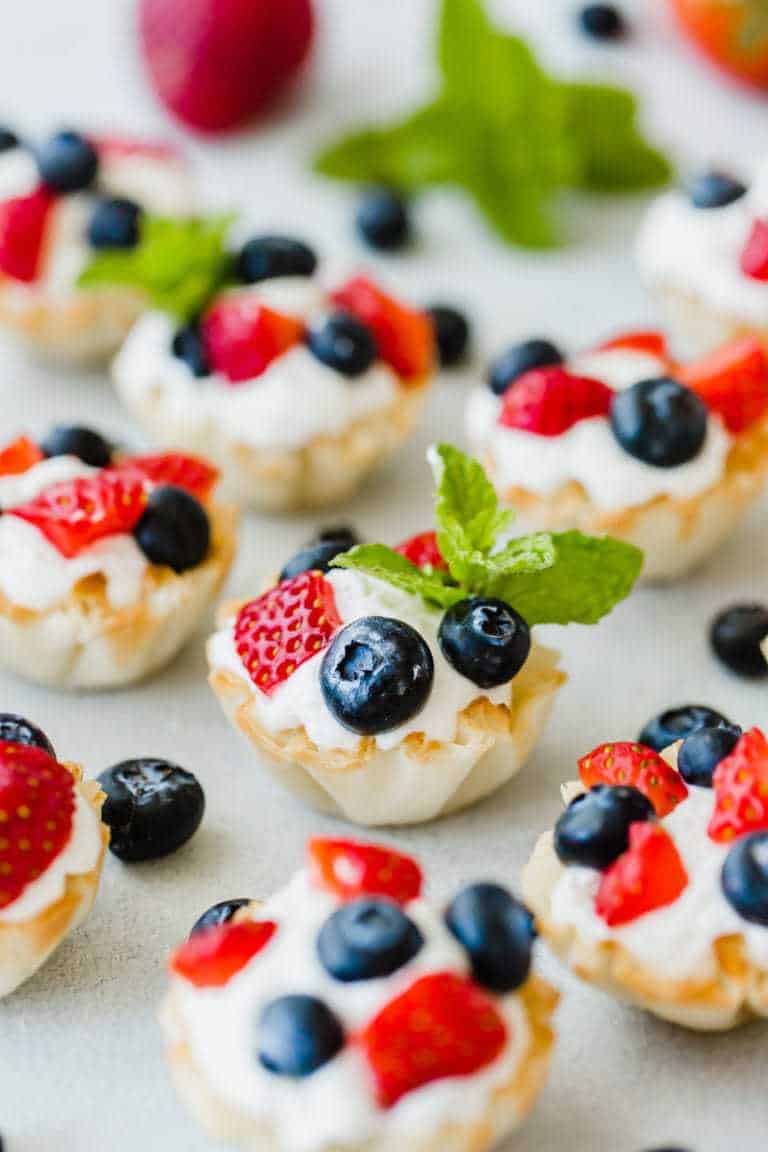 Patriotic Fruit Pizzas from Six Clever Sisters
Frozen Berry Cheesecake Salad from Syrup and Biscuits
Firecracker Popsicles from Fried Dandelions
These look delicious. I love a good popsicle recipe…especially with fruit!!
Diet Berry Trifle in a Jar from Kimspired DIY
Patriotic Trifle from Chic 'n Savvy Reviews
Firecracker Cake from Love Bakes Good Cake
Here is another gorgeous cake option. If layers aren't your jam…how about a swirl?
Beautiful and Easy DIY July 4th Desserts
Red, White and Blueberry Trifle from Chicken Scratch NY
Blueberry and Cherry Shortcake from Baking Sense
4th of July Ice Cream from A Sparkle of Genius
Patriotic Ice Cream seems like a sure winner!!! Yummy!
Berry Steel Cut Oats from Belly Rules the Mind
Surprise Inside Out Brownies from The Monday Box
Star Spangled Cookies from Sugar Spun Run
These cute little cookies are adorable for Fourth of July.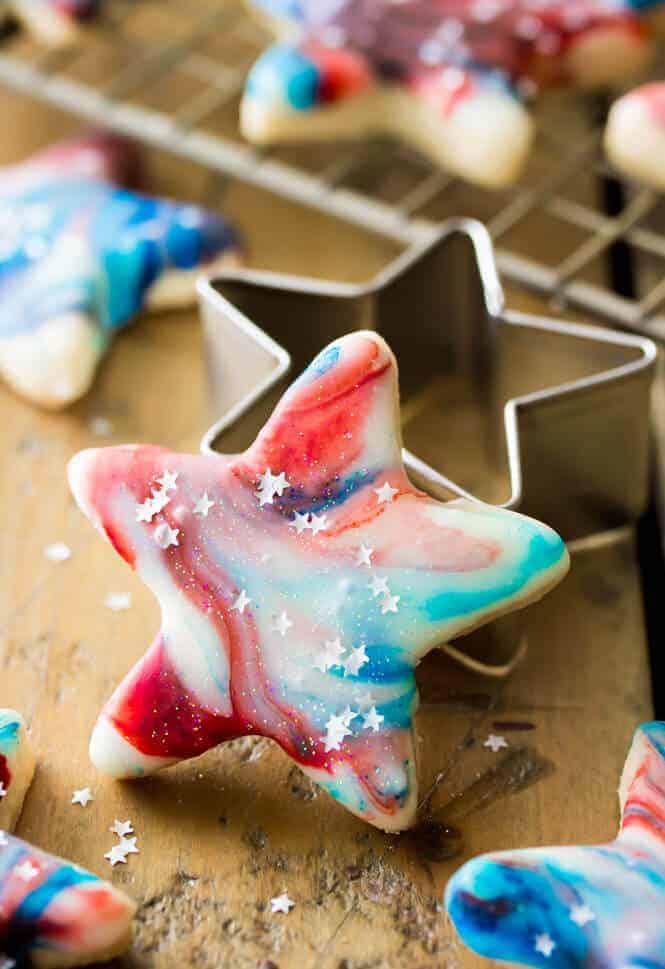 Mixed Berry Dessert from Lemon Blossom
Red, White and Blue Skillet Biscuits from Coupon Clipping Cook
Patriotic Snack Cakes from Dancing Through the Rain
Here is a super simple option for less confident bakers…I love treats like this, since you can time save!
Patriotic Berry Trifle from Crayons and Cravings
Red, White and Blue Layered Jello from Home Family Faith
4th of July Popsicles from The View From Great Island
Here is another awesome popsicle idea. This time with gorgeous stripes!!!
Star Meringues from What a Girl Eats
Two Bite Berry Pies from Cooking with Carlee
Flag cake from Feeling Foodish
This patriotic cake is amazing…absolutely stunning! I love this. Such a genius idea! This would be perfect for a 4th of July BBQ or picnic. Couldn't you imagine eating it while watching fireworks?? You know that's right!

Red, White and Blue Fruit Salad from Life Made Simple
Layered Patriotic Cupcakes from Conservamom
Flag Rice Krispy Treats from Class Brain
How adorable are these super duper festive and easy to make flag rice krispy treats?? Any little kid (or even big grown up sized kid would go ape for these 4th of July treats! They are sure to go quick!!

Fourth of July Chocolate Bark from Sandhya's Kitchen
Nutella and Peanut Butter Stuffed Ritz from The American Patriette
Star Cookies from Very Best Baking
These star cookies almost look too good to eat…Almost! I love the chocolate chips on top of the strawberries. They are positively sinful….seriously they honestly combine my favorite things into one yummy treat!

Patriotic White Chocolate Blondie from Berry Maple
Star-Spangled Fruit Infused Water from The View From Great Island
Watermelon Stars from Domestic Fit
Not all desserts need to be complicated our unhealthy! Use a simple star shaped cookie cutter and some festive fruit…healthy fourth of July dessert your kids will go ga-ga for!
Red, White and Blue Cheesecake Salad from South Your Mouth
4th of July Blueberry Pie from Betsy Life
American Flag Marshmallow Pops from Two Sisters Crafting
How cute and adorable are these. I love simple dessert ideas like this. Some marshmallows and red and blue candy melts…easy peasy!
Berry Oatmeal Smoothie from Veggie Inspired
Berry Tart from Cooking LSL
Red, White and Blue Macarons from Baking a Moment
I love macarons. They are so light and yet so sweet. Making them patriotic is even better…such great Fourth of July desserts. The little stars are just the "icing" on the cake!!!
Vanilla Vegan Pudding from Veggie Inspired
Red, White and Blue Fudge from Crayons and Cravings
Firecracker Cupcakes from Oh Nuts!
These firecracker cupcakes are to die for! Simple, yet fun…come on!!!! These would definitely be a huge favorite 4th of july food idea for the kiddos!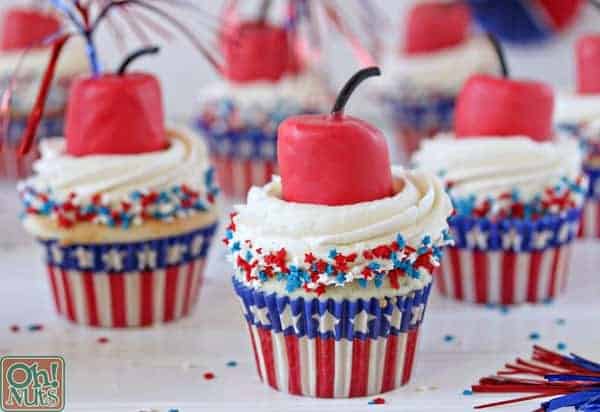 Red, White and Blue Jello Bites from Chic 'n Savvy Reviews
Star Spangled Ice Cream Sandwiches from Thrifty Recipes
Patriotic Smoothie from A Mom's Take
Another fun, yet healthy red, white and blue Fourth of July dessert idea. This is a great way to serve up healthy treats that are delish and festive!
Red White and Blue Funetti Blondies from Salt and Lavender
Fourth of July Dessert Pizza from The Crafted Sparrow
This is adorable, right!!! I love dessert pizza. It's a remarkably simple treat that is easy to serve and so deliciously perfect. You HAVE to try this one!
Red, White and Blue Stuffed Strawberries from Spicy Southern Kitchen
These easy stuffed strawberries are an inexpensive red, white and blue dessert option. Let's eat all the berries!!! So cute!
Fourth of July Flag Pretzels from Sugar Swings
Looking for a little salty with your Fourth of July desserts? How about incorporating some pretzels into the mix with these fun flag pretzels. So fun!
American Flag Cake Pops from Party City
These adorable flag cake pops are easy to make and yummy, yummy! Arranging them neatly on the place makes a great visual that is easy to eat. In. Love.
Coconut Water Berry Popsicles from Back to the Book Nutrition
Still looking for a healthy option? Coconut water is super awesome for you and adding in fresh fruit…perfection in a popsicle!!!
If you are throwing a 4th of July party…Don't forget to download our FREE 4th of July printable package to help make your holiday memorable!!
Here are some helpful links for throwing a Fourth of July party:
If you love these Fourth of July food ideas, pin this image to your 4th of July Pinterest board:
RELATED POSTS FOR FOURTH OF JULY Food Ideas:
THANK YOU FOR READING ABOUT OUR 4th of July Desserts and Food Ideas!