Fourth of July Desserts: 4th of July Food Ideas. There are so many adorable 4th of July food ideas, I almost don't even know where to start!!  Just kidding…we start with Fourth of July desserts of course!!  Be sure to check out our Fourth of July Craft ideas, FREE Fourth of July Printables, and July 4th Party Ideas!
Red, white and Blue food. It really doesn't get any better than that, does it? 4th of July foods are so bright and cheery. Maybe its the mixture of summery foods like watermelon and blueberries and the bright colors. Perhaps….
I'm a sucker for a good patriotic treat. In preparation of the upcoming holiday, I have been checking out all sorts of 4th of July food ideas.
Here are a few of my favorites…
Flag cake from Feeling Foodish
This patriotic cake is amazing…absolutely stunning! I love this.  Such a genius idea!  This would be perfect for a 4th of  July BBQ or picnic.  Couldn't you imagine eating it while watching fireworks?? You know that's right!

How adorable are these super duper festive and easy to make flag rice krispy treats?? Any little kid (or even big grown up sized kid would go ape for these 4th of July treats!  They are sure to go quick!!

These star cookies almost look too good to eat…Almost! I love the chocolate chips on top of the strawberries. They are positively sinful….seriously they honestly combine my favorite things into one yummy treat!

Not all desserts need to be complicated our unhealthy!  Use a simple star shaped cookie cutter and some festive fruit…healthy fourth of July dessert your kids will go ga-ga for!
How cute and adorable are these. I love simple dessert ideas like this.  Some marshmallows and red and blue candy melts…easy peasy!
I love macarons.  They are so light and yet so sweet.  Making them patriotic is even better…such great Fourth of July desserts.  The little stars are just the "icing" on the cake!!!
These firecracker cupcakes are to die for!  Simple, yet fun…come on!!!!  These would definitely be a huge favorite 4th of july food idea for the kiddos!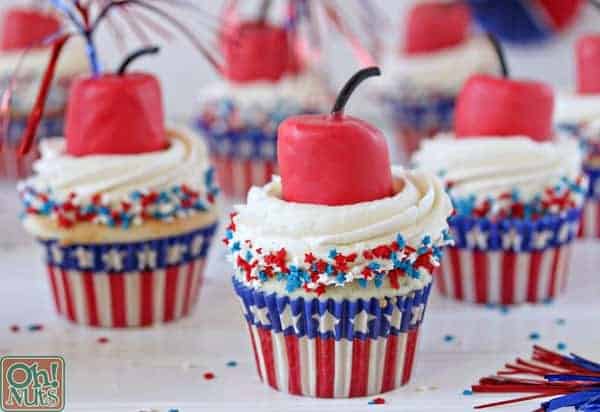 Another fun, yet healthy red, white and blue Fourth of July dessert idea.  This is a great way to serve up healthy treats that are delish and festive!
This is adorable, right!!!  I love dessert pizza.  It's a remarkably simple treat that is easy to serve and so deliciously perfect.  You HAVE to try this one!
These easy stuffed strawberries are an inexpensive red, white and blue dessert option.  Let's eat all the berries!!!  So cute!
Looking for a little salty with your Fourth of July desserts?  How about incorporating some pretzels into the mix with these fun flag pretzels.  So fun!
These adorable flag cake pops are easy to make and yummy, yummy!  Arranging them neatly on the place makes a great visual that is easy to eat.  In. Love.
Still looking for a healthy option?  Coconut water is super awesome for you and adding in fresh fruit…perfection in a popsicle!!!
If you are throwing a 4th of july party…Don't forget to download our FREE 4th of July printable package to help make your holiday memorable!!
Check out our Fourth of July Craft ideas, Vintage July 4th Party, and July 4th Party Ideas!