Patriotic Party Ideas to inspire a festive Fourth of July!
Looking to spice up your Fourth of July party or picnic? Need some inspiration for an Independence Day themed party? Patriotic Parties are a fun way to celebrate the holiday.
Whether it's Fourth of July or Memorial Day or you just feel like hanging a little stars and stripes on your door, there are so many amazing ideas for patriotic parties!!
Be sure to check out these Fourth of July dessert ideas, and these 4th of July craft ideas!
I don't get to throw a Fourth of July party this year! I know….I'm bummed.
We will be celebrating my baby brother's wedding (which by the way IS red, white and blue so I won't be completely without my independence day decor!!) so I will be HOURS from my craft room and my kitchen.
Since I won't be whipping up any patriotic parties of my own, I am featuring 8 great Patriotic Parties that will make you see stars…and stripes. There will also be stripes!
4th of July Party Ideas
Fourth of July Party by Karo's Fun Land
This Stars and Stripes party is my personal favorite of all the patriotic parties (and not just because it uses my FREE Fourth of July Printables.)
I love the colors and the details…there is something so perfect about vintage Americana…don't you think!?
Patriotic Country Fair from Hostess with the Mostess
This Patriotic Country Fair is also styled using FREE Fourth of July printables and it is stellar!! My favorite detail has got to be the glitter farm animal parade.
Really, really cute. This party has messed the classic vintage feel of Americana with a modern,fun twist. Super cute. One of my favorite patriotic parties ever!

Seersucker Themed Picnic from Fanciful Events
I really like the sweet lemonade stand feel of this party. My favorite detail has to be the cute little seersucker bow-tie cupcake wrappers.
I mean, can you get any cuter than that? I think not..patriotic parties can still be cute!!
More Patriotic Parties
Starry Night from Any Given Party
This cute red white and blue party is sweet and festive. I really like the simplicity of the stars and the striped cups.
This is a great spread when your Fourth of July party is indoors. Very bright and cheery.

Fourth of July Celebration from Celebrate and Decorate
Like your patriotic parties with a crackle? Check out this fun firecracker party. I love the different patterns and the homemade feel of the table.
They are definitely ready for the fireworks show!
Patriotic Birthday from The Girls
Hands down…my favorite detail of this party is that super cute hand painted flag on the backdrop. I love the rustic simplicity. Gorgeous.
This is an adorable birthday party idea if your little lad or lady has a summer birthday or even just really loves being a little patriot!
I have a Fourth of July baby myself…so maybe I'll be throwing one of these too!!!
Let Freedom Ring Party from Super Mom Moments
I love the music theme that is used throughout the table. The best detail for me, is the cute little pies with the flags.
Love it!! Definitely a fun way to celebrate Independence Day!
Vintage Fourth of July Party from Lia Griffith
I love the fun vintage details and the handmade details. This is great for patriotic parties in the park and big bbq get-togethers.
My favorite detail is the little pinwheel on the straw. Too cute:)
I hope these ideas for rockin' and creative patriotic parties are as inspiring to you as they were to me! I would love to feature any of your patriotic parties.
Check out how to submit your party for feature!
You can also download the FREE Fourth of July Party Printables!!
Here are some helpful links for throwing a Fourth of July party:
If you love these 4th of July patriotic parties…pin this image to your Fourth of July Pinterest board: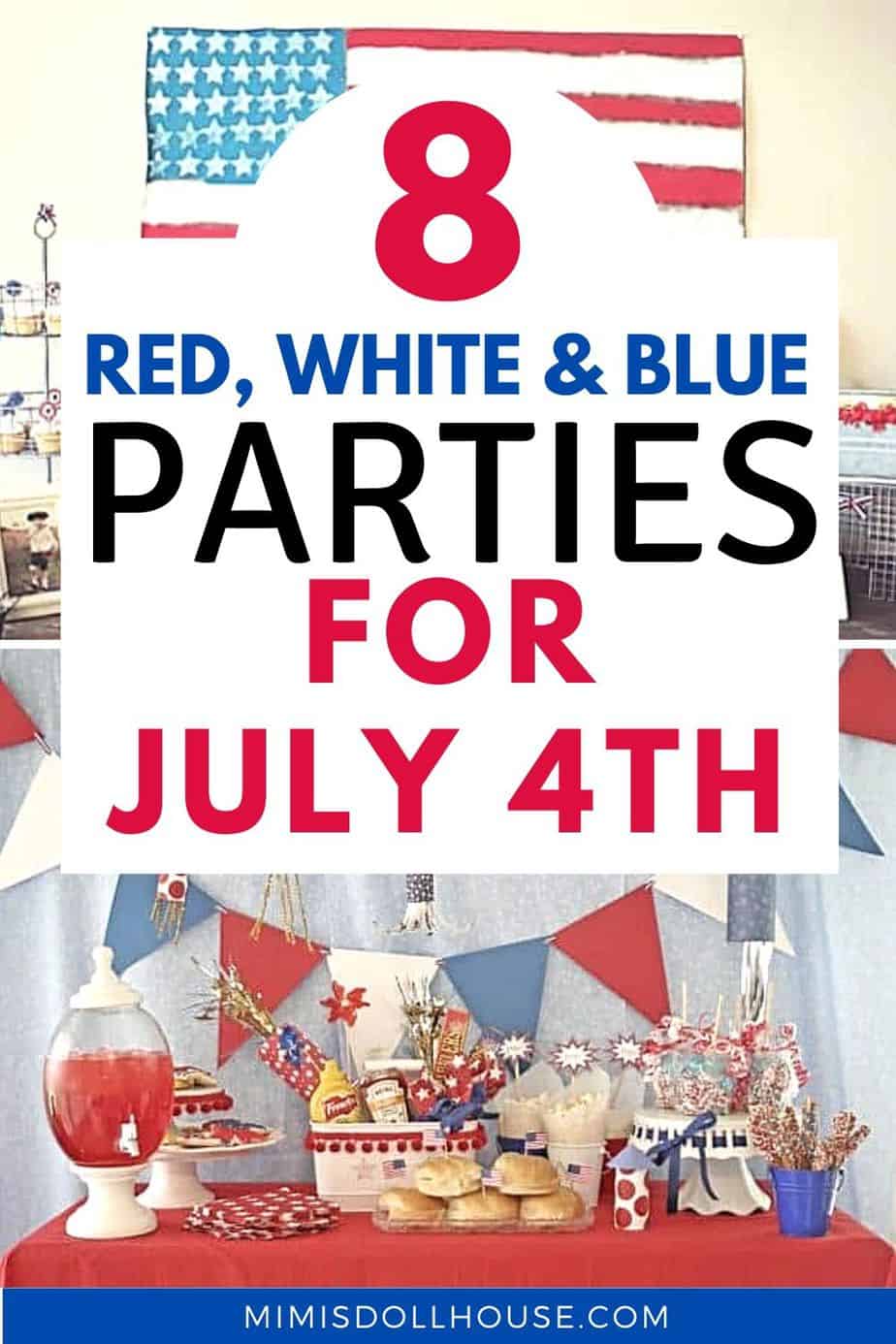 CONCLUSION FOR Patriotic Parties:
Fourth of July is a great holiday for getting your decoration on. These parties are so cute and tons of inspiration for any party planner or busy momma with a hot glue gun!
RELATED POSTS FOR FOURTH OF JULY Party Ideas: