Ideas for a Pre-historic Kid's Birthday Party
Kid's Dinosaur Party ideas for an amazing themed party your little one's will love! Dinosaur themes can be roar-some! Looking to throw an awesome Dinosaur Party and want some fun, easy and of course super yummy Dinosaur Party ideas? Heck yes!
Make no bones about it…Dinosaurs are just plain cool. I'm a big fan. Let me tell you, if I had a little boy, I would be ALL about throwing a Dinosaur party for him.
Throwing a DINOSAUR PARTY?
☑️ These Dinosaur Party Decorations are the perfect way to get your party planning headed in the right direction!
Seriously, even if either of my girls decided to get majorly into dinosaurs….we'd be having a Pretty Pink Prehistoric Dinosaur Party post haste! Maybe I need to start encouraging that obsession.
I think the thing that intrigues me the most about Dinosaurs is that we basically just make it all up. Paleontologists dig them up, guess at their configuration and purpose and bang…instant museum centerpiece. And I love it!
When it comes to throwing a Dinosaur party, there are sooo many awesome ideas. Whether you are into cutesy little cuddly dinosaurs or sharp teeth and scaly skin… I've got some great ideas compiled for you.
Here are a couple of my favorites:
Kid's Dinosaur Party Desserts
Firstly, let's talk desserts! Sometimes all you need is an adorable Dinosaur themed cake or some delicious dinosaur cookies or dinosaur scale cupcakes!
Dinosaur Cake from Loulou Girls
How adorable is this little cake? Simple frosting and fondant for the win!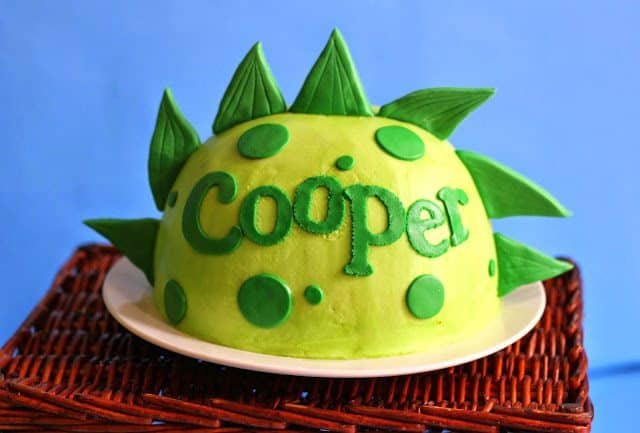 Volcano Cake from Moms and Munchkins
Celebrate the Paleolithic era with a fun volcano cake as the centerpiece of your dessert table!
Fondant Dinosaurs form Cakes Design
You can't go wrong with some cute fondant dinosaurs. These would be fantastic on top of a cake or with cupcakes!
Dinosaur Cookies from I am Cookieland
These custom iced cookies are perfection. I love the little dinosaur popping out of the egg shell!
Dinosaur Cake from Fun365
Fun printables make a fantastic topper for simple white iced cakes. You can get a plain grocery store cake (or bake a cake at home) and jazz it up so easily with the right printables!
Watermelon Dinosaur "Cake" from Roc Momma
Here is a healthy "cake" option that your little ones are sure to love. If you want to downplay the sweets…this is a Dino-riffic idea for a treat!
Those are some absolutely delicious themed ideas for a dinosaur party!
Dinosaur Party Decorations for Kids
Now that we have nailed down some wonderful dinosaur food ideas, it's time to talk decorations. The decor can definitely set the tone for the entire party and really drive home your party theme.
THREE-Historic Party Sign from Bower Power
This fun play on words is PERFECT for a kid's birthday if they are turning the big three! So cute!
Rustic Dinosaur Party from Anders Ruff
Here is a fun rustic dinosaur dig party. What little boy wouldn't love to celebrate their birthday with some fossil digging?
Tropical Kid's Dinosaur Party from Fun365
Fossils not your style? How about a tropical and COLORFUL dinosaur party? This one is so fun and easy to recreate with simple decor ideas!
Dinosaur Photo Backdrop from Moms and Munchkins
Say Cheese…we love this simple photo booth idea. Take advantage of having all your little ones friends together and get some roaringly good pictures in style!
Dinosaur Fossil Party from Ashleigh Nicole Events
Here is another TO DIE FOR fossil themed birthday party for kids. We love this dinosaur theme and the simple. clean decorations.
Dinosaur Backdrop via Catch My Party
If you feel like your kids are a little more "Jurassic Park" this breakthrough backdrop is a killer way to celebrate a birthday!
Dinosaur Wood Sign from Fun365
RAWR…this simple wood sign is so much fun!
Are you feeling inspired for your own dinosaur party, yet? I am sure am!
Dinosaur Party Supplies
Here are some great party supplies ideas to help make your party a success. From ready to go parties in a box to simple tutorials…you will love these ideas.
Dinosaur Party in a Box from Super Sweet Party
This party in a box takes the guesswork out of party styling. Let the pros do the heavy lifting and order a fun set that you can use right away!
Dinosaur Lanterns from Fun365
Here is an easy kid's dinosaur party decoration tutorial. Easy peasy dino laterns…how fun!
Dinosaur Invitations from Papier Love Studios
Choose from a plethora of dinosaur themed invitations. You will love these customizable options available on Etsy!
Dinosaur Tail Tutorial by Running With Scissors
These tails are absolutely adorable and are sure to be a hit at any Dinosaur Party or as a Halloween Costume, or just a random Tuesday. Heck,I wanna wear one:)
Such great ideas…creating a dinosaur themed party for kids has never been so easy!
Kid's Dinosaur Party Tableware
Setting up a fun party table is important for enjoying those delicious treats is one of the best parts of a party. Here is some table inspiration and some easy to use tableware packages to help you out!
Dinosaur Table from Ashleigh Nicole Events
How fun is this tablescape? I love the grass placemats. So clever!
Dinosaur Tableware from Meri Meri
This classy dinosaur set is so unique and would be so amazing for a fun dinosaur birthday party for kids!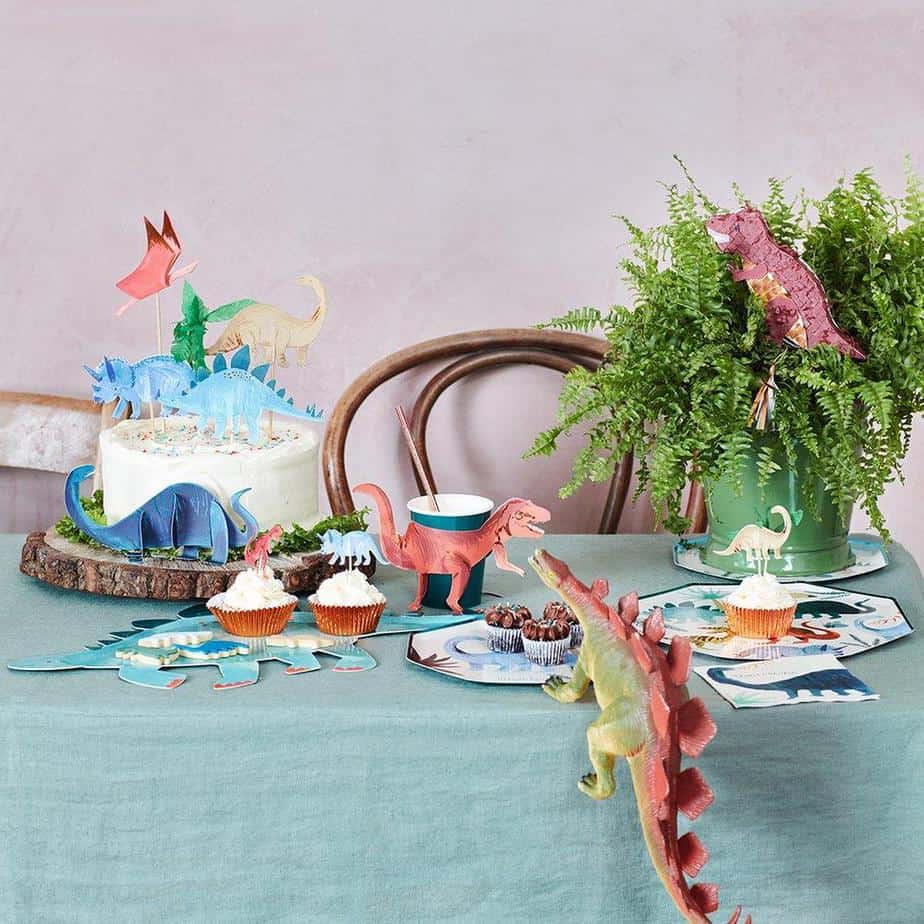 Dinosaur Tableware from Target
This easy to use tableware set is the perfect option for a kid dinosaur party with fun dinosaur print!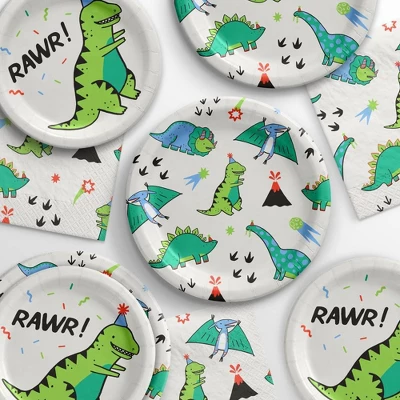 Here are some helpful links for throwing a Dinosaur Party:
Want to Throw a Dinosaur Party?
The Printable Dinosaur Party Collection is available for purchase in my shop.
Conclusion for Dinosaur Birthday Party Ideas:
There are just so many super cute ideas for a Dino-riffic party! It will be ROAR-some:) Use these awesome Dinosaur birthday ideas to throw an amazing dinosaur party for your little ones! These ideas are perfect for a first or third birthday!
If you love these ideas, please pin this image to your birthday Pinterest Board:
RELATED POSTS FOR DINOSAUR PARTY IDEAS:
Thank you for reading our Ideas for aDinosaur Party for Kids!