Style an Americana Style Fourth of July Party with FREE Printables!
If you need an easy way to plan for a 4th of July party…these vintage style Stars and Stripes printable decorations will make you party planning a breeze! Come Celebrate July 4th in style with some free Fourth of July Printables.
Looking for Fourth of July dessert ideas? Check out these 4th of July craft ideas, these patriotic wreathes, these awesome patriotic parties and this wooden flag tutorial.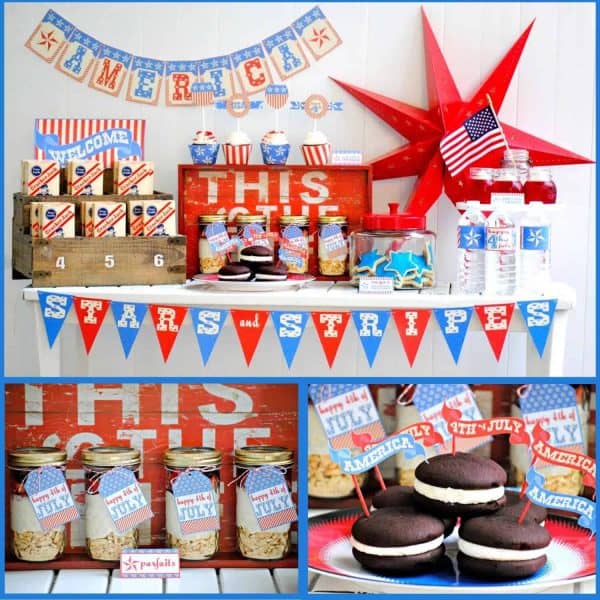 Yay…It's June. School's out, the weather's warm and aside from the fact that I'm not crazy about the sight of myself in a swimsuit, it's time to get my tan on!!!
Throwing a 4TH OF JULY THEMED PARTY?
☑️ This
July 4th Party Kit
is the perfect set to get your party planning headed in the right direction!
So it's a little less than a month away and already my IG/Pinterest/Facebook feeds are a buzz with the good ol' red, white and blue. It's like my Christmas in July!!
This awesome Fourth of July Party was styled using Mimi's Dollhouse FREE Fourth of July Party Printables by Karolina from Karo's Fun Land.
When I set out to design a set of printables, I always have a party set-up in my mind. Kind of a "if I were styling this party it would look like __________" sort of thing.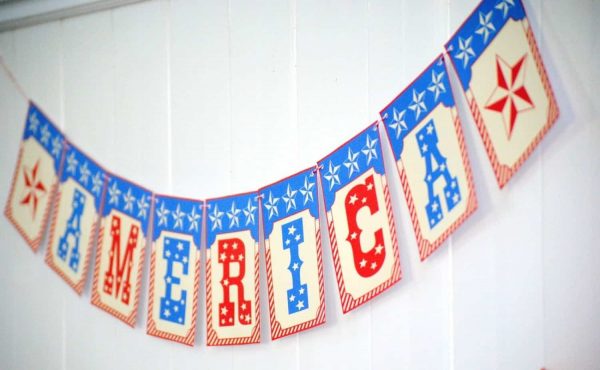 Then you lovely customers and party stylists grab a set and put your own spin on stuff and blow my mind with your creativity. I love getting those photos!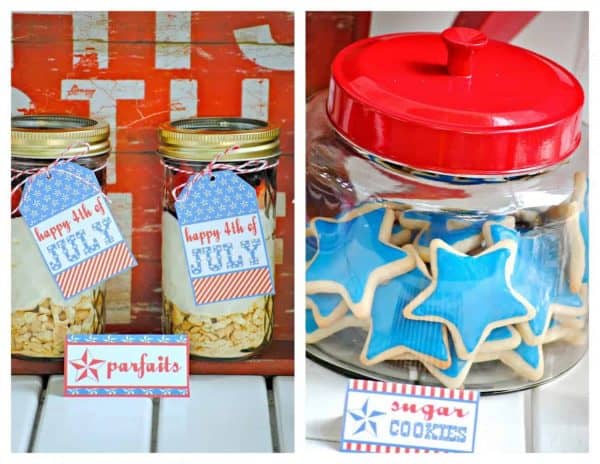 Every once in a while, I get pictures of a party that is EXACTLY what I had in my mind when I designed the printables. This is totally that party!! Karo, from Karo's Fun Land is such a sweetheart and so talented!
She did a fabulous job with this set-up. It was even featured on Kara's Party Ideas.
When you get down to the nitty gritty, I'm an American girl through and through and I love me some old fashioned patriotism. I mean I did teach high school US History for a reason:)
I've said it before, and I'll say it again…The Fourth of July is one of my favorite holidays. I love the stars and stripes. I love the songs and the flags. And of course, I love the food!!
Honestly doesn't everything taste better when it is red, white, and blue?? You know that's right!!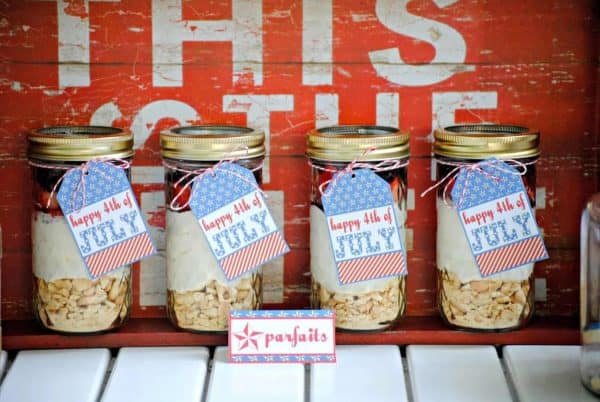 There are so many amazing fun ways to decorate for the Fourth. Everything from bright and cherry to "God Bless America".
One of my favorites is the rustic "grand old flag" approach with classic stars and red and white stripes.
This was the inspiration for this set of FREE Fourth of July Printables. I think these would be great for an outdoor BBQ or a family get together.
Dress up the kiddos in some red, white and blue and take some family photos with one of the banners. Or even jazz up that patriotic dessert you are taking to your neighborhood block party.
Have some good old fashioned Independence Day fun.
I love every last Americana, rustic, classic red/white/blue detail of this Fourth of July party. It just makes me feel all warm and fuzzy like a small town Independence Day parade (which incidentally is EXACTLY what we DID for the Fourth this year!)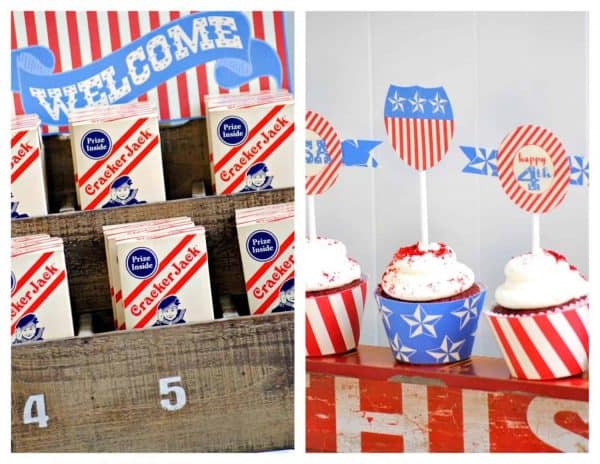 How awesome are the vintage Cracker Jack boxes. I love that things like these have come back into style!
I think the whoopie pies with the straw flags are my absolute favorite detail. Not only do they look AMAZINGLY yummy, but the contrast in colors and the flags is so original and absolutely adorable.
I love this rustic box holding the cracker jack boxes, too. So vintage and cool and such a clever display. LOVE it!
Happy Fourth of July. Thanks so much to Karolina for styling this awesome party!
Here are some helpful links for throwing a Fourth of July party:
If you love these free 4th of July printables, pin this image to your 4th of July Pinterest Board:
Download the Free Printable 4th of July decorations
In honor of our Independence and because I think there is always room for some PARTY in your day, I have put together a set of FREE Fourth of July Printables. Click the link below the photo to download you copy today! (Or pin this image to come back and download later!!)
Download the FREE Fourth of July Printables
And of course, as always, I would love to see photos of whatever you do with them:)
Conclusion for Free 4th of July Printables:
These beautiful and easy to use free printables are the perfect way to style your 4th of July party or backyard get together. They are fun and festive with a Vintage Americana feel.
Related posts for Fourth of July printable decorations:
Thank you for reading about our free Fourth of July Printable Party Decorations!