Cookie Monster Party Inspiration for a Boy's Birthday!
Looking for great Cookie Monster party ideas? Cookie Monster is such an adorable and super easy birthday theme for little one who love Sesame Street. It is especially perfect for a first birthday or a second birthday party. By playing up the Cookies and the pretty blues, you can do so much with simple and inexpensive decorations.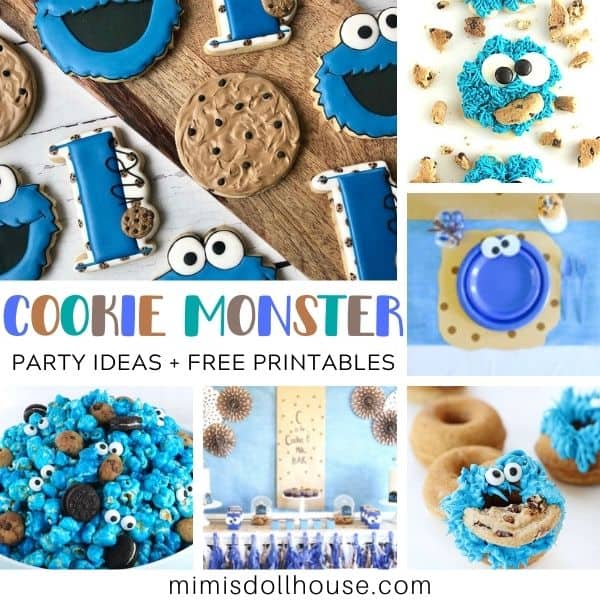 Along with those fun ideas, we have some simple FREE Cookie Monster inspired printables you can download further down in this post to help you set up your party and stay on budget!
Throwing a COOKIE MONSTER PARTY?
☑️ This Cookie Monster Party Kit is the perfect set to get your party planning headed in the right direction!
Chocolate Chip cookies are the cornerstone of this party theme. I mean, who doesn't love cookies?
Cookie Monster Birthday Party Ideas
There are so many ways that you can use simple items like blue tissue poms, blue paper plates, blue fans and more to make little cookie monster faces throughout a simple and adorable blue and brown cookie party!
Let's check out some ideas!
Check out this post you are looking for Sesame Street Cupcakes, cookies + food ideas. There are several cookie monster ideas included!!
Cookie Monster Party
Sesame Street Party: James' Cookie Monster First Birthday Bash. This Sesame Street party is jam full of cute, cute cookie monster and Sesame Street Party ideas by Jenny for her son James' first birthday.
This party uses a variation of my free Cookie Monster party printables which are available for FREE Download lower in this post. Hopefully these ideas will inspire your party!
I recently read in an article, or blog post, or possibly even someone's facebook feed (I chalk it up to being a busy mom that I can honestly not remember where I read it, or who wrote it….but I read it somewhere!) that basically said…"no one is afraid of monsters anymore."
So I thought about it, and I let it ruminate a little….and I think they (whoever they are) is totally right! Between all the cute monster parties floating around in the blog-o-sphere, the Monsters U/Monsters Inc. fellows and the cute and cuddly sesame street gang….monsters are no longer scary!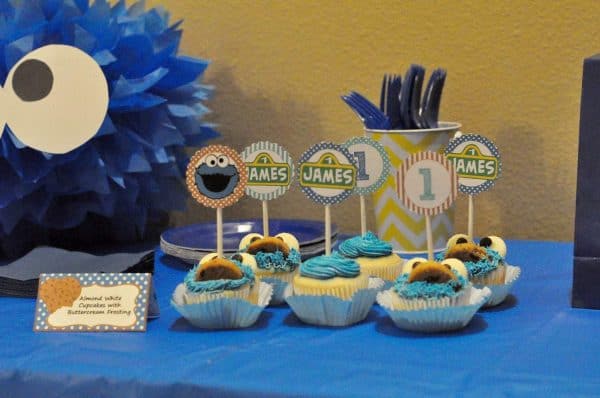 So I say…here's to cute little monsters, cute little monster parties, and well. just plain cute parties!
I love cute parties. I guess that's a given at this point:) One of my favorite things to see in a party are creative ways of using some beloved characters in your decor to tie the whole party together.
Check out these tissue pom cookie monsters….so cute and so simple. All you have to do is add white and black circles to the pom and poof….you have cookie monster!
I love these cute cupcakes with the cookie sticking out of the mouth! Adorable. And of course, the little sandwiches are cut into cookie monster shapes (this can be easily done using this cookie monster cookie cutter).
Here's another great example of an easy peasy cookie monster idea….you can use the same white and black circles to make cookie monster treat bags. So cute.
My favorite detail of this party is the game Jenny made by making a cookie monster cut out and drawing chocolate chips onto bean bags to create a toss the Cookie in Cookie Monster's mouth game. Too cute!
Happy Birthday James! Thank you for sharing your party with us!
FREE Cookie Monster Party Printables
Alright…planning a Cookie Monster party is definitely made a whole lot easier with printables. You can print as many as you need and they are super versatile. What's even better…these are FREE.
Download the FREE Cookie Monster Printable Decorations Here!
Cookie Monster Food Ideas
Looking for more fun and adorable Cookie Monster desserts and food ideas? Check these out…
Cookie Monster Desserts
Cookie Monster Fudge from Something Swanky
Delicious, easy and perfectly themed. Anybody want some Cookie Monster themed fudge? I DO!
Cookie Monster Popcorn from Two Sisters Crafting
Popcorn is a great treat to jazz up because it's a great mix of sweet and salty. Those little candy eyes make it perfect!
Cookie Monster Donuts from The Decorated Cookie
Cookie Monster donuts are adorable and a little outside of the box. Why settle for simple cookies when you can make these donuts?
Cookie Monster Cookies from In Katrina's Kitchen
Of course, when the cookies are this adorable…they are worth it. Simple ingredients, simple tutorial…fantastic cookies!
Cookie Monster Cupcake Toppers from Harriet's House of Cakes
These fun little fondant cookie toppers are a great idea for a Cookie Monster party as well. So many adorable ways these can be used!
Cookie Monster Cookies from Joy of Baking
These are gorgeous! Absolutely gorgeous! The texture on the cookies is the best!
Cookie Monster Party Decorations
Simple decorations ideas can really beef up a party design as well. Check out these simple and classic ideas that can be made with items on hand!
Cookie Monster Backdrop from Fun365
Cookie Monster Plates from Fun365
Blue paper plates for the win! Just add card stock eyes!
Here are some helpful links for planning a Cookie Monster birthday:
Conclusion for Cookie Monster Birthday Ideas:
If you are looking for some amazing Cookie Monster party ideas this is the post for you. These ideas are clever and simple to recreate. We also have some adorable and easy to use FREE Cookie Monster inspired printables you can download. Yes, please!
If you love these ideas, please pin this image to your birthday Pinterest Board:
Related posts for Cookie Monster Party Ideas:
Thank you for reading my Cookie Monster Birthday Party Ideas!