Cookie Monster Party ideas for a Boy's Birthday!
Sesame Street Party: James' Cookie Monster First Birthday Bash. This Sesame Street party is jam full of cute, cute cookie monster and Sesame Street Party ideas by Jenny for her son James' first birthday.
Looking for some Sesame Street birthday party inspiration? Check out these Elmo party ideas, this Elmo party and these Sesame Street party ideas.
I recently read in an article, or blog post, or possibly even someone's facebook feed (I chalk it up to being a busy mom that I can honestly not remember where I read it, or who wrote it….but I read it somewhere!) that basically said…"no one is afraid of monsters anymore."
So I thought about it, and I let it ruminate a little….and I think they (whoever they are) is totally right! Between all the cute monster parties floating around in the blog-o-sphere, the Monsters U/Monsters Inc. fellows and the cute and cuddly sesame street gang….monsters are no longer scary!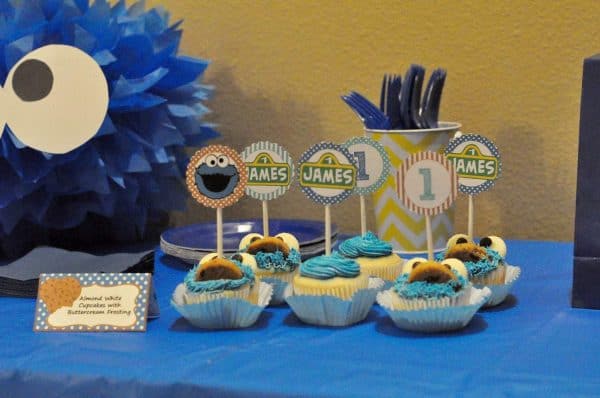 So I say…here's to cute little monsters, cute little monster parties, and well. just plain cute parties!
I love cute parties. I guess that's a given at this point:) One of my favorite things to see in a party are creative ways of using some beloved characters in your decor to tie the whole party together.
Check out these tissue pom cookie monsters….so cute and so simple. All you have to do is add white and black circles to the pom and poof….you have cookie monster!
I love these cute cupcakes with the cookie sticking out of the mouth! Adorable. And of course, the little sandwiches are cut into cookie monster shapes (this can be easily done using this cookie monster cookie cutter).
Here's another great example of an easy peasy cookie monster idea….you can use the same white and black circles to make cookie monster treat bags. So cute.
My favorite detail of this party is the game Jenny made by making a cookie monster cut out and drawing chocolate chips onto bean bags to create a toss the Cookie in Cookie Monster's mouth game. Too cute!
Happy Birthday James! Thank you for sharing your party with us!
Here are some helpful links for throwing a Cookie Monster/Sesame Street Party:
If you love this party, pin this image to your birthday Pinterest board:
Related posts for Cookie Monster Party Ideas:
Thank you for reading our Cookie Monster Birthday Ideas!