Throwing an amazing Outer Space Party in 3…2…1…blast off!
If your little one spends his time hanging out in cardboard boxes pretending to fly through space or you are constantly washing that NASA t-shirt because its her favorite shirt…it might be time to consider a space birthday party! I mean who wouldn't want a space themed party?
Space is such a fun themed for a birthday party. Not only is is unique and non-character based, but it is full of adorable possibilities. After all, there is nothing grander than the milky way!
Throwing a SPACE THEMED PARTY?
☑️ This
Space Party Kit
is the perfect set to get your party planning headed in the right direction!
If you are thinking about throwing a rocket ship or space themed party, this post will help walk you through all the things you need to make the party a success.
HINT: It's easier than it looks, I promise!!
Space party supplies
Sometimes you see a design and you just KNOW…you love it. Maybe it's the crazy party planner in me, but when I saw the Spritz Space Party Collection at Target, I did a little happy dance.
Which, truth be told…I do frequently at Target. Target just seems to know what I need before I know what I need!
This outer space themed tableware was just too adorable to be ignored!
Outer space party decorations
This design features fun greens and blues and a mixture of art that has a hand drawn feel. Whether you want to focus on rockets or planets or even UFOs…this design for definitely work for you!!
The design not only includes adorable tableware, but coordinating gift and treat bags and an out of this world "Have a Blast" banner!!
Space Birthday Invitations
Before you can party, you have to invite your guests. When it comes to invitations, you have a few options.
Option #1: Buy fill-in invitations. This is an easy option that only requires you to fill out the invites. If you are throwing a party for a older child, they can fill the invites out themselves. Here is a super cute Rocket invitation option:
Option #2: Have a custom invitation made that you can print and distribute. So I'm partial to this option, since I do in fact design printables for parties.
I think a custom invite is fun and saving time (although printing them can be more expensive than option 1). I love this invitation to go with this rocket party!
Option #3: Send an Evite. Let's face it…we live in a digital world and sometimes, there isn't time to print something out. Evite has some adorable spaceship birthday invitations (and they are animated too!!)
Space Party Favors
Party favors for a space party can also be simple. You can send your guests home with candy. You can fill the cute treat bags with space party trinkets.
Another fun idea is to have extra cookies in cellophane bags ready to go home with your party guests.
Rocket Party Decorations
Decorating this party was super easy using the Space Party Package. I used the design of the plates and napkins as a starting point and built the party design out from there.
For the party table, I used the space plates to display the cookies. I also added some Iridescent Cups with lime green paper straws. I also used white cake plates and dishes to help make the fun colors pop.
For the front of the party table, I made a garland out of yarn in matching colors. This was super simple to make and adds a little color to the table.
I covered the tables with white butcher paper making a space that drawings could be added around the place settings. This was a fun details that I felt really felt coordinated so well with the cute design of the plates.
Balloon Garland for an Outer Space Theme
For an outer space themed party, making the table look like space just seems logical, right? One fun way to do this is by making a balloon garland.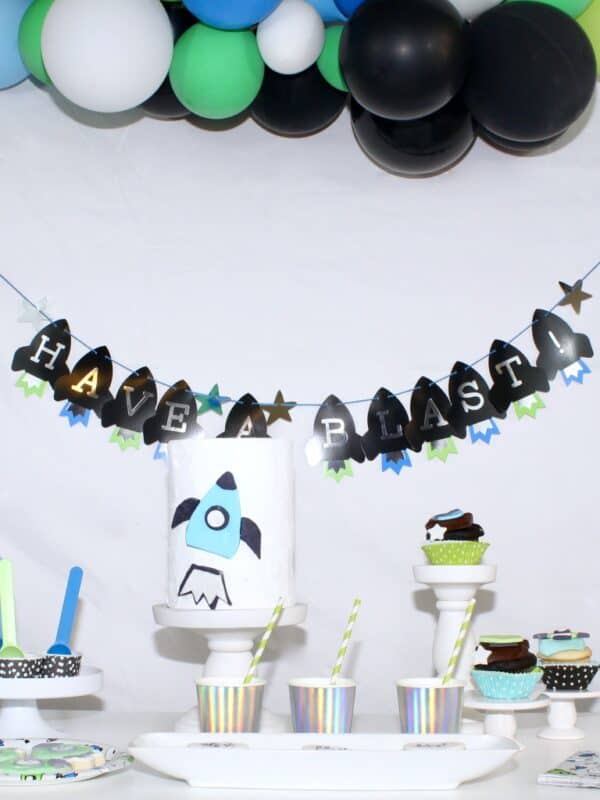 Balloon garlands are easier to make than you might think. If you have a garland strip, all you need to do is blow up the balloons and stick them into the holes in the strip. To make the balloon garland look even more unique…try blowing up the balloons to different sizes.
Space Themed Food
Space Party Food can be really fun, yet simple. I made simple sugar cookies with fondant toppers. Using a food marker, I wrote blast off on the cookies. They were easy to make and fit into the theme so nicely.
I also made cute rocket ship cookies and chocolate cupcakes with fondant toppers to match the party.
Check out the Space Ship Cookie Tutorial and Space Themed Cupcakes Tutorial for details on how to make these fun space themed treats.
If you don't feel confident in baking treats yourself, these Space Themed Cookies from Royally Iced Sweets are absolutely adorable and would look great with this party package!!
Rocket Cake
The Space birthday cake was a simple white cake with vanilla buttercream frosting and a fondant rocket ship stuck to the outside. It was simple to make and gave just the right amount of color.
We also served blue jello in Black polka dot nut cups with the best reusable ice cream spoons!
Space Party Supplies
Space Balloon from Target
Out of This World Partyware from Oriental Trading
Space Photo Props from Target
Space Tableware from Oriental Trading
Conclusion for How to Throw a Kids' Space Themed Party:
Throwing a Space Themed Party never felt so good. This fun and festive spaceship party is perfect for a birthday or themed playdate.
Related posts for Space Birthday Party:
If you love this Space Party, pin this image to your birthday Pinterest board:
Thank you for reading our space themed party ideas!