Star Wars Rebels Character inspired party Ideas
Star Wars Rebels: Ideas for a Star Wars Rebels Party. Are you planning an awesome Star Wars Rebels party? We have tons of the cutest Star Wars Rebels party ideas to share today.
Looking for May the 4th party ideas or classic Star Wars Party ideas? Be sure to check out this awesome jedi training birthday party and this Chewbacca themed party!
So it is no surprise to anyone who spends more than 5-minutes around my family that we are Star Wars fanatics! Honestly…I don't think you can go into any room in my house and NOT find something Star Wars related. My kids LOVE, LOVE, LOVE Star Wars Rebels. Personally, Hera is my favorite!!
We recently received the Fourth Season of Star Wars Rebels to review and I may have allowed them to binge watch it. It's summer time so I don't really feel that guilty! It was basically awesome-sauce! They loved every action packed minute.
The fourth season of Star Wars Rebels delivers all 15 action-packed episodes plus exclusive, never-before-seen bonus extras on the Blu-ray and episode recaps on the DVD. The series, which won last year's Saturn Award for Best Animated TV Series, draws to an epic conclusion in a dramatic final conflict, drawing connections to the entire Star Wars saga. Star Wars Rebels: The Complete Fourth Season arrives on Blu-ray and DVD July 31st.
There were also several bonus features. Our favorite was going behind the scenes with composer Kevin Kiner to discover what inspired some of the most iconic music in the series. Star Wars music is some of my favorite and I love seeing how it all comes together!
Star Wars Rebels: The Complete Fourth Season gets our stamp of approval and we highly recommend it to any little Star Wars fans!!
To celebrate this fantastic release…I have also gathered some my my FAVORITE Star Wars Rebels party ideas to share today. Whether you are throwing a little get together to view the show or you have a little one who wants a Star Wars Rebels Birthday Party…these ideas are out of this universe!
Check them out…
Food
Star Wars Marshmallows from Sugar Swings
So granted these marshmallows are ALL the Star Wars ladies (all the Star Wars ladies…oh oh oh, oh oh oh). Sorry Beyonce moment!! Even though they include OTHER Star Wars characters…the Hera was just too adorable and delicious looking for words. I would eat a plate full!!!
Loth Cat Oreos from Star Wars
This easy and amazing tutorial shows you how to make Loth Cat Oreos your little Star Wars Rebels fans will go nuts over! Too adorable for words and you can almost taste them, they look so good!
Easy, simple and sure to delight…that my kinda of cookie!!! These light saber cookies are too, too much awesome!
Chopper Rice Krispies Treats from Star Wars
Ok, who does't love chopper, right!!! These Rice Cereal Choppers are fantastic!!! They are so easy, it's almost not fair that they look so cute!!!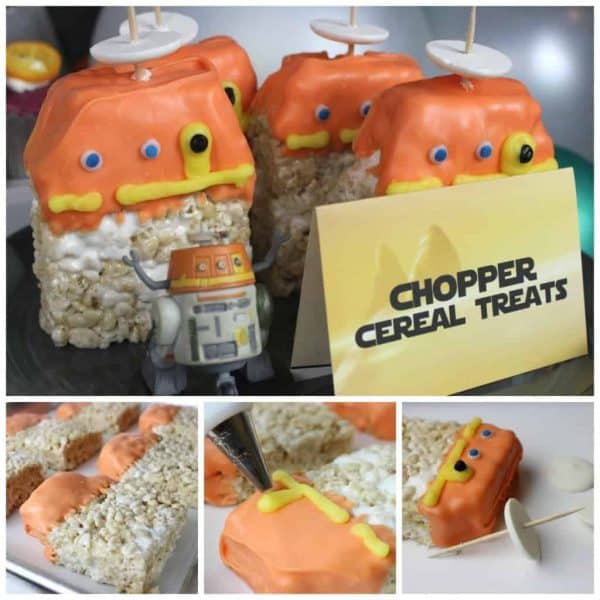 Star Wars Rebel Cake from Atta Girl
Celebrate your little rebels with a simple rebel cake. No muss, no fuss…just a rebel symbol if you please!
Homemade rock candy AND they look like Lightsabers??? Who would say no to that? These would be great to share at your party or send home as favors! Adorable!
Hera Cupcakes from Star Wars
Another stellar Hera treat. These Hera cupcakes are perfection!!! I especially love the little heart mouths!
Lightsaber Popsicle Cozies on Mom Off Track
These are so flipping adorable I think I might need them for everyday! I can just see my kiddos playing Star Wars Rebels in the backyard with their popsicles…summer is won!
Jogan Fruit Cupcakes from Star Wars
Ever wondered what a Jogan fruit would taste like? Well now you no longer have to with this awesome cupcake recipe!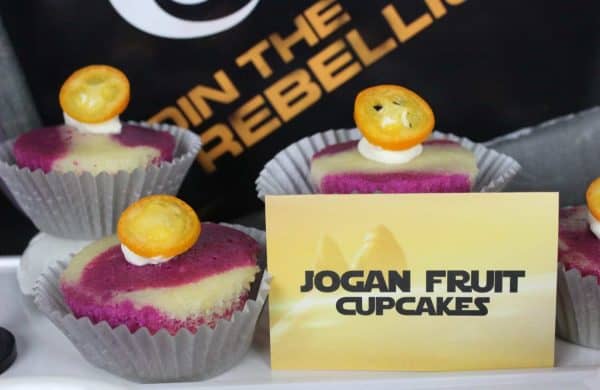 Here are helpful links for making Star Wars Rebels Party Food:
Decorations
Planning the perfect Star Wars Rebels birthday is made so much better with the perfect decorations! Check out these awesome ideas:
Let's get a little DIY over here with this fun lightsaber favor tube! What a great way to surprise your guests with goodies.
No matter which light saber you prefer…you can make your party table stand out wit these DIY lightsaber napkin rings.
Do you love a good piñata? This DIY Star Wars Rebels piñata would be a blast to destroy with your lightsaber!!!
What is a fun Star Wars Rebels party without a cute entry? This lightsaber door hanger is pretty much the awesomest!
Here are helpful links for decorating a Star Wars Rebels Party:
Get your copy of Star Wars Rebels: The Complete Fourth Season on DVD or Blu-Ray starting July 31st!!!
Star Wars Party Supplies
Still looking for some Star Wars party help? These tableware sets will help keep your food on theme and save you time looking for for matching items:
Star Wars Party Supplies from Amazon
Star Wars Tableware from Oriental Trading

Space Tableware from Daydream Society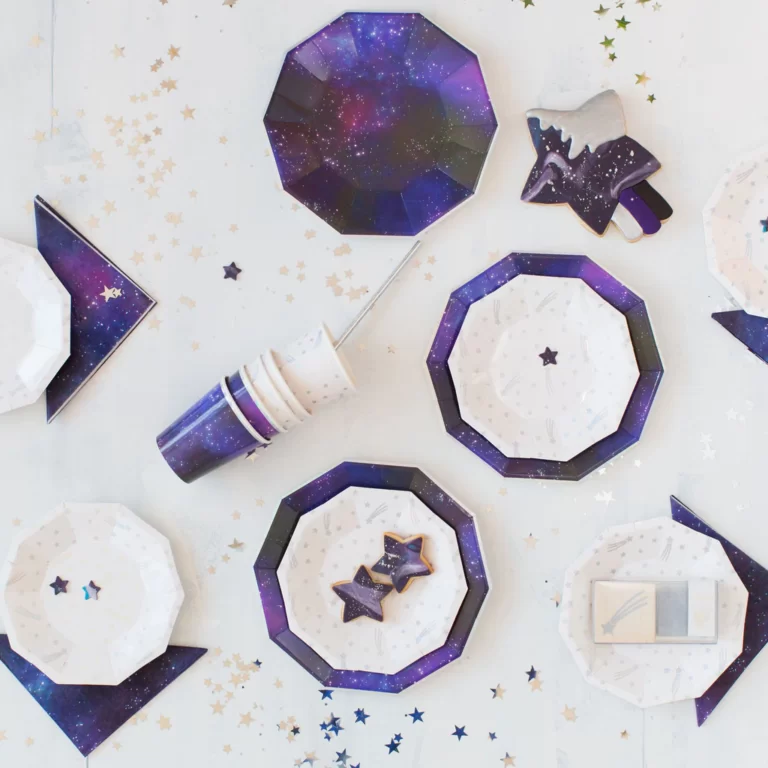 If you love these ideas, please pin this image to your birthday Pinterest board:
RELATED POSTS FOR STAR WARS Rebels PARTY IDEAS:
THANK YOU FOR READING OUR STAR WARS THEMED PARTY IDEAS!
*This is a sponsored post. Mimi's Dollhouse may have been compensated for this post, but rest assured…all thoughts and opinions are totally honest and totally my own:)