Celebrate turning FOUR with Star Wars Decorations and Ideas!
Star Wars Party Decorations: May the FOURS be with you! Looking for Star Wars party birthday decorations ideas? This party is full of fun Star Wars party decorations ideas and fun star ward treats!
Be sure to check out all of our Star Wars Party ideas and inspiration! Also check out this fun space themed party!
So if you know anything about me…you know that I'm kind of Star Wars obsessed…and when I say kind of, I actually mean COMPLETELY Star Wars obsessed.
We might have a ridiculous amount of Star Wars stuff in our home and Star Wars might make up a ridiculous amount of our wardrobe. Star wars parties are definitely some of my favorite ever!!
I love sharing Star Wars party ideas like this jedi training birthday party! Amazing details and clever food are the best.
The party I'm sharing today does not disappoint…
This fun galactic adventure was styled by Lori from Pop of Gold​ for her daughter's 4th birthday. She knew that "May the FOURS be with you" would be the perfect theme for her little Star Wars fan.
For the backdrop, she used a star print vinyl and some fun star garland. She even made the banner from card stock and sticker letters.
The dessert table had marshmallow Chewbacca bites, and fruit light sabers. She also had Droid cupcakes…yummy! I love how the fruit-sabers are colored green and red like the light and dark side sabers. This is a super small detail that makes ALL the difference!!
Lori incorporated some of her daughter's Star Wars toys into the decor. This is a great budget-saving idea to personalize your party! The photo booth was equipped with fun star wars masks. I also have some AMAZING star wars quote bubbles that are perfect for a Galactic Photo Booth!!
The kids went nuts for the balloon artist and Darth Vader piñata! Such fun ideas for cute Star Wars activities. Also, I love all the themed food ideas. Too, too cute!!
The decor was flanked with cardboard cutouts are different Star Wars characters and a fun Stormtrooper air walk balloon. These are fun and festive ways to make the cantina really come to life…"these are not the droids you are looking for" Love it!!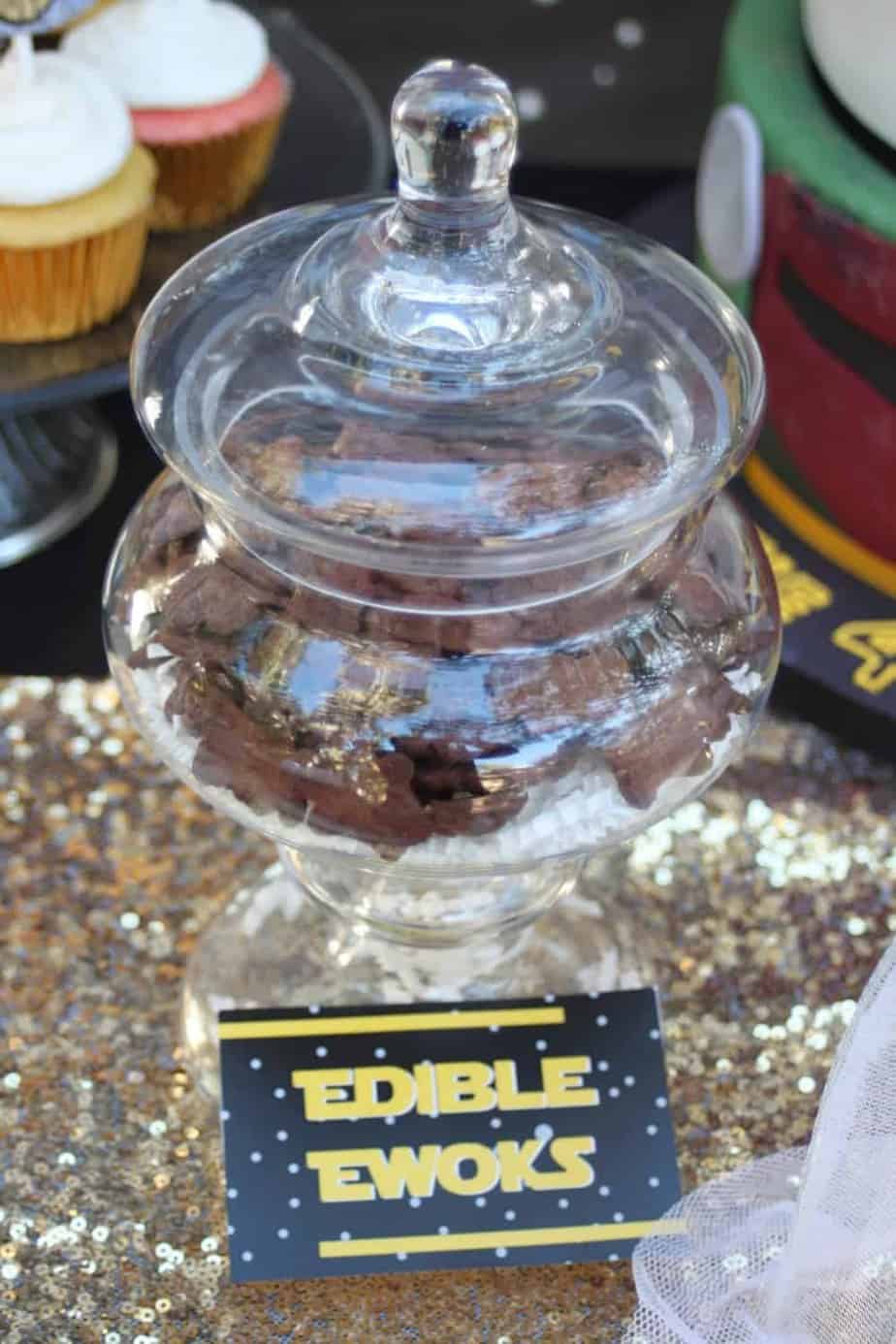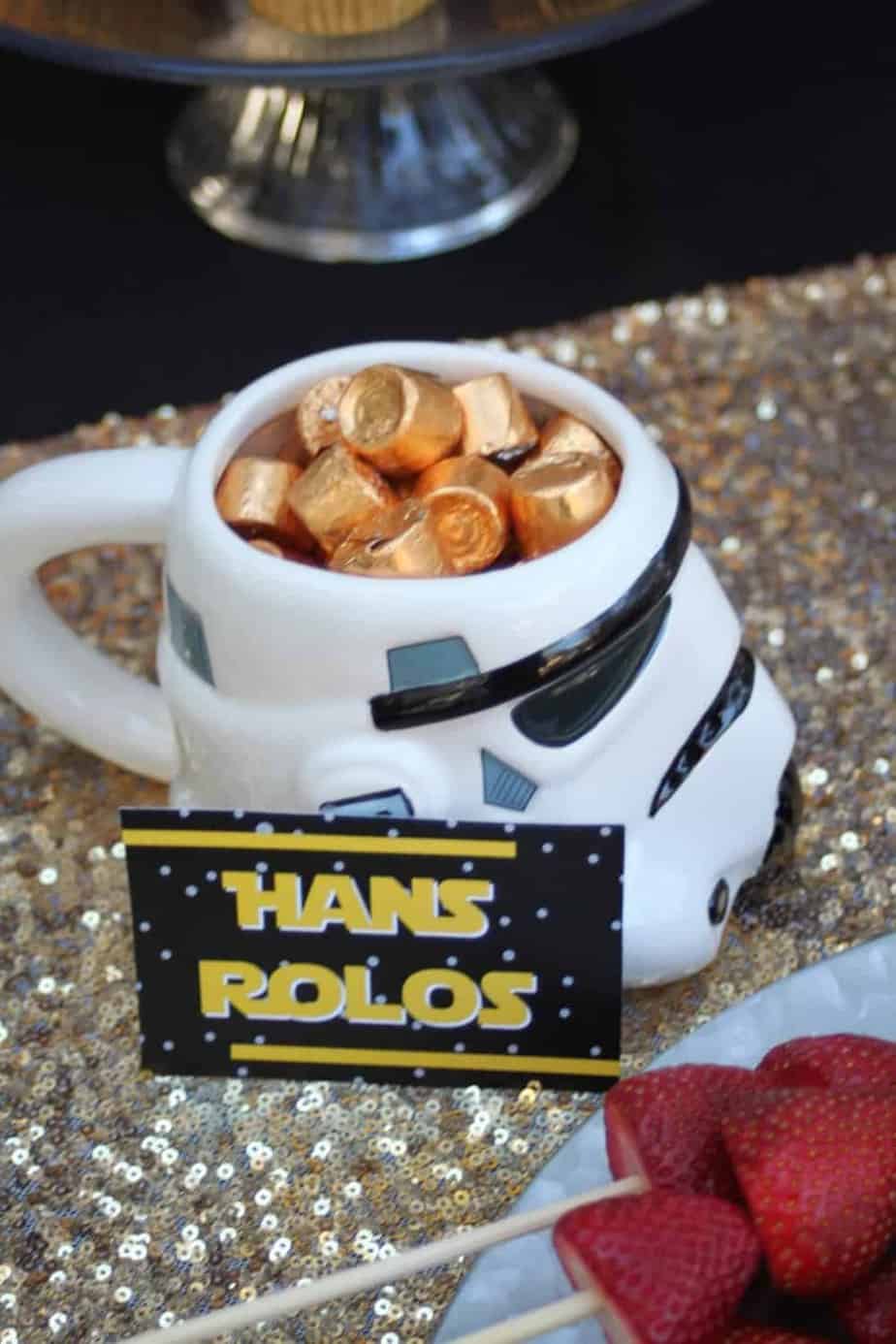 This adorable Star Wars character cake was made by Charm City Cakes West. I love the Chewbacca fondant fur on the top layer.
Finally, the party favors were candy light sabers – Candy tubes filled with Swedish fish. Looking for more Star Wars party inspiration? This party is FULL of star wars themed birthday party ideas!
What adorable Star Wars party decorations!!! I love all the details. Be sure to check out all of our Star Wars party ideas.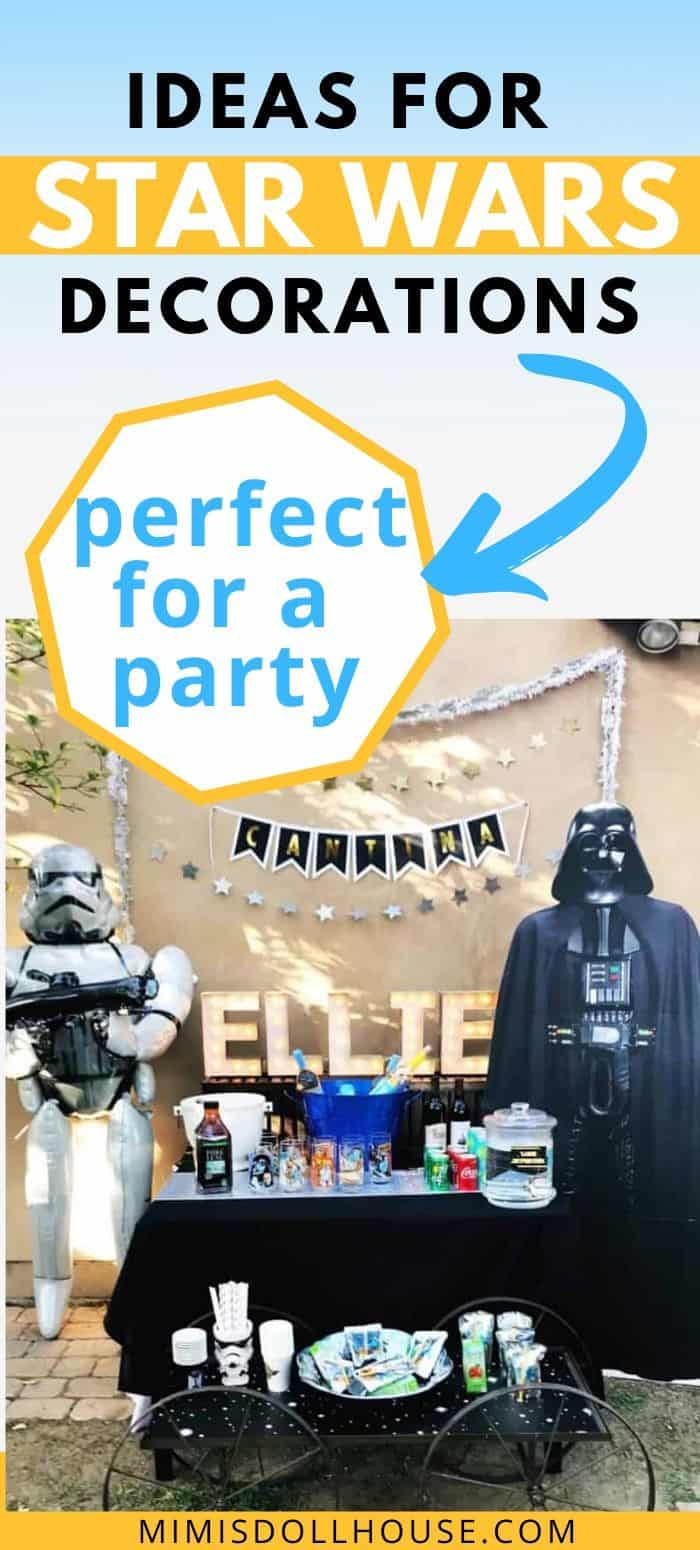 Vendors:
Party styling: Pop of Gold​
Free Food Menu Printables: Over the Big Moon
Star Wars Cake: Charm City Cakes West
Balloon Artist: Madcap Balloons
Star Wars T-shirt: All for Kids Boutique
Wanna throw a Star Wars Party?
The Printable Star Wars Party Collection is available for purchase in my shop:
Star Wars Party Supplies
Still looking for some Star Wars party help? These tableware sets will help keep your food on theme and save you time looking for for matching items:
Star Wars Party Supplies from Amazon
Star Wars Tableware from Oriental Trading

Space Tableware from Daydream Society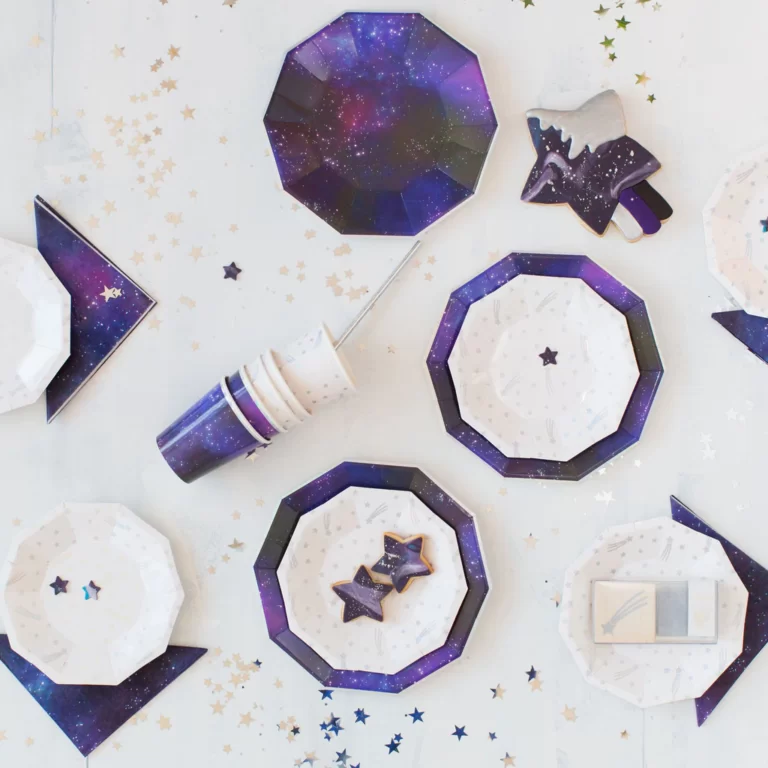 RELATED POSTS FOR STAR WARS Decoration IDEAS:
THANK YOU FOR READING OUR STAR WARS Birthday Decorations!