Looking for some delicious Sunshine Cakes or Desserts?
Delicious Sunshine Cookies, Sunshine Cake Recipes and more! Throwing a You are my Sunshine Party? These sunshine cupcakes and other dessert ideas are absolutely perfect for a sweet You are my Sunshine themed party. From fun suns to bright yellows and rain clouds, we have all the inspiration you need to bake a beautiful party!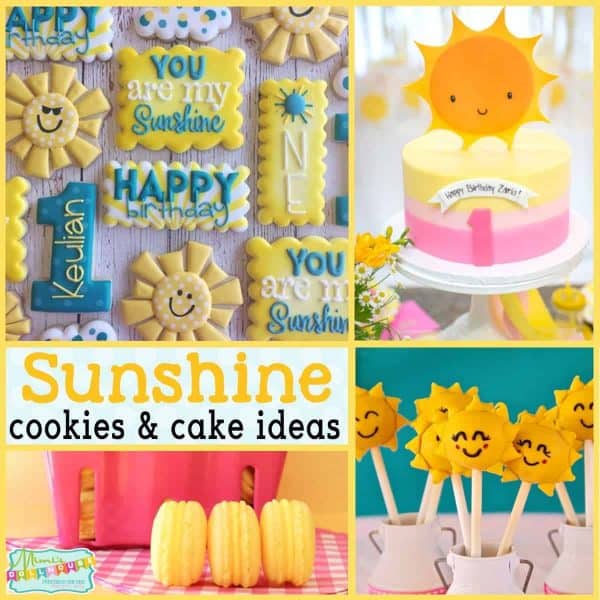 So I recently helped out with a sunshine party in the park. Let me tell you…this theme is adorable! It is fast becoming one of my favorite designs EVER.
Throwing a SUNSHINE THEMED PARTY?
☑️ This
Sunshine Party Kit
is the perfect set to get your party planning headed in the right direction!
Maybe it's the sentimental value of the classic "You are My Sunshine" song, maybe its the bright sun coupled with the pastels, or maybe its just because I seriously love me some sunshine…but I love it.
The best part about a Sunshine Party are all the sweet little details. I have tracked down some adorable Sunshine cookie and sunshine cake ideas to share with you all today.
Check it out…
Sunshine Cake Recipes
Gorgeous and delicious sunshine cake recipes that will inspire the baker within you to create the most amazing cake EVER. These ideas are so good…you'll want to plan a sunshine party every year!
Sunshine Cake from the Coop
This beautiful cake is so bright and cherry. It make you want to run outside and soak up some sunshine!
Sun Cake by Jessicakes
This cake is fantastic!!! I absolutely love it. Seriously adorable! It looks to be fairly simple to recreate too, which is ALWAYS a bonus!!

Sunshine Cake Tutorial from Little Cherry Cake Company
Not only is this cake absolutely stunning…but it comes with a video tutorial! Learn to make this cake like a champ in no time!
Grapefruit Cake by The Cake Blog
While this cake doesn't have a sunshine ON it…these colors and swirly frosting just screams sunshine…doesn't it!!! This would be BEAUTIFUL on a sunshine party table!!!

Summer Sunshine Cake on Kara's Party Ideas
This cake is as sweet as a summer's day. I love the soft colors and pretty little sunshine topper!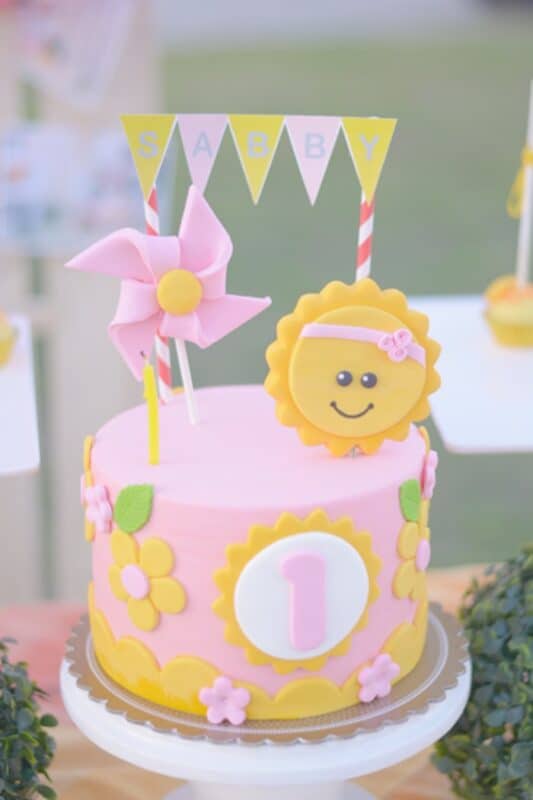 Sunshine Cupcakes + Desserts
Looking for some fantastic ideas for sunshine cupcakes or cake pops or other desserts? We have all the best ideas to share:
Sunshine Cupcakes by Taste of Home
Here is a quick and easy way to make some super cute sunshine cupcakes. Who says you have to spend an arm and leg to have adorable themed cupcakes? These are perfect and easy to do!!

Sun Cake Pops by Niki's Cake Pops
Here are some fun sunshine cake pops from my sunshine party!! Aren't they freaking cute. I love fun cake pops. They sure make a party spread!!
Sunshine Cupcakes from Vanille Cupcake
Here is a simple fondant cupcake topper that brings your sunshine cupcakes to life, while still being simple to make.
Bright and Colorful Sunshine Cupcakes on Kara's Party Ideas
These cupcakes are bright and beautiful. The colors and the toppers are so fun and festive!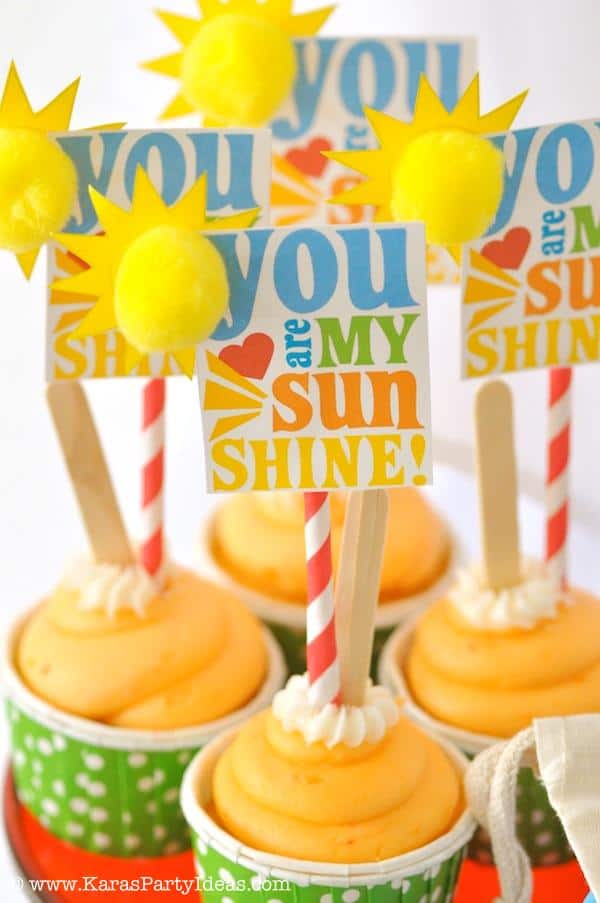 Sunshine Cupcakes from Decor Personalite
These soft and sweet sun themed cupcakes are perfect for a baby shower or a little girl's birthday party. Adorable and beautiful!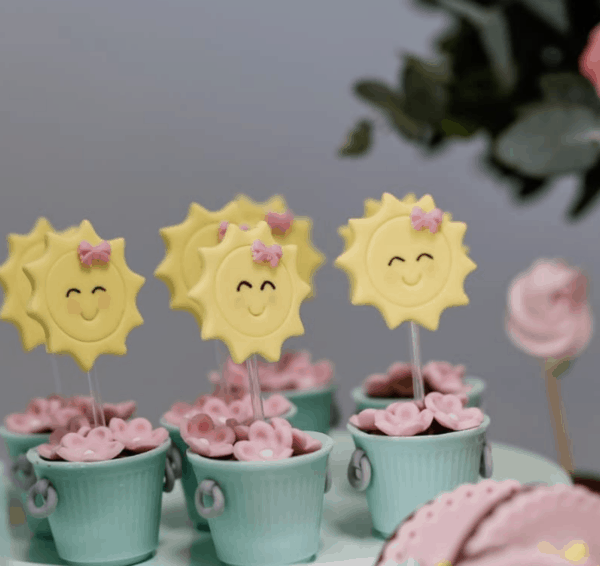 Sunshine Fondant Cupcake Toppers from Top Cake Decor
Aren't these fondant sunshine fun??? Fondant toppers can be used in so many different ways to add something special to your party table. They can be placed on cupcakes or frosted cookies. The large fondant is perfect for a cake topper too!!

Triple Lemon Macarons from Make Bake Celebrate
Have I mentioned my love for macarons? I seriously love macarons! These Lemony lovelies would be great sunshine treats for a sunshine party!!

Sunshine Cookies
Gorgeous sun inspired cookies are a great way to really inspire some fun in your sunshine party. Here are some delicious and absolutely stunning cookie options:
Sun Cookies from Baketini Bake Shop
I love the clouds and the soft blues in these cookies. How beautiful would these be for a baby shower?
Sunshine and Cloud Cookies from Mandy's Cookies
If you really want to channel the "You are my Sunshine" song…these suns and gray clouds are the perfect choice. Adorable and playful, they would be so sweet for a birthday party.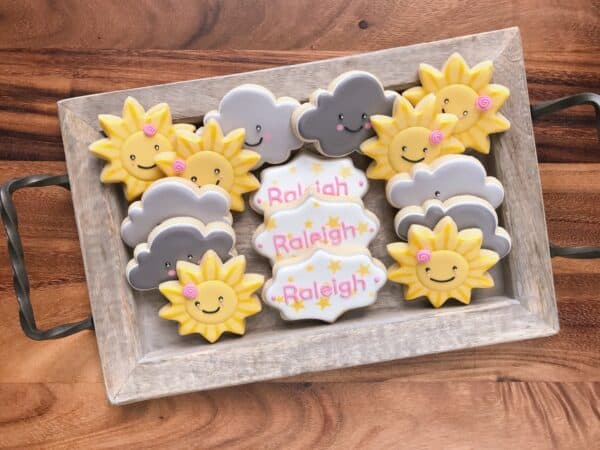 Sunshine Cookies from Cadie's Cookies
Oh my cuteness…These cookies make me so happy! They are perfection and would be the perfect splurge for a party table!!!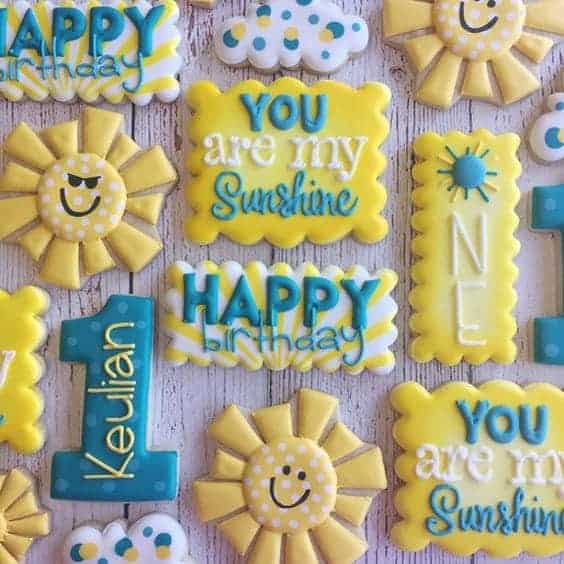 Sunshine Cookies from The Bakesmith
Here are some fun and colorful cookie options. I love the playful rainbows mixed into the set as well.
Sun Cookies by Bake Sale NC
I also love these little sunshine cookies. They look so happy. Wouldn't they be a great addition to a sunshine table? Adorable!!

Sunshine and Clouds Cookies from Riley Bakes
Looking to add a few clouds to your sunshine party theme? These sweet little clouds and sun cookies are too, too sweet!!


So many wonderful sunshine desserts and sunshine cakes!
Here are some helpful links for throwing a Sunshine party:
If you love these sunshine party treats, please pin this image to your Sunshine Pinterest board:
Sunshine Party Supplies
Looking for some coordinating tableware to help bring your party all together?
Sunshine Baby Shower Tableware from Oriental Trading
Sunshine Tableware from Oriental Trading
Pastel Sunshine Tableware from Oriental Trading
Sunshine Printables
Wanna throw a Sunshine Party?
There are several Printable Sunshine Party Collections available for purchase in my shop.
RELATED POSTS FOR Sunshine Cake Recipes:
Thank you for reading our Sunshine Cupcakes + More!