Sweet Treats to make for Cinco de Mayo!
Cinco de Mayo Treat Ideas. Throwing a Cinco de Mayo party? Here are some great Cinco de Mayo treat ideas to spice things up. What is more fun that whipping up some delicious themed treats for your celebratory fiesta? From cacti to tacos…we have some of the best Cinco de Mayo cakes and desserts!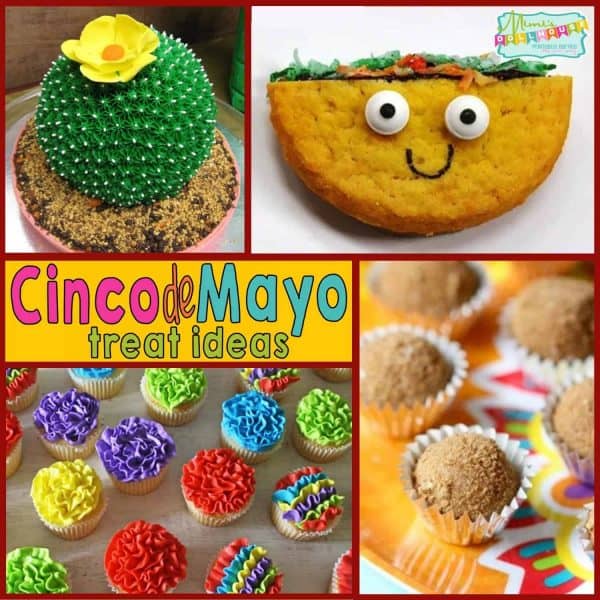 Gearing up for an awesome Cinco de Mayo Party? We've hooked you up with some free Cinco de Mayo Decorations, and now we've got some super yummy and oh so cute party treats and food ideas to share. Isn't the food the best part of the party anyway?!
Throwing a CINCO DE MAYO THEMED PARTY?
☑️ This
Fiesta Party Kit
is the perfect set to get your party planning headed in the right direction!
Sometimes I think I throw parties just for the excuse to try some of these amazing treat ideas. I might have a problem….a yummy problem, but a problem none the less!! At least I'm a social baker, right???
Well whether you are partying cuz you love the holiday or because you love the little treats like me, here are some Cinco de Mayo treat ideas for you.
Check out the good stuff…
Cinco de Mayo Dessert Ideas
Ready for some extraordinary fiesta food ideas you will love for Cinco de Mayo?
Taco Cookies from Party Pinching
These little taco cookies are absolutely adorable. Almost too cute to eat (almost!!). I think the eyes are my favorite part! That and the fact that the "Lettuce" looks like hair! Genius!

Cinco de Mayo Fondant Cupcake Toppers from Simply Sucre Shop
Dress up simple homemade or store bought cupcakes with some absolutely adorable cupcake toppers!
Ruffled Cupcakes by Rose Bakes
These ruffled cupcakes are simply gorgeous. Together on a table, they would make an excellent display, don't you think?? I especially love the multicolored ruffles. Beautiful!
Churro Truffles by Pizzazzerie
So these little guys combine two of my favorite things…churros and truffles. Yummy!! They look so good and super easy to make too! We are big fans of easy to make around here!!

Watercolor Cactus Cookies from Mimi's Dollhouse
Here are some super simple and fun watercolor cookies that are great for bringing some cactus into your fiesta!
Cinco de Mayo Cookie Cutters from Holly Fox
Looking to make beautiful sugar cookies? Here are some cookie cutters that are PERFECT for making these beautiful little cookies!
Marshmallow Cats from Party Pinching
Want some cute and kid friendly gatos for your Cinco de Mayo spread?
Cactus Cake Pops from Chokolat Pimienta
Another cactus idea to make your party amazing! Aren't these adorable?
Margarita Cookies from Sweets Illustrated
Here is one way celebrate Cinco de Mayo with a fun margarita! Grab some festive cookies!
Churro Cupcakes from Momtastic
Churro Cupcakes anyone? Ummm…yes please, delicious!
Strawberry Margarita Cupcakes from Baker's Party Shop
These delicious cupcakes are perfect for for celebrating Cinco de Mayo. I love the little sour candies on top too!
Fiesta Mini Cookies from Little Prince
Mini cookies are some of the best treats to serve for a party. These are perfection.
Cinco de Mayo Piñata Cookies from She Knows
Looking for a themed cookie with an awesome surprise inside? These piñata cookies take fiesta to another level!
Cactus Cake from Cake Central
I love this simple and cute DIY cactus cake. This would definitely be a hit for any party!! Adorable!

Cinco de Mayo Cookies from Sweet Sugarbelle
So…what's a Cinco de Mayo celebration without a little libation? These alcohol themed cookies are too too awesome!

Cinco de Mayo Taco Cookies from The Kurtz Corner
These are super adorable and using the provided tutorial…super easy to make. You can't beat that!!!!
Cinco de Mayo Party Supplies
Now that you have all these amazing ideas for treats to make for Cinco de Mayo, you can grab some tableware and decorations to complete your party. Here are some adorable and festive options:
Taco Truck Plates from Sweet Lulu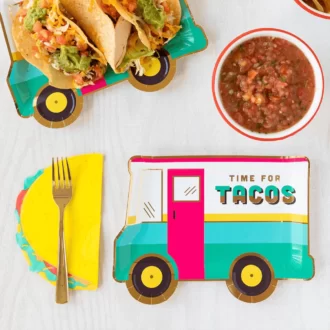 Avocado Plates from Sweet Lulu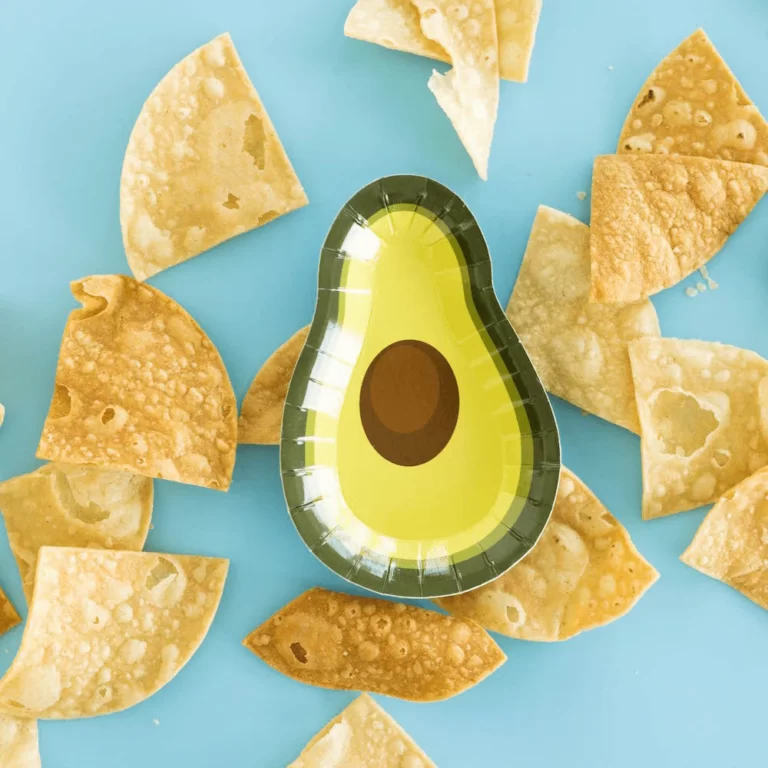 Cinco de Mayo Tableware from Amazon
Cinco de Mayo Decorations from Amazon
Let's Fiesta Tableware
from
Oriental Trading
Taco Party Tableware from Oriental Trading


I also have some helpful links for your Cinco de Mayo party:
If you love these fiesta treats, please pin this image to your Cinco de Mayo Pinterest Board:
Wanna throw a Cinco de Mayo party?
Download our FREE Cinco de Mayo Printables!!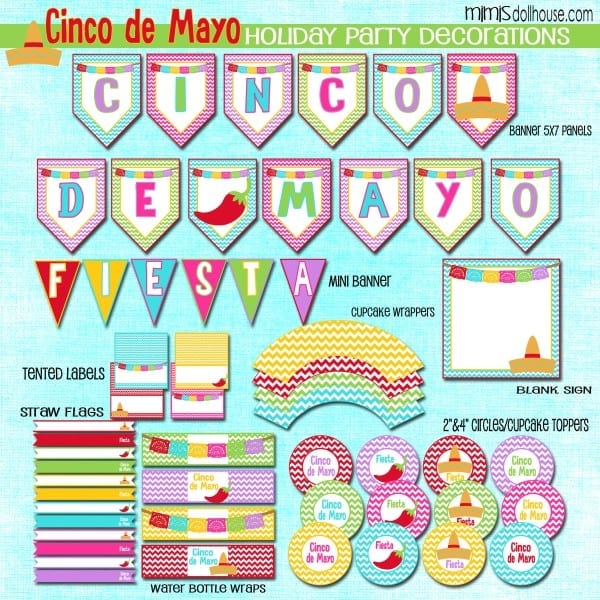 RELATED POSTS FOR Cinco de Mayo Cakes:
THANKS FOR READING our Cinco de Mayo treat ideas!