Cactus party supplies for a Taco Twos-day Birthday Party!
What's more fun than a taco loving two-year old? A TACO TWOSDAY party of course. Celebrate everyone's favorite excuse for tacos (and of course that cute little toddler) with an adorable birthday party idea!
Did you know that cacti and succulents make ADORABLE party decorations? If you are looking to FIESTA…do it southwest style with a fun Cactus themed party.
Throwing a TACO TWOSDAY PARTY?
☑️ This
Cactus Party Kit
is the perfect set to get your party planning headed in the right direction!
My baby boy turned two recently. There was never a doubt for me that this kid NEEDED a Taco themed party. Tacos are literally his favorite food. I think he even said taco before he said Daddy!
You can probably blame the ridiculous amount of Mexican food I craved while I was pregnant for this little Taco loving boy!

Here is my handsome little fellow with his Taco themed Dessert Table. It was love at first site!
Taco Twosday Themed Birthday
So I'm sure you've heard of Taco Tuesday. But have you heard of TACO TWOSDAY? It's the super fun and totally trendy new 2nd birthday party theme taking taco loving toddlers by storm. Who doesn't love a good play on words.?

Here is my little fellow with his very own giant Taco Balloon. Apparently I didn't actually need to buy him any birthday gifts…just this balloon. Kid after my own party loving heart.
Taco themed parties are all the rage. Not only is it an amazing theme for a two year old birthday, but "Let's Taco 'Bout a Baby" is one of the most clever themes to hit Baby Showers in ages! Who wouldn't want to party Fiesta style?

For this particular Taco Twosday party, I focused the decor on cacti. We had lots of soft watercolor cactus desserts to compliment the delicious Mexican cuisine! Delicious and honestly so easy to make! I made this fun little sign to compliment the party decor.

It was such a fun simple party to celebrate my little man's big day.

Fiesta Party Ideas
It's fiesta time! Putting together a Taco-themed party is as simple as…well tacos!!
The best thing about a taco centric menu is honestly so easy. The quickest and most guest friendly way to dish up some tacos is buffet style.

Make your meat, have shredded cheese, lettuce, tomatoes, onions, guacamole, sour cream, salsa and whatever else you think your guests might enjoy on their tacos available in separate dishes so they can mix and match their favorites and you don't have to stress about who can't eat cheese or doesn't like tomatoes!
Another fun idea is a chips and salsa bar. Grab some different tortilla chips and varying types of salsa. Delicious!
Also…pro tip: I recommend street taco shells. Serving guests smaller tortillas will help move the line faster and provide more tacos for more people!
You can also grab these fun taco plates to help make taco eating easy and clean for your guests.

Don't forget to finish the whole party off with some sweet and delicious desserts. For our little Fiesta, we had a six layer ombre cactus cake, cactus cupcakes, and two kinds of cactus cookies. Yummy!
Cactus Party Theme
Succulents are such adorable and versatile little plants. They are also super popular party decorations. There is just something so southwest and warm about having cacti in your party design.

Mixing the watercolor cactus designs with bright white for a clean party design was the perfect combo. Especially up against the pretty weathered wood and greenery of our party locale (aka my yard!) It was such a fun party to design!

The simplicity of the cactus shape and coloration makes creating watercolor cacti so easy as well. Check out the Watercolor cactus cookie tutorial to recreate these easy and delicious cookies.
Cactus Party Supplies
For this party, I found super adorable Cactus Party Tableware to use for the food. The different cactus designs on the plates and cups fit our party so well. And those napkins are simply adorable!

We also used inexpensive fiesta themed tablecloths for the tables (because, hello…toddlers with tacos!) So many bright beautiful colors to compliment the delicious food!!

Cactus Table Decorations
For the desserts table, I used white dishes and some simple wood to display the desserts. Pretty mint colored gum balls were used to display the cookies. I love using colored candy to fill dishes when displaying cookies and cake pops. It gives a little pop of color!

The cupcakes were displayed in pretty lime green cupcake liners to help them stand out. I have also found that this helps condense crumb messes as well!

Here are the delicious watercolor cactus cookies on a simple wood platter. Such an easy and pretty way to display your treats!

Cactus Balloons
It wouldn't quite be a party for a two year old without some balloons, right? Whether you want to use the Taco Balloon mentioned above or this adorable Cactus Balloon, you can find some ready to go and absolutely adorable balloons for your party set up.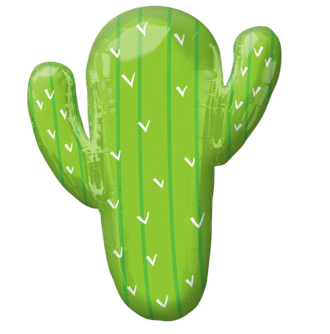 If DIY is more your style (girl…I feel you!) Be sure to check out this amazing cactus balloon tutorial for fun and festive cactus balloons that are sure to be a hit!!
Either way, you can't go wrong with these adorable fiesta style balloons!
Cactus Cupcakes
Alright…let's talk cupcakes. Cupcakes do NOT have to be a lot of work to be amazing. Sometimes the super simple ideas are the ones that rock the most. These cactus cupcakes are so easy to make…and sooo cute.

How to Make Cactus Cupcakes
Firstly, start with your cupcake base. I made these delicious chocolate cupcakes myself, but you can also buy store bought cupcakes and make them just as amazing. The *easy* option is to go to a bakery (or local grocery store) and place a custom order for whatever flavor cupcakes you desire and light green frosting.
You can also re-frost cupcakes yourself, if the green color you desire isn't available.

I used white frosting with green and a pinch of yellow food coloring to get this color for the cactus cupcakes.
Once the cupcakes are frosted, sprinkle a little sugar sprinkles on top. To make the flower for the cupcakes, roll out pink fondant and use a flower shaped cutter to create the flower. As the fondant starts to dry, bend the fondant around the top of a pencil to make the flower stand out.
Finally place a white sugar pearl in the center. Once hardened, place the flower on the cupcake. Easy peasy and ready to enjoy!!
Cactus Party Desserts
Finally, the desserts!! This gorgeous cactus cake has ombre layers inside in beautiful shades of green. It is topped with fondant from Lady Topper. These adorable fondant cacti were one of my personal favorite details of the whole party!

Check out the cactus cake tutorial to learn how to recreate this cake!

The watercolor cookies were made using my delicious Sugar Cookie Recipe. There were two different designs and they were super easy to make. Check out the Watercolor Cactus Cookie Recipes to learn how to recreate these cookies.


Fiesta Party Supplies
Now that you have all these amazing ideas for a fiesta, you can grab some tableware and decorations to complete your party. Here are some adorable and festive options:
Taco Truck Plates from Sweet Lulu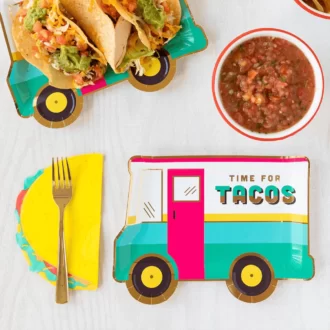 Avocado Plates from Sweet Lulu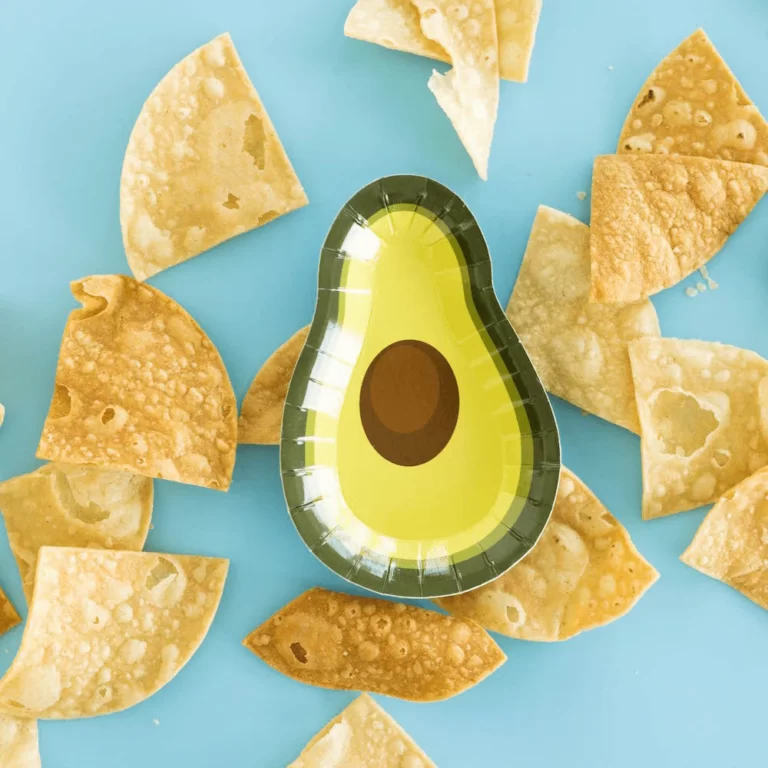 Cinco de Mayo Tableware from Amazon
Cinco de Mayo Decorations from Amazon
Let's Fiesta Tableware
from
Oriental Trading
Taco Party Tableware from Oriental Trading


Conclusion for Taco Twos-day Cactus Party:
Fun and festive…a Taco Twosday party is the perfect theme for a fun loving two year old. Throwing a fiesta party is easy and can be such a blast with the right tools and simple food ideas. I hope you enjoyed this party as much as my little man loved having it!
If you love this party, please pin this image to your Birthday Pinterest Board:
Here are some helpful links for styling a Taco Twosday Party:
Related posts for Cactus Birthday Party:
Thank you for reading our Taco Twosday Party Ideas!