Watermelon Cookies, Cakes + Desserts that are perfect for your summer parties!
There is nothing better for a sweet summer BBQ or party than some delicious watermelon! Are you are styling a watermelon themed party or want to include some watermelon treats in your picnic, or tutti fruity party? I mean, who doesn't like delicious watermelon cakes?
These watermelon dessert ideas are sure to inspire your party dessert menu and give you tons of ideas for making that party really "One in a Melon"!
I love watermelon for a birthday theme. There are so many ideas for ways to make incorporate watermelon into you spring or summer party. Here are some amazing summer party themes to inspire you if you haven't landed on that perfect theme just yet.
Throwing a WATERMELON THEMED PARTY?
Watermelon Party Decorations
If you know "watermelon" is your party theme of choice…there are so many creative ways to use watermelons or watermelon shapes and colors in your party.
I love the idea of a watermelon first birthday with the theme "One in a MELON". You can also throw a "TWO sweet" party for a second birthday.
We have adorable watermelon party printables that can be personalized for your party. This is a super easy way to have an epic themed party that is specific to your child without having to go to a bunch of different places looking for matching supplies.
Related: Watermelon Themed One in a Melon Valentines
Watermelon Tableware
You can also find adorable watermelon tableware to make your party spectacular. I find that accenting with a few key items that are watermelon specific and then using solid colored decorations for the rest is ideal.
Here are some absolutely adorable options for watermelon party ware:
Here are more ideas for Watermelon Decorations.
Watermelon Cakes
Now onto the good stuff…the FOOD. I just adore the idea of beautiful cakes made to look like watermelon. Here are a few GORGEOUS options:
Watermelon Cookie Cake from Aww Sam
This cookie cake is absolutely to die for. I love the colors! Cookie Cakes are a personal favorite of mine!
Watermelon Cake via Project Nursery
Why not top a perfect watermelon cake with and equally perfect watermelon cookie? It's like having the perfect dessert twice!
Watermelon Cake from The Cake Blog
Everything about this watercolor cake makes you ready for summertime! The best part is the assortment of watermelons on the bottom layer.
Watermelon Cake in a Jar from Pizzazzerie
Delcliousness in a Jar? These little Watermelon cake jars are perfect single serve options for a party.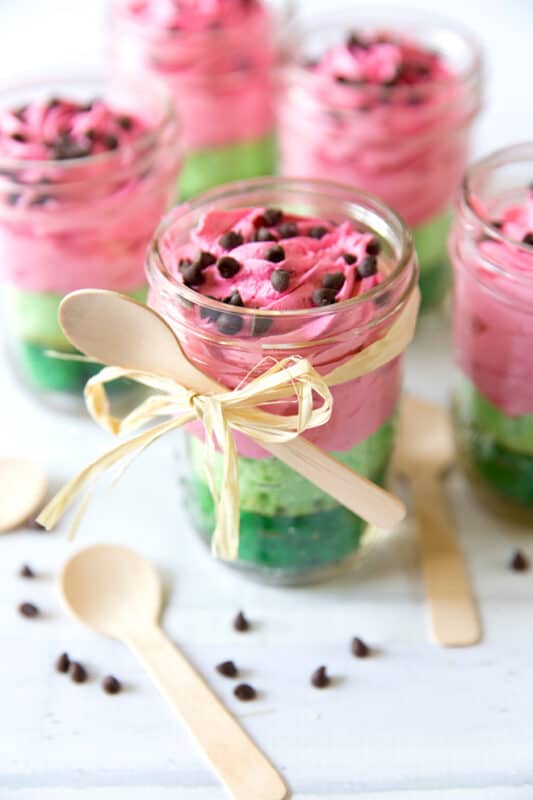 When it comes to making a Watermelon Cake, there are two popular ideas that are both equally adorable and delicious. The first is making a traditional cake that is themed watermelon or looks like a watermelon.
The second is to make a cake out of ACTUAL watermelon. Here is a Watermelon Layer Cake that does just this from Creative Green Living.
The fun part of doing this kind of cake is that any of the cake decorating ideas for the outside of your cake that you like, can be made using real watermelon instead of cake as the interior.
It's fun and healthy.
Watermelon Cupcakes + Watermelon Dessert Recipes
Cupcakes are one of the easiest treats to serve at a party. They are already pre-portioned and super duper delicious. If you can make those cupcakes adorable little watermelons….why not?
It's such a fun idea and would definitely be a hit with little ones.
Watermelon Cupcakes from The First Year
Hello, beautiful. I might actually be a little in love with these stunning watermelon cupcakes. The chocolate chip seeds are the best part!
Watermelon Cupcakes from A Wicked Whisk
If you want to invert those colors, here is another gorgeous cupcake option for a watermelon theme.
Watermelon Cake Pops from The Sweet Dandelion
Super cute little watermelon cake pops are also great ways to give your guests a little cake without the mess!
Watermelon Slice Cupcakes from Sweets and Treats
Why not arrange your adorable cupcakes into an adorable watermelon slice. It's all about the presentation with these beautiful cupcakes!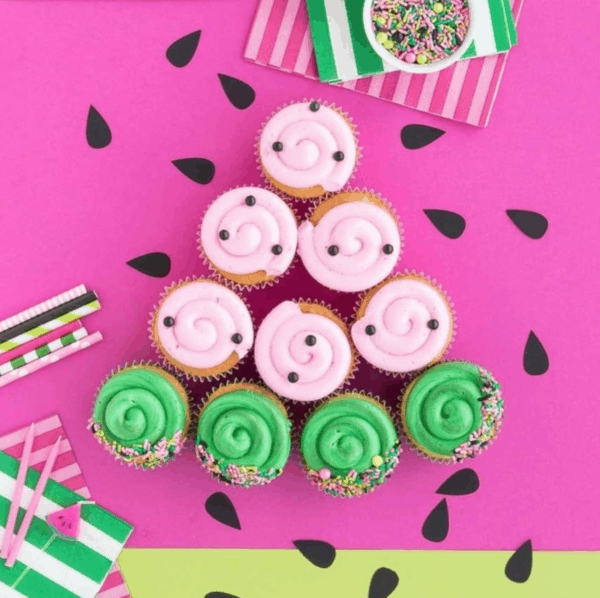 Watermelon Cupcakes from Mimi's Dollhouse
Simple and fun fondant watermelons can turn an ordinary cupcake into a watermelon dream come true!
Aside from Watermelon themed cupcakes, there are also tons of ideas for watermelon desserts. Everything from Watermelon themed donuts to crowd pleasing rice krispies treats that look like little watermelons!
Watermelon Donuts from Shrimp Salad Circus
Who wouldn't want an adorable watermelon donut? Yummy frosting and chocolate chips! Yes…please!
No Bake Watermelon Truffles from Sweet and Savory Meals
Biting into a truffle and finding this fantastic center would be such a great party treat!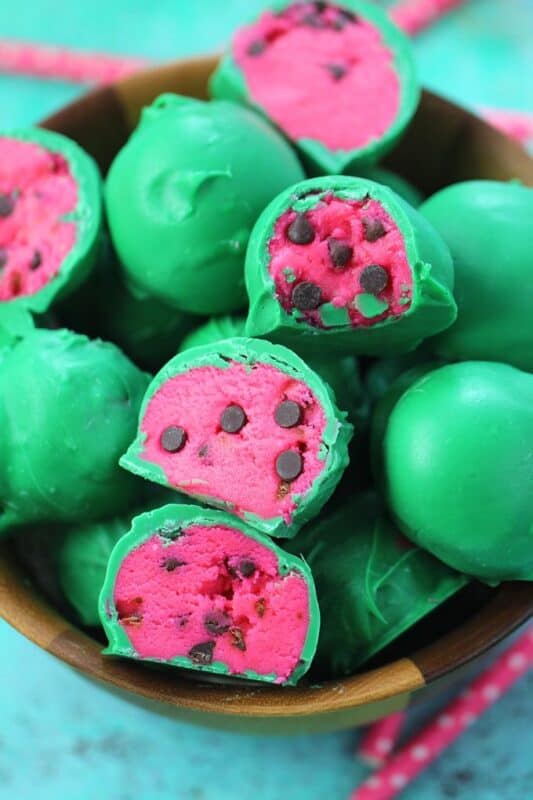 Watermelon Cookies
Watermelon themed cookies are also a fantastic idea for a watermelon themed party. I love the idea of serving delicious themed cookies or watermelon shaped macarons.
I mean who doesn't want a super yummy watermelon slice cookie?
These cookies would also make amazing party favors. You can wrap them up individually in cellophane bags and attach fun favor tags (these are included in the watermelon printables package).
Watermelon Cookies from Sweet Bakes
These watercolor watermelon cookies are absolutely gorgeous. The colors and the design is perfection.
Watermelon Macarons from Sweets Illustrated
Why have regular macarons when you can have beautiful watercolor painted fruit macarons?
Watermelon Cookies from Tybrisa Ave.
Here are some adorable watermelon cookies that would be so great for a first birthday party. Isn't the ant so cute!
Watermelon Macarons from My Frugal Adventures
These watermelon macarons are absolutely stunning. I love the colors and the design.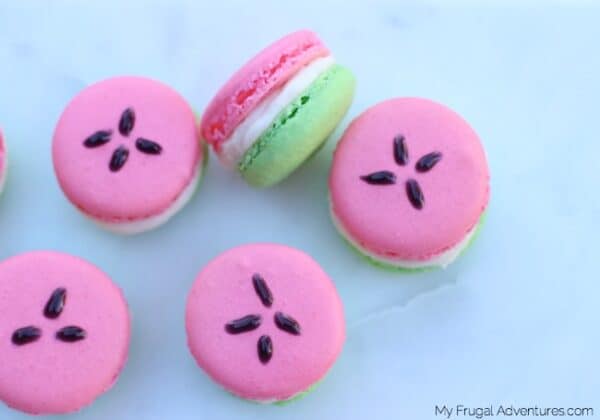 Watermelon Slice Cookies from Taste of Home
This is a simple and easy to recreate option for watermelon cookies. These are perfect for a party or a picnic!
Watermelon Cookies from Sweet Sanctions
Another beautiful watermelon cookie idea using a watercolor technique. I love the soft colors and the pretty design.

Watermelon cookie cutter
To make watermelon cookies, you will need the right cookie cutter. There are several different shapes that you can choose from to make an adorable watermelon cookie.
One popular option is the triangular cookie cutter for the watermelon triangle or to make watermelon cookies on a stick. The other most popular is the half circle with the bite mark.
Both cutters are adorable!
Watermelon Drinks and Frozen Treats
Finally, let's wash all these fun watermelon treats down with some watermelon drinks. The Watermelon Green Tea from Coupon Clipping Cook and the 5 minute Watermelon Lemonade from Perry's Plate are awesome options for watermelon flavored drinks.
If you want a little ice cream substitute, you can also make some delicious Watermelon Popsicles (from The Little Sunny Kitchen) or Watermelon Sorbet (from Beyond the Chicken Coop).
WATERMELON PARTY TABLEWARE
Of course, you need your plates and napkins. While sticking with solid pink and green tableware is always a wonderful option, there are also some watermelon themed options you can find as well.
Watermelon Tableware from Amazon
This set also has a pretty matching tablerunner you can grab!
Watermelon Tableware Set from Target
This set is perfect if you plan to use watermelon ideas in a pool party or as an accent to a summer themed birthday!
Watermelon Tableware from Meri Meri
These fun watermelon shaped plates and napkins have glittery gold seeds. Cute, right!
Want to purchase our watermelon party printables?
If you love these ideas, please pin this image to your party Pinterest board:
Conclusion for POST TITLE:
There are so many amazing dessert ideas that would be perfect for throwing a watermelon themed birthday party. From gorgeous watermelon cakes to delicious watermelon cookies and macarons, these ideas are sure to excite you party goers and tickle your taste buds!!
Related posts for Watermelon Desserts:
Thank you for reading our watermelon cake recipes and dessert ideas!