How to style a trendy setting flamingo party!
DIY Flamingo Party: This season's hottest Flamingle Party Ideas. Want the perfect theme for summer? Let's flamingle with a fantastic flamingo party!
Today I'm sharing some amazing DIY flamingo decorations and ideas for a flamingle party.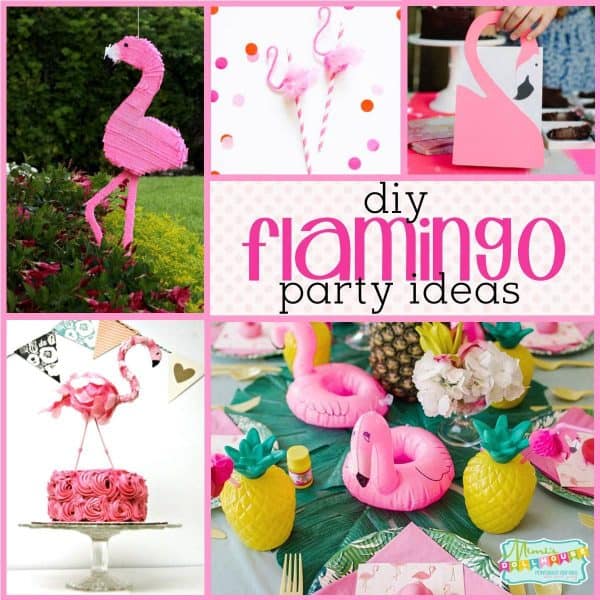 Looking for flamingo desserts? Be sure to also check out this pink flamingo party and flamingo party themes.
Flamingos. Do you love them as much as I do? They are such beautiful, pink birds. Also, I love how their skinny legs bend. Cracks me up every time.
Throwing a FLAMINGO PARTY?
☑️ This Flamingo Party Kit is the perfect set to get your party planning headed in the right direction!
There are so many adorable diy flamingo decorations ideas that are perfect for throwing a flamingle party. Even better, grab some printable flamingo party decorations to make it even easier.
Flamingos can also be styled in so many fun and unique ways. You can pair flamingos with pineapples or other fruit. You can do all pink flamingos or throw in colors like mint or teal.
There are just so many options. I think my favorite flamingo variation is the flamingo pool party. The best thing about this theme is the flamingo pool float!!!
There are even flamingo pool float desserts you can make!!! Come on son!!
Flamingo Party Decorations
DIY Flamingo Piñata from DIY Studio
Want to make a DIY Flamingo piñata? This tutorial will make creating your own flamingo piñata a breeze.
Your mini party goers will have a blast breaking apart this pretty bird.
And of course, that will be a blast to watch. If DIY Flamingo piñatas are not your thing…you can also buy this flamingo piñata.
DIY Flamingo Cake Topper from The Party Girl
This diy flamingo cake topper…be still my heart. Isn't it just gorgeous!!!
I love the details and the shabby chic feel of this super unique flamingo cake topper. This would be amazing in a little girl's birthday party or a summertime wedding.
Here is also a more traditional flamingo cake topper that is also B-E-A-utiful!
Flamingo inspired tissue banner from Twigs and Twirls
There is just something so fun and festive about a pretty tissue banner.
Depending on what direction you want to go with your flamingo party, this beautiful pink and gold tissue banner would make a great backdrop hanger or addition to the front of the table to dress up your tablecloth.
You ca also however, get a banner in pink/mint/orange/gold, pink/mint/gold, just pink, and so many other fabulous combinations!!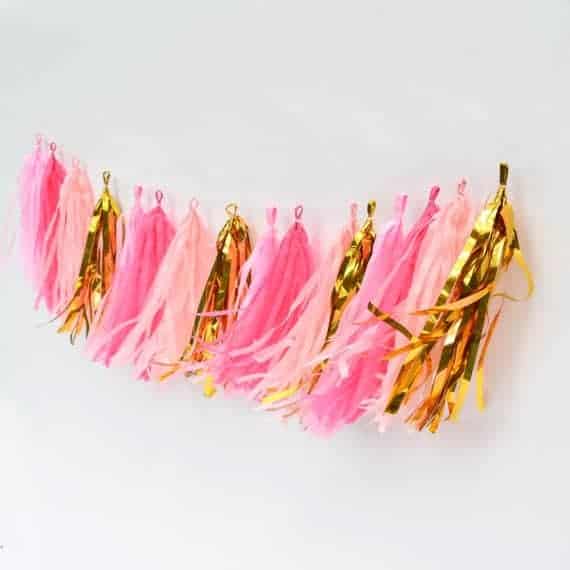 Flamingo Pool Float from Amazon
Ok…what is better than a flamingo pool float? Let's lounge around in the pool in style on an inflatable flamingo.
Be the envy of everyone at your pool party with this float or better yet…buy a bunch so everyone can float along as well. Flamingo pool floats also come for infants and kids too!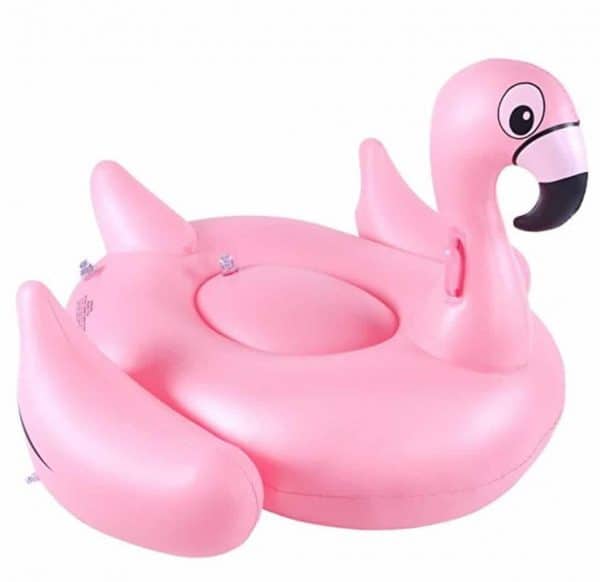 Inflatable Flamingo Cup Holders as seen on The Southern Style Guide
If you are throwing a flamingo pool party…not only can your guests float around in flamingo pool floats, but you can use mini flamingo inflatable cup holders to keep your wine glass close by.
Or even just decorate the party table!! I think they are just freaking adorable!!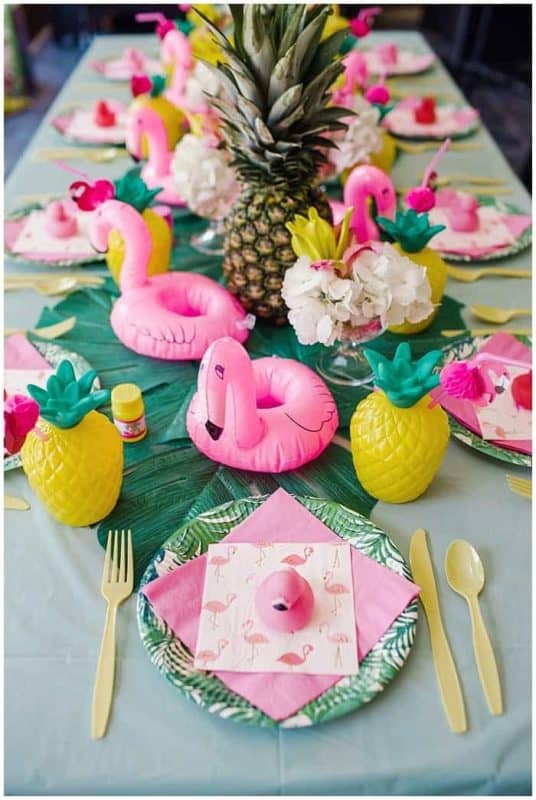 DIY Flamingo Straws from Fete Gazette
Oh my cuteness…aren't these just the cutest things ever?? I love how simple and creative they are. I mean, who wouldn't want a DIY flamingo straw in their lemonade?
I think these pretty little flamingos remind me of ballerinas. Like they are dancing along as you enjoy your drink. So fun!!
Let's Flamingle Balloons from Girly Gifts
Wanna flamingle this summer? Grab your flamingo balloons and some pretty pink cocktails and head on down to the water!! I love the gold letters.
Gold is such a great accent to the pink. Balloon letters are super popular this season too, so you can set some trends while you flamingle away!!!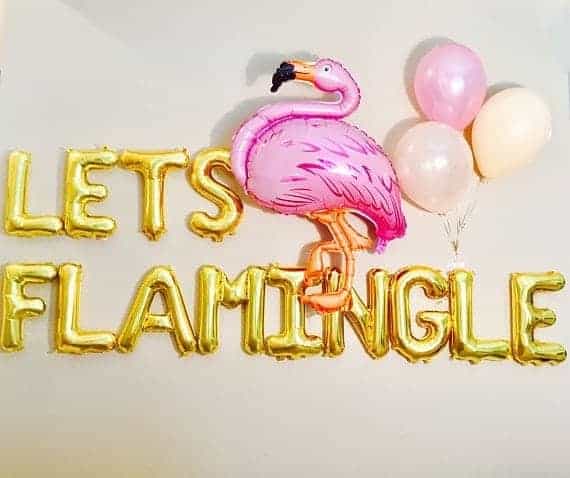 Flamingo Cupcake Toppers from Meri Meri
Dress up your cupcakes with these adorable toppers. What a fun way to serve a delicious piece of cake!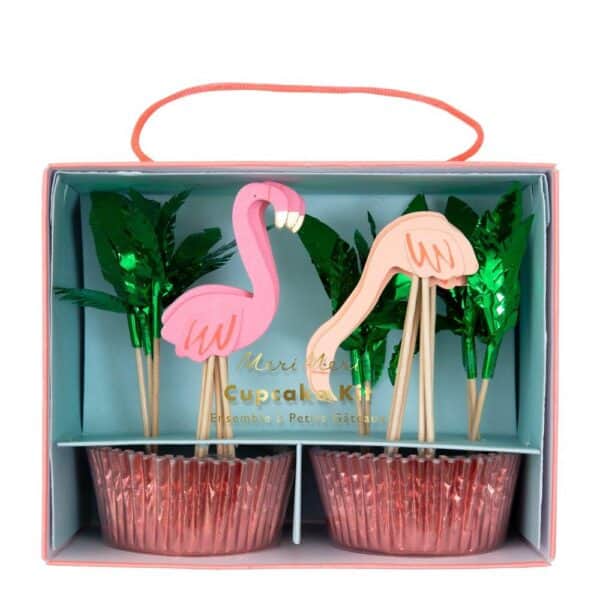 DIY Flamingo Party Ring Toss from Sugar and Cloth
Looking for some flamingo themed party games?
Make a fun DIY flamingo ring toss game using this simple tutorial and some flamingo lawn ornaments.
This flamingo game is sure to entertain your party guests both large and small. Tons of fun to be had!!!
Flamingo High Chair Banner from House of Lay Layt
Throwing a flamingo party for a one year old? You definitely need this GORGEOUS flamingo high chair banner. I love the details and the beautiful colors.
This would be a fantastic set-up for those special smash cake photos. Love. love. love.
Flamingo Foil Balloon from Meri Meri
This fun foil balloon is a great decoration for a party, but also would make an adorable photo prop or balloon for a birthday girl to play with!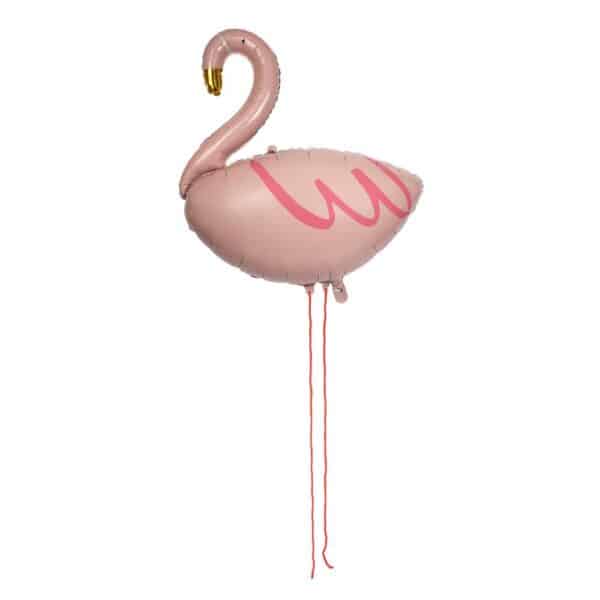 DIY Flamingo Gift Bags from Oh Happy Day
Would you like to send your guests home with some treats?
This fantastic diy flamingo treat bag would be the perfect way to end your party in style.
Fill these adorable bags with yummy goodies to send home or fun flamingo extras like these flamingo sunglasses!!!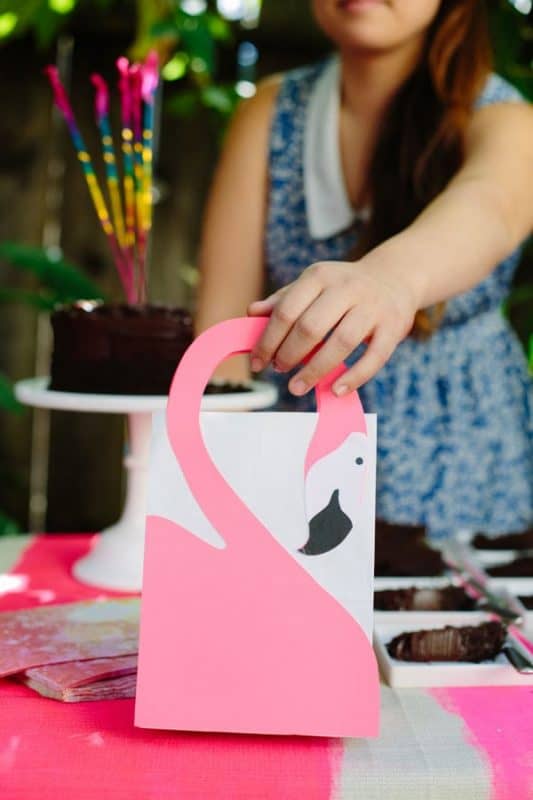 Flamingo Party Tableware
Here are some easy and fun ways to dress up your party table flamingo style:
Flamingo Paper Plates from Target
Flamingo Partyware from Oriental Trading

Flamingo Tableware from Amazon
If you are feeling the flamingo love…be sure to check out these flamingo desserts! Be sure to also check out this pink flamingo party and flamingo party themes.
Must haves for throwing a Pink Flamingo party:
If you love these flamingo ideas, please pin this image to your Pinterest board:
Wanna throw a Flamingo Party?
The Printable Flamingo Party Collection is available for purchase in my shop:
Conclusion for Flamingo birthday ideas:
If you are throwing an amazing flamingo party…these ideas are perfect! From decorations to party favors, plan your flamingo party in style and wow your guests!
Related posts for Pink Flamingo party ideas for adults:
Thank you for reading our Flamingo party ideas!