How to plan a DIY Lemonade Stand for spring
Looking for a fun way to entertain your kids this summer? There are so many ideas for a lemonade stand that will inspire your planning and make for a beautiful event. These ideas are also wonderful for a lemonade birthday party!
Looking for a fun activity for the kids to keep them busy (or just out of your hair)? How about a DIY Lemonade Stand?
So the weather has been crazy lately, huh? Seems all my East Coast friends are posting pictures of massive amounts of snow and complaining about the super cold temps.
Meanwhile…on the west coast, we have been having an usually warm winter. So weird, right!!
Throwing a LEMONADE THEMED PARTY?
☑️ This
Lemonade Party Kit
is the perfect set to get your party planning headed in the right direction!
With our warmish weather, it honestly feels like spring is here already. I know…some of you are probably wanting to throw your computer at me as you read this in a parka!!
But honestly…even when it's cold outside, the thought of spring is comforting, right??
Taking advantage of this lovely weather…I've been in Lemonade Stand mode lately.
Lemonade Stand Ideas
Lemonade stands are super easy to do and so much fun for the little ones. You might remember that I set up a Strawberry Lemonade Stand for my girls a couple months back. It was a blast.
I have been seeing several fun and awfully adorable lemonade stands lately and thought it might be fun to highlight a few.
DIY Lemonade Stand by Giggles Galore
This lemonade stand is stunning! I love the colors and the details. I especially love the way the lemon is worked into so many of the treats. Love it! My favorite detail is probably the doily wrapped glass jars (see below).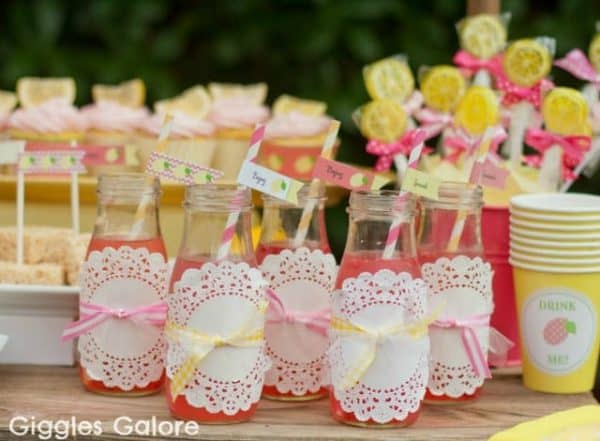 Lemonade Stand with Tutorial by See Vanessa Craft
This lemonade stand is simple and chic. It would be a great twist (pardon the pun) for a boy's lemonade stand. I love the green touches as well.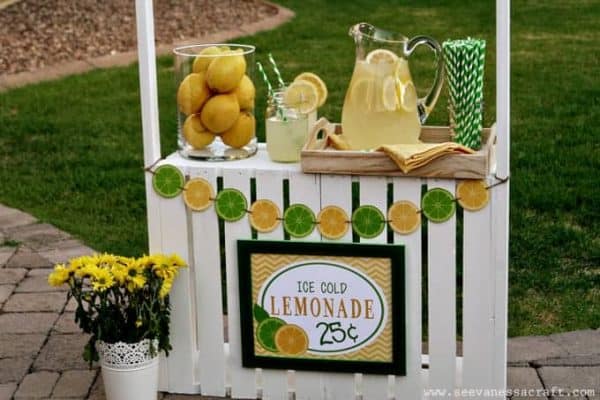 Rowyn's Pink Lemonade Stand Party by Mozi Photography
I'm a firm believer that you can NEVER have too much pink. This adorable pink DIY Lemonade stand birthday proves me right! I LOVE, LOVE, LOVE the mini stand on the table. Too much!
Perfection…so clean, yet with a rustic touch!
Lemonade Stand Birthday Party by Quilted Polka Dot
This is such a sweet party. I adore the little banner strung between the lemons and the easy spring feel of the design. These pictures just scream "warm spring day", don't they??
Lemon Squeeze by The Frosted Petticoat
This lemonade stand is adorable and vintage. I love how it feels like a little romantic date, but in a cute Alfalfa/Darla way. Precious. The vintage signs are the perfect touch.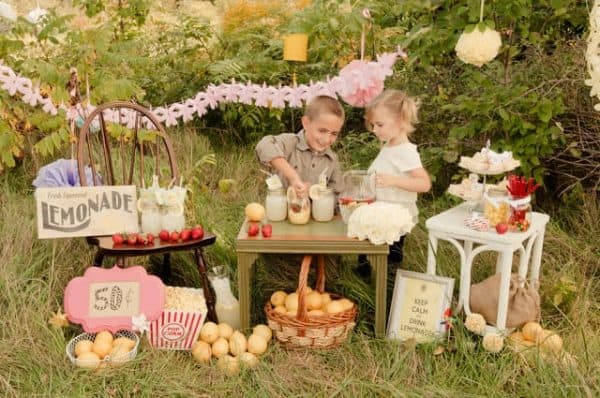 Lemonade Stand by One Charming Party
One of my all-time favorite little parties from one of my favorite blogs. This classic, easy to replicate DIY lemonade stand would be great for a little weekend diversion without breaking the bank.
I love the green and yellow details.
Lemonade Stand by La Belle Parties
This is a fun Lemonade Stand with a modern twist. I like the inclusion of the ever popular "Keep Calm" Sign and the pretty color palette.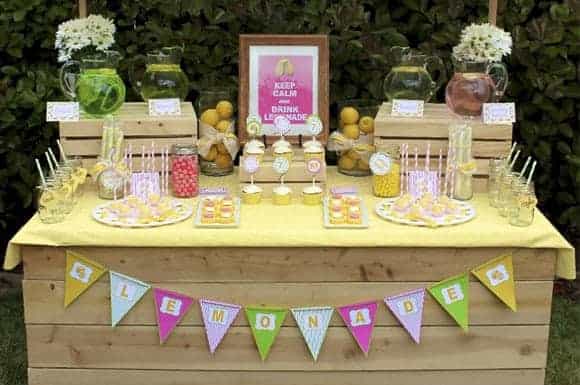 Lemonade Stand by Inspire Me Baby
Adorable, right. How sweet is this vintage, burlap lemonade banner? I love the sweet, subtle details of this stand. The colors are soft and the pictures are stunning.
Summer Pink Lemonade Birthday by On to Baby
If subtle pink is not your thing…this is the lemonade stand for you. I love the bright colors and the bold decor. The contrast between the bright pink and yellow and the white is gorgeous. Definitely a wow party!
Lemonade Birthday by Lulu Pink Parties
And last, but certainly not least…I am in love with the umbrella in this party. Just a beautiful display. I love the colors and the bright open feel of the room. Beautiful!
Adorable ideas, aren't they!! Hopefully they inspire you to put together a little lemonade party of your own. As always, I'd love to see the pictures, or you can submit your party for feature!
Lemonade Stand Desserts + Recipes
Here are some amazingly cute and yummy Lemonade Party sweets and treats…
Lemonade Cookies from Amy Atlas
How cute are these cookies? I think my favorite part is the little straws. The glittery frosting is a nice touch too…These would be a HIT!! So cute!!

Lemon Themed Sugar Cookies from Boro Simply Sweet
Perfectly sweet yellow lemon cookies with soft girly flowers. These would be great for a little girls first birthday party.
Lemonade Cookie Cutter from Holly Fox
If you love decorating your own cookies, these lemonade glass cookie cutters are perfect for baking!
Lemon Truffles from Swanky Recipes
These look scrumptious and oh so easy! I love that they are different from the usual cookies too. Adorbs!

Strawberry Lemonade Bars from The Baker Upstairs
Hello, delicious. Serve up some tasty strawberry lemonade treats for your lemonade stand!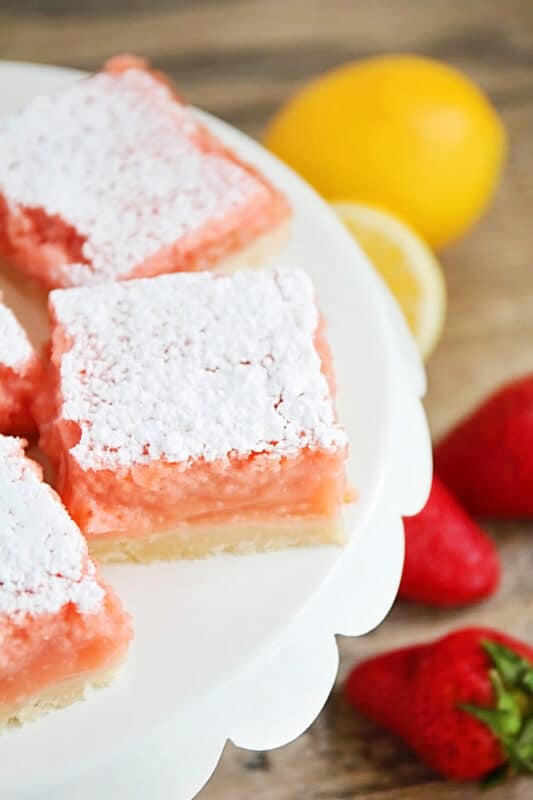 Strawberry Lemonade Thumbprint Cookies from Inspired by Charm
Easy and fantastic strawberry lemonade flavored cookies are a definite win. These delicious cookies are a must bake!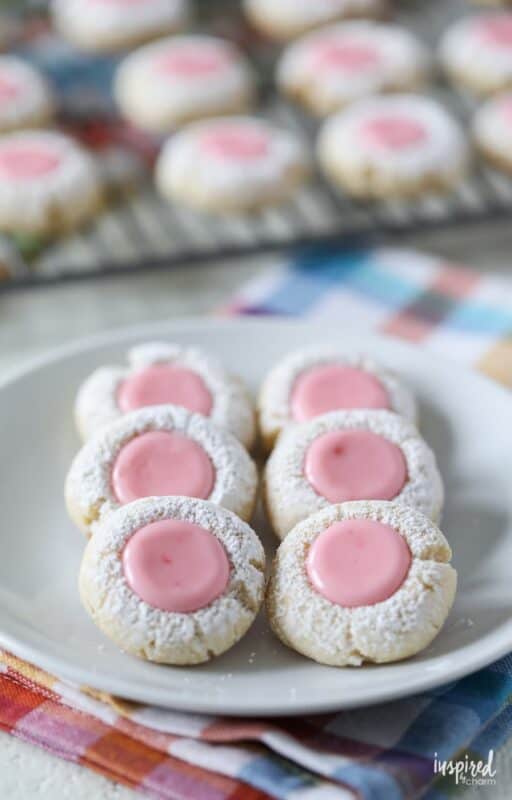 Mini Lemonade Cookie Cutter Set from 3D Cookie Cutter Shop
Here is another absolutely fantastic option for cookie cutters to make your own lemonade stand themed cookies. Too, too cute.
Raspberry Lemonade Cupcakes from Cooking Classy
I'm a sucker for amazingly cute cupcakes…especially when they are theme flavored. How awesome are these raspberry lemonade cupcakes. LOVE them!!

Strawberry Lemonade Cookies from Jen's Favorite Cookies
These look so good I think I want to make them right now:) I love sandwich cookies…it's like having two cookies in one. Winning!!

Lemonade Stand Signs
Setting up a lemonade stand definitely needs some advertising, right? Whether you want to go DIY or buy a fun sign…all the adorableness of a Lemonade stand starts with the lemonade stand sign! Here are some super adorable options:
DIY Lemonade Sign from The Happy Scrapper
Fresh Lemonade Sign from Hunter Bear Design
Glitter Lemonade Sign from Party City
Lemon Wreath Sign from Donna and the Girls
Conclusion for Lemonade Stand for Kids:
Setting up a fun Lemonade stand for summer has never been so adorable! With cute decorations and delicious recipes, you can transform an ordinary lemonade stand into and extraordinary event! These beautiful lemonade stands and yummy dessert ideas will inspire your next lemonade stand and get you wishing for summer!
Here are some helpful links for setting up a lemonade stand:
If you love these ideas, please pin this image to your spring Pinterest board: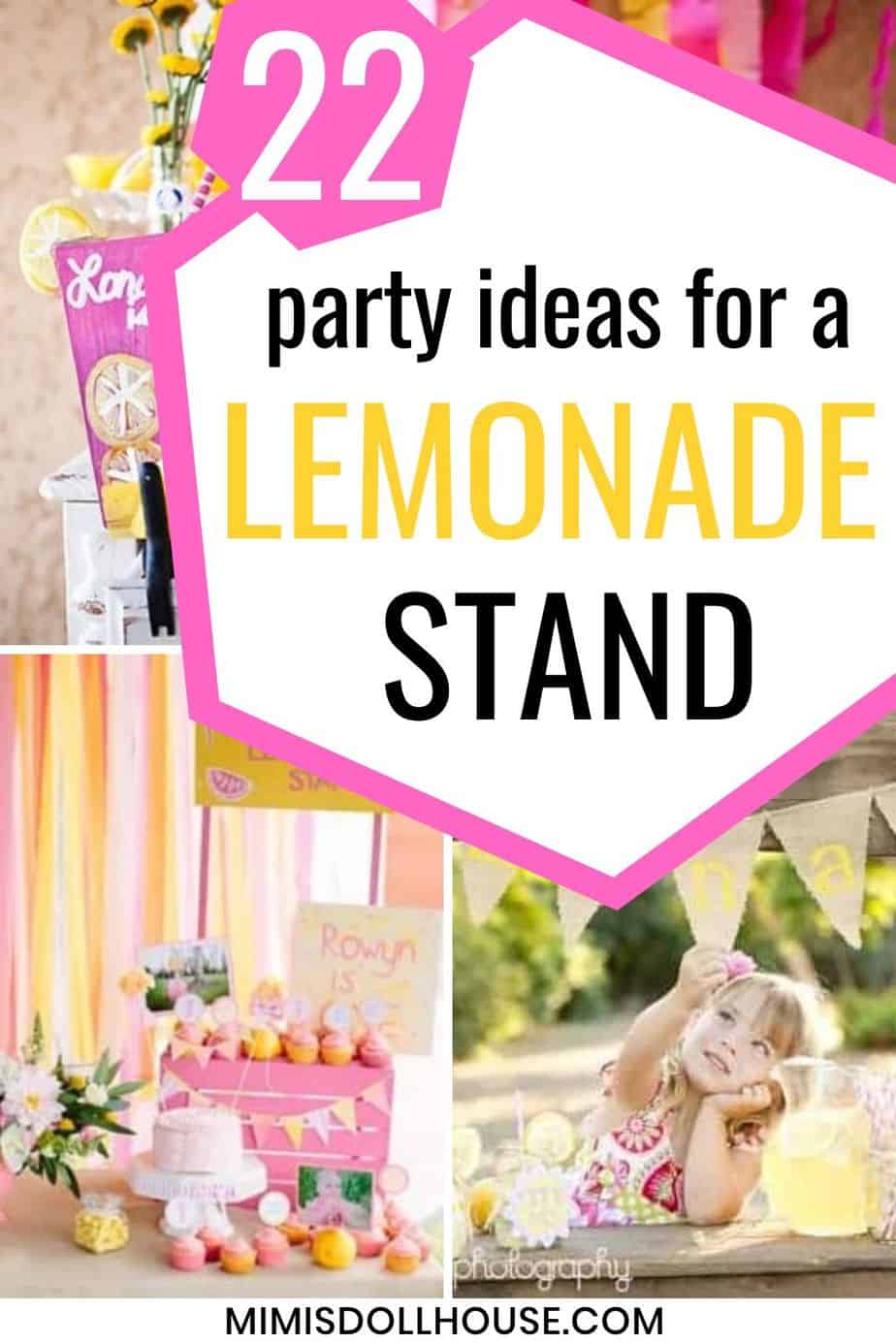 Related posts for DIY Lemonade Stand:
Thank you for reading our Lemonade Stand ideas!