Lemonade Stand: 10 DIY Lemonade Stand Ideas. Looking for a fun activity for the kids to keep them busy (or just out of your hair)? How about a DIY Lemonade Stand? Be sure to check out all of our Lemonade Party Ideas!
Lemonade stands are super easy to do and so much fun for the little ones. You might remember that I set up a Strawberry Lemonade Stand for my girls a couple months back. It was a blast. I have been seeing several fun and awfully adorable lemonade stands lately and thought it might be fun to highlight a few. Here are 10 of my favorites for you…
This lemonade stand is stunning! I love the colors and the details. I especially love the way the lemon is worked into so many of the treats. Love it! My favorite detail is probably the doily wrapped glass jars (see below).
This lemonade stand is simple and chic. It would be a great twist (pardon the pun) for a boy's lemonade stand. I love the green touches as well.
I'm a firm believer that you can NEVER have too much pink. This adorable pink DIY Lemonade stand birthday proves me right! I LOVE, LOVE, LOVE the mini stand on the table. Too much! Perfection…so clean, yet with a rustic touch!
This is such a sweet party. I adore the little banner strung between the lemons and the easy spring feel of the design. These pcitures just scream "warm spring day", don't they??
#5 Lemon Squeeze by The Frosted Petticoat
This lemonade stand is adorable and vintage. I love how it feels like a little romantic date, but in a cute alfalfa/darla way. Precious. The vintage signs are the perfect touch.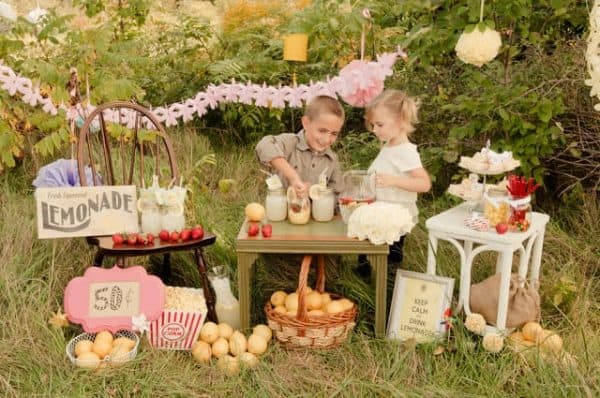 One of my all-time favorite little parties from one of my favorite blogs. This classic, easy to replicate DIY lemonade stand would be great for a little weekend diversion without breaking the bank. I love the green and yellow details.
This is a fun Lemonade Stand with a modern twist. I like the inclusion of the ever popular "Keep Calm" Sign and the pretty color palette.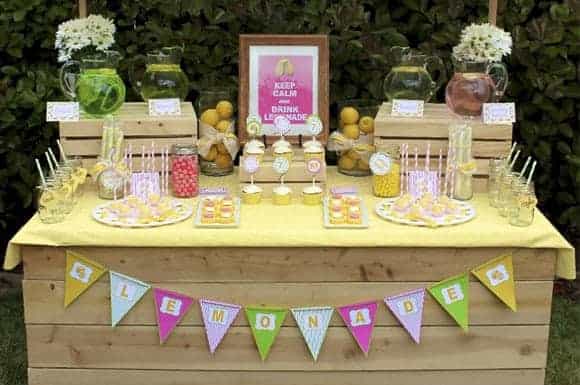 #8 Lemonade Stand by Inspire Me Baby
Adorable, right. How sweet is this vintage, burlap lemonade banner? I love the sweet, subtle details of this stand. The colors are soft and the pictures are stunning.
If subtle pink is not your thing…this is the lemonade stand for you. I love the bright colors and the bold decor. The contrast between the bright pink and yellow and the white is gorgeous. Definitely a wow party!
And last, but certainly not least…I am in love with the umbrella in this party. Just a beautiful display. I love the colors and the bright open feel of the room. Beautiful!
Adorable ideas, aren't they!! Hopefully they inspire you to put together a little lemonade party of your own. As always, I'd love to see the pictures, or you can submit your party for feature!
Be sure to check out all of our Lemonade Party Ideas!
The Printable Lemonade Party Collection is available for purchase in my shop: