Lemonade Party Supplies + Ideas for a Summer Birthday
If you are celebrating a spring or summer birthday, freshen it up with a fun lemonade theme. A lemonade party theme is a great way to have fun in the sun with simple and festive budget-friendly ideas.
Planning a lemonade themed party is simple and definitely a great theme for a party at a park or in a garden or yard.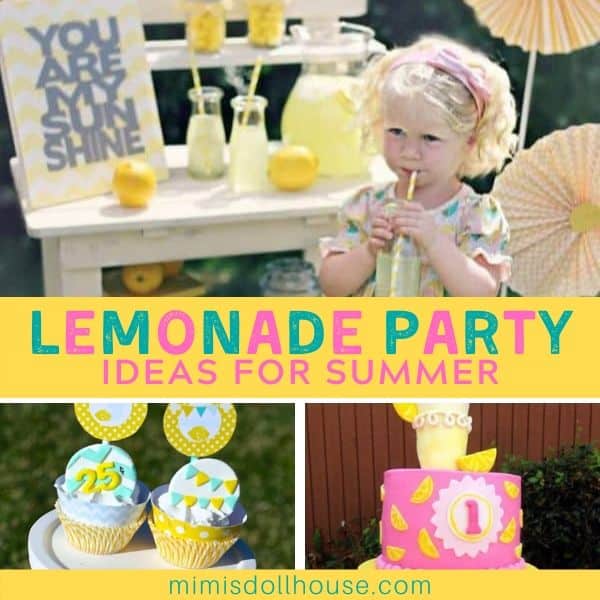 We love this party theme so much that we have three adorable lemonade parties to share. All three parties showcase easy to replicate and super inexpensive ideas for making your party a huge success.
Ready for the sweet details?
Old Fashioned Lemonade Stand Birthday Party
Lemonade Party: Emma's Old Fashioned Lemonade Stand. Celebrate your little spring birthday baby with a sweet lemonade party. Today I'm sharing a vintage lemonade stand I styled for my little girls.
Throwing a LEMONADE THEMED PARTY?
☑️ This
Lemonade Party Kit
is the perfect set to get your party planning headed in the right direction!
Spring has sprung. What better way to celebrate the sweet season than a sweet lemonade party. I had a blast putting together this fun little party spread.
I love the vintage feel of the aqua/blue with the lemons. So much fun!!
I kept this design simple and easy…perfect for a day at the park. We had a fun lemonade sign and some fresh lemonade and sweet treats.
I was also super excited to find this adorable dress and swing top that matched this party PERFECTLY at Gymboree.
Seriously couldn't have planned better outfits for this design if I'd tried!!

Easy Lemonade Decorations
For this simple party, we set up a lemonade stand using crates. We also had a little table and chairs set up so the girls could enjoy their lemonade and treats in the park. It was simple and super budget-friendly.
Isn't she a cutie?? They had fun having their little picnic in the park with little lemon cakes and cupcakes with these ADORABLE fondant circles. Perfection!
I made big paper starbursts and added the 2 inch circles to the middle to tie it all in. For favors, we put yellow sixlets into gum ball tubes and put candy into pillow boxes. Awesome sauce!!
The fondant from Harriet's House of Cakes matched the the printables PERFECTLY. I was super excited to find those. Here also is my sweet Aubrey getting ready to serve up some lemonade.
I used crates to set up a simple party spread. I love alternatives to the traditional table spread. This is a fun, easy and inexpensive way to set up a party design. I love it!!
I also used my daughter's little table and chairs to make their lemonade picnic a little "fancy". I love the throw pillows on the chairs too. Awesome sauce.
Budget Friendly Lemonade Party
The Lemonade Stand. By now you probably know that I am a sucker for a good lemonade stand. (Hence why I styled this Strawberry Lemonade Stand for my girls!) They are just so stinkin' cute and bright and cheery.
Like this lemonade stand styled by Bridget Parry. This cute little springtime spread is perfect! I love, love, love the colors and the nice rustic, yet still feminine feel.
Of course, I love pretty much everything from Bridget, cause she's a party genius:) Check out the cuteness!!!

Aren't the paper flowers great. First off, they are huge, which is awesome sauce. Secondly, the different yellow patterns make them stand out really nicely. LOVE.
What a little cutie:) It sure looks like she is enjoying that yummy lemonade! Makes me want to grab a glass too!
What's great about Lemonade stands is that they are not gender specific, either. You can go girly with some pink lemonade or some pretty, fancy patterns.
Even throw in a few doilies or some bows. You can go more masculine, with some sour treats and a nice blue accent. Or you can split the difference with soft neutral colors like this party.
Honestly, the possibilities are endless with this fun theme. It's win-win all around. YOU have fun setting it up and snapping some photos of your kiddos. They have fun hawking their lemonade and earning a few bucks.
Pretty Pink Lemonade Party
Last, but certainly not least, this adorable pink lemonade party was style by one of my amazing clients using our lemonade party printables (available at the bottom of this post!)
To quote my good friend Olaf (yes, after the like 100th time through Frozen, we are good friends!): "Oh! I don't know why, but I've always loved the idea of summer and sun and all things hot!"
Yep, that's true! all good things…all good things! I love summer time. One of the best things about summer is yummy lemonade! I love cool lemonade on a hot day.
It is one of my favorite summer experiences…especially by the pool!!! Planning a whole party around lemonade….AWESOME!! It is one of my favorite spring/summer party themes.
Today I'm sharing a sweet client styled Lemonade party. This party was thrown by Ali for her daughter Tristyn's first birthday. Check it out…
This adorable lemonade stand was handmade by Ali and her dad. Isn't it adorable? I love homemade lemonade stands. The one we made for our Strawberry Lemonade party last year is still one of my favorite party props. They are so rustic and original and I love the pink girly feel of this one too!
The cake is definitely my favorite detail from this party! GORGEOUS!! I love awesome themed cakes, they add so much!!
This sweet picture shows 5 generations celebrating together! What a special experience for little Tristyn!
I love these cute mason jars too! Adds a nice vintage feel to the party. Also check out this cute little custom hat and the sweet high chair banner. Cute, cute!!
Here's a cute piñata with the birthday girl's nick name. I love piñatas for parties…the kids always have a blast with them and there are so many creative ones too.
Lemonade Party Printables
Wanna throw a Lemonade Party?
The Printable Lemonade Party Collection is available for purchase in my shop:
CONCLUSION FOR LEMONADE Party Ideas:
Setting up an amazing Lemonade party is simple with the right ideas. These three lemonade parties are full of budget friendly and super adorable ways to have a lemonade themed party this summer for your little one.
Here are some helpful links for setting up a lemonade stand:
If you love these ideas, please pin this image to your spring Pinterest board:
Related posts for DIY Lemonade Stand:
Thank you for reading our Lemonade Stand ideas!