Tutti Fruity Birthday Ideas that are just in time for spring!
If you are planning a sweet birthday in the spring or summer, a tutti frutti party might be just what you need to celebrate the sun and the warm weather. There is nothing naturally sweeter than some fresh fruit which makes it a great way to celebrate your sweet little one!
This theme is especially wonderful if you have a baby turning TWO! If you are like me and love a good play on words…why not style a TWO-tti Fruity Party for your adorable little peach!
Throwing a FRUIT THEMED PARTY?
Tutti Frutti Party Ideas
Ok…is it just me, or are fruits seriously some of the brightest, most fun shapes and colors? It's like nature throws its own little party every time it grows the perfect pineapple or orange!
Why not use these adorable and healthy little fruits to capture the bright and bubbly that is your little one?
There are so many fun ideas for styling a fruit themed party. It's a great theme for a birthday, wedding shower, or even just a summer pool party.
Check out some of these awesome ideas…
Two-tti Fruity Party Theme
If you have a little one who is turning two this spring or summer, a Two-tti Fruity party is a fantastic way to celebrate. Firstly, its a fun pun for a party theme. Secondly, its a gorgeous and easy theme to decorate and the food pretty much plans itself.
All good things!
Two-tti Fruity T-shirt from Bella Lexi Boutique
This fun birthday girl shirt would be perfect for a little girl turning two to wear to her very own fruit themed party!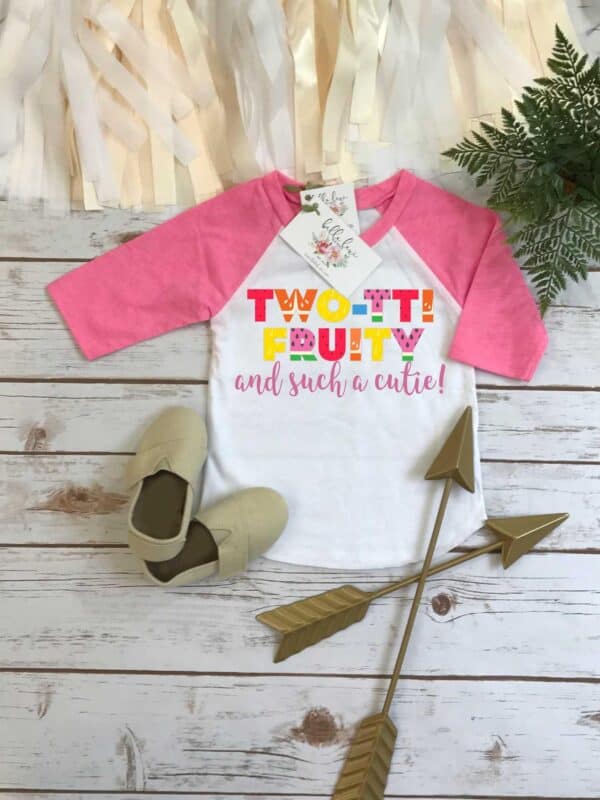 It's easy to incorporate typical spring and summer activities, like a park day or a swimming pool, into a Tutti Fruity party also. And who doesn't like when things just seem to fit together?
Related: Taco Twos-day Party
Tutti Frutti Party Decorations
Here are some AMAZING fruit party ideas to get your creativity flowing…
Simple Fruit Themed Birthday from Catch My Party
This simple party set up goes to prove that you do not have to spend a ton to create an adorable tutti fruity party. These simple paper plates painted to look like fruit make an adorable backdrop!
Rainbow Fruit Party from Kara's Party Ideas
Can you taste the fruit rainbow? This balloon backdrop is so perfect for a tutti frutti theme. Simple fruit shaped balloons mixed in with colorful balloons for a fun and festive balloon arch!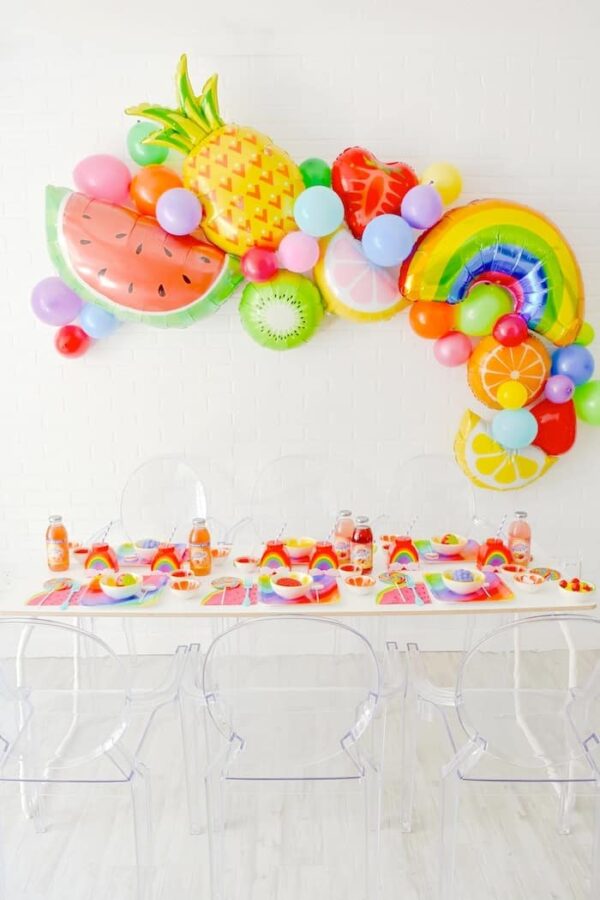 Colorful Tutti Frutti Party from Kara's Party Ideas
Here is another mixture of fruity balloons that perfectly accent the tables where guests can enjoy all their treats!
Fruit Themed Drink Station from 100 Layer Cake
Looking to serve a mixture of fun flavored lemonades and fruity beverages? This drink station is one of my favorite party ideas EVER. It's beautiful and functional!!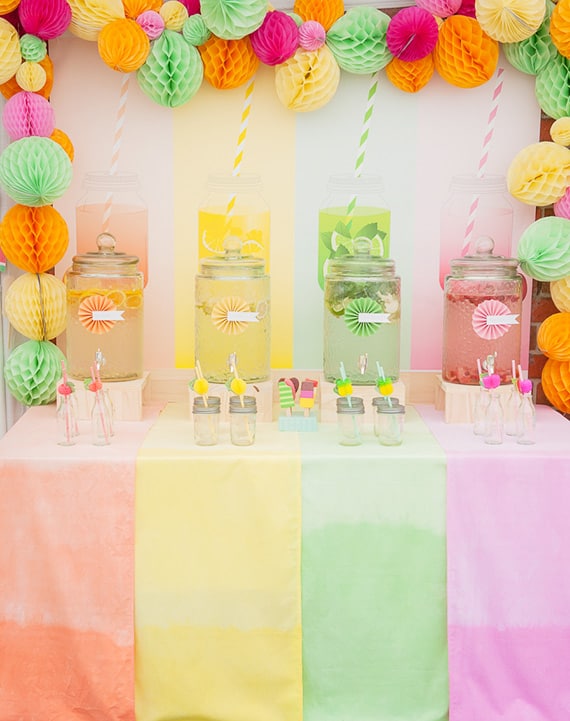 Fruit Banner from Prints for Events
Here is a fun and easy printable fruit banner that would fit perfectly with a simple tutti fruity party!
Don't you love these fruit ideas? Beautiful and fresh!
Related: Watermelon Decorations + Party Ideas
Fruit Party Crafts + Ideas
Along with those amazing party decorations, you need some smaller fun details to really bring the party to life. Here are some fantastic and fruit filled ideas to compliment your party set-up.
Giant Foam Fruit from Studio DIY
I think every party needs some fun foam fruit in their life…especially at the fruit themed birthday. These would be great as props or even to build some sort of activity around!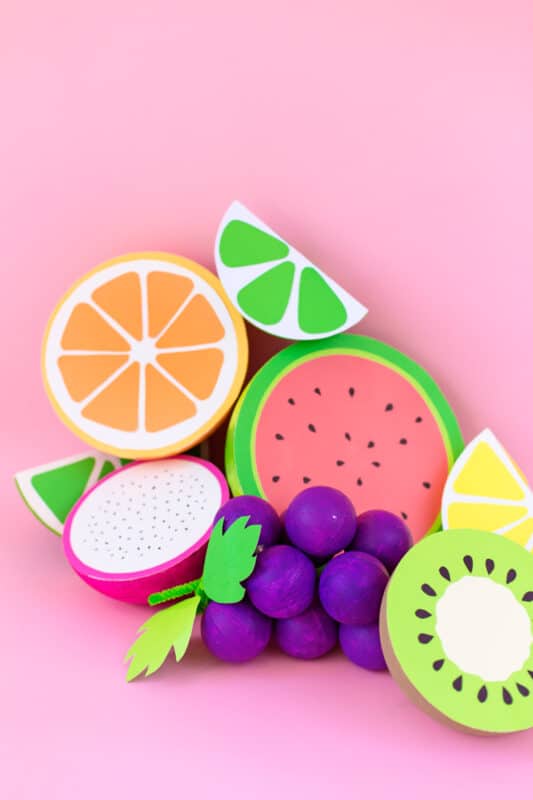 Tutti Fruity Tissue Tassel Banner from Knoba Studio
Here is a simple and absolutely beautiful tissue tassel garland that would be perfect at the front of a party table or on a wall for photos! Awesome!!
Watermelon Cupcake Toppers from Hooray Mag
Here are some easy DIY Watermelon Cupcake Toppers you can whip up to dress up simple cupcakes. Whether you bake at home, or order from a local bakery…these toppers give cupcakes a nice fruit themed boost!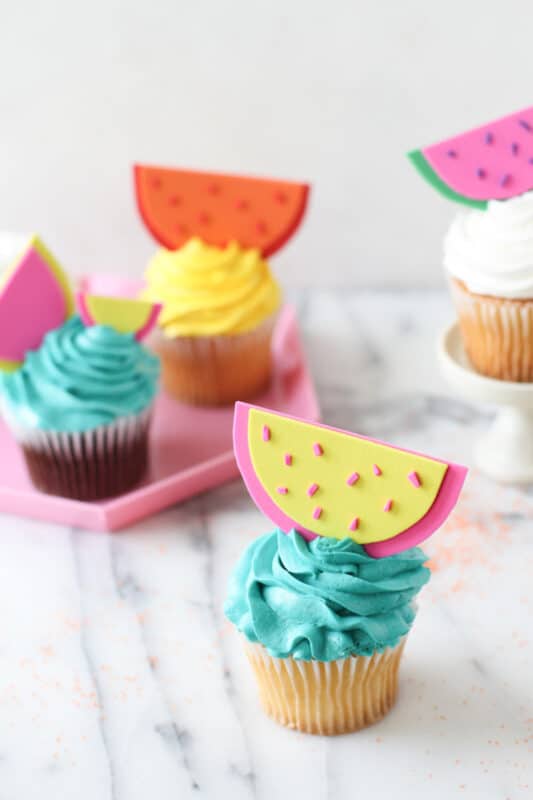 Lemon Straws from A Joyful Riot
Easy and adorable…these mini lemon balloon straws are a great way to dress up a simple drink cup. Bonus…what little kid isn't going to love having a balloon on their straw?
Pineapple Tissue Poms from Frog Prince Paperie
Simple and easy DIY pineapples to accent your decor. These are a fun a festive option for table centerpieces too.
Fruit Cupcake Picks from Cutesy Shelf
Here is another amazing way to dress up some simple cupcakes. Pretty little paper fruit topper. Hint: These also would look amazing stuck in fruit or brownies or really ANYTHING you want to serve!
Lime Cake Topper from Tickled Glitzy
Looking for a fun smash cake topper? This lime cake topper is adorable and unique. Limes not your thing? They come in other fruit options as well!
Fruit Party Tableware
Whew! That was a lot of options! If you are unsure of exactly where to start, I recommend grabbing some simple tableware first.
There are many options. Here are some of the best:
Tutti Frutti Tableware from Meri Meri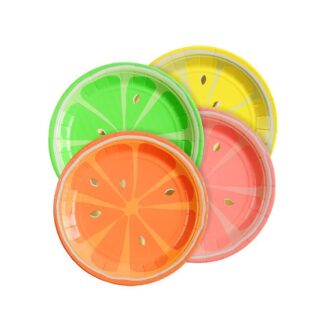 Tutti Frutti Tableware and Decorations from Oriental Trading
Coordinating Tutti Frutti Party Supplies
Want to shop this party design? Here are some helpful links to go straight to your favorite items!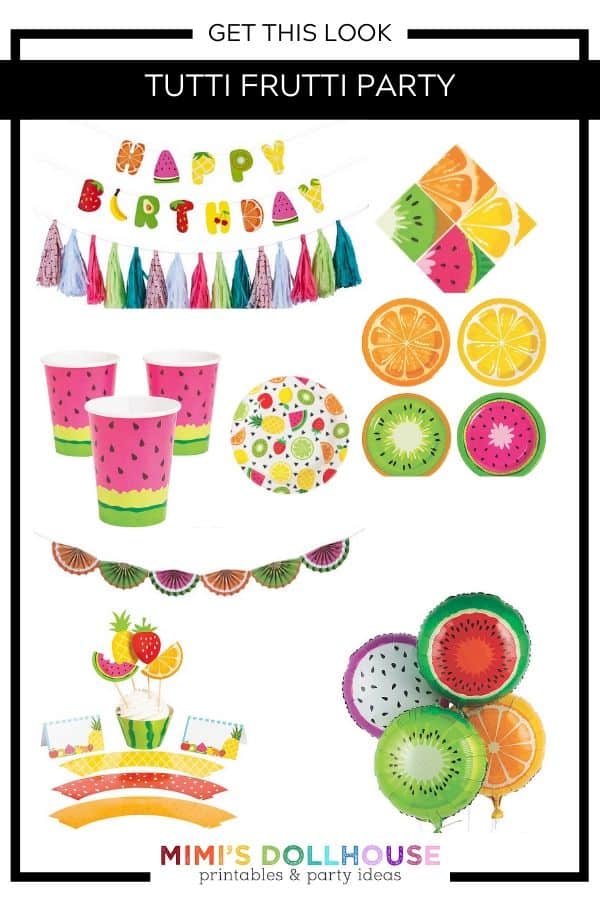 Conclusion for Tutti Frutti Ideas for a Summer Birthday:
If you are celebrating a birthday, baby or wedding in the spring or summer, this party theme is a must for you to see. Amazing ideas for throwing a fruit themed party. From sweet strawberries to delicious melons, this party ideas are simple and sweet and oh so fun!
Here are some helpful links for throwing a fruit themed birthday:
If you love these party ideas, please pin this image to your birthday Pinterest Board:
Related posts for Tutti Frutti Birthday:
Thank you for reading our Fruit Themed Party Ideas!