Awesome ideas for a full court Basketball Party!
Get your head in the game with some winning basketball party ideas! These amazing party decorations, food serving ideas and fantastic party favor ideas will bring your basketball themed birthday to life. Get ready to celebrate your favorite team in style!
If you have a little sports fan, consider throwing an amazing basketball themed birthday party this year! What better way to celebrate than with some full court ideas that take you game to the next level?
Throwing a BASKETBALL THEMED PARTY?
Whether you want to focus on a specific team, player, or just basketball in general, these ideas are sure to excite any little fan and get your creative juices flowing!
Basketball Party Ideas
There are so many awesome ideas for creating a super memorable basketball birthday party. These ideas are also perfect for watching your favorite team with friends or hosting a March Madness viewing party.
If you are celebrating with fans from other teams, keeping the decor orange and black and focuses on the basketball itself is a great way to host playoff parties or NBA championship games.
If you are all fans of the same team (or the little birthday boy or girl has a favorite team or player), throw in your favorite colors! In my home, that would definitely be Black and Red (Go Trailblazers!)
Another fun reason for a basketball theme is a team party. Did you just finish an amazing season with your little ones basketball team? Put together an amazing team party with unforgettable decorations!
Related: Basketball Cakes, Cookies + Food Ideas
Basketball Party Decorations
Alrighty then….let's get to the fun ideas! Here are some of the BEST basketball themed party ideas and decorations that are sure to score big points!
March Madness Basketball Party Table from Michelle's Party Plan-It
My favorite detail from this is definitely using the actual hoop and ball in the backdrop. This basketball set-up would be fantastic in team colors also! And come on…the paper "foam fingers" are genius, right?!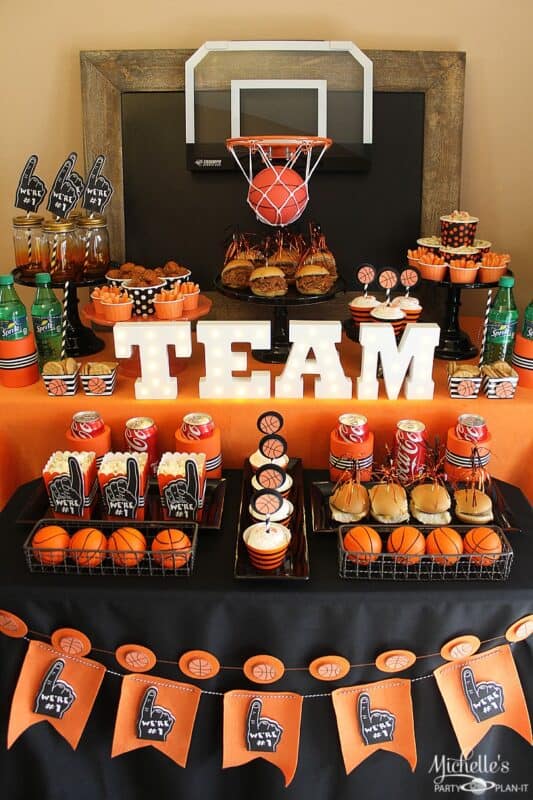 Happy Birthday Burlap Banner from Ichabod's Imagination
Here's a simple burlap basketball themed birthday banner that can be used as a photo prop or a decoration.
March Madness Basketball Party from Giggles Galore
This design incorporates a little referee stripe for a fun design. I mean who doesn't love a little "official" action now and then. The chalkboard court backdrop is also AMAZING!
Basketball Team Party Decor from B. Lovely Events
This simple and fun design is a great set up for a small party or team gathering. Those basketball paper lanterns are such fun and easy decor too.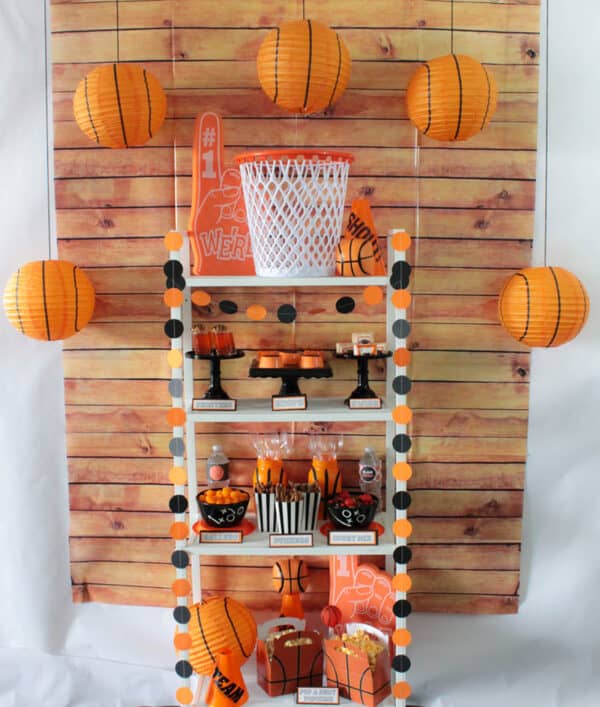 Basketball Balloon Backdrop from Kara's Party Ideas
This balloon backdrop is perfect. The mixture of black and orange balloons and basketball shaped balloons is too, too fantastic. Plus the wooden "floor" backdrop brings it all together so nicely!
Basketball Bowl from Make Life Lovely
Here is a simple and easy way to serve so easy party food and still make a huge statement! Who needs bowls, when you have balls?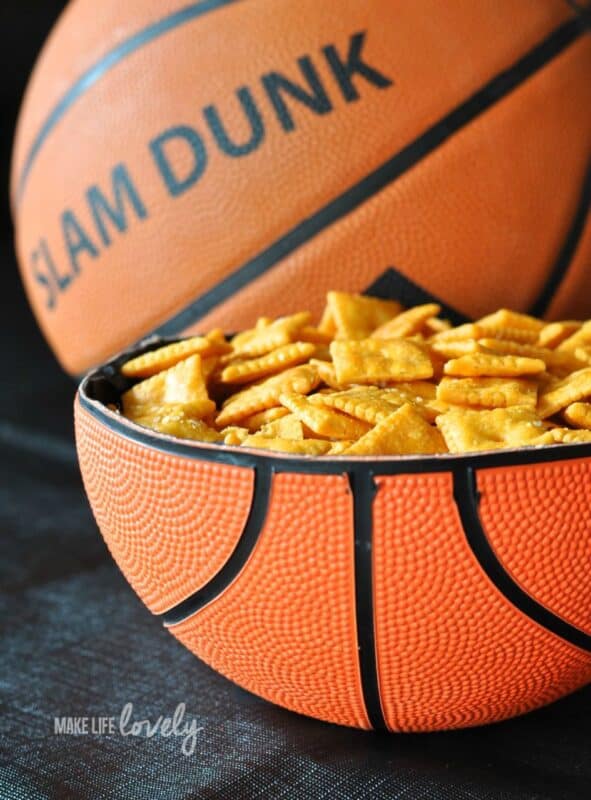 Basketball Age Banner from Swanky Burlap
Another fun burlap banner that highlights the birthday kiddos age. This would be great on a highchair for smash cake photos also!
Basketball Party from Pottery Barn
Here is a great set up for a birthday party. Give each kid their own little place setting with fun themed tableware!
Basketball Favors
Now that you have all these awesome decorations ideas bouncing around in your head like a *basketball*,
let's talk about party favors! Here are some great ideas for sending home a little party love with your guests!
Basketball Favors from Love the Day
These simple, yet super fun basketball favor bags are great ways to send home little trinkets, candy or really anything you want to give as a favor. Need help deciding on the right party favors? Check out these options.
Girls' Basketball Bracelet Favors from Wishlets Hair Ties
If your basketball lover is a girl with game, how about sending home some fun hair ties for keeping their ponytail on point while they dribble downcourt?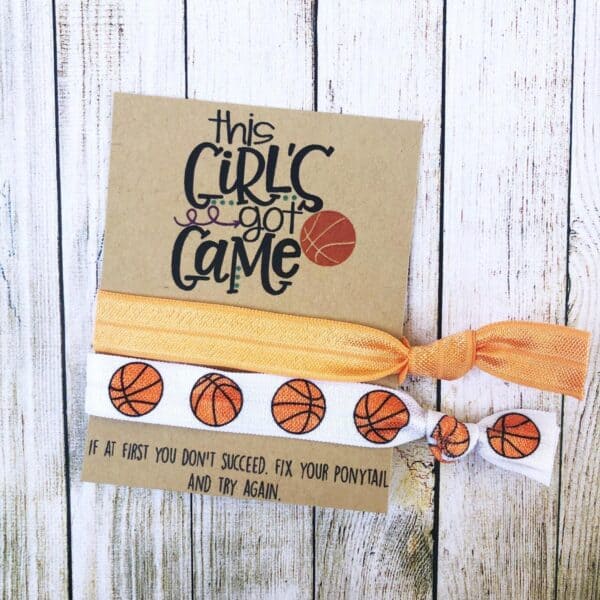 Personalized Basketball Water Bottles from Party Lovers Crafts
Perfect for team gifts, these personalized water bottles are great gifts to give for favors or as a thank you for a great season!
Basketball Party Tableware
Looking for simple and coordinating basketball tableware? Easy and already themed, the basketball plates are fun and festive and perfect for serving cake and goodies.
This awesome set from Amazon is simple to use and fits perfectly with her theme!
Conclusion for March Madness Party Ideas:
These amazing basketball party ideas are definitely going to set your party apart from the rest. Be the MVP of your party with basketball decorations, favor ideas and more. You are sure to love this amazing party inspiration!
Here are some helpful links for Basketball birthday:
If you love these basketball party ideas, please pin this image to your birthday Pinterest board:
RELATED POSTS FOR BASKETBALL Party Ideas:
Thank you for reading our Basketball Birthday ideas!