Amazing Basketball Party Food Ideas that are perfect for a March Madness Party!
Let's hit the court with some fantastic basketball cakes, cookies and dessert ideas. These delicious treats are perfect for a basketball themed birthday or a march madness viewing party! You are sure to score with these adorable and fun treats. Check out all the fun b-ball themed ideas!
If you have an avid basketball fan who can recite three point percentages and recognizes goal tending from a mile away…you can't go wrong with some fun basketball desserts. This theme is so fun for a baller's birthday or just watching your favorite team cinch their bracket.
Throwing a BASKETBALL THEMED PARTY?
Whether you are an experienced baker or looking to order something FROM an experienced baker, we have game winning ideas to inspire some amazing desserts! Ready to hit the court?
Basketball Cakes
Gorgeous cakes make the perfect centerpiece to any party spread. These fun basketball cakes are as amazing to look at as they are to eat. Emphasize your favorite player, team or just that glorious orange ball with a fun cake!
Michael Jordan Basketball Cake from Top Buzz
Perhaps the most iconic silhouette of all time…this Air Jordan inspired cake is perfection. The net is definitely my favorite detail.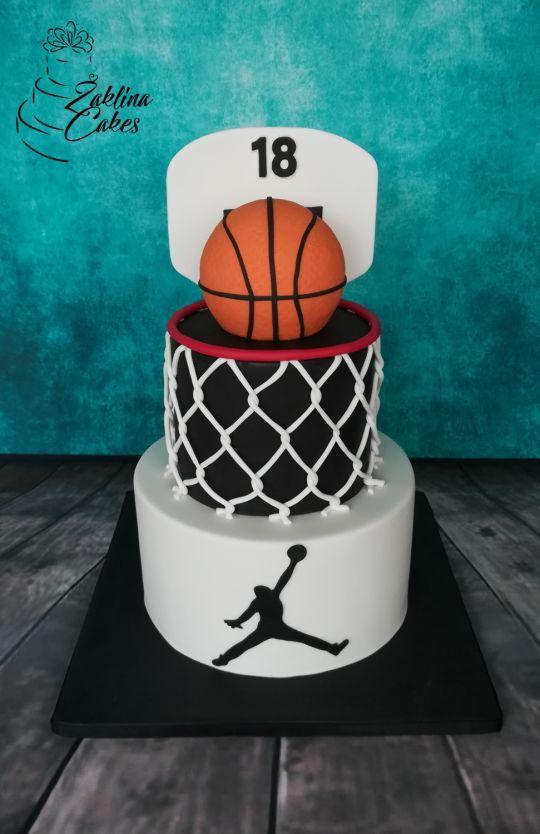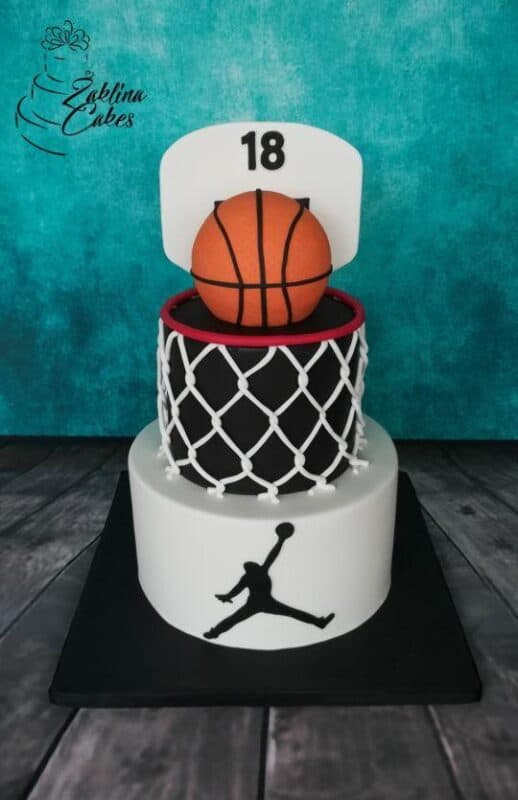 Basketball Net Cake from The Best Happy Birthday
Here is another fun ball-in-net cake idea. Using rolled fondant to make the net is such an awesome idea!!
Basketball Cake from Mohi Kitchen
A simple white cake dressed up with some fun fondant basketballs. This idea if great if you are new to cake decorating or want to order fondant and use it on a simple homemade or store bought white cake.
Basketball Cake from Royal Bakery
I absolutely love this basketball shaped cake. How awesome would it be to cut into this beauty at a basketball themed party?
Basketball Cake from Velvet Cake Space
Here is a great way to highlight your favorite team. This Lakers themed cake is fantastic. I love the topper.
Basketball Cookies
Let's talk basketball cookies! From quick and fun dipped Oreos to complicated royal icing, these delectable ball themed cookies are a guaranteed party win!
Basketball Oreos from Craving Some Creativity
Sometimes you just need some candy melts and a little tube of icing to take a regular dessert and make it fantastically themed for your party. These Chocolate covered Oreos will NOT disappoint!
Mini Basketball Cookies from Katie's Creative Baking
Mini cookies are literally one of the most fun things you can serve at a party. They fit into jars and favor boxes and are like little bite sized pieces of happiness!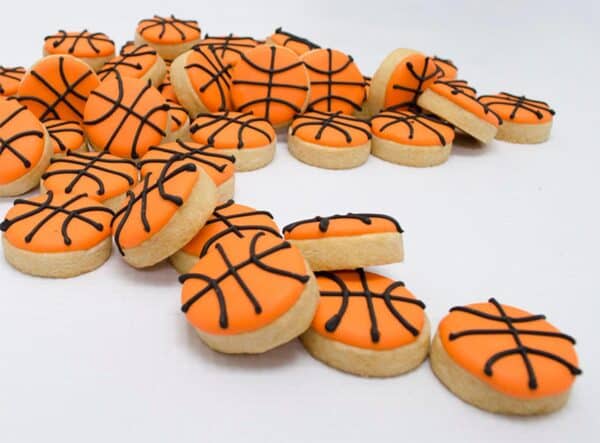 Nutter Butter Referees from The Girl Who Ate Everything
Ever feel like you want to bite the refs head off? Well now your chance with these adorable and delicious peanut-y cookies. Absolutely clever and adorable!
Basketball and Jersey Cookies from Nicolettsy
Here are some fun jersey cookies and super detailed basketball cookies. Highlight your favorite player or even your own little player and number! This is a great way to highlight an age for a birthday party also!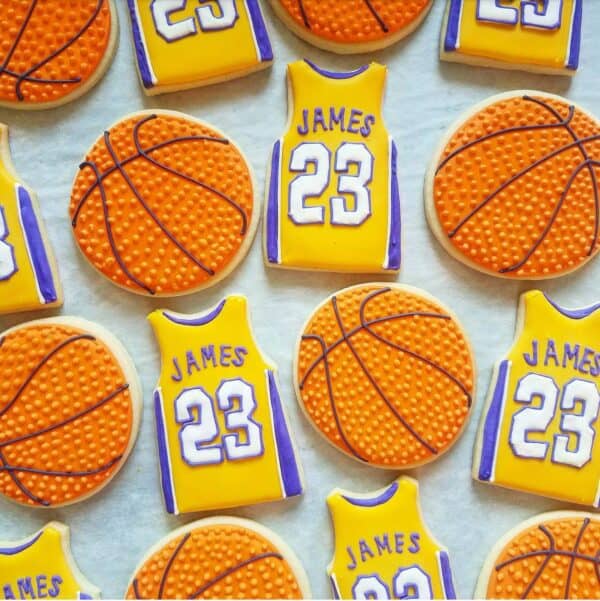 Basketball Cookies from Cookie Connection
Need some inspiration for basketball cookies you can bake yourself? Here are some perfectly detailed basketballs! I love the texture!
Basketball with Net Cookie Cutter from Frosted Co.
If you are a DIY kind of baker, these cookie cutters are just want the doctor ordered for baking up some perfectly themed cookies!
Referee Wafer Cookies from Wilton
Here is another awesome referee inspired dessert idea! Let those officials know how you feel about them by making some fun cookies!
Basketball Cookie Set from Bayside Baker
Looking to give basketball cookies as a favor or a gift? This set is so amazingly perfect…it's definitely a game winner!
Basketball Cupcakes
Cupcakes…everybody's favorite party treat. Let's look at some ideas for delicious basketball themed cupcakes.
Basketball and Jersey Cupcake Toppers from Fancy Top Cupcake
Basketballs a Jerseys for the win! These fondant pieces are perfect for topping simple cupcakes of any flavor.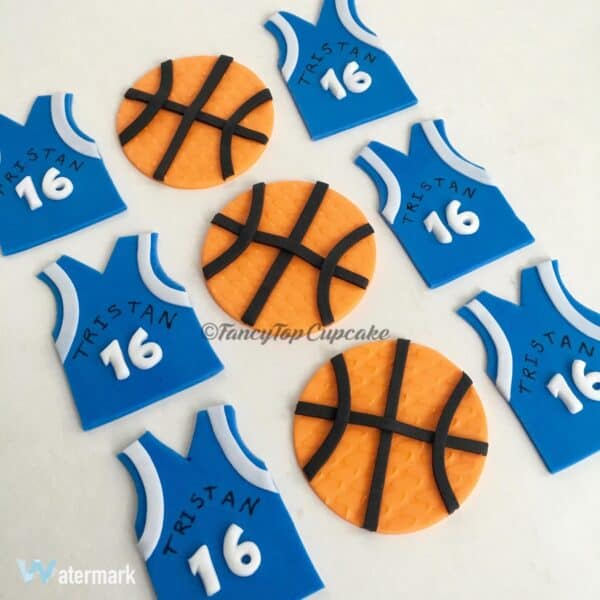 Silhouette Cupcake Toppers from Ellen
Sometimes you just need some simple toppers to dress up your cupcakes. These player silhouette toppers are just that!
Basketball Cupcakes with Net Cake from Kt Cakes Bakeshop
Make some cupcakes that pair perfectly with your dream basketball cake! These ball in net toppers are so cute!
Basketball Food Ideas
Ok…finally we have some basketball themed food ideas that are the perfect icing on the cake of a good basketball party!
Basketball Cuties from A Girl and a Glue Gun
Looking for a healthy alternative to sweets that is still PERFECT for a basketball party? These basketball oranges are such a great idea!
Basketball Rice Krispies Treats from B. Lovely Events
Here is a fun a simple treat you can make that will be as delicious as it is fun to eat!!
Basketball Donuts from Fantabulosity
Take simple donuts and turn them into fantastic basketball themed treats. Yummy!
Basketball Party Snack Table from Amy's Party Ideas
Looking for a great way to set out simple treats for your party guests to enjoy. I LOVE the backboard labels! Genius!
Basketball Party Supplies
If you want an easy way to serve your fabulous desserts, grab some fun basketball tableware. Easy and already themed, the basketball plates are fun and festive and perfect for serving cake and goodies.
This awesome set from Amazon is simple to use and fits perfectly with her theme!
Conclusion for Basketball Cakes + Treats:
If you are throwing a basketball party…these fantastic basketball themed cookies, cakes and dessert ideas are perfect for setting the right tone and delighting your guests! Choose from delicious ideas and get inspired to make the best basketball treats ever!
Here are some helpful links for throwing a Basketball Party:
If you love these Basketball Cakes and Dessert Ideas, please pin this image to your birthday Pinterest Board: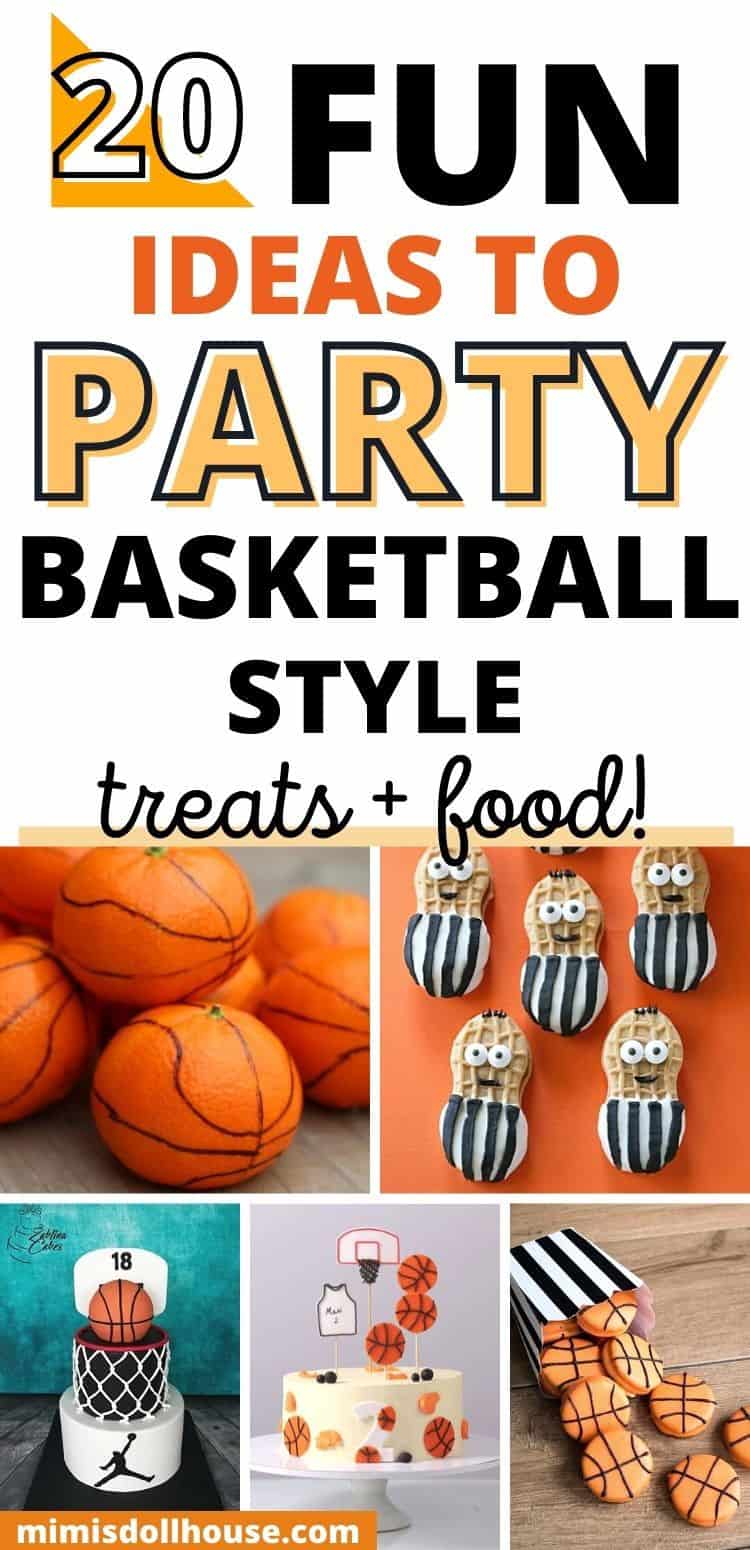 Related posts for Basketball Cookies + Desserts:
Thank you for reading our basketball party cakes and food ideas!