Soccer Birthday Party: Futbol Birthday Party Ideas. Let's kick this party into gear with some amazing Soccer birthday party ideas. Today I am sharing some of my favorite soccer party ideas to make a great futbol birthday party! Check out these soccer party decoration ideas and all our soccer party ideas and inspiration. Also…be sure to take a look at these soccer party dessert ideas!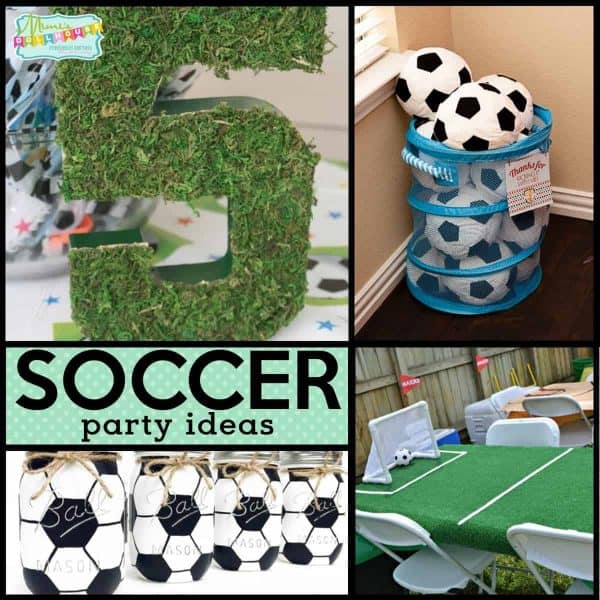 Sports parties are not only popular parties for both boys and girls…but the activities are built into the theme. That sounds like a win-win to me! A soccer themed party is a great theme for more than just birthday parties. You can hold a World Cup party, a springtime get together or a game viewing party built around soccer.
Throwing a SOCCER PARTY?
☑️ This Soccer Party Kit
is the perfect set to get your party planning headed in the right direction!
Personally, I love the black and white design of the soccer ball and it pairs PERFECTLY with the green soccer fields. I have a super easy to use and festive set of printable soccer party decorations. These would work amazingly with all of these ideas (just saying) to take your party to the next level!!!
There are tons of ways to make a soccer party truly stand out. I'm sharing a bunch of them today. I also have an awesome post on soccer dessert ideas and a super cute and creative party using Barcelona party decorations for additional inspiration.
Check them out (you know you want to!!):
Soccer Garland from Evite
Talk about an easy DIY! I love party decorations that can be made using easy items like these. Who would have thought stringing soccer plates together could be so cute, right? This is a great soccer party decoration idea and proof that good ideas do not have to break the bank!

You can't have a soccer game without a field, so why not bring the field to the party? I love the idea of using moss to cover letters or numbers. These could easily be centerpieces on tables (or used to number tables if you are throwing a larger party). Also using the birthday kiddo's age or initials on a dessert table would be adorable and really make your soccer desserts stand out!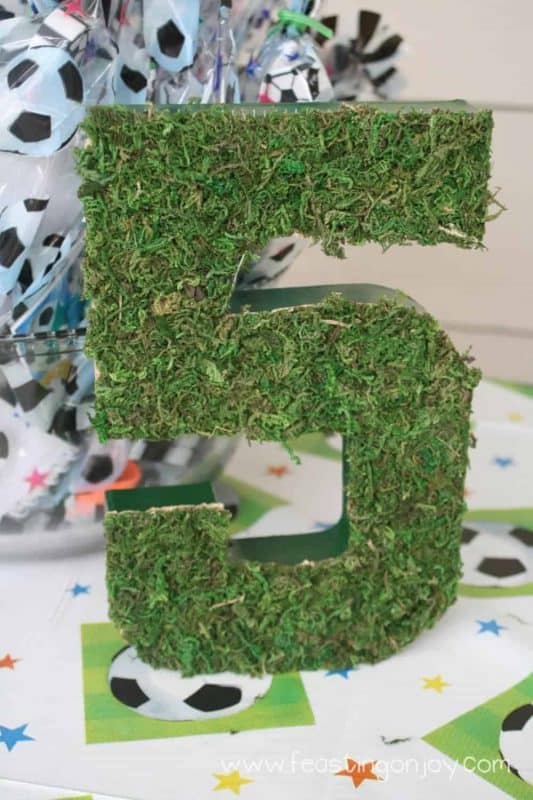 Looking for some fun ways to keep your party guests entertained? It would be a great idea to set up a table top soccer field for some table top soccer. This fun idea can be easily recreated with a turf mat and some plumber's tape. Such a fun soccer birthday party activity!!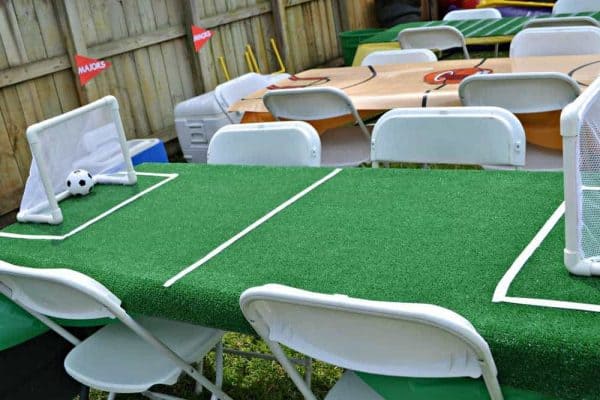 Soccer Bean Bag Favors on HWTM
Not only would these adorable soccer ball bean bags make great party favors, but there are so many games you could play with them. Also for a soccer viewing party or a Wold Cup party…they would make great pillows for the party guests to relax on while watching their team (hopefully) win!! Bonus: throwing them into a simple inexpensive laundry basket makes them easy to display and store until its time to bust them out!!
So if you have hung around my blog for any amount of time…you know I'm a sucker for a good mason jar. Especially a PAINTED mason jar. How adorable are these mason jars? These would be awesome for displaying utensils or cake pops. They would also make perfect soccer centerpieces. Fill them with flowers and greenery or with sticks of balloons…simply adorable.
Soccer Ball Paper Lanterns on Amazon
Paper lanterns are so super versatile. They can be used in their simplest form as hanging decorations…but then you can also use them as centerpieces. Place them on top of a vase centerpiece instead of flowers or balloons or use them AS the vase and fill with flowers. Either way…such a cute table top soccer party decoration!
Soccer Ball String Art from Kiwi String
String art is all the rage these days…those who do it have some serious patience too. I made a couple a few weeks back and my fingers were so raw by the time I was done. This cute soccer ball string art would be a great accent piece on a soccer party table. It is also a party decoration that would be versatile and able to be used after the party as a home decor piece (especially in the little soccer fan's room!)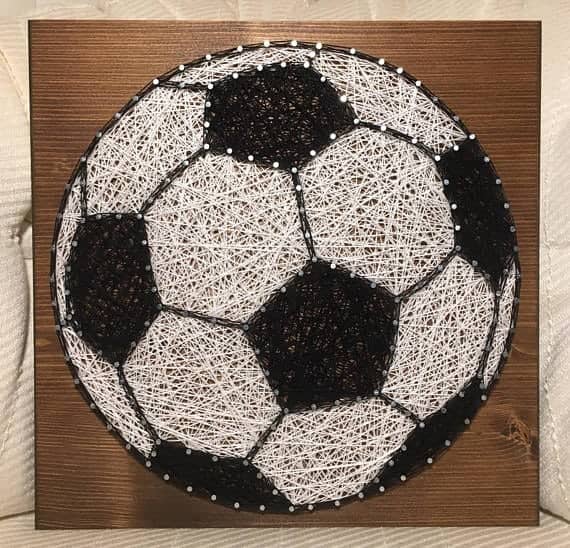 Soccer Balloons on Amazon
Soccer balloons….enough said. But seriously, these balloons are adorable and would be great utilized in so many ways at a soccer party. I think I would definitely use them to line the pathway to the front door of the party. Love it!!!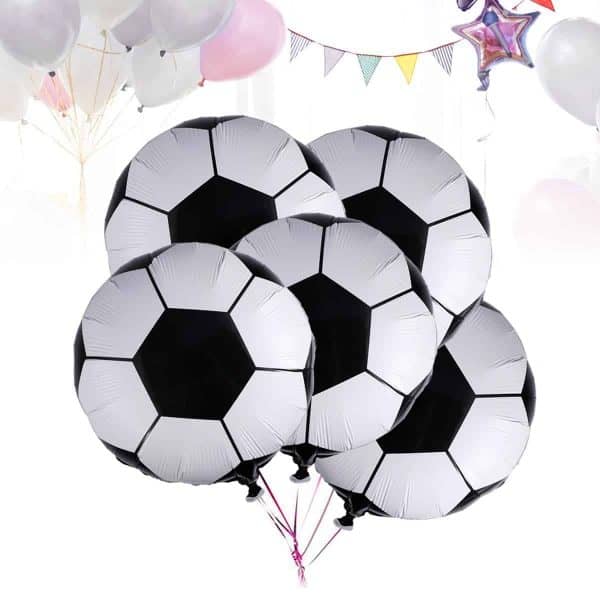 Looking for soccer party dessert ideas? Be sure to check out these soccer themed birthday party decorations and all our soccer party ideas and inspiration.
Here are some helpful links for throwing a soccer party:
Want to throw a soccer party?
The printable soccer party decorations are available for purchase in my shop: