Tribal party ideas for a lovely girl's birthday party!
Boho Chic Party: Aubrey's Girly Tribal Birthday. Looking for a way to celebrate a boho loving babe? Love glitter and aztec feathers? Well, then today is your day as we are sharing a beautiful and feminine boho chic party with lots of girly tribal goodness!
Be sure to check out all of our Bohemian party ideas!
So you know that moment when you love a theme…but you aren't really sure what to call it? Maybe it's just me? Well this is that theme. Is it bohemian? Is it a tribal party or an aztec party?
Throwing a TRIBAL THEMED PARTY?
☑️ This
Tribal Party Kit
is the perfect set to get your party planning headed in the right direction!
My daughter called it her "Indian Princess Party"…I guess I kind of settled on calling it a boho chic party.
Regardless of the moniker…it was one of my favorite parties to plan. We mixed gold glitter with bright coral and mint and olive…we then threw in some wood and feathers.
It was the best party for my pretty little 6 year old, Aubrey!!
This was such a fun party to plan. For the party outfits, I found cute gold tutu style skirts and paired them with mint colored tank tops. I used iron on adhesive to put the printable design onto the tank top. They turned out pretty adorable!!
I also made fun feather picture frames to include in the decor using white feathers dipped in paint and cute patterned coral and mint washi tape.
I also paired the printable feathers with the white paint dipped feathers to create a fun boho chic party feel all around the party.
The donuts were a great party dish that was inexpensive and the kids loved the powdered sugar! I put the donuts on pink paper straws and glued on arrow pieces I cut from the printable patterned paper. For the welcome sign, I made the foam wreath into a cute dream catcher.
I also added the paper straw arrows to the cupcakes to give them a boho chic party feel. I cut the rice krispie treats into chevrons using a chevron shaped cookie cutter.
Here are my beautiful little ladies enjoying the party spread. Taking photos in front of the dessert table is such a great way to capture both the sweet faces and also all the hard work you put into the party.
Especially in front of the pink ruffled tablecloth (I have a tutorial to show you how to make this super inexpensive and easy ruffled tablecloth. I have literally used this in tons of parties…it's so versatile and it pops!
Here is the fun welcome sign. this was super easy to make. I wrapped a foam wreath in yarn and then used yarn to create a dream catcher. Need help? Check out the welcome wreath tutorial!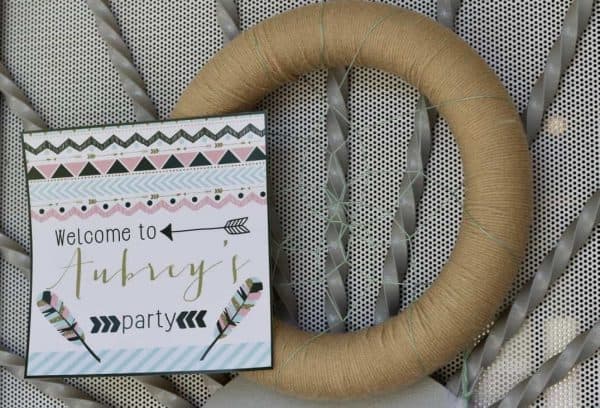 I also hung the white feathers and printable feathers from ribbon in front of the pink table cloth. So easy and so bohemian!! Here is a close-up of the printable feathers.
Boho Chic Party Cake
For the cake, I ordered a simple two layer round cake from the grocery store (they will treat you like you are crazy when you insist they NOT decorate it for you…but its SOOOOO much less work than baking a cake and often costs much less than even the ingredients to do it yourself.).
For the cake topper, I used the adorable fondant 6 that was made by the super duper talented Brittany from Edible Details. She is the queen of fondant…I cannot even begin to tell you how much I recommend her. She's the sweetest and her work is impeccable.
(Check out the fondant mermaids, penguins, and monkeys!!!)
Aztec Cookies
I love using fondant circles to jazz up simple sugar cookies…or in this case, snickerdoodles!!
I used white icing to place the fondant circles onto snickerdoodle cookies. These were delicious!!! For the backdrop, I painted two pieces of ply wood coral and mint and laid them opposite one another.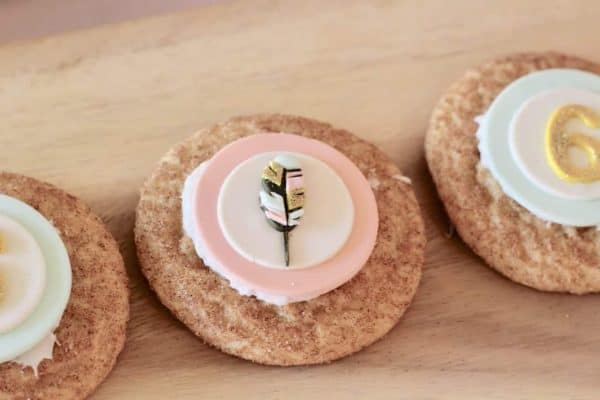 It was sooo simple, but so cute. The circle design I printed as an adhesive poster to place in the center. Easy peasy and the perfect boho chic party backdrop.
My husband also built Aubrey a custom tee pee from wood and fabric pieces. This tee pee fit perfectly into the girls playroom after the party and made such a great party hang out for the little girls. I mean what's an aztec party without a tee pee, right??
The girls went crazy for this fun homemade tee pee. This was super easy to make. I took wooden beams and wrapped them with alternating long pieces of fabric.
Make sure to secure the fabric with a staple gun!!
Tribal Cupcakes
Using the patterned paper from the printable set and simple paper straws, I made cute arrows to punch into the cupcakes. I stuck one half of the arrow in the front and one half in the back so it looked like the cupcake had been shot through.
Pretty Pink Drink
For the party punch, I made strawberry lemonade punch. You can make this delicious crowd pleaser with this super simple easy peasy lemon squeezy recipe!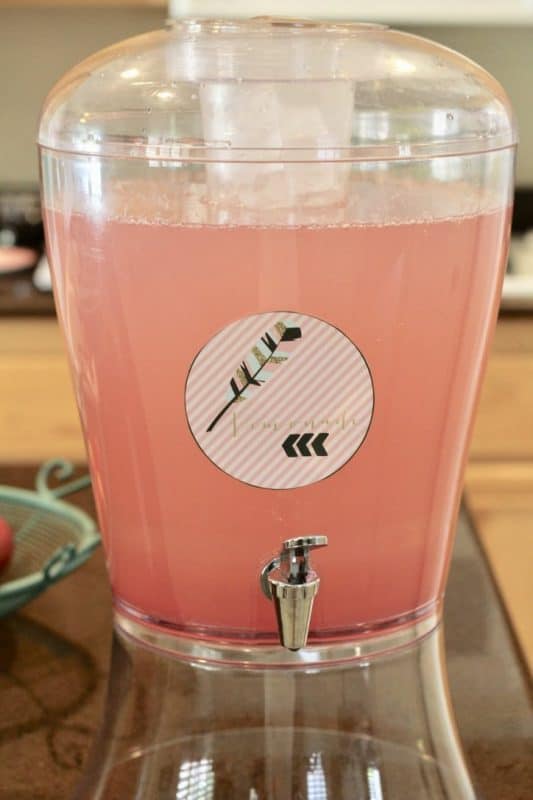 They also enjoyed some simple iced tea in carafes.
I also used kraft letters to make Aubrey's name into the perfect tribal party centerpiece. Just add washi tape and feathers!!!
Happy 6th birthday princess!
Here are some helpful links for styling this party:
Want to throw a Boho Chic Party?
The Printable Boho Chic Tribal Party Package is available for purchase in the shop.
RELATED POSTS FOR Boho Chic BIRTHDAY PARTY IDEAS:
THANK YOU FOR READING OUR Tribal PARTY IDEAS!