Ideas for a FC Barcelona Party
Soccer Party: Matthew's Team Barcelona Birthday. GOAL!! Looking for soccer party inspiration? This party is fun, colorful and full of awesome soccer treats! If you love FC Barcelona then you will love this fun and creative party. It has everything from team jerseys to soccer themed treats!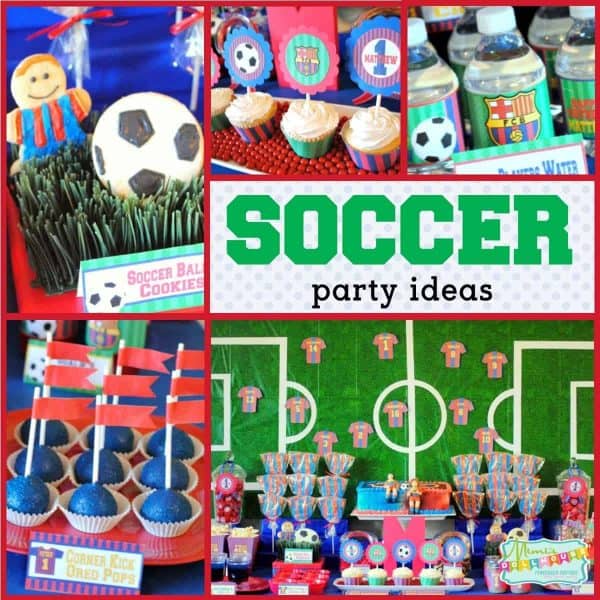 I have a totally unique soccer party to share today!!! This AWESOME Barcelona Soccer themed spread was styled by the ever talented Karo from Karo's Fun Land.
When Karo contacted me with her ideas, I was very excited to work on this project with her, and of course…SCORE! I was completely blown away with what an amazing job she did on the party. Let me tell you…this girl definitely has an eye for detail!
Throwing a SOCCER PARTY?
☑️ This Soccer Party Kit
is the perfect set to get your party planning headed in the right direction!
The birthday boy, Matthew, was turning one. Since his family are are huge Barcelona fans, it was fitting to celebrate their little champion with a soccer party, Barcelona style!!
Karo said about the party:
"Inspired by a few ideas that I found on Pinterest I created a table with a field as backdrop, and bleachers made of foam to place the soccer player's shirt cookies.
I also made some kicking treats for the little soccer players which included Jellos, popcorn, cupcakes and my all time favorite treat Oreo pops. I had so much fun putting this all together!!"
Take a look…I love how she made the backdrop look like a soccer field…so cute!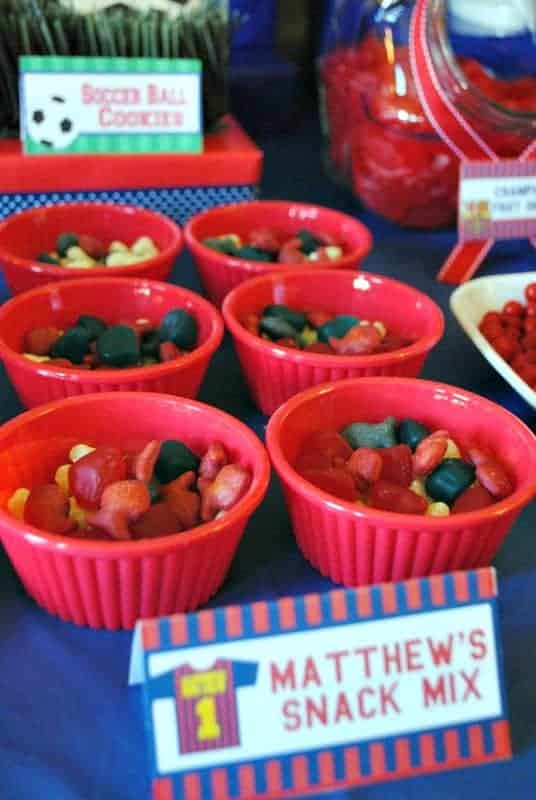 Check out the recycled baby food jars with the 2″ shirts and straw flags…love it!! And of course, the 3/4″ circles on the Reese's…so cute!I also am a big fan of water bottle labels on glass jars!!!
Here are those yummy cake pops…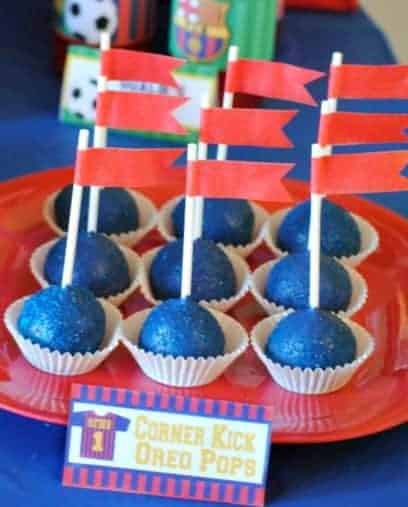 These cookies are absolutely adorable as well…
The cake is awesome as well…such a nice touch!
Happy Birthday Matthew!!! What a cutie!
Soccer Party Tableware
If you are planning a soccer themed party, its a great idea to grab a soccer themed tableware set. This will save you time and money looking for matching items to feed your guests. Here are a couple of options to get you set:
Soccer Party Tableware from Oriental Trading
Soccer Party Tableware from Amazon
Here are some helpful links for throwing a soccer party:
If you love this party, please pin this image to your birthday Pinterest board:
VENDORS:
Party Styling- Karo's Fun Land
Party Printables – Mimi's Dollhouse
Cookies – Savannahs-Party-Cookies
Cake – Roalbo Chocolates
RELATED POSTS FOR Barcelona PARTY IDEAS:
THANK YOU FOR READING OUR Barcelona BIRTHDAY IDEAS!