Fresh and Fruity Food Ideas for a Tutti Frutti Themed Party!
Sweet fruity goodness and a fun party theme, anyone? If you are looking for a wonderful way to celebrate a spring or summer birthday, these Tutti Frutti cakes, cookies and dessert ideas are perfect!
Watermelon, kiwi, pineapple and more! These fruit themed party desserts are delicious and sweet! Ready to get the creative juices flowing?
Bright, colorful fruit makes such a great setting for a fun summertime party. There is just something so fantastic about fresh fruit. It's sweet and natural and perfect for serving up for a birthday or family get together.
Throwing a FRUIT THEMED PARTY?
My kids have been obsessed with fruit since they were babies. Literally…obsessed. I have never known a person to love strawberries quite as much as my 10 year old ALWAYS has. We even has a strawberry lemonade stand one year for her to celebrate her love of all things berry!
If you have a itty bitty who LOVES any or all fruit like mine do…this party theme can not be beat! Bonus…it's especially fun for a 2nd birthday (TWO-tti Fruity for the win!)
If you want some decor inspiration, check out all the Tutti Frutti Party Ideas!
Tutti Frutti Dessert Ideas
Alright…let's talk fruit themed desserts! Desserts can be the highlight of any party spread! It is especially awesome when those desserts are both delicious and completely on theme. Is your mouth watering yet?
Tutti Frutti Cakes
First up we have the Cakes!
Kiwi Cake from Studio DIY
This kiwi themed cake is everything. I love the colors and the details…oh man…awesome.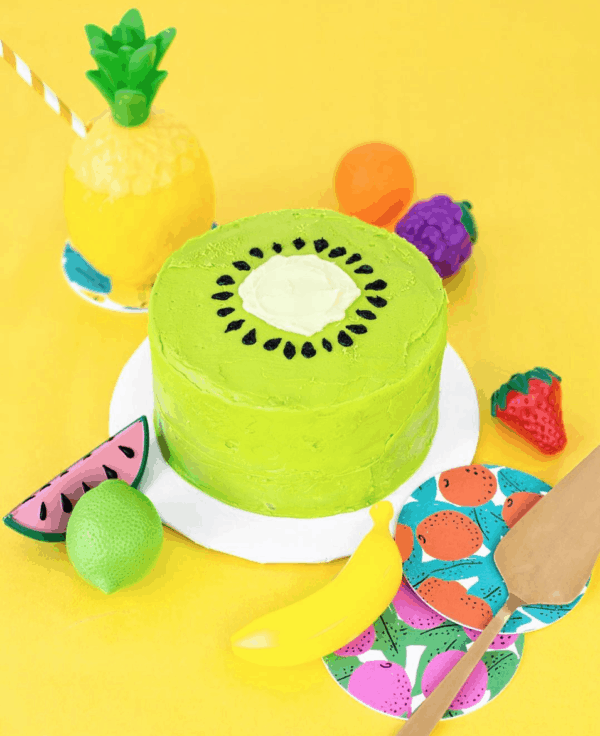 Fruit Fondant Cake Topper from Simply Sucre Shop
Here are some fun little fondant fruit cake toppers. This is a simple way to dress up a plain homemade or store bought cake and make it look super custom and decked out!!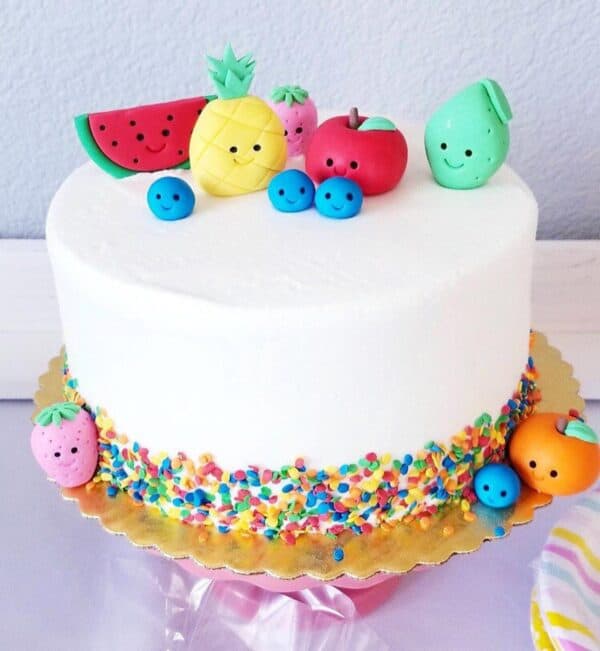 Watercolor Fruit layer Cake from 100 Layer Cake
This watercolor tutti frutti cake is stunning. the colors are bright, yet muted and it is pretty party perfection!
Fondant Fruit Cake Toppers from The Sugar Architect
Here are some more absolutely adorable cake toppers that can make a simple cake look like an expensive custom cake! This is a win for budget conscious party planners!
Tutti Frutti Cookies
Yummy, yummy fruit themed cookies are definitely a great sweet option for a party. If you are looking for some easy DIY fruit cookies, check out our Pineapple Sugar Cookies too!
Watercolor Fruit Cookies from Royally Iced Sweets
Gorgeous! I think these watercolor cookies would pair so nicely with the watercolor cake. I might need to throw this party for my little baby when she turns 2 just for these cookies!!
Two-tti Fruity Cookies from Cookies are My Canvas
The text on these super cute cookies is fabulous. Two-tti Fruity never looked so delicious. Each letter has it's own little fruit theme. Yes!
Easy Pineapple Cookies from Mimi's Dollhouse
These simple kid-friendly Pineapple Sugar Cookies are fun to make and delicious to eat. They are perfect for a tropical or fruit themed party!
Two-tti Fruity Cookies from Lovin' Oven
Here are some super sweet fruit themed cookies that would be so nice for a tutti frutti birthday!
Tutti Frutti Cupcakes
Of course, delicious cupcakes are definitely a major need for a fruit themed party. Here are a couple outstanding recipes to put other ordinary cupcakes to shame! Ready to start baking?
Lemon Cupcakes from Cooking Classy
If you love lemon cakes or lemon meringues, you will love these delicious lemon flavored cupcakes.
Cherry Limeade Cupcakes from Cooking Classy
Delicious cherry limeade flavor in a adorable cupcake? This might be one of my favorite ideas ever! The sanding sugar on the frosting is a perfect extra detail!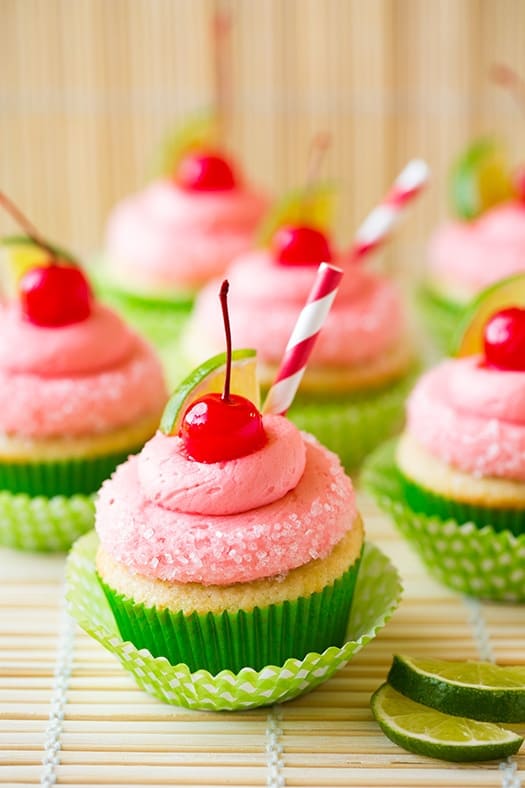 Tutti Frutti Food Ideas
So many amazing sweets…how can you pick? Here are some more morsels to drool over as you plan your fruity party!
There are also plenty of ways to use actual fruit in your party menu. Cut fruit on skewers would be easy and fun treats. Fruit juices are amazing options as well!
Fruit Slice Donuts from Aww Sam
These fantastic donuts take adorable fruit and mix them with delicious melt in your mouth dount-y goodness!
Mini Fruit Pizzas from Sweet and Savory by Shinee
Bite sized mini fruit pizzas are a great way to bring a little authentic fruit into the dessert mix. Cute, easy and oh so yummy!
Tutti Fruiti Candy Lollipops from Splendiferous Sweets
These fun fruit lollipops would definitely be a hit with the kiddos! They would also make awesome party favors to send home!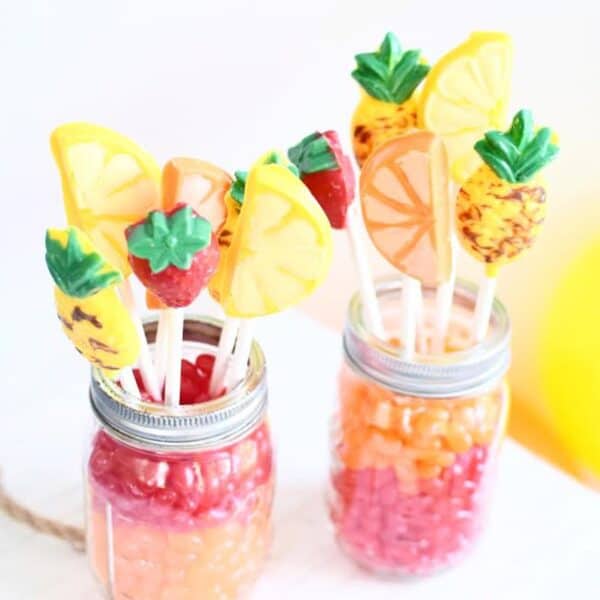 Watermelon Macarons from Pinterest
Do you love macarons? These adorable watermelon macarons are to die for. Also…macarons are honestly much easier to bake than they look! Give it a whirl!
Pineapple Macarons from Crumbs and Crumbles
Fun and playful pineapple themed macarons would be the perfect treat for a fruity party!
Want additional Tutti Frutti Birthday ideas?
If you are looking for some more ideas for throwing an amazing fruit themed party…check out all of our Tutti Frutti party ideas!
Fruit Party Tableware
Whew! That was a lot of options! If you are unsure of exactly where to start, I recommend grabbing some simple tableware first.
There are many options. Here are some of the best:
Tutti Frutti Tableware from Meri Meri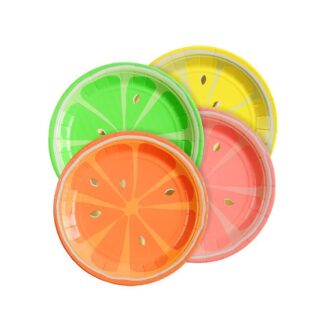 Tutti Frutti Tableware and Decorations from Oriental Trading
Coordinating Tutti Frutti Party Supplies
Want to shop this party design? Here are some helpful links to go straight to your favorite items!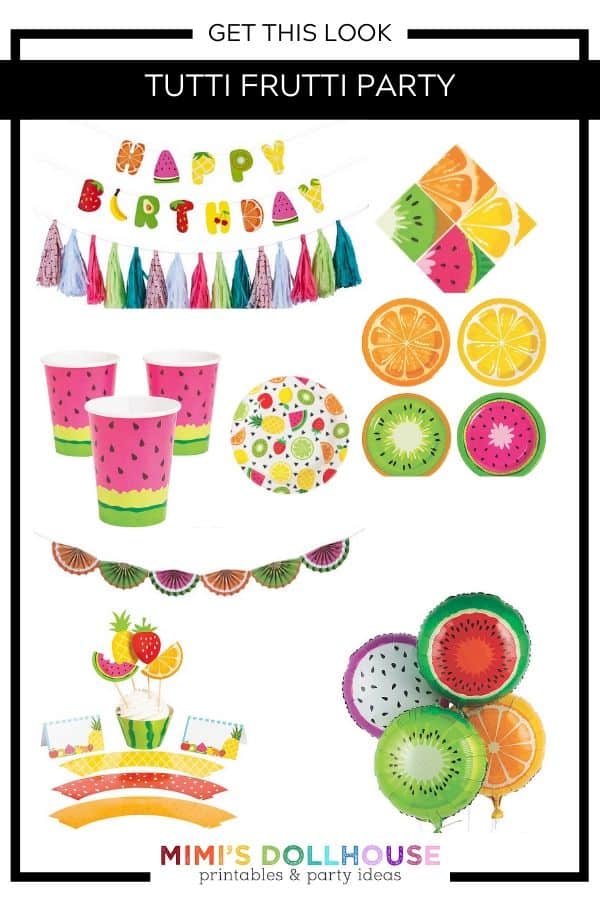 Conclusion for Tutti Frutti Birthday Cakes and Desserts:
If you are planning a tutti frutti themed party, you need a wonderfully fruity menu. These delicious and super cute fruit themed cakes, cookies and desserts will help your party go from typical to legendary! These bright and juicy fruit ideas will inspire your creative juices (pun intended!)
Here are some helpful links for throwing a Tutti Frutti Party:
If you love these party ideas, please pin this image to your party Pinterest Board:
Related posts for Tutti Frutti Dessert Ideas:
Thank you for reading my Tutti Frutti Birthday Ideas!