Easter Printables, Coloring Pages + More!
Planning an Easter party or just thinking of fun ways to entertain your kids for Easter? Free Easter printables are a great way to stay budget-friendly, give your children something fun to keep them busy and celebrate the holiday in style. Download free Easter coloring pages, Easter activities and so much more!
Easter is one of my favorite holidays! It comes at the perfect time of year, with Spring and warmer weather. I'm really excited about hunting for Easter eggs with my kids this year.
I remember the first Easter I had kids. My almost 2 year old had the run of the yard with no competition, unless you count my husband who kept sneaking some of the "good" candy from the basket when she wasn't looking.
This year, my now soon to be 3 year old has two older sisters to content with. Fortunately, the baby won't be ready for Easter egg hunting yet!
Throwing an EASTER PARTY?
☑️ This
Easter Party Kit
is the perfect set to get your party planning headed in the right direction!
Getting ready for Easter with kids can be a blast, but it can also be a lot of work. Finding the right activities to keep your kids entertained, deciding how and if you plan to decorate your home…so many things to consider.
Once upon a time you had to deal with all of that on your own.
Now, we have free printables!
Collective Sigh of relieve from busy mamas everywhere!
Free Easter Printables
What makes free printables for Easter so amazing you ask.
Well, firstly…if you are looking for some inspiration..you got it. Color schemes, ideas, activities, coloring pages…the works.
Secondly, they are crazy easy! Find, download, enjoy!
Thirdly, and most important to this mama of 4…they are FREE. Why spend money when so many amazing options are available for free, right?
Here are over 40 of the most amazing free Easter printables I know you will love!
Free Printable Easter Party Decorations
First off..the decorations. Simple ways to turn ordinary into super adorable Easter themed awesomeness!
(1) These Easter Egg Hunt Printables (Tiny Me) are a great way to direct traffic in your yard, make your Easter egg hunt photos a little more glamorous and really sell that Easter Bunny idea to your little ones!
(2) I designed these fun Peter Rabbit Party Printables a few years ago with a nostalgic feel to capture the beauty of soft pastel and childhood. Feeling like throwing a party?
(3) Do you have little ones who love juice boxes? Why not dress them up bunny style with these Bunny Juice Box Wraps (Easy Learning Ideas).
(4) Decorate your front door or wall with this gorgeous Free Printable Easter Banner (Studio DIY).
(1) These Easter Party Printables (Kara's Party Ideas) give you enough goodies to decorate an entire adorable party. So much Easter bunny goodness and cute little bushy tails!
(2) If you are a lover of peeps…you must check out these Peeps Party Printables I designed last year for a fun Easter playdate! Bright colors and simple to use pieces are a must.
(3) Hosting a Easter Egg Hunt? Check out this adorable Printable Easter Party Pack (Yellow Bliss Road) that will make party decor a snap!
(4) "I said a Hip, Hop…" Let's boogie with this cute Hip Hop Easter Banner (Paging Supermom). It's fun and festive with it's less traditional Easter colors!
(5) If you want a fun kid-friendly decoration…I bet your kiddos would love helping put together this Easy Printable Bunny Bunting (My Poppet).
Free Printable Easter Tags
Giving Easter gifts and decorating fun Easter baskets is a snap with free printable gift tags for Easter. There are plenty of ideas for being creative with your treats. Some bunny is going to be very happy to receive one of these adorable goodies!
(1) Here is a cute play on words. Grab some Some bunny Loves You Tags (Reasons to Skip the Housework) to make your Easter gifts cute and clever!
(2) Looking to catch a bunny? Serve up some tasty treats with these clever Bunny Bait Tag (One Simple Party).
(3) Everybody loves a good bunny tail (read: marshmallow). Give your little ones a yummy treat using these adorable Bunny Tail Treat Toppers (Eighteen25).
(4) If you love to bake for Easter, these Easter Tags (I Heart Nap Time) are the perfect fit for you. Dress up your delicious cookies with a little punny bunny flair!
(5) If you are looking for some fun and simple Easter Cupcake Toppers or gift tags. You can download these right here!
(6) Sweet little bunnies make great accents, don't you think. These fun Printable Easter Tags (Damask Love) are perfect for dressing up any Easter treat!
Free Easter Coloring Pages
Do you love coloring? It's such a relaxing activity that really appeals to ALL ages. Whether you want to color a fun little Easter Bunny, fill in a quick bunny maze or color Easter eggs all day, these printable coloring pages for Easter are just what you need to entertain your kids (or yourself!)
There are so many fun free Easter coloring pages…it's hard to know which one to color first!
(1) Here are some simple kid-friendly Easter Coloring Pages (Crazy Little Projects) we know you will love.
(2) Keep older kids occupied while you hide those eggs with these Printable Easter Mazes (Artsy Momma).
(3) More adorable Easter Coloring Pages (100 Directions) for the win. You can never have too many, right?
(4) Build those counting skills while your kids color away with these fantastic Color by Number Sheets (Itsy Bitsy Fun).
(5) Want to give your little ones a fun painting project? This Q-Tip Easter Painting (Tot Schooling) is a great way to grow skills while they have a blast!
(6) Want another fun painting project that doubles as a cute decoration. Try this Paintable Easter Garland (Picklebums).
(7) Don't get left out of all the Easter coloring fun…grab some Adult Coloring Pages (Mum in the Madhouse) and enjoy some relaxing coloring along with the kids!
Free Easter Baskets + Gift Tags
Why stop at decorating easter baskets, when you can even get free printable baskets and put fun Easter treats inside. Choose from traditional basket shapes or fun cones and so much more. There are even a couple fun tags to put on those cute baskets! Too much Easter cuteness!
(1) Is there anything cuter than fun little Bunny themed Printable Treat Cones (We Are Scout)? So adorable!
(2) Create cute little Foldable Printable Easter Baskets (Houseful of Handmade) for the perfect place setting or special Easter gift.
(3) Want some fun black and white Printable Easter Baskets (Alice and Lois)? This color scheme is so gorgeously non-traditional for Easter!
(4) These Easter Fry Boxes (Eighteen25) are another fun bunny themed treat container we know your kids will love!
(1) These Printable Easter Favor Boxes (Hello Wonderful) are fantastically cute and even have an option for coloring.
(2) Here is another sweet Printable Easter Bunny Basket (The Craft Train) we know you will love!
(3) Do you need some playful Easter Basket Tags (Kristen Duke) to dress up your Easter baskets? These would be so much fun!
(4) Set up your Easter game with these Bunny and Bow Favor Boxes (Hello Wonderful). Too cute for words!
Free Printable Easter Activities
Since Easter is definitely a family day, having some fun Easter activities to do with your children is a definite must. These fun Easter activities are also fantastic ideas for homeschooling. Using Easter activities to supplement learning is a recipe for fun!
(1) Build those memory skills with this fun Easter Printable Memory Game (Say Not Sweet Anne).
(2) Decorate your fingers with some super cute Printable Easter Paper Rings (Easy Peasy and Fun).
(3) There is nothing cuter than seeing a little one in a fun mask. Use these Printable Easter Masks (The Crafting Chicks) for some adorable photo ops!
(4) Want to send Easter greetings to your loved ones? Download these Easter Bunny Cards (I Heart Crafty Things) and say "Happy Easter" in style.
(5) Looking for a calendar to help your kids count down to Easter? This Printable Easter Egg Hunt Countdown (Make It Love It) is the perfect tool!
(6) These Easter Egg Priviledge Cards (Over the Big Moon) are a great Easter Egg option for your older kids. Give them some Easter gifts they REALLY want!
(1) Want some hilariously awesome Easter photo? These Easter Photo Booth printables (The Dating Divas) are perfect for Easter photos.
(2) This Paper Tube Craft (Hello Wonderful) is totally adorable! I love the little animals!
(3) Let's get laughing with some Easter Lunch Jokes (Kristen Duke). These will definitely be a hit with the kids!
(4) If you are looking for some fun games to play, grab these cute Easter Bingo Cards (Fun Squared) and share the fun.
(5) If you have pre-teens, you definitely need to download these Easter Cootie Catchers (Easy Peasy and Fun). They will LOVE them!
Easter Party Tableware
If all these printables have to jonesing to style a whole party (or even just dress up your Easter brunch), grab some absolutely adorable Easter themed tableware to make the job that much easier! Check out the adorable options below:
Porcelain Bunny Plate from Sweet Lulu
Spring Bunny Tableware from Sweet Lulu
Gingham Bunny Napkins from Meri Meri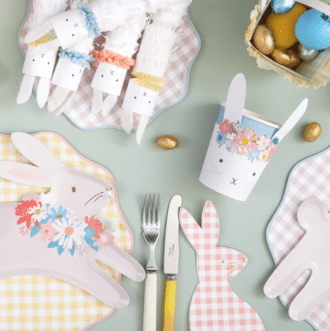 Bunny Plates from Sweet Lulu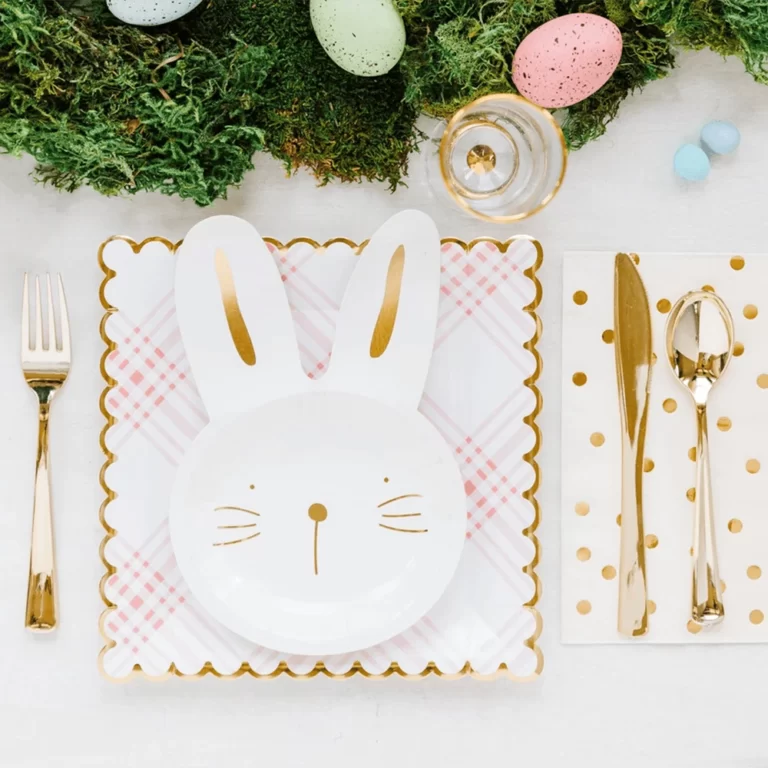 Honeycomb Bunnies from Meri Meri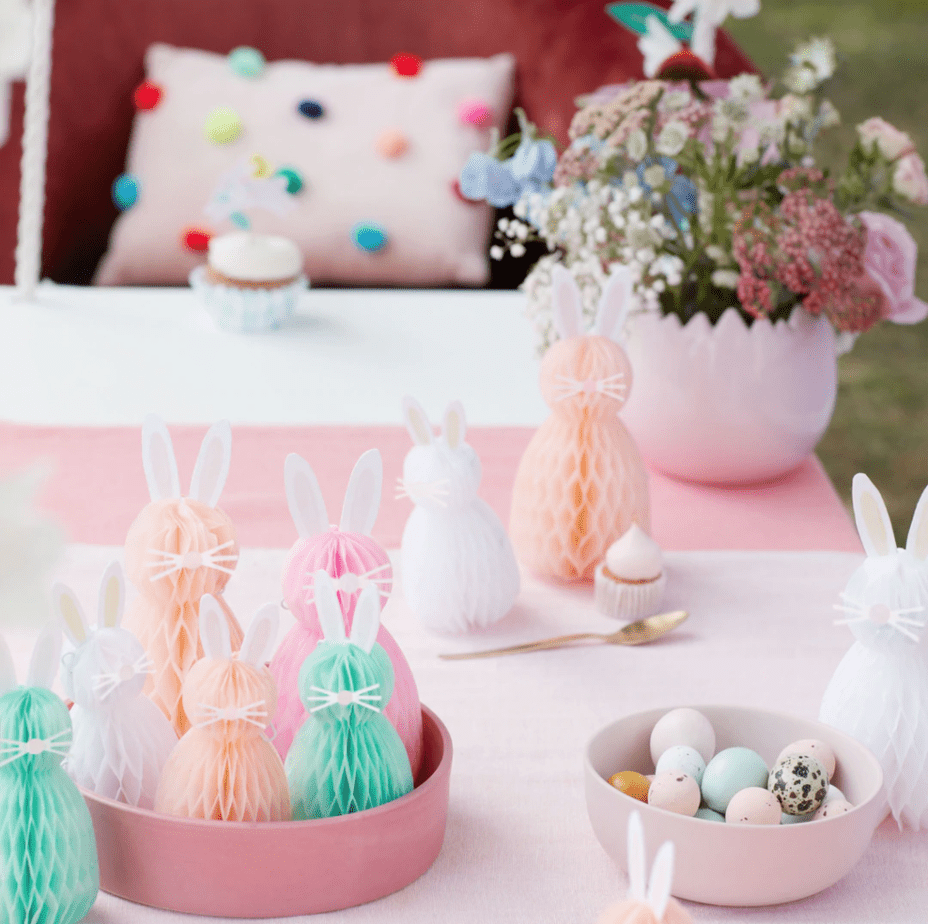 Hoppy Easter Party Decorations from Oriental Trading
Cute Easter Party Decorations from Oriental Trading

Conclusion for Free Easter Party Printables:
If you are looking for a fun and affordable way to create a memorable Easter party or entertain your kids while you cook (read: eat there candy in the closet), these Free Easter printables, Easter coloring pages and fun printable decorations are just right! Easy to use and free, free, free. You will totally love these Easter themed printable options!
Here are some helpful links for Easter with kids:
If you love these free printables, please pin this image to your Easter Pinterest Board:
Related posts for Easter Coloring Pages:
Thank you for reading our Free Easter Party Printables + Coloring Pages!