Peter Rabbit Easter Party with Free Printables!
When it comes to styling an Easter party, choosing a sweet throw back theme like Peter Rabbit can set a wonderful nostalgic tone! A Peter Rabbit party can be a beautiful theme for a traditional Easter party or birthday party. This party uses soft pastels to accent Peter Rabbit graphics.
Ready to check out all the awesome details?
So there are few things that really scream Easter as well as Peter Rabbit. Aside from the fact that he is just the cutest little guy ever…doesn't he just make you think "Easter"?
Throwing a PETER RABBIT THEMED PARTY?
☑️ This
Peter Rabbit Kit
is the perfect set to get your party planning headed in the right direction!
I've always been a theme of the old classic children's books and honestly they are some of my absolute favorite party themes. When Karolina from Karo's Fun Land asked me to make these adorable Peter Rabbit printables for her Easter Party I was so excited.
Of course, it's gorgeous. I LOVE, LOVE the pastel colors mixed with the little bunny. Check it out…I'm sure you will fall in love with it just like I did!
How to make Peter Rabbit Cookies
I adore these cute little bunny cookies. They are so simple and bright.It's a very nice silhouette and I love the effect.
You can make these cookies with a simple sugar cookie recipe and this bunny cookie cutter.
Once the cookies are baked, cut the same shape from flat rolled pastel fondant and place atop the cookie! This cookie cutter set is perfect for the tail too!
These additional bunny silhouette cookies (you can achieve similar with this cookie cutter) are also so pretty and I love them displayed in the pastel M&M's. Clever.
I also love the addition of the stuffed Peter Rabbit. I think these little special mementos at parties many tables and decor extra special.
The yellow tissue garland is also so pretty!
I love the simple treats too. Yummy salt water taffy and mini cupcakes in cute little cups. So simple and clean. Sometimes using simple color coordinated candy on your party table is an easy way to add color and additional options for guests to munch on without spending a ton on specialized items.
Splurge on a few things (like gorgeous Peter Rabbit cookies) and use pretty color coordinated candy to fill around the big ticket items!!!
Here is another twist to cupcake toppers….using them on mini cupcakes. Cute isn't it?
I also love the use of this old nursery style dresser as the dessert table. It really gives the spread a nice vintage feel. Very sweet.
Such a sweet little party. It's the perfect way to celebrate Easter time. I don't know about you, but I am super ready for some Easter fun and this party definitely puts me in the holiday party mood. Hippity Hoppity Easter is on it's way.
Peter Rabbit Tableware
If these pictures and printables inspire you to style a whole party (or even just dress up your Easter brunch), grab some absolutely adorable Peter Rabbit themed tableware to make the job that much easier!
Check out the adorable options below from Meri Meri:
Including cute cupcake picks and wrappers:
Conclusion for Peter Rabbit Decorations:
If the idea of getting nostalgic makes you happy and you love old fashioned party ideas, this Peter Rabbit inspired party is for you. A blend of pastel colors and classic Peter Rabbit graphics, these free Peter Rabbit printables will help you style a sweet Easter party!
Here are some helpful links for throwing a Peter Rabbit inspired party:
If you love this party, pin this image to your Easter Pinterest board…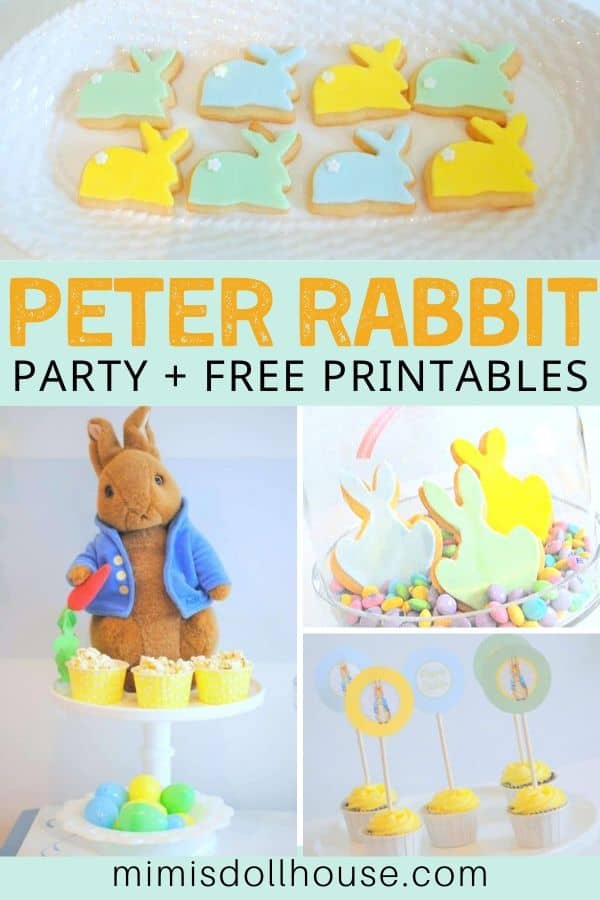 Wanna throw a Peter Rabbit themed Party?
The Printable Peter Rabbit Collection is available for FREE in my shop:
RELATED POSTS FOR Peter Rabbit Printables:
Thank you for reading our Peter Rabbit Ideas!