Amazing Desserts for Easter you will be excited to make!
Looking for some fun Easter Desserts that just scream spring? Want some delicious Easter treats to bake with your kids? Sometimes the best part of a holiday is the food! Let's talk about some of the best and most creative ideas for stepping up your Easter baking game!
Are you ready? Keep reading…I have some super cute and yummy Easter dessert ideas to share.
Looking for Easter themed party ideas? Be sure to also check out these Easter parties, these Carrot themed Easter ideas, and these Easter crafts. Also, we have an Easter birthday party, Easter carrot party and Easter Peter Rabbit party to share!
Related: 40+ Free Easter Printables
Woo…we have had a whirlwind of a week. Fun in Disney, a trip to the zoo…I'm tired and I need a vacation from my vacation!!! My girls had a blast. It was definitely worth the little break…
Don't forget to grab EASTER DECORATIONS!!
☑️Swing by Target and grab some of the cutest Easter Decorations to compliment your Easter baking!
With all the out of town, and my Easter obligations at home, I found myself needing some easy, quick and adorable Easter treat ideas perfect for an Easter Themed Party. Of course, I had to share what I found!!
Easter desserts are amazing ways to be festive for the holiday. Regardless of your level of experience or budget…there are plenty of adorable ideas to create a fun treat either with your kids or one to surprise them with on the big day.
Spruce up your table top with the right Easter decor and special little Easter bunny approved treats and you are sure to see their little eyes light up with absolute joy!!!
Easter Dessert Ideas
Want to make some fantastic desserts? Maybe you are looking for Easter desserts easy enough to bake with your kids. Either way…these delicious and absolutely adorable ideas will turn your ordinary holiday baking into fantastic Easter desserts you will be so excited to share!
Check out the delicious ideas…
Cadbury Layer Cake from the Gunnysack
Hello, gorgeous…can I get some pretty layer cake please…like right now, in my mouth!! I love how the Cadbury eggs make such a perfect decoration to this easy Easter dessert cake!!

Bunny Butt Cupcakes from Spend with Pennies
My little girl giggles every time she sees these cute little bunny butts!!! These are guaranteed to be a hit at your party!

No Bake Mini-Cheesecakes from Sugar Hero
Who else is a fan of no-bake Easter desert options? I know I am!!! There are beautiful and so spring-a-licious!!

Easter Chick Cupcakes from the Simple Sweet Life
I love me some little chickens! They are such cute little babies! These cupcakes would be awesome for an Easter party (and also for a farm party! Just saying!!!)

HOP Bunny Cookies from Per Party Boutique
Easter cookies don't get much cuter than these! Wouldn't sweet little hopping bunnies be great for your Easter bash?
Bunny Cupcakes from Your Cup of Cake
You have your bunny butts…how about some cutie patootie bunny ears. Aren't these adorable??? LOVE!!

Lamb Cake from Handmade Charlotte
Mary had a little Lamb cake? Ok, maybe not…but this cake is flippin' AWESOME! I love the details and how adorable it is!

Baby Chick Macarons from Bento Monsters
Ok…just one more cute little chicken! These sweet little chick macarons are too, too cute! Macarons are one of my favorite party treats…and these are perfection!!!
Bunny Cookies from Cadillac Cookies
One of my favorite party treat idea is using cookie cutters that have nothing to do with the object you are making…like these hearts…and turning them into adorable cookies. These bunny cookies are spectacular….a personal favorite for me!!!

Funny Bunny Cookies on a Stick by Munchkin Munchies
I love these Bunny Face cookies! They are so cute. The coolest part too…with them being on a stick, they would make for some hilarious Easter Pictures with your kiddos (and even your fun loving adults!!)

Easter Bunny Creme Tart from Love Swah
This Easter Bunny treat is absolutely gorgeous. I am in love with this Easter dessert!!! Yes, please!!
Cute Bunny Cookies from Per Party Boutique
If you feel like ordering some fantastically adorable Easter cookies this year, you can't go wrong with these adorable little yummy bunnies!
Easter Cake from Kara's Party Ideas
How adorable is this Easter bunny cake? The cute fondant ears and the fun winky face. BEAUTIFUL!!!
Ideas for Easter Treats
Adorable kid friendly Easter treat ideas that are perfect for whipping up with your children. After all…Easter is totally a family holiday. Get the kids involved with some of these super adorable treats. These treats also make fun gifts for friends and family and cute ideas to take to a classroom and pass out!
Ready for some Easter-y goodness?
Rice Crispy Eggs from SheKnows
These are some of the most clever and oh so easy Easter desserts. I love that they are a fun play on the plastic eggs with candy inside, but a fun edible egg instead! Yes! Yes! Yes!
Peeps S'mores from Country Living
Is it just me or does the rainbow peep s'more plate just look absolutely perfect?? I think this is such a fun and gorgeous Easter treat!! Yes, please!

Easter Bunny Cookies from Baking in Heels
Here are some delicious Easter cookies you can buy that will be perfect gifts or treats!
Little Chick Oreo Pops from HowDoesShe
Does it get any cuter than this? I think not!! I love the little chick faces and they are OREOS…who doesn't love Oreos?? I know these will be a hit with the kiddos!!
Easter Bunny Butt Cookies from Pillsbury
I love this little idea. These Easter bunny cookies are so fun and would be perfect for an Easter party!!
Easter Egg Cookies from Ahead of Thyme
What is more fun than some Easter egg shaped cookies? These are fun and simple. Love them!!
Easter Fruit from Living Locurto
Here is a fun healthy Easter treat option!! Grab some easter cookie cutters and you are in business!
Peeps Cookies from Sugarbelle
Do you love peeps? These Peep cookies are too, too perfect for Easter!
Here are some helpful links for baking for Easter:
Easter Party Tableware
Once you have your Easter baking taken care of, grab some absolutely adorable Easter themed tableware to make serving them up so much more fun and adorable! Check out the adorable options below:
Porcelain Bunny Plate from Sweet Lulu
Spring Bunny Tableware from Sweet Lulu
Gingham Bunny Napkins from Meri Meri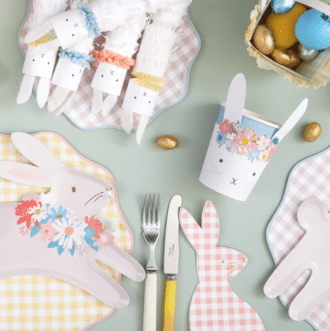 Bunny Plates from Sweet Lulu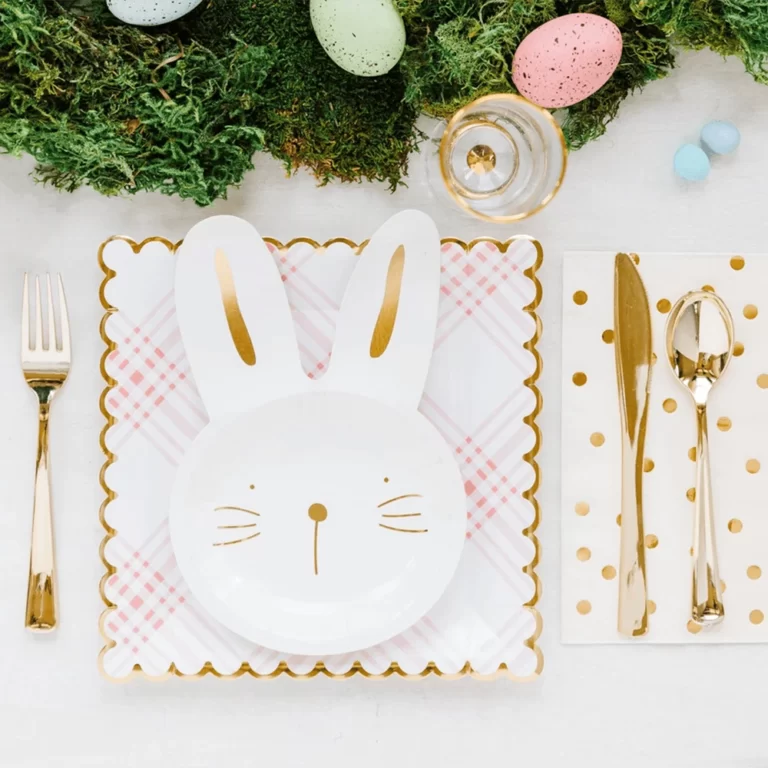 Honeycomb Bunnies from Meri Meri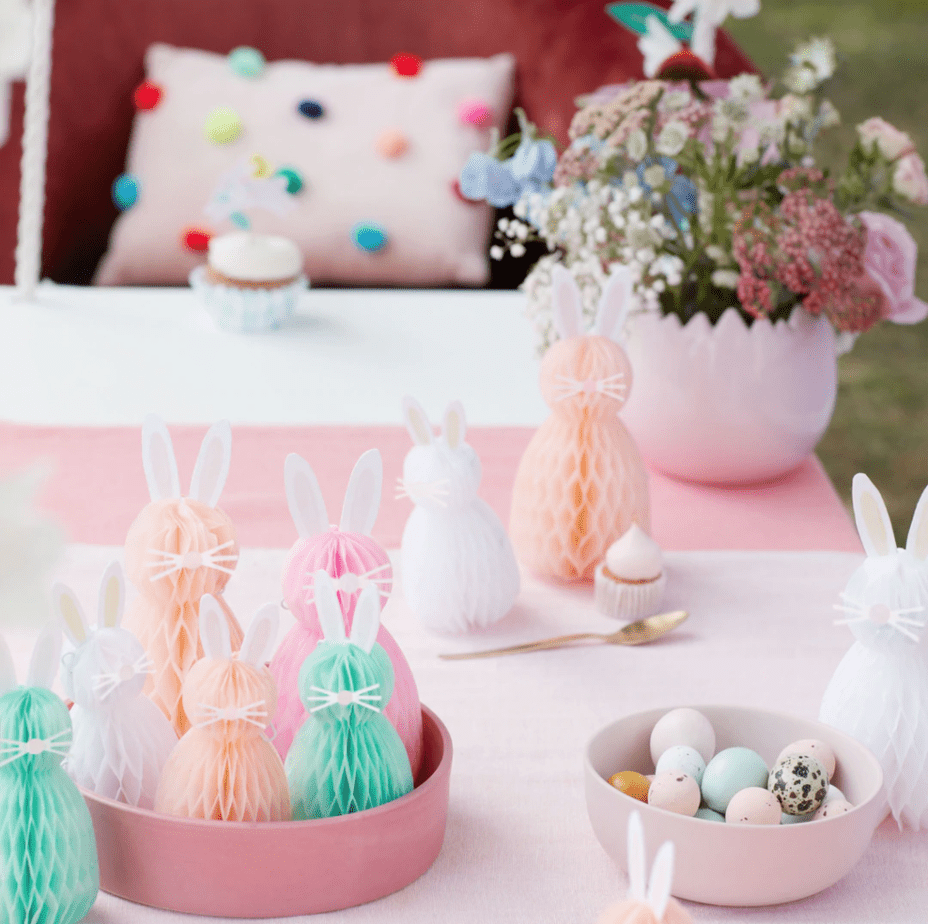 Hoppy Easter Party Decorations from Oriental Trading
Cute Easter Party Decorations from Oriental Trading

Conclusion for Ideas for Easter Desserts:
When it comes to holiday baking, there are so many fun and creative ideas. Whether you see your self baking a pastel colored layer cake or putting cute little bunny faces on cookies, we have tons of inspiring and delectable Easter Desserts you can bake or buy for Easter!
If you love these Easter themed desserts, please pin this image on your Easter Pinterest board:
RELATED POSTS FOR Easter: Easter Desserts and Easy Easter Treat Ideas
Thank you for reading our Easter Treats Ideas!