Firetruck Party Ideas to make the perfect Fire themed Party!
Ring the bell…it's time to celebrate everyone's big red truck with a Firetruck Birthday party! Flames and Hoses and Ladders, Oh my! These adorable party ideas are perfect for creating a little boy's dream being a fireman! Check them out!!
I'm a fan of firemen. Not only do they save little children from burning buildings and cats from trees, but they are great inspiration to little boys everywhere and make for AMAZING parties.
Have you ever noticed that firemen are all super hot??? I have! I used to be a teacher. Once a month, the fire department would show up to run a fire drill (more frequently if one of our darling students decided to set off the fire alarm).
The best part about fire drills…yep, you guessed it…the firemen. Maybe it's the uniform. Maybe it's the hero status. Most likely, its the rippling biceps and other nicely toned errr…anatomy.
Moment of silent reflection. Yep….that's got to be it.
Throwing a FIREMAN PARTY?
☑️ This
Fireman Party Kit
is the perfect set to get your planning headed in the right direction!
So here's to firemen and little boys who want to be firemen and moms who want to throw fireman parties.
All kidding aside, though….what is cooler than a party at a fire station or having your local firemen bring a real life firetruck to your party to let the kiddies take a tour and of course turn on the siren? Not much.
Firetruck Desserts + Food Ideas
Firstly, the food! Picking the right delicious food is the perfect start to creating the most amazing firetruck themed party! Here are some delicious cakes, Cupcakes and more…
Fire Cupcakes from Beki Cook's Cake Blog
These beautiful and festive cupcakes are literally on fire. Be sure to check out the easy tutorial to make them yourself!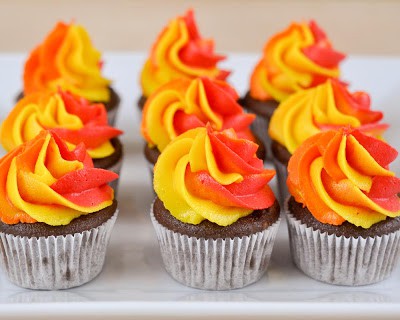 Fireman Cake from Salt Cake City
Hello, gorgeous. This cake is fantastic. I especially love the flames on top. So. Much. Fun.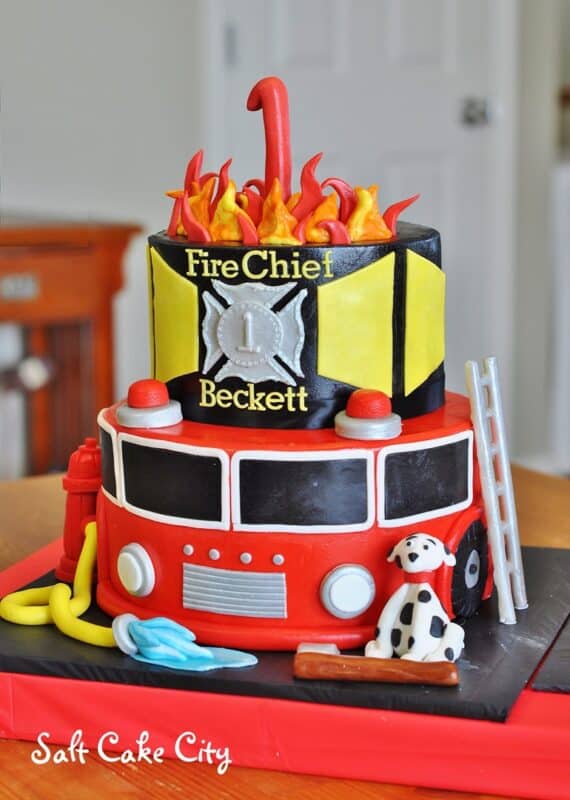 Fire Truck Cake from Project Nursery
This beautiful cake it easy t recreate. With fun fondant flames and a cute fondant fire truck…it's an instant winner for a DIY baker!!
Fireman Cupcake Toppers from Simply Sucre
Looking for some fun fondant firetruck cupcake toppers? These fun toppers would definitely take your cupcakes to the next level!
Fire truck Party Decorations
Setting up some fun and easy themed decorations are the next step to a fantastic fire truck birthday celebration. Here are some gorgeous party decor ideas…
Fire Themed Utensil Holder from Pinterest
This is super simple and so practical for a party. If you have to have utensils, why not display them in an adorable and functional fashion?
Fire Cake Topper from Tickled Glitzy
Here is a cute firetruck cake topper to add a little awesome to the party table.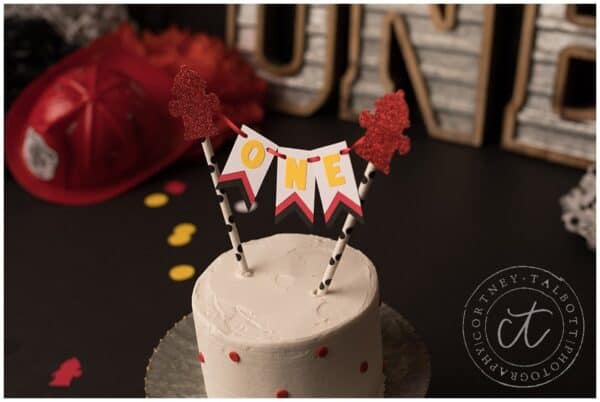 Fire Garland from Two Crafty Bishes
This pop of fire is a great backdrop for a table or for fun photos with your party guests. I love how the fire is in layers. So cute!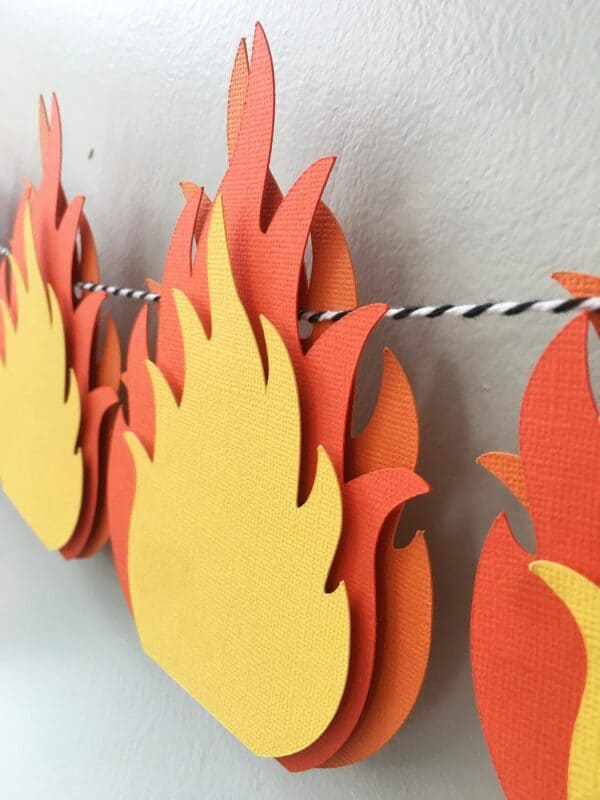 Giant Firetruck Balloon from Oz Party Supplies
Ok, seriously…what little kid wouldn't want a giant firetruck balloon? This is guaranteed to be a huge hit! Also, consider tying the string to a little one's wrist for a fun photo op!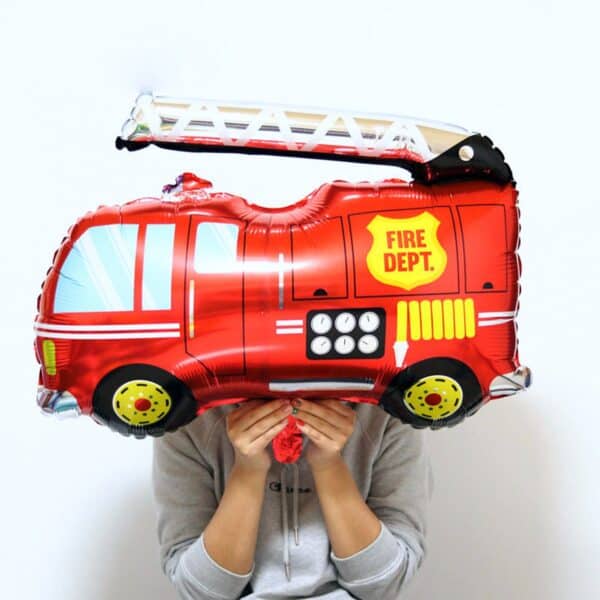 Fireman Cupcake Toppers from Bling Bliss and Banners
Here are some fun fire themed cupcake toppers to jazz up simple cupcakes. You can always buy or bake some cupcakes and add a little festiveness with paper toppers instead of trying to make the cupcakes themselves fancy!
Fireman Party Favors
Whether you buy fun fire themed favors and put them in a cute box or bag, or you create favors…these ideas are sure to be a hit!
Dalmatian Favor Jars from Spaceships and Laserbeams
Cute Dalmatian puppies on simple spray painted jar lids? This easy DIY is a great way to reuse some old pickle or food jars!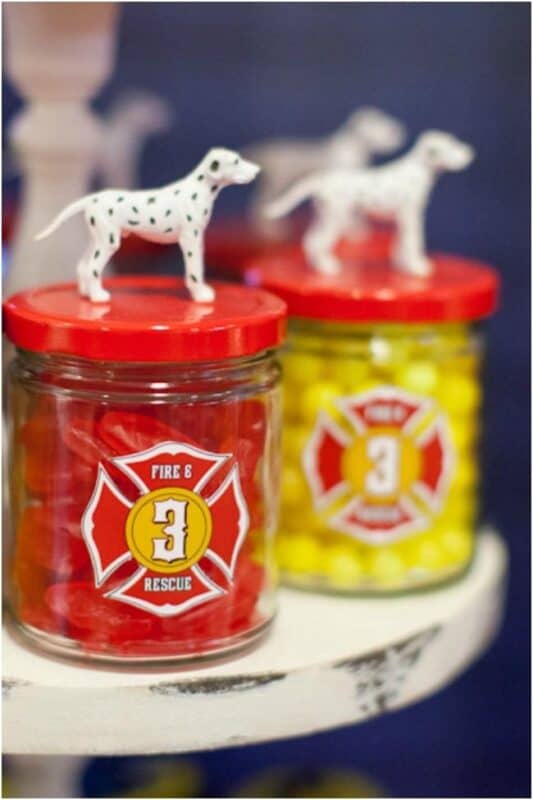 Fire Boots Favor Bags from The Papered Parlor
Aren't these fire boots the cutest? Fill them with trinkets or treats for a great favor!
Play-Doh Fire Hydrant from Mad Hatter Party Box
Mixing a cute cookie cutter and some play-doh is such an adorably fun idea for a party favor! This is a great gift idea to send home for little ones to enjoy!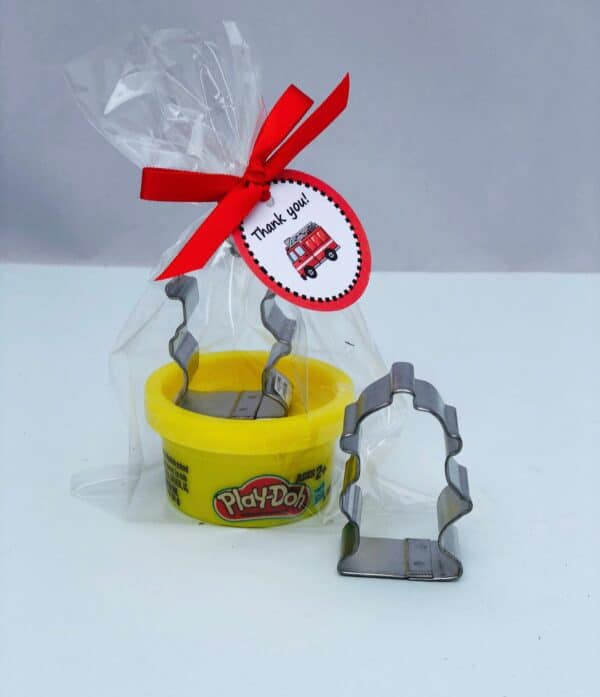 Fire Hydrant Favor Boxes from The Papered Parlor
These fire hydrant favor boxes are my favorite. I love the details and how unique they are! Simply adorable!
Fireman Party Games + Activities
To push your party over the top, sprinkle in some fun themed party games! Here are some cute ideas!!
DIY Cardboard Fire Truck from Pinterest
Have some left over cardboard boxes? Build a little play firetruck! Cover the boxes with some red paper and accent with white paper! Use some simple yellow and black plates for lights and wheels! So simple, yet soooo cool! Don't forget the fire colored streamers and balloons to give your kiddos a fire to fight!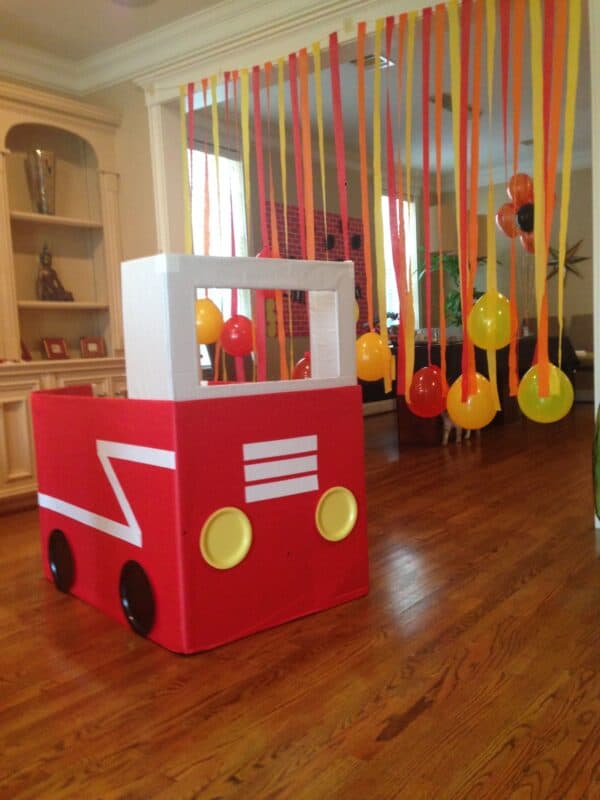 Fire Corn Hole from Krafty Karen
Play firefighter with a fun wooden DIY corn hole game. Too cute, right!
So many amazing ideas! I know you will have as much fun planning this party as the kids will have playing at it!
Firefighter Party Supplies
Here are some quick and budget friendly supplies you can grab to help you plan a fire themed party:
Fireman Tableware from Oriental Trading
Fire Themed Decorations from Amazon
Fire Themed Balloon Arch from
Amazon
The Printable Fireman Party Package is available for purchase in my shop:
If you love these firetruck themed party ideas, please pin this image to your Birthday Party Pinterest Board:
Here are some helpful links for throwing a Firetruck Party:
RELATED POSTS FOR Firetruck BIRTHDAY PARTY IDEAS:
Thank you for reading our Firetruck Birthday Party Ideas!