Disney Junior: Puppy Dog Pals Cookies.
Throwing a Puppy Dog Pals Party or just want to celebrate your little puppy loving baby with some fun cookies? This easy DIY Puppy Dog Pal cookie tutorial is for you. I'm sharing this tutorial to celebrate the release of Puppy Dog Pals: Playtime with Puppy Dog Pals on DVD. Be sure to check out our other DVD reviews.
Looking for more character themed DIY treats and crafts? Check out these Vampirina Cookies, these Kermit the Frog Oreo Pops, this Chewbacca inspired party and this Incredibles t-shirt! Also check out these Toy Story Party Ideas!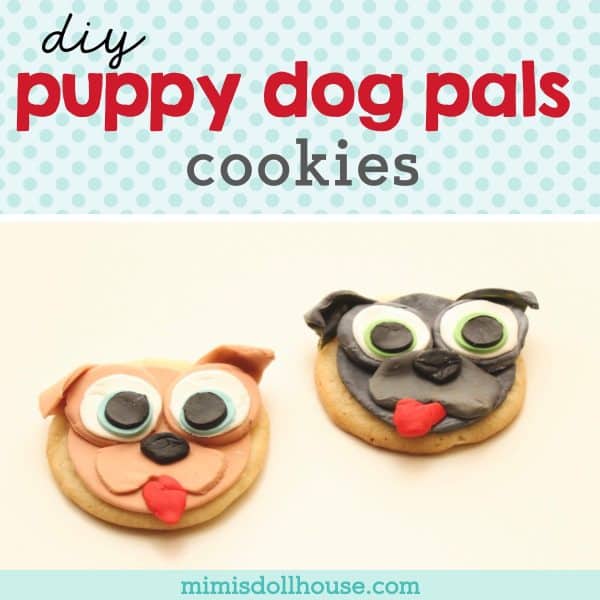 My 1.5 year old is OBSESSED with Puppy Dog Pals. He has a stuffed Bingo toy that he legit carries EVERYWHERE. Bingo naps with him, plays with him…they are his favorite!!
We love the Puppy Dog Pals series.
They are fun little puppies that get into all sorts of adventures using high tech gadgets made my their owner…and the songs are catchy!!! (And by catchy I mean I end up singing them all. day. long.)
Throwing a PUPPY DOG PALS PARTY?
☑️ These Puppy Dog Pals Party Supplies
are the perfect way to get your party planning headed in the right direction!
Here is what to expect from this Puppy Dog Pals DVD: Adorable puppy brothers Bingo and Rolly are back! Join the doggy duo on amazing missions: deep-sea diving in the Great Barrier Reef, fetching a four-leaf clover in Ireland, running all over Down Under, and much more!
Then, meet their brand-new puppy pal Keia in two exciting bonus episodes! Packed with action, music and a ton of silly fun, these playtime adventures will leave you howling with laughter! Episodes include:
The Great Pug-scape / Luck of The Pug-ish
Scuba-Doggies / Walking the Bob
Captain Rolly / The Coolest Dogs in Town
The Legend of Ol' Snapper / Adventures in Puppy-Sitting
Bob's Boomerang / Fetch That Fish
Plus tons of bonus stuff…trust me…your little one will love it!
To celebrate this fun DVD…I have put together a little Puppy Dog Pals cookie tutorial…let's get baking!!!
Here is a quick and easy tutorial for making the Puppy Dog Pals cookies:
PUPPY DOG PALS COOKIES TUTORIAL
MATERIALS:
STEP 1:
Prepare Sugar Cookie dough according to recipe or sugar cookie mix instructions. Roll dough until it is 1/4 inch thick. Using the circle cookie cutters, cut out the cookies.
Place the cookies on a lined cookie sheet and bake according to the recipe. Remove from oven and allow to cool before decorating.
STEP 2:
Mix fondant with food coloring to make gray and tan. Roll out the fondant to about 1/4 inch thick. Cut using the circle cookie cutters to match the size of your cookies. Allow to sit for 5-10 minutes to stiffen slightly.
Place on top of the cookies. I used a little bit of frosting to help the fondant stick, but if the underneath side of the fondant is still soft, it will stick with a few drops of water.
Cut one large circle per cookie. Using the smaller circles, cut two gray or tan circles for each cookies (approximately 1″ diameter) for the eye brows, two small triangles (round the corners or each) about 3/4 inch wide, and a half circle slightly smaller than the cookie.
Use the fondant knife to cut an upside down v shape into the half circle bottom and round the edges to make the mouth shape. Place the circles onto the top of the cookies and the mouth underneath. Set the triangles aside.
Step 3:
Mix fondant with blue and green and black for eyes. Roll out white fondant, black fodant, blue fondant, and green fondant as done in Step 2.
Cut three sizes of circles for each eye…3/4″ white, 1/2″ blue (Rolly with tan face) or green (Bingo with gray face) and 1/4″ black for center of the eyes.
Each cookie should have 2 white,2 blue/green and 2 black circles. Allow to sit for 5-10 minutes to stiffen slightly.
Place the white, then blue/green, then black circles onto of the eyebrow circles on your cookie. Cut small circle with black and smush to make nose shape. Add to the top of the mouth.
Use a drop of water to make the fondant stick to each other.
Step 4:
Mix fondant with red for tongue. Cut using a heart shaped cookie cutter from the shapes collection. pinch the top of the heart a bit and place at bottom of mouth with a drop of water.
Add the triangles over the top of the eyebrows and bend slightly so they look like ears.
Easy peasy and so much fun to eat!!!
Enjoy your Puppy Dog Pals cookies and grab your copy of Puppy Dog Pals: Playtime with Puppy Dog Pals!
Here are some helpful links for throwing a Puppy Dog Pals party:
This is a sponsored post. Mimi's Dollhouse may have been compensated for this post, but rest assured…all thoughts and opinions are totally honest and totally my own:)
If you love these Puppy Dog Pals Cookies, please pin this image to your Pinterest board:
Related posts for Puppy Dog Pal cookies:
Thank you for reading our Bingo and Rolly Cookies!