How to make puppy cookies for your party
If the thought of adorable puppy sugar cookies makes your tongue wag…you will love these fun and simple puppy dog treats. Follow this simple tutorial to learn how to make adorable puppy cookies for your next birthday.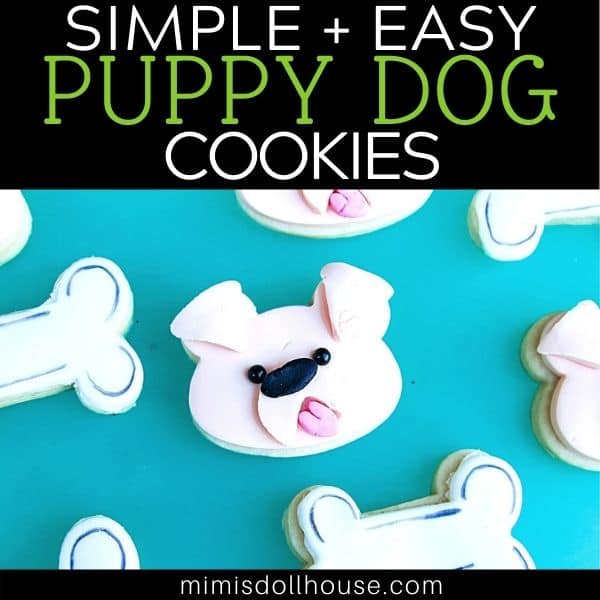 Ok…puppies are awesome, right? Their cute little wagging tails and their sweet puppy breath. I just want to snuggle all the puppies!
Throwing a PUPPY THEMED PARTY?
☑️ This
Puppy Party Kit
is the perfect set to get your party planning headed in the right direction!
While snuggling all the puppies may not be an option, celebrating your sweet little one who loves puppies definitely is!! We have some super cute puppy cookies you can bake with or for your little one's big day!
How to use Puppy Cookies
Using puppy cookies is super simple. They can be arranged on a plate together or mixed up with some dog bone cookies. You can use a fun colored plate like this teal plate or fill the bottom of the plate with jelly beans or sixlets for some color.
These fun little cookies can also be used to decorate a simple cake. Line the bottom of the cake with puppy faces or press them into the top like a cake topper. So many ideas!
Ideas for a puppy themed party
If you are looking for more ideas for a puppy party, be sure to check out this Happy Bark Day Puppy Party for tons of decorations and food ideas!
Puppy Cookie Tutorial: STEP by STEP
Ready to learn how to make these fun cookies? Here are the step by step instructions!
Materials:
Step 1:
First…you need to cut and bake the cookies.
For the sugar cookies, you can really use any recipe, as long as it doesn't spread. I highly recommend my basic cut out sugar recipe. It is great for keeping it's shape, but most importantly…it tastes delicious.
You will want to use a liberal amount of flour on the surface you are cutting and also add a little extra in the dough itself while you are mixing it.
Roll out dough until it about ¼ inch thick. Using the bear shaped cookie cutter, cut the cookies and place on parchment covered cookie sheets. If you also want to make bone shaped cookies, cut those out as well. Bake according to the recipe.
Allow cookies to completely cool prior to decorating. I like to bake the cookies the day before so they are nice a cool for decorating.
Step 2:
Once your cookies are baked, you can prep your fondant. If you are using white fondant, you can add color to the fondant with the gel food coloring.
To color fondant, start with white and add drops of gel food coloring, mixing as you go until fondant is the desired color. Keep mixing (kneading) until it no longer has a "tie-dyed" look to it. You will need mostly light blue and white fondant with a small amounts of red and black fondant.
If you are using pre-colored fondant, you don't need to mix any food coloring. Either method works. The only difference is the white fondant option is a little more time consuming, but also more budget friendly.
Step 3:
Start with the tan fondant. Roll it out to 1/8 inch thick. Using the bear shaped cookie cutter, cut out one bear head per cookie. The punch out one small circle per cookie and two triangles.
With the circles, use the tip of the triangle cutter to punch a v shape out of the bottom of the circles. Set the circles aside to begin hardening.
Slightly bend one of the flat edges of the triangles down and set aside to begin drying.
Once the tan pieces have begun to dry, but are still a little tacky, place the circle on the bottom of the bear face with the v facing down and slightly cocked to one side.
Place the triangle shapes onto the ears so that the bend side is pressed into the flat face and the ears "flop" forward.
Press two black sugar pearls into the face above the circle so they will dry into the fondant.
Step 4:
Using the black fondant, punch out one small oval shape per cookie. Set aside to dry.
Using the pink fondant, punch one small heart shape per cookie. Pinch the top of the heart together soit makes a tongue. Set aside to dry.
Step 5:
Once the black oval and pink heart are mostly hard and slightly tacky, place the oval on the top of the circle for a nose. You can presh nostril indentions into the nose with a toothpick or fork prong. Place the pink heart "tongue" into the v shape cut out.
If you need help securing the fondant pieces, you can use a drop of water or a small bit of icing as glue.
The fondant faces can be placed on the cookies with a little icing or a thin layer of frosting.
Step 6:
If you are making the bone cookies, you just need to cut the bone shape from white fondant and allow to dry. You can draw optional lines around the edge of the bone with an edible marker if you choose.
Looking for more ideas for Puppy Cookies?
If you are looking for more ideas for a puppy party…check out these awesome party ware options!
Puppy Themed Party Supplies
If you are looking to plan a puppy themed party, starting with the right supplies can definitely help you get your party moving in the right direction.
Here are some of my favorites:
Dog themed party table ware from Target
Puppy themed party supplies from Oriental Trading
Dog themed cups from Meri Meri
Sausage Dog platters from Meri Meri
Puppy Party Printables
If you want to throw a fun puppy themed party, you can also grab these printable puppy party decorations from my shop:
Here are some helpful links for planning a puppy party:
Conclusion for Puppy Sugar Cookies:
Puppy parties are fun and a great theme for a birthday. These super easy puppy sugar cookies will definitely be a hit for your puppy party. Give this simple tutorial a shot!
If you love these cookies, please pin this image to your birthday Pinterest board:
Related posts for DIY Puppy Cookies:
Thank you for reading my puppy cookies tutorial!