Ideas for a Baby Shark Birthday Party
Jump in a swim with one of the most popular party themes! Plan a baby shark party with adorable baby shark birthday ideas! Everybody from Grandpa Shark on down will love these shark party ideas! Let's plan a party with fun fish themed ideas and lots of bubble balloons!
Are you with me?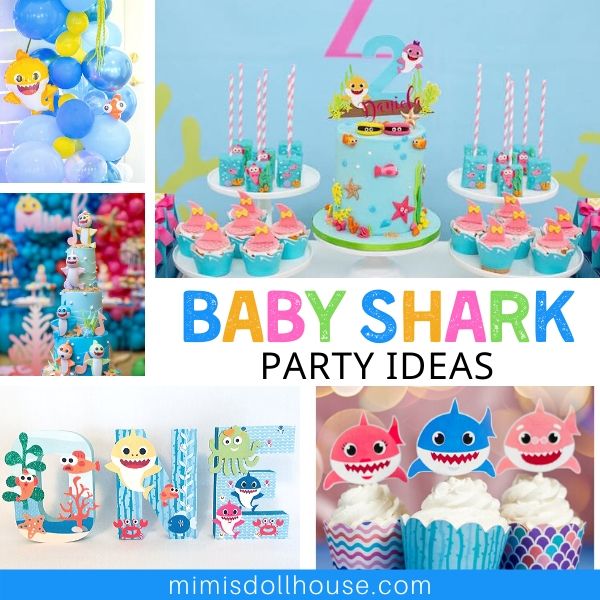 Baby Shark…doo, doo, doo, doo…Baby Shark…doo, doo, doo, doo! Come on in the water is fine with these amazing party ideas!
Throwing a BABY SHARK THEMED PARTY?
☑️ This
Baby Shark Party Kit
is the perfect set to get your party planning headed in the right direction!
From delicious treats to amazing decorations we are gonna talk about the coolest baby shark party ideas EVER!
Baby Shark Party Ideas
Do you have a little one who LOVES baby shark? My two year old sings this song NON-STOP, so I understand the obsession. Why not take that obsession and turn it into a completely memorable and unique birthday party?
Let's talk about the very cutest and most creative baby shark birthday ideas…
Baby Shark Birthday Food Ideas
Firstly…the food. I'll admit, this is always my favorite part of any party! Picking clever foods and gorgeous desserts is one of the best parts of planning a party. Here are some extraordinary food ideas for you to inspire your party:
Baby Shark Birthday Cake
First up, of course, is the centerpiece of most dessert tables…the birthday cakes…
Baby Shark Birthday Cake on Catch My Party
Fun fondant toppers and fun fondant coral make this underwater cake simply too too cute!
Baby Shark Cake from Maru Chirinos
This cute Baby Shark birthday cake has fun fondant waves and a sandy sugar bottom. In love!
Baby Shark Cake on Kara's Party Ideas
Here is the ultimate baby shark layer cake complete with fondant shark figures for the whole family!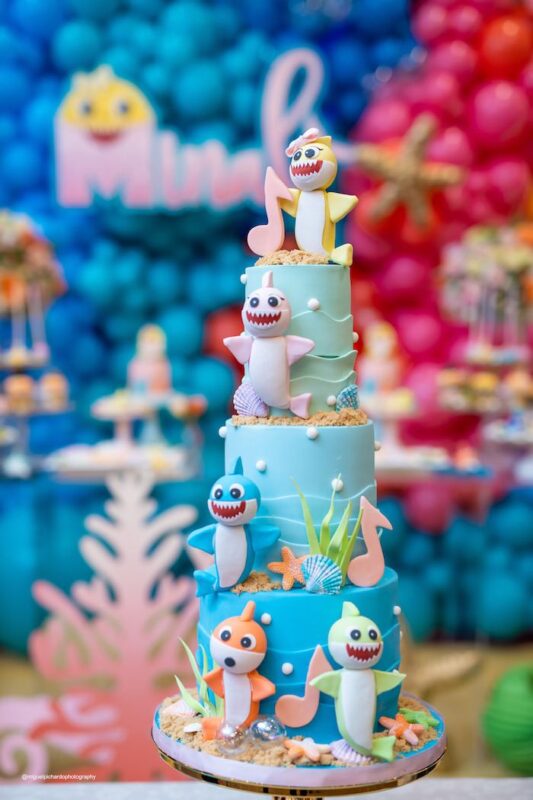 Baby Shark Cookies
Adorable Baby Shark themed cookies are a definite must for a fun baby shark party. With lots of options to buy baby shark cookies, you can also score some fantastic Baby Shark Cookie Cutters to bake and decorate your own. The simplicity of the baby shark characters make these great cookies for beginner decorators!
Baby Shark Cookies on Kara's Party Ideas
Here are some adorable bright colored family sharks that would be perfect or your party table!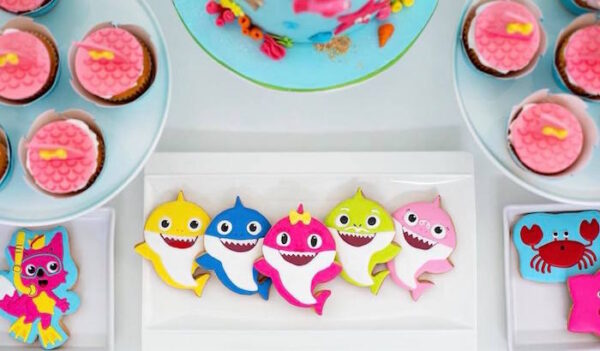 Baby Shark Cookies from Armstina's Cookies
Make cute sharks from Baby to Grandpa for a colorful and delicious party cookies.
Baby Shark Cookies from Sweet Sugar Crumbs
Here are some great cookies that mix up those cute sharks with some adorable ocean themed cookies. Too fun.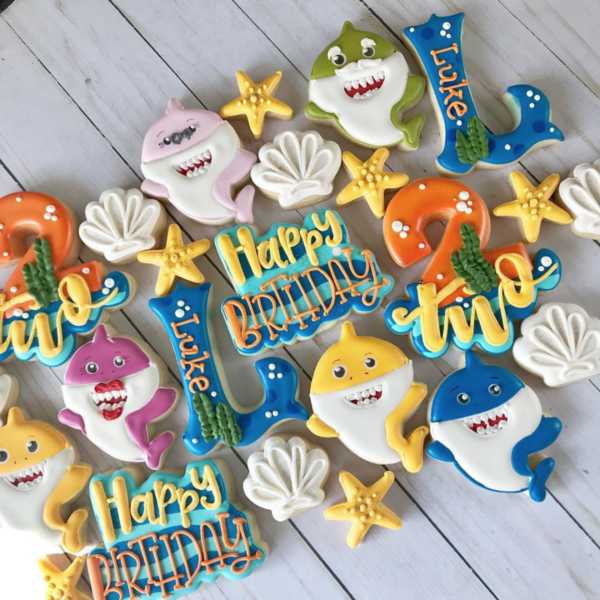 Baby Shark Cookies from Gracie Mae's Cookies
These might be my favorite baby shark themed cookies. They are so colorful and playful.
Baby Shark Cupcakes + Desserts
Beyond cookies and cakes, there are tons of other dessert ideas you can create and find to really round out your party treats. Let's get baking (and dreaming about baking!)
Baby Shark Fondant Cupcake Toppers from LVS Studios
These fondant cupcake toppers are not just adorable, but so versatile. They can be placed on simple homemade or store bought cupcakes for an adorable themed treat.
They also work great on frosted sugar cookies and brownie bites!
Baby Shark Cupcake Toppers from KbK Parties
These adorable printable shark toppers will make decorating cupcakes a snap Fun and colorful for the win!
Fondant Baby Shark Cupcake Toppers from Sweet Sugar Tops
Here is another fondant option. These would look great set into light blue frosting, like little sharks swimming in the water!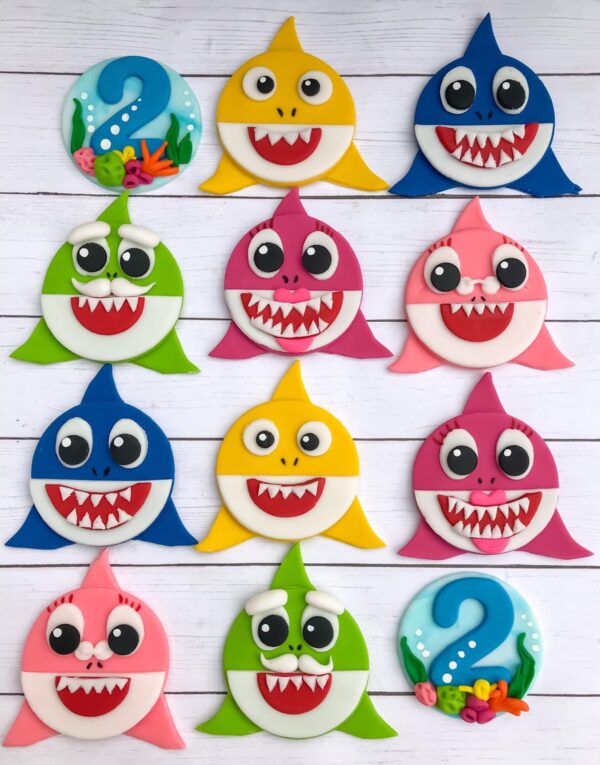 Baby Shark Sprinkles Mix from CC Cake Toppers
Grab some shark themed sprinkles to add some pizzazz to any dessert or treat, from frosted rice krispies to donuts!
Baby Shark Birthday Decorations
Whew…now that you are sufficiently hungry, it's time to talk about the ocean themed decor that works perfect for a baby shark themed birthday.
Related: Unforgettable Under the Sea Party Ideas
The best and most colorful idea for setting up a baby shark party, is definitely to have a mixture of baby shark specific decorations and them some sealife/ocean decorations.
Let you guests feel like they are in an underwater garden of fun!
Baby Shark Birthday Party from Kara's Party Ideas
This party table is stunning. The bright, non primary colors really pop and just work so nicely for a baby shark party!
Baby Shark Letters from Party in a Box for Kids
Celebrate your little sharks with some fun age letters and showcase that special milestone in style!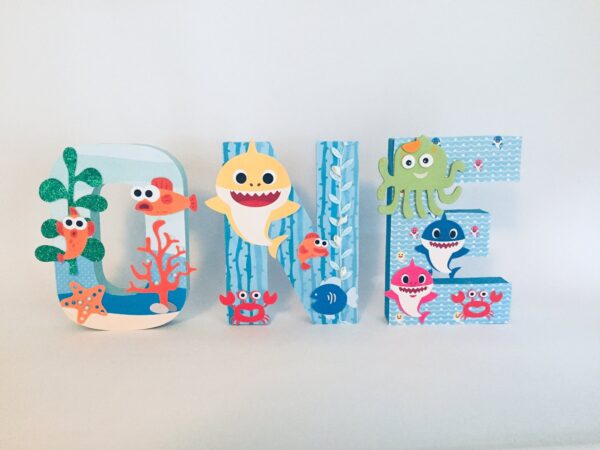 Baby Shark Dessert Table on Catch My Party
This balloon garland backdrop helps to give a gorgeous underwater set-up. The coral in front of the table is such a great touch.
Baby Shark Banner from Sweet Bugaboo
This 3-D Happy Birthday Banner in not only super adorable, but it is a great decoration for a photo booth or party table!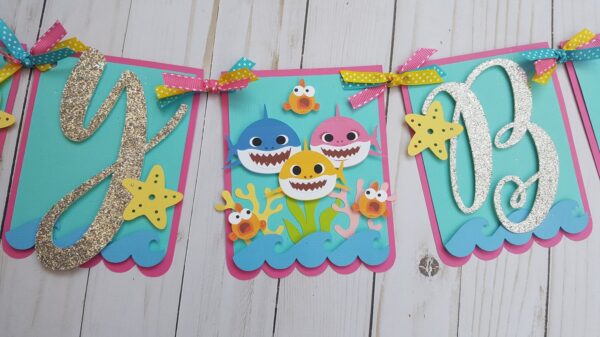 Baby Shark Birthday Party from Fun365
This fun Baby Shark themed party is whimsical and focuses more on the fun water. I mean, that balloon wave is ADORABLE! You can grab the items used in this party from Oriental Trading.
Baby Shark Table Setting on Catch My Party
Setting up a table for your little party guests to enjoy their treats that is super cute and decorated is a fun way to spread your ideas around!
Baby Shark Balloon Garland on Catch My Party
Use some simple blue balloons to create a bubble like under water feel for your party.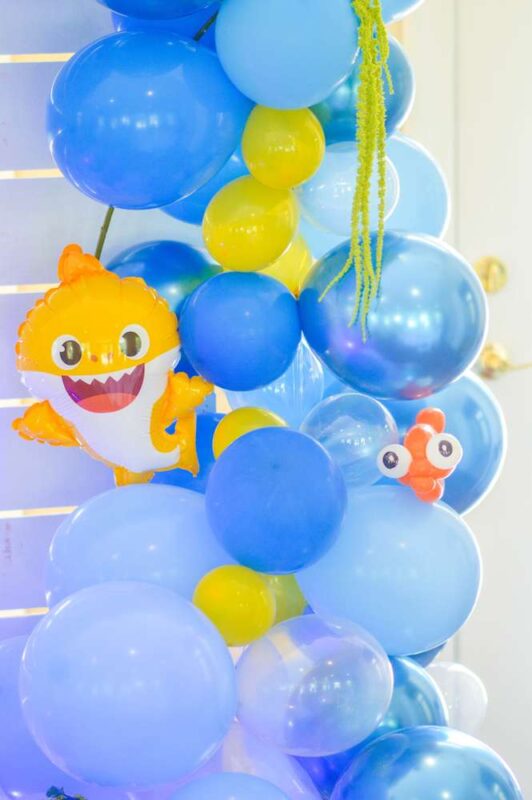 Baby Shark Balloon Backdrop on Kara's Party Ideas
You can also create a GORGEOUS backdrop utilizing multi colored balloons. Not only is it a huge beautiful statement, but it covers any wall or windows that might interfere with your photos!
Baby Shark Party Supplies
Setting up a fantastic party with a baby shark theme is made so much simpler with the right tools. Grabbing some fun and festive matching supplies and table ware will help you keep on budget and still totally stay on theme from start to finish!
Shop This Party
Here are some helpful links for planning a baby shark birthday:
Conclusion for Baby Shark Birthday Party:
If you are thinking about planning a Baby Shark Birthday Party…these ideas are definitely your under the sea inspiration. From adorable cookies to fantastic decor, you can get ready for your little shark's birthday without the stress of coming up with ideas all on your own.
Baby Shark…doo, doo, doo, doo!
If you love these ideas, please pin this image to your birthday Pinterest Board: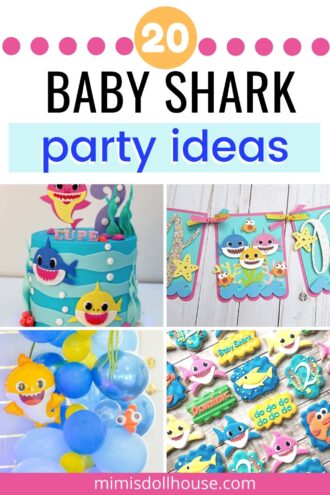 Related posts for Baby Shark Theme:
Thank you for reading our Baby Shark Party Ideas!