How to Plan a Perfect Peppa Pig Party!
If you love muddy puddles and fun pink pigs…these Peppa Pig birthday party ideas are just for you! When it comes to celebrating a sweet little one's birthday, a great option is often focusing on their favorite character or show.
Have a Peppa Pig lover? Let's plan a Peppa inspired party!
One of the most fun parts of parenthood is watching your little guy or gal fall in love with their first show or character.
Sometimes it's totally a show you also loved as a kid, or even love as an adult. Sometimes…it's that show you wish you never ever have to watch again!
We've all been there!
Throwing a PEPPA PIG THEMED PARTY?
☑️ This
Peppa Pig Party Kit
is the perfect set to get your party planning headed in the right direction!
Kids go through hilarious phases with shows and characters. As my kids grow up, I love looking back at their birthday parties are remembering the different obsessions they had at different times.
Those birthday parties are some of my favorite memories!
Peppa Pig Party Ideas
If Peppa Pig is your child's favorite, you can easily create an absolutely adorable birthday party for them with easy ideas and food options.
Whether you want to go "all out" with a gigantic party or want a simply perfect on budget party…these ideas will help get your planning on track!
Check them out…
Peppa Pig Party Decorations
First up we have the decor. Having themed decorations is a great place to start. If you are totally overwhelmed with this, start with a simple pink decorations package and fill in some Peppa specific ideas from there.
Peppa Pig Party Table on Catch My Party
Here is a gorgeous pink Peppa Party Table. The name banner and the Peppa cut out really bring it all together!

Peppa Pig Party from Fun365
This simple and super fun Peppa Birthday idea uses items you can easily pick up and displays them in a creative manner. You can grab the supplies from this party here.

Peppa Pig Muddy Puddles Centerpieces on Kara's Party Ideas
Love muddy puddles? This beautiful centerpiece is clever and subtle. It would be so great on food serving tables.

Peppa Pig Party Table on Spaceships and Laserbeams
This fun idea steers clear of the pink motif. This is great if you have a boy who is super into Peppa Pig! It's also a great idea for parties with lots of boy party guests.

Peppa + George Pig Party from Kara's Party Ideas
Why stop at Peppa when you can get the whole pig-tastic family involved? This party table is absolutely adorable!

Peppa Pig Party Supplies
Here are some awesome supplies for a Peppa Pig Party! From DIY projects to stuff you can just grab and go…these are great ideas for planning the perfect party!
Peppa Pig Snout Cups from Party Delights
Turn simple pink paper cups into fun and wearable pig snouts. What little kid wouldn't want to dress up like a pig?

Free Printable Peppa Pig Party Decorations from Purple Pumpkin Blog
Looking for some fun and FREE printables? Check out these free Peppa Pig printables to help you with your party decor and planning.
Peppa Pig Balloons from Parrty Happy
This simple and super adorable balloon set is great for accenting any party decorations. They can be displayed together or broken up around your party!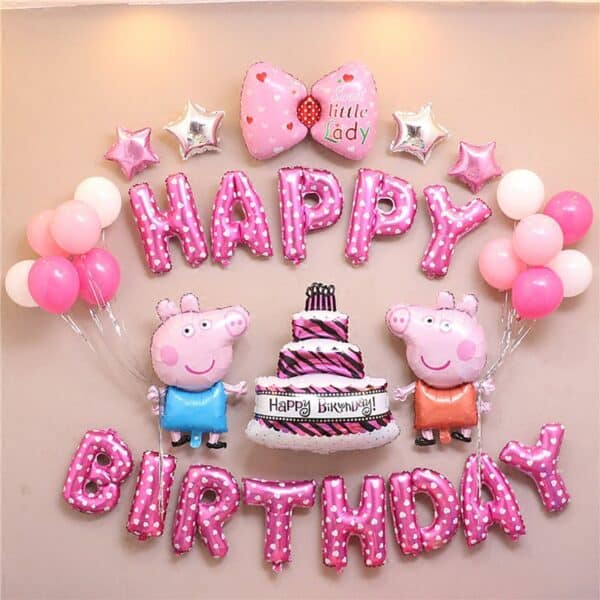 Peppa Pig Party Food Ideas
Once you have your Peppa Pig decorations all in order, it's time to start thinking about food! Party food is such a great place in your party planning to really showcase your creativity and take it to the next level.
Peppa Pig Cakes + Cupcakes
Cakes and cupcakes are often the cornerstone of party food. These are usually the centerpiece of the dessert table and the most anticipated treats!
Peppa Pig Cake on Spaceships and Laserbeams
This fantastic cake uses fondant figures to present a pretty Peppa on a picnic. So cute!
Fondant Peppa Pig Cake Toppers from HD Cake Toppers
These Peppa inspired fondant toppers are so great for decorating a simple homemade or store bought cake. So cute!!

Peppa Pig Cupcakes from Birthday Express
Want to DIY some fun pig cupcakes? These little piggies are ready to party!

Peppa Pig Fondant Cupcake Toppers from Cupcakeology Art
Fondant cupcake toppers are a great addition to any cupcakes. If you are baking cupcakes on your own or buying simple store bought cupcakes, you will love these toppers! Bonus…here is my super easy and moist chocolate cupcake recipe!

Peppa Pig Cookies
Decorated cookies are one of the cutest and tastiest options for a birthday party. If you are planning to bake your own cookies, grab this Peppa Pig cookie cutter to help get your started. Also, here is my basic cut-out sugar cookie recipe that is perfect for beginning bakers!
Peppa Pig Cookies from The Cookie Confectionary
These cute little Peppa faces are so fun and adorable. I love how perfectly they resemble Peppa's fun little pig face!
Peppa Pig Birthday Cookies from Shop Cookie Couture
Here are some super adorable Peppa Pig cookies. These would match so nicely with the decorations that are a little less on the pink side!
DIY Peppa Pig Cookies from Paspartu
These gorgeous Peppa Pig cookies are simple DIY cookies that you can bake on your own! Love these!!
Peppa Pig Birthday Desserts
Don't forget you can venture into dessert ideas that are not cakes, cupcakes and cookies! Here are some delicious themed dessert ideas…
Peppa Pig Cake Pops from Moms & Munchkins
If you love Peppa the pig then you will love these cake pops. Check out these adorable Peppa pig cake pops you can make.

Peppa Pig Rice Krispies Treats from Two Sisters Crafting
Rice Krispies treats are already a hit…why not jazz them up with some pretty pink and serve them peppa pig style?

Peppa Pig Cake Pops from Pretty My Party
These yummy little single serve bites of cake are perfectly decorated for a Peppa Pig themed birthday!

Peppa Pig Birthday Party Tableware
Whew…all those ideas make for a wonderful party. Tie all your ideas together with a simple tableware kit. This sets help to give you the disposable items you need without having to search everywhere and spend a ton!!
Peppa Pig Party Supplies from Oriental Trading
Here are some helpful links for planing a Peppa Pig Birthday:
Conclusion for Peppa Pig Party Decorations + Ideas:
If you looking to plan a Peppa Pig birthday, these party ideas are just what you need to get started. From fun desserts and Peppa Pig cookies and cakes to gorgeous Peppa Pig party tables and supplies…you can find the creative inspiration you need right here!
If you love these ideas, please pin this image to your birthday Pinterest Board: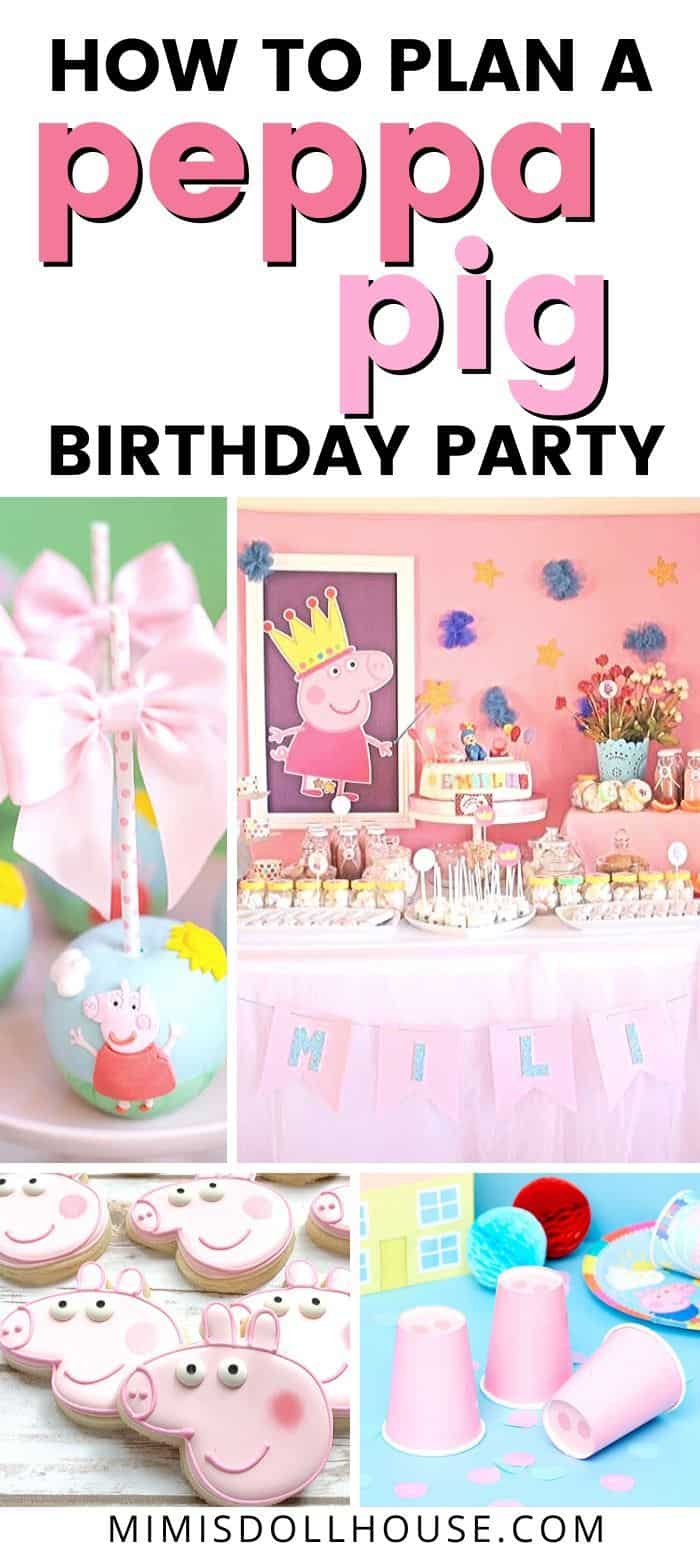 Related posts for Peppa Pig Happy Birthday Ideas:
Thank you for reading our Peppa Pig Birthday Party Food and Decoration Ideas!