Ideas for a Paw Patrol Party
Paw Patrol is on a ROLL! Paw patrol party ideas are all the inspiration! No matter which pup your little one loves most, you create a memorable Paw Patrol party with fun and creative ideas.
Planning an amazing birthday for your little pup does not have to break the bank, either. We have tons of budget friendly and DIY ideas for you too!
Come on, Ryder needs us!
In honor of the release of Paw Patrol: Mighty Pups: Super PAWS*, we have put together a fantastic group of Paw Patrol themed decorations and activities to make planning a birthday party for a little lover of all things Paw Patrol easy peasy!
Throwing a PAW PATROL THEMED PARTY?
☑️ This
Paw Patrol Party Kit
is the perfect set to get your party planning headed in the right direction!
There are so many ways you can style a fun DVD viewing party or a birthday party with a Paw Patrol theme! But before we dive into all those glorious ideas, let's talk about this fun new set of Mighty Pups episodes!
Paw Patrol: Mighty Pups: Super Paws Review*
Paw Patrol is on a roll! The pups are ready for MORE mighty action in these six Mighty Pups: SUPER PAWS episodes, including two double missions!
When Mayor Humdinger's kittens get mighty powers, a super-thief steals Adventure Bay's treasures, and Harold puts the town under a deep freeze, it's up to the Mighty Pups—and their new friends the Mighty Twins—to save the day.
Plus, everyone gets a BIG surprise when Chickaletta gets mighty powers too!
As a mama to a Paw Patrol obsessed 2.5 year old, I was super excited when they updated the series to include the Mighty Pups. By upgrading their powers and expanding their adventures, it gives new episodes for my little one to devour.
This collection of episodes is cute and entertaining. We love the positive message in each episode and the care that is given to each pups personality and skills. This DVD is on a roll!
Related: Paw Patrol Cakes, Cookies + Desserts
Paw Patrol Party Ideas
Ok, let's talk party planning. When it comes to setting up a Paw Patrol party, there are some super adorable ideas for kid-friendly crafts and activities that take an ordinary party and turn it into a pup-tastic PAW-ty!
Let's check them out…
Marshall and Rubble Party Hats from Frog Prince Paperie
Here is a simple way to take ordinary plastic party hats and give them a little fun character flair! Any little one would love dressing up as their favorite pup!
Paw Patrol Badge from Nickelodeon Parents
This craft can easily be made into a kid-friendly party activity with a little scissor supervision. These badges can be made easily with felt or construction paper.
Paw Patrol Masks from Party Nation
Here is a fun way to let your little party guests dress up like their favorite character. Adorable, right?
Doggy Bag Favors from Catch My Party
This is an adorable way to send home puppy themed favors or treats. Filling this simple brown sack with done bone shaped cookies would be the cutest favor!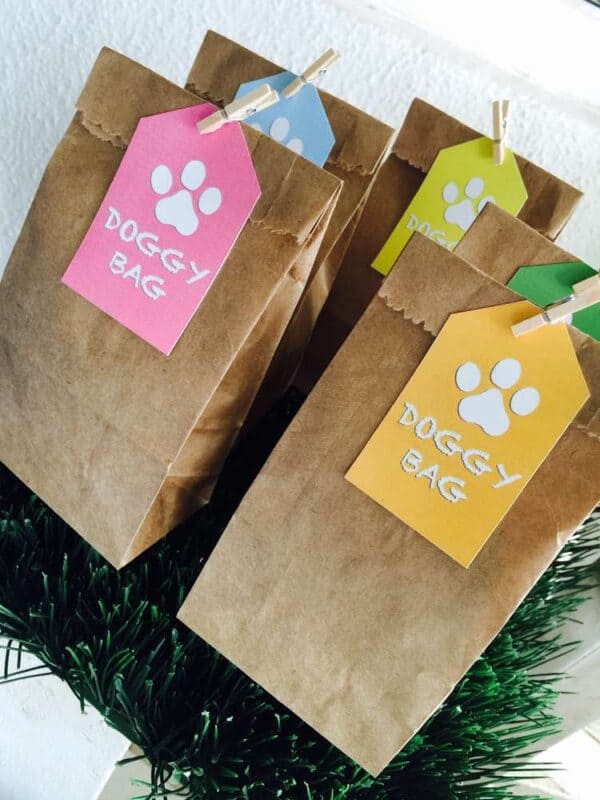 Rubble Piñata from Nickelodeon Parents
Here is an adorable tutorial for making your own Ruble Piñata. Not only is it adorable, but piñatas are just so much fun for little ones to play with!
If building a piñata yourself is a bigger time commitment then you can make, you can also purchase a Marshall Piñata, Skye Piñata or Chase Piñata. Bonus, they come filled with goodies!
Paw Patrol Crowns from I Crown You
Want to pronounce all your little guests the biggest Paw Patrol fans in the land? How about a fun Paw Patrol crown?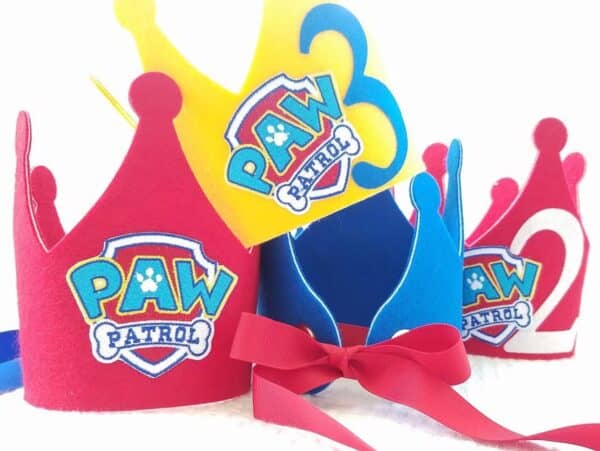 Decorations for Paw Patrol Party
Now that you have some fun ideas for activities and favors, it's time to think about decorating your Puppy themed party! Here are some adorable and creative Paw Patrol birthday decorations to help inspire you on the double!
One of my favorite ideas for decorating a Paw Patrol Party is using stuffed Paw Patrol characters as decorations.
This is a great option because it is super budget-friendly. Either use toys that you already own (cutting down on your expense) or have the stuffed toys double as presents for your birthday boy or girl.
Simple Paw Patrol Birthday Paw-ty from Crazy Life with Littles
This simple puppy print design is adorable and simple to recreate. I love that the kids' favorite puppies are highlighted on the table too!
Paw Patrol Garland from The Party Teacher
Here is a simple and fun idea for a birthday banner to decorate your tables or walls. Mix those puppy colors with some fun paw print ribbon!
Marshall themed Party from Chic Partique
If your little pup has a definitive favorite character, why not design the whole party around that character like this adorable Marshall themed party?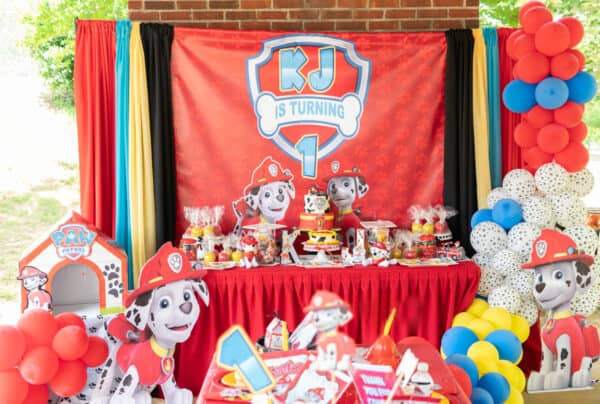 Pink and Blue Paw Patrol Party on Kara's Party Ideas
Does you little girl love Paw Patrol? Setting up a girl focused party is super easy when yo focus on Skye and Everest. Here is a fun pink themed party idea!
Skye Balloon Garland from Tara's Wonderworld
Speaking of Paw Patrol parties for girls…here is a Skye themed balloon garland that would be perfect for a Skye focused party!
Adopt a Pup Party from Coffee and Confetti Mom
Here is a fun twist on a Paw Patrol theme. Let you guests adopt a puppy of their own. This cute and creative Adopt-a-Pup party is too, too cute!
Paw Patrol Party Table from Catch My Party
I love the light blue sky backdrop on this party spread. It definitely helps to make the bright, bold colors pop!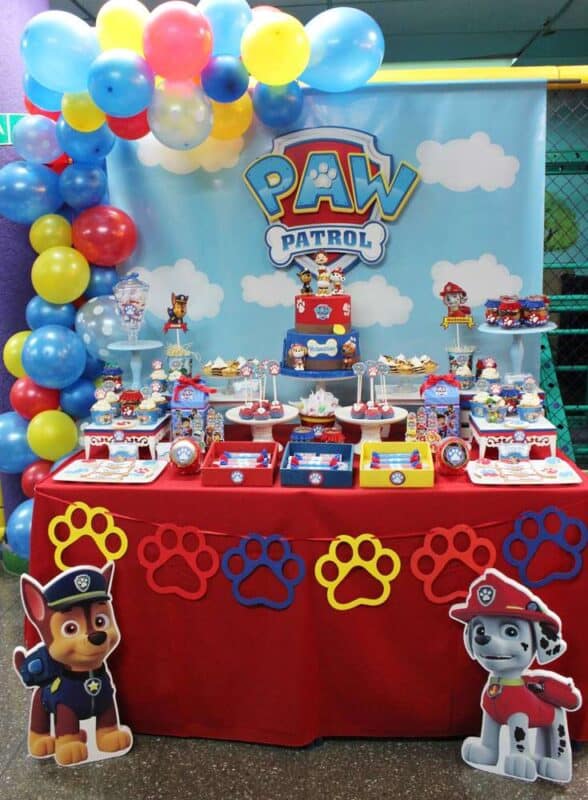 Paw Patrol Happy Birthday Banner from Cardstock Party Shop
Want a simple Paw Patrol Happy Birthday garland to hang with your food or in a photo booth. This banner is absolutely paw-fect!
DIY Paw Patrol Party from Pineapple Paper Co.
This simple primary color Paw Patrol inspired party use simple puppy paw prints and classic party ware to create a memorable Paw Patrol inspired party without using too many characters. Gorgeous, right?
Paw Patrol Party Supplies
Finding the right supplies is a great way to make planning a Paw Patrol party easy! Here are some great party supplies to help you with the extra planning:
Marshall Piñata from Amazon
Paw Patrol Balloons from Oriental Trading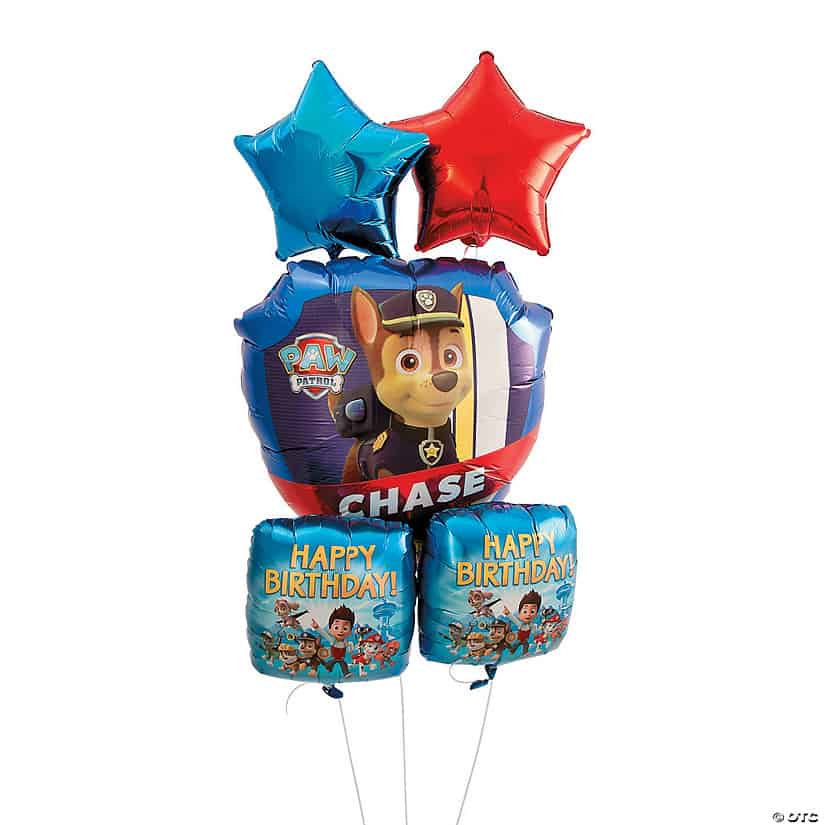 Paw Patrol Party Tableware
Looking for easy and on theme ways to serve your food? Grab a tableware set and save time searching for matching items! Here are two super cute and affordable options:
Paw Patrol Tableware from Oriental Trading

Paw Patrol Supplies from Target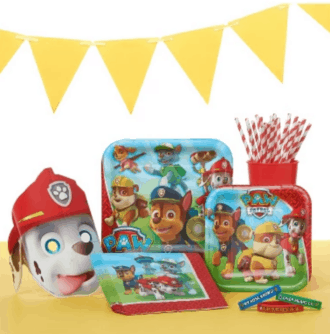 Pink Paw Patrol Party Supplies from Amazon
Conclusion for Paw Patrol Birthday Ideas:
Whether you are planning a DVD viewing party or a birthday for your little pup loving kiddo, these Paw Patrol Happy Birthday ideas will make your party Pup-tastic! From crafts to decorations, we have some of the best Paw Patrol inspired ideas available to recreate a memorable party! Check out all the fantastic ideas!
Here are some helpful links for Paw Patrol Happy Birthday Ideas:
If you love these party ideas, please pin this image to your birthday Pinterest board:
Related posts for Paw Patrol Birthday Party:
Thank you for reading our Paw Patrol Happy Birthday Party Ideas!
*This is a sponsored post. Mimi's Dollhouse may have been compensated for this post, but rest assured…all thoughts and opinions are totally honest and totally my own:)*