Adorable Puppy Themed Birthday Party
A great party theme can definitely make your whole party and this Bark-day Party proves that is true! If you are looking for some fantastic puppy party ideas for your human or canine babies….you will definitely want to check this party out!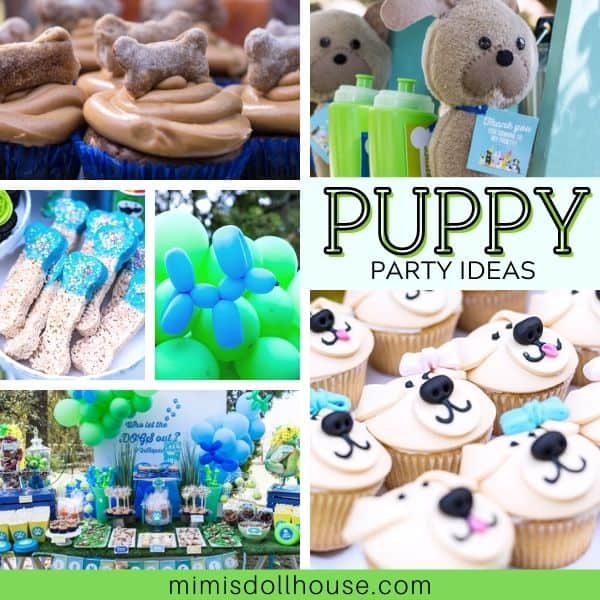 This absolutely adorable party was styled by Debbie from One Pretty Day. The details are completely on point and the dessert spread will have you wagging your tongue!
Throwing a PUPPY THEMED PARTY?
☑️ This
Puppy Party Kit
is the perfect set to get your party planning headed in the right direction!
From puppy balloon animals to sweet puppy faced cupcakes, this party is full of extraordinary ideas for taking your normal birthday to a completely different level!
Let's check it out…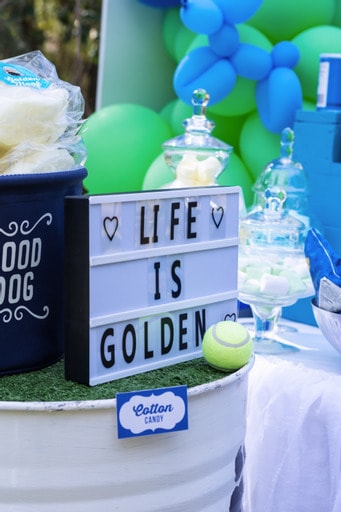 Inspiration for this fun Bark-Day Party
Debbie was inspired to create this bark-tastic party for her lovely Golden Retriever pup and it's litter's first birthday. When you love planning parties and your beautiful pup…what better combination?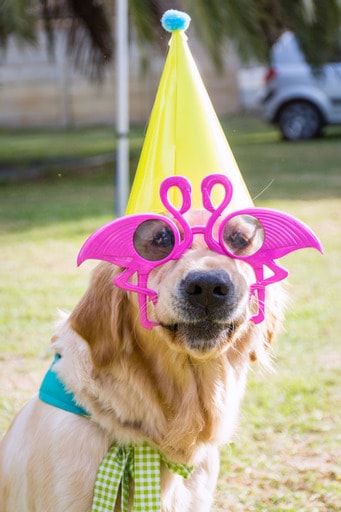 Besides, is there anything cuter than a puppy wearing a party hat!?! These special puppies were born during lockdown and trained via zoom…so an opportunity to get them all together and style a party was definitely cause for celebration!
I'm sure you will be blown away with the attention to detail!
Puppy Party Food Ideas
Alright…let's talk about the FOOD!
Debbie set up a human dessert table and a doggie dessert table. (I know, right!!!)
The human dessert table was filled with delicious and super clever treats.
The paw-ty included several ideas for desserts, but also so not dessert foods. I find when setting up a party, it's those non-dessert foods that are often the hardest to keep on theme. It's so fun to see a spread with so many perfectly puppy themed food ideas!
Puppy themed desserts and food for Humans
Ready to get your tongue wagging at some delicious treat?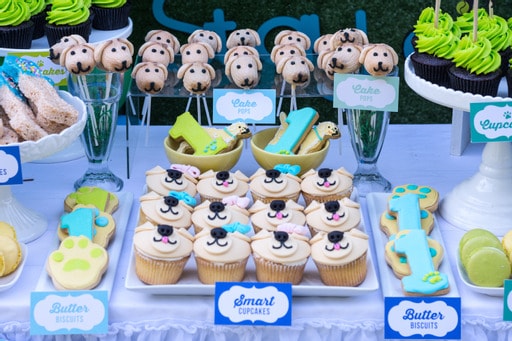 Alright…let's start with those GORGEOUS desserts.
The cake was a super adorable Dog themed Cake. I love ideas like this because they are easy to reproduce. You don't have to be a master baker to print an image onto edible paper and add it to your simple smooth or rough iced layer cake. Here is a simple tutorial for making a layer cake!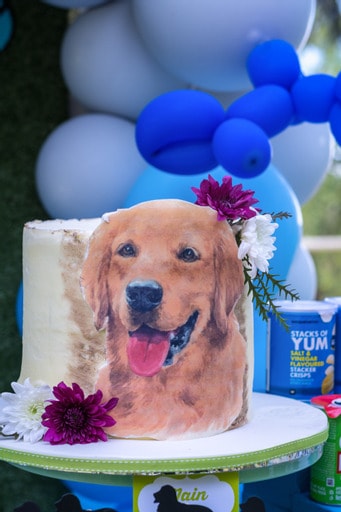 Golden Retriever Cake Pops
These cute little puppy cake pops are perfect. What a fun dessert for a puppy themed party.
Cake pops are such an easy way to serve cake for a large party. Plus…they are delicious! They might honestly be the most delicious way to eat cake (just saying!)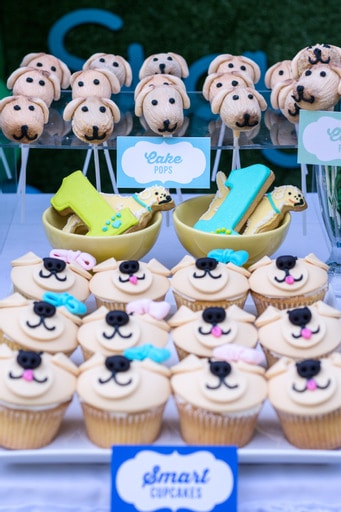 Golden Retriever Cupcakes
Hands down…these are my favorite detail from the entire party. These adorable cupcakes with their cute little doggie faces are almost too perfect to eat!
Some of cupcakes have sweet little bows attached too. This is a simple way to make a party that might be more often thrown for boys and make it girly.
If you have a little girl who loves animals, you can still throw a girly party with an animal theme. We did so with both a penguin party and a monkey party!
Rice Krispies Bones
Rice Kripsies are such a great party treat. Pretty much everyone loves them and they are super easy to make and fairly forgiving if you aren't a confident baker!
You can recreate these cute treats using a simple bone shaped cookie cutter and some candy melts!
Sugar Cookies
The party featured sweet sugar cookies shaped like golden retrievers, bones, the number one and paw prints. Delicious and so much fun!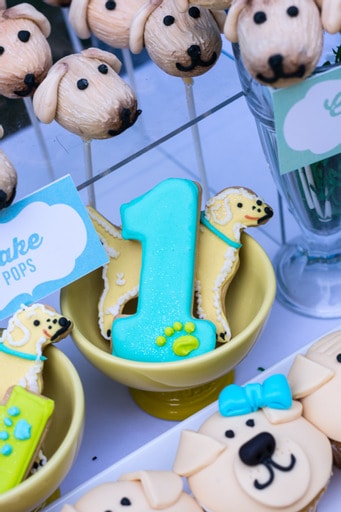 Having a variety of sugar cookies is a great dessert table option. If you have a solid and easy to make sugar cookie recipe and some dog themed cookie cutters, you can make adorable cookies that party guests will love.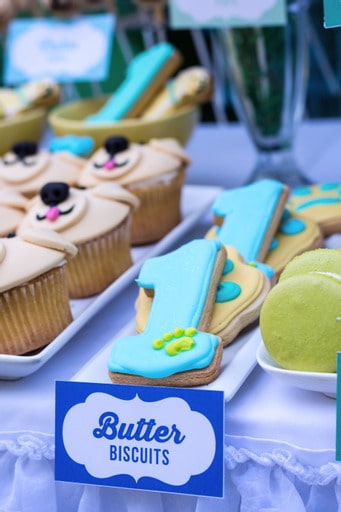 Another great thing about sugar cookies is they can easily be decorated with royal icing, like these cookies, fondant or even buttercream frosting. There are so many options to choose from!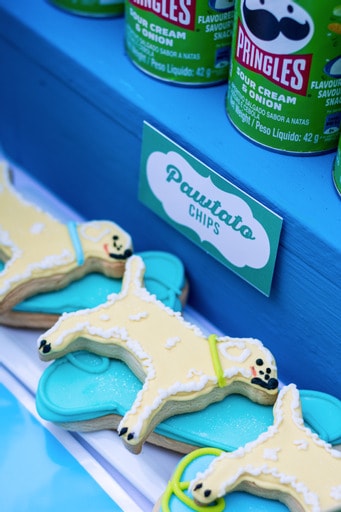 Cupcakes with Cupcake Toppers
Sometimes simple cupcakes are the best option. These adorable cupcakes are a great option for styling a puppy party when you aren't a baker or are on a budget! You can dress any cupcakes up with cute paper toppers.
Whether you bake them on your own, or buy them from a local bakery or even a grocery store, you can add simple puppy cupcake toppers and have an instant treat your guests will LOVE.
Yummy. Now, let's talk about the non-dessert food ideas.
Firstly, there was a Hot Dog Bar where you could choose which type of dog you would like by building your own hot dog.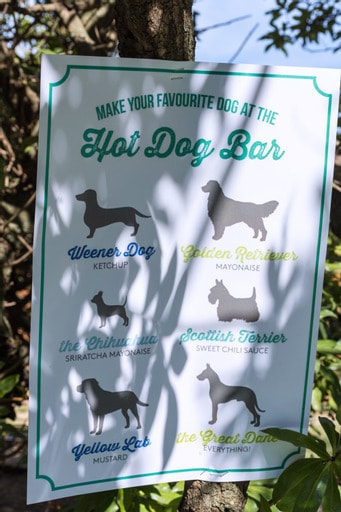 I love hot dog bars. They are such a great way to set up a simple party meal where guests can pick and choose what they like or don't like, avoid foods they can't eat, etc.
Hot dog bars and Taco Bars are definitely go to party meals over here!
They also served snack boxes with an assortment of doggie themed snacks (mini hot dogs, bacon wrapped sausage, etc.) Having pre-packaged food boxes is such a great alternative to a buffet style lunch because it cuts down on mess and ensures everyone gets fed. It is particularly a great option for larger parties.
Drinks included a fabulous Puppies and Prosecco wall and of course a clever "Toilet Water" jug of blue colored sprite!
Puppy party food ideas for Dogs
Since this fantastic party was planned for the puppies…there was of course, food options for dogs and not humans!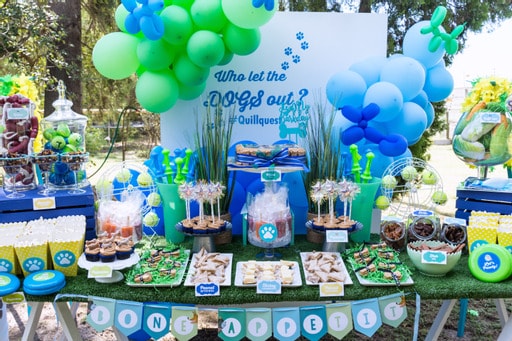 The doggie table included a cake, dog pupsicles, dog pupcakes, doggie donuts, turkey and cucumber bites, traditional puppy snacks and pupcorn.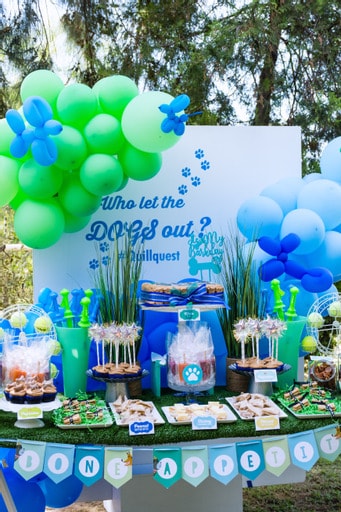 Aren't these adorable "pupcakes" a great puppy treat? I love that the doggie food looks as delicious as the human food!
Adding little doggie bones to the top of the pupcakes is such a cute detail!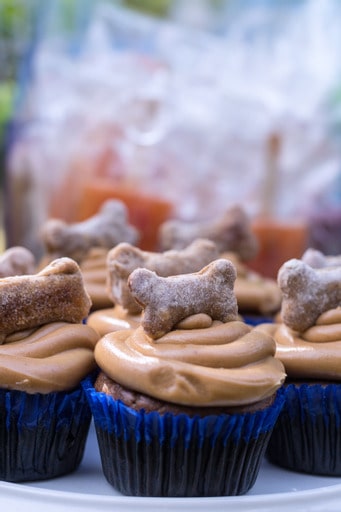 I also love the idea of dressing up simple dog bones as a treat! What lucky puppies!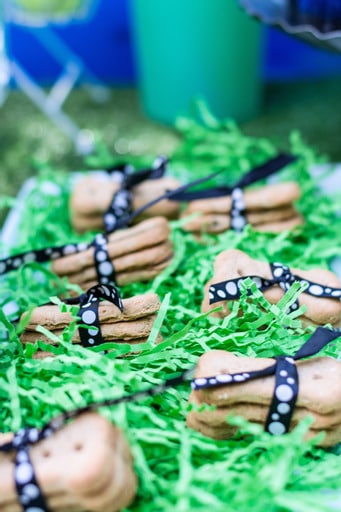 Along with the edible treats, were plenty of doggie toys. What a fantastic way to celebrate a puppy birthday!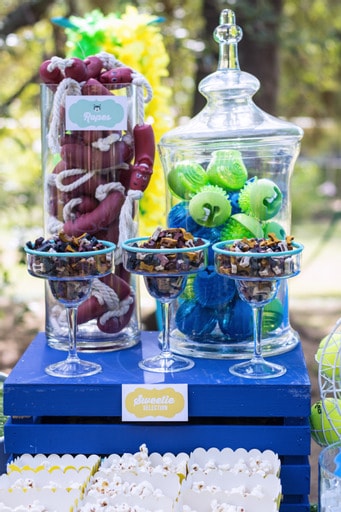 Puppy Birthday Decorations
Next, let's take a look at the stunning party decorations. There are so many amazing details in this party.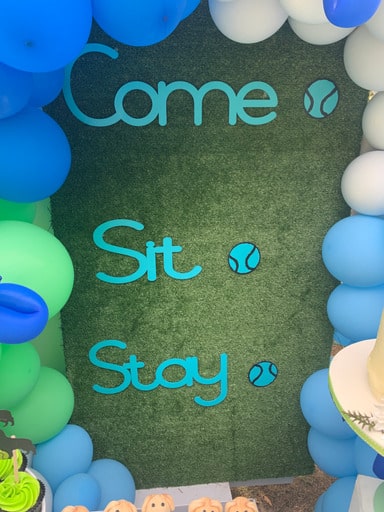 Throughout the party, Debbie used clever dog themed phrases and ideas to pull the theme all together. I love this "Come. Sit. Stay." backdrop idea for the dessert table!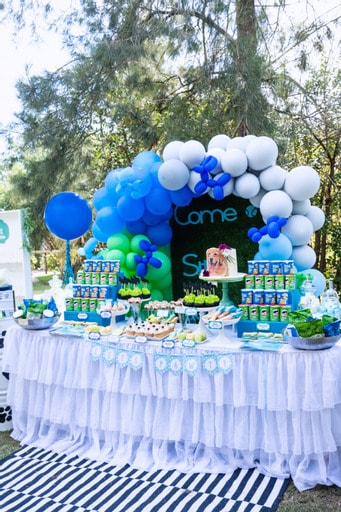 Balloon arches are some of the easiest and most fabulous ways to decorate a party table. You can incorporate so much color into the decor with some fun and simple balloons.
The ruffled table skirt is gorgeous also. If you want to DIY a table skirt, check out this simple ruffled table skirt tutorial.
Here is a fun Paw-ty sign. Having a welcome sign is one of my favorite ideas for a party. It's such a simple and fun way to say…hey this party is on theme! Having every details on theme can seem daunting when you are planning, but makes such a difference when the party is all put together!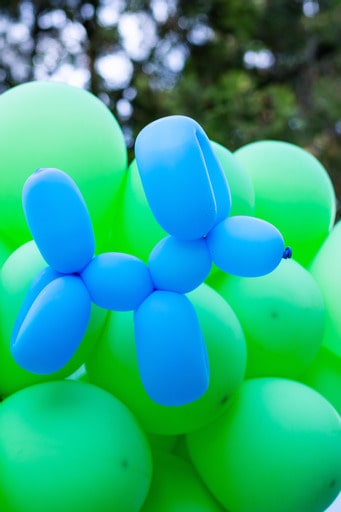 Check out these fun balloon ideas. I love how Debbie incorporated doggie balloon animals into the balloon garlands. Adorable, right?
It truly takes the balloon arch to the next level with the cute little puppies poking out among the balloons. Adorable!
So…who doesn't love a donut? Donuts a a simple and super adorable way to have treats for your guests and also a gorgeous display. This donut wall, definitely doesn't disappoint!
Puppy Themed Activities and Favors
Phew! So many amazing ideas! No it's time to talk about the activities and favors!
For the owners, while enjoying their treats and Prosecco, they were able to relax under the shade of the gazebos while their dogs played.
There were also opportunities for photo props and pictures for both humans and puppies!
The dogs had a ton of toys and treats to enjoy. Of course, they also had one another to play with. What fun!
For dog themed favors, there was a plethora of treats to take home in their doggie bags. The dogs had toys, sausage ropes, RUFF-age (dog toys shaped like lettuce and corn cobs), tennis balls, dog bowls, water bottles for walks and frisbees!
Special bandannas were designed for the birthday pups saying "It's my Barkday". So cute!
For gifts for the owners, there were poop bags, lint rollers, steel water bottles with "dog mama" printed on them, stuffed golden retriever toys, and cotton candy (golden retriever floof). So much fun!
Vendors:
Puppy Themed Party Supplies
If you are looking to plan a puppy themed party, starting with the right supplies can definitely help you get your party moving in the right direction.
Here are some of my favorites:
Dog themed party table ware from Target
Puppy themed party supplies from Oriental Trading
Dog themed cups from Meri Meri
Sausage Dog platters from Meri Meri
Puppy Party Printables
If you want to throw a fun puppy themed party, you can also grab these printable puppy party decorations from my shop:
Conclusion for Happy Bark-day Party Ideas:
Wow. This puppy party was FULL of amazing ideas for planning the perfect dog themed birthday. Whether you are planning a party for your human baby or your fur baby, these ideas will inspire you to style an amzing bark-day party.
Here are some helpful links for planning a puppy party:
If you love these party ideas, please pin this image to your birthday Pinterest Board:
Related posts for a Puppy Party:
Thank you for reading about this adorable Puppy Birthday Party!